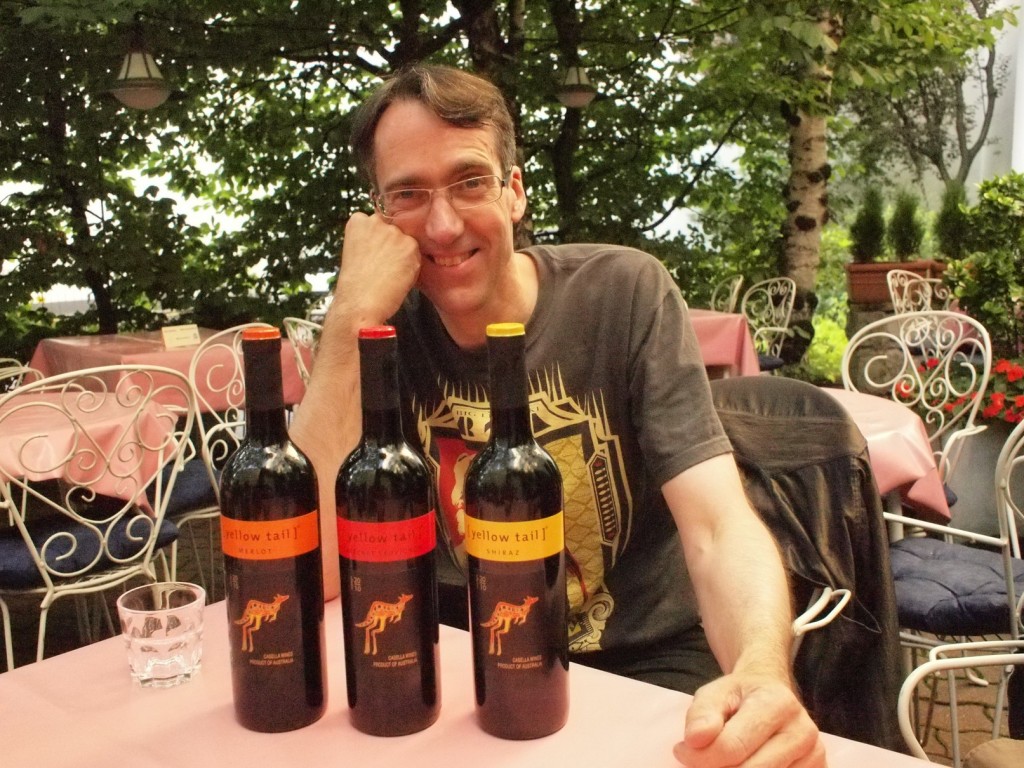 This weekend the German wine scene meets in Berlin to taste the new vintage of the VDP producers "Grosse Gewächse", the new elite dry wines of Germany. However, they only make up a tiny and rather expensive part of the wine market. In The [yellow tail] Saga I tell the extraordinary story of one of the world's biggest selling wines. Episode 2 follows on Thursday, September 8th. Watch this space!
I [yellow tail] therefore I am
I used to naively believe that we wine journalists were like film critics and felt good about myself because of that, beaus since my childhood I've been obsessed with film. Then I realized that I was living a lie. How did that feel? Very Uncomfortable. You see, film critics normally write about everything from alternative movies to Hollywood blockbusters, but we wine journalists avoid writing about the best-sellering wines, as if were worried we might catch something infectious from them! Our obsession with "superior" and "authentic" wines not only deprives our readers of vital information, but also blinds us to the fact that we live in a world dominated by huge companies and global brands. I was reminded of this the other day when I read read that Apple Inc. had just became number one supplier of smartphones to the world – iphone therefore I am – as well as market leader in tablet computers – ipad therefore I am – with a sizeable chunk of the worldwide notebook computers and PC sales – imac therefore I am. Of course, we wine journalists realise that Apple's huge, but we are in denial when it comes to this phenomenon on Planet Wine.
Something which helps us get away with this is the fact that, almost nobody has heard of Casella Wines, although they are producers of [yellow tail] – yes it is written like that all in lower case with square brackets around the name – the fastest growing wine brand the world has ever seen. In contrast to his ubiquitous product, John Casella, the managing director of Casella Wines in Yenda/Australia is almost invisible in the Australian and international media. Partly, this is because he doesn't get up on stage at press conferences and do the kind of meaningful arm waving that has made Steve Jobs a marketing legend. In fact, Casella keeps a low profile. This has helped us wine journalists to dodge the subject of [yellow tail], but before we dig deeper into this fascinating brand, let's backtrack and get a bit of perspective on the whole wine thing.
Given that the global wine industry has enjoyed a long boom which began during the 1980s (only briefly interrupted by various economic crises) it might seem too obvious to need pointing out, but you really can make money selling wine. However, as people who make their livings by doing so keep on pointing out to me, there are many much easier ways of making money than selling wine. There are well-established routes to Big Money like the oil and gas business and more modern ones like selling marijauna. Of course, with the former you need to strike oil or gas to make it, and for the latter to come off you have to avoid being caught by the police. But hey, playing the stock market isn't so easy unless there's a bull market, or at least a bubble, as inummerable investors recently found out to their (often enormous) cost. Maybe wine is actually a better choice?
Unfortunately, an old wine industry saying goes, "if you want to make a small fortune with wine, then start out with a large one." The first reason for this is that wine binds a lot of capital – all those barrels and tanks and the wine slowly maturing indside them, before we even göance at vineyards which take three years from planting to a full crop – and thus leads to inventory and investments which make accountants' hair stand up on end. John Casella seems to have pulled off the miracle of starting out with very little capital, yet made a large fortune selling wine. Now that makes him, his company and his brand a great  wine story in my book.
The only serious objection I can see to covering it is the argument that [yellow tail] is of too little relevence to the German wine market, which it is often claimed ticks very differently to other markets around Planet Wine. However, according to AC Nielsen, last year sales of [yellow tail] in Germany grew 12%, making it by far the dominant Australian wine brand in Germany with 25% of the entire market for Australian wine in this country by sales and 33% by turnover. And it achieved that growth with a typical retail price of 4,99 Euros a bottle, which is slightly more than double the average price of wine sold in Germany! Sure [yellow tail] is not as huge here as it is in America, where it is easily the biggest imported wine brand, but this comparison only serves to make clear that [yellow tail] is in the process of achieving the same kind of world domination for wine that Apple Inc. is in the consumer electronics market. More extraordinarily still it did this way quicker than Apple Inc. This year [yellow tail] celebrates the tenth anniversary of its launch on the US market, whereas the first Apple Macintosh personal computer, the effective begining of the company's current brand, went on the market back in 1984.
Once my co-author Esther Moriarty and I started researching [yellow tail] and the Casellas we started wondering what there was that this wine doesn't connect with. There's no way all of this can be packed into one neat little story, so we broke the greatest untold saga of wine into ?? bite-sized portions to make it more digestible. And when we did that we discovered that this made it more fun to gave it suspense. Watch [this space!]
Stuart Pigott