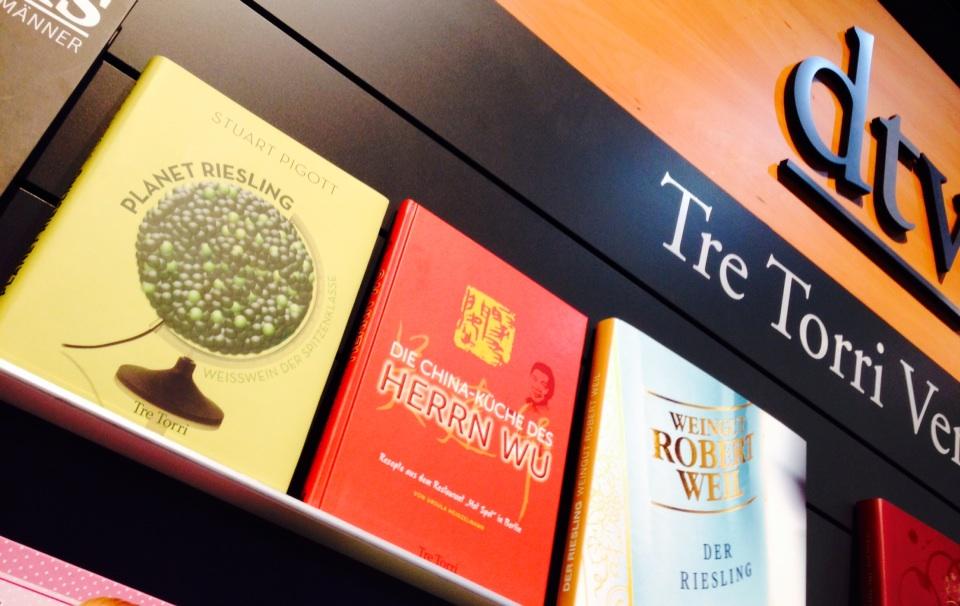 BEST WHITE WINE ON EARTH's German brother PLANET RIESLING is about to be published by Tre Torri in Wiesbaden/Germany, seen here at the Frankfurt book fair. It is not just a straight translation of the English language "original" though. The chapters on Germany have been greatly expanded and there are updates to almost every other chapter of the book. The format is also larger and the illustrations have been completely revised too. What remains unchanged is the global perspective and the back to first base approach that throws a lot of myths – not just Riesling myths, but wine myths in general – out of the window. I can't wait to see how it is received in the German-speaking world, because I don't think there ever was a wine book in German quite like this before.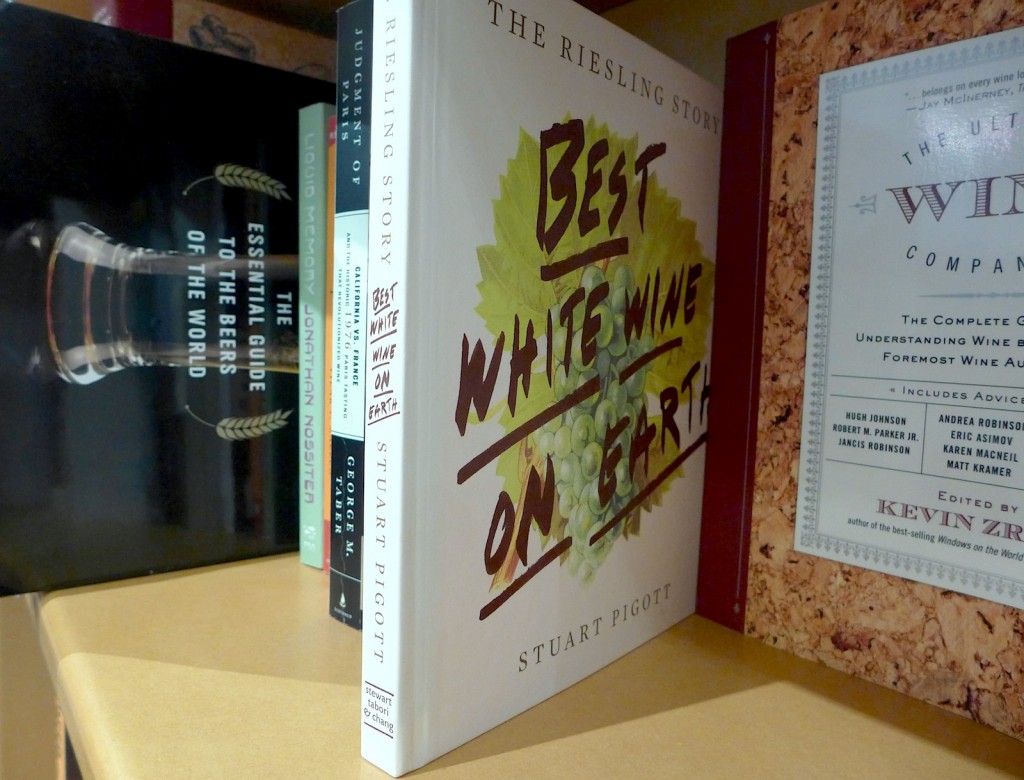 Here is my book on the shelf at McNally Jackson (52 Prince Street/Manhattan) my favorite bookstore in New York Wine City (NYWC), where it is in the best of company. I have to admit that after two and a half years work on this project seeing my book out there in the Big Wide World gives me even more pleasure than seeing it on the internet. I grew up with books and much as I value the World Wide Web as source of information I prefer the analog version (i.e. the book) if a piece of writing wins my respect. Of course, books have to be sold regardless as to whether they're virtual or hard-copy. I've put a lot of work into that recently as you can see by clicking the link to Instagram below.
Don Kavanagh just gave #BWWOE what I can only call a rave review in Wine Searcher, saying of me, that,
"he has somehow managed to transform his obsession into something good-humored, amiable and just a little bit bonkers."
Here is the link to this concise and entertaining description of my book:
http://www.wine-searcher.com/m/2014/08/getting-romantic-about-riesling
Andy Perdue recently wrote a very enthusiastic review of #BWWOE that was published in the August 1st edition of  The Seattle Times (Northwest Magazine), including the following immortal words:
"If you are any kind of wine lover, go find this book and bask in its illumination…We live on Planet Riesling, and Pigott is our emperor."
No doubt my detractors – they are many! – will see this as another example of the outrageousness which they see as emanating from me and spreading like some contagious disease in all directions. However, I must point out that I don't consider myself to be the emperor, king, pope or anything else of Riesling. I simply report on a subject I love, hopefully in an insightful and also critical way. For Andy Perdue's full article go to:
www.seattletimes.com/html/pacificnw/2024082384_0803grapevinexml.html?utm_content=buffercdc22&utm_medium=social&utm_source=twitter.com&utm_campaign=buffer
A great review of my book by Lettie Teague was published in the Wall Street Journal on June 27th. I don't think I was ever praised more aptly than when she wrote,
"I can't think of a better guide for an under-heralded grape than Mr. Pigott's. With just the right balance of scholarship and outrageousness, it's a book that Tom Wolfe might be proud to have inspired."
For more see the link below, although you may need to be a subscriber to access this:
http://online.wsj.com/articles/uncorking-the-city-new-book-by-stuart-pigott-gives-riesling-its-due-1403832538
It followed hot on the heels of the following extensive story by Irene Virbila in Los Angeles Times on June 7th. This one really takes not only my book, but also the subject of Riesling very seriously. Some of the wine press could learn from this example:
http://www.latimes.com/food/la-fo-virbila-20140607-story.html
The book was also recommended by Dave McIntyre in The Washington Post on June 25th, then on June 27th followed this in-depth article on the subject of my book and on the standing of domestic and imported Riesling in America:
http://www.washingtonpost.com/lifestyle/food/us-riesling-production-ranks-second-worldwide/2014/06/26/8ebb165c-fafe-11e3-8176-f2c941cf35f1_story.html
Andrew McFarlane also enthused about the book in his article about the City of Riesling event (July 26th-28th) in the Traverse City Redcord Eagle of May 28th. In fact, he was the very first person to write about it! See his latest story below:
http://eatdrinktc.com/traverse-city-of-riesling/
Finally one of my countrymen, Jamie Goode, has dared to say something positive about my book. So far the best any of his British colleagues could manage was damning it with faint praise, and I got a lot of flack for the title. Real the Goode news:
http://wineanorak.com/bookshop/bestwhitewineonearth.htm
If you spot something about the book in the media please report that on twitter using the  #BWWOE hashtag and @pigottriesling.
Riesling's day has come!
WATCH THIS SPACE!