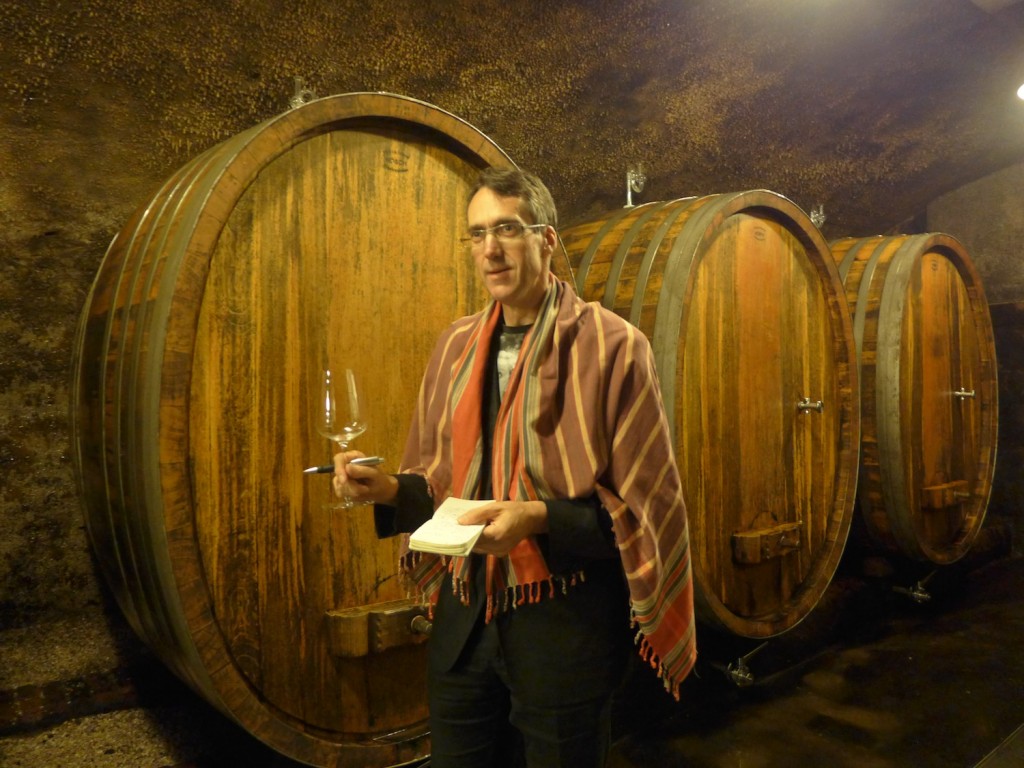 Follow me on twitter at: https://twitter.com/PigottRiesling
PLANET RIESLING ist endlich da!
Lange fühlte ich mich wie ein Prophet in die Wüste, aber inzwischen ist Riesling ein globale Kult. PLANET RIESLING (Tre Torri Verlag) berichtet ausführlich darüber. Das Foto entstand im Keller von Weingut Heumann-Löwenstein in Winningen/Mosel. Reinhard Löwenstein ist Erfinder des neu-alten Mosel-Weins. Weiter in deutsche Sprache geht es unten…
For many long years I felt like a prophet in the wilderness, but now Riesling is a global cult. That, as much as the new Riesling wines in Germany and around the world, is the subject of PLANET RIESLING, the German-language edition of Best White Wine on Earth: The Riesling Story (Stewart, Tabori & Chang), just published by Tre Torri in Wiesbaden. For anyone who can read German the book offers a greatly expanded description of the new Rieslings of Germany. The photo above of me as the Riesling prophet was taken in the cellar of Heymann-Löwenstein in Winningen/Mosel. Reinhard Löwenstein is the inventor of the new-old Mosel style. The other evening a bottle of his sensational 2004 Stolzenberg Riesling (from the top site of little-known Hatzenport in the Terrassenmosel) blew my mind!   
Dass Rieslingtrauben nicht nur in Deutschland wachsen, sondern auch in vielen anderen Ländern rund um den Globus, wissen die meisten Weinfreunde schon. Dass diese nicht-deutschen Weine großartig schmecken können, und es darüber hinaus ein globales Netzwerk gibt von guten Riesling-Erzeugern, Sommeliers, Händlern und Fans, wissen aber die wenigsten von ihnen. Aus diesen Gründen heißt mein neues Buch PLANET RIESLING (Tre Torri Verlag). Aber woher rührt diese, auch für mich,  überraschende weltweite Begeisterung?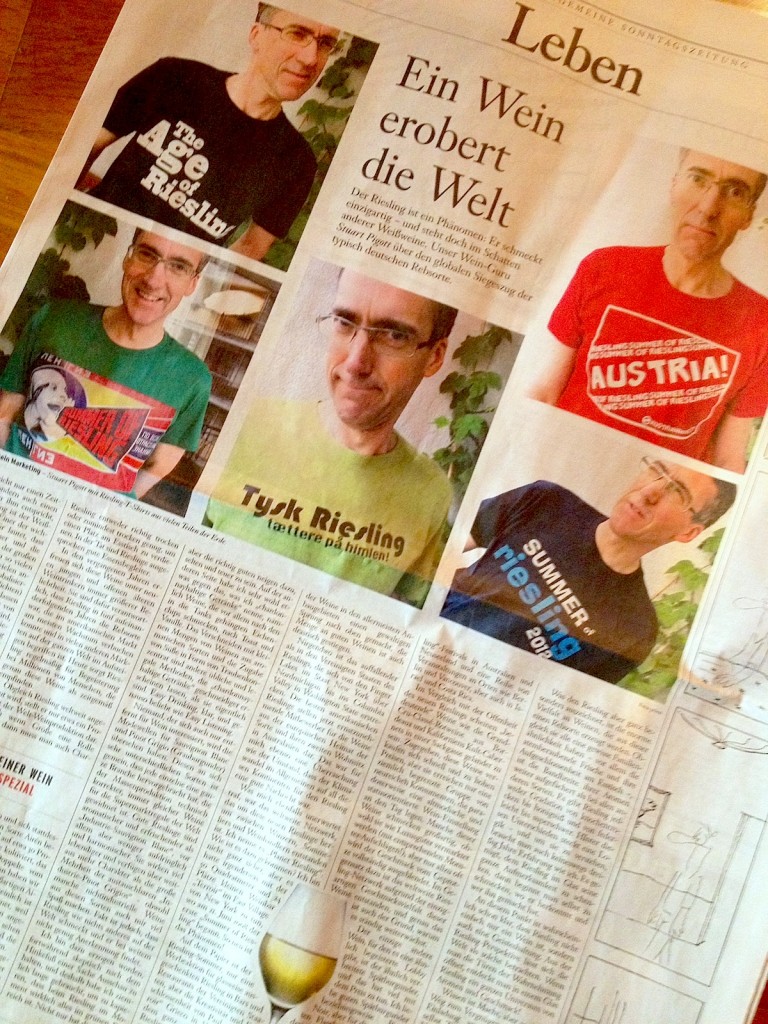 Der kurze Antwort folgt unten. Wer mehr Zeit hat liest der Auszug aus meinem Buch in der FRANKFURTER ALLGEMEINE SONNTAGSZEITUNG von 10. Dezember:
http://www.faz.net/aktuell/stil/essen-trinken/wein-tester-stuart-pigott-ueber-das-phaenomen-riesling-13306288.html
Neben dem bedeutenden Einsatz für Riesling von Fanatikern wie den Sommeliers Paul Grieco aus dem Terroir in New York, Matt Swieboda aus der Weinbar Love Tilly Devine in Sydney und Roy Metzdorf vom Weinstein in Berlin, war die unentbehrliche Basis für die Entwicklung zum PLANET RIESLING ein qualitativer Aufschwung der Riesling-Weine in vielen Ländern und Gebieten seit der Jahrhundertwende. Doch das wäre nicht zu Stande gekommen, wenn es nicht schon vorher einen Riesling-Aufschwung in Deutschland gegeben hätte.
Deutschland ist das Riesling Mutterschiff, weil auch im 21. Jahrhundert die mit Abstand bedeutendste Riesling-Erzeugernation ist. Bedingt durch das Klima, gibt es in Deutschland die größte stilistische Vielfalt der Riesling-Weine und durch die Riesling-Begeisterung im Markt gibt es in Deutschland den stärksten Innovationsdrang. Auch die Weinkultur von Ländern, in denen statistisch gesehen wenig deutscher Riesling getrunken wird, werden davon beeinflusst, denn die deutschen Rieslinge, die dorthin gelangen, werden oft von den Kernfiguren der Weinszene getrunken. So werden nicht nur Riesling-Weine, sondern auch Riesling-Inspiration aus Deutschland exportiert!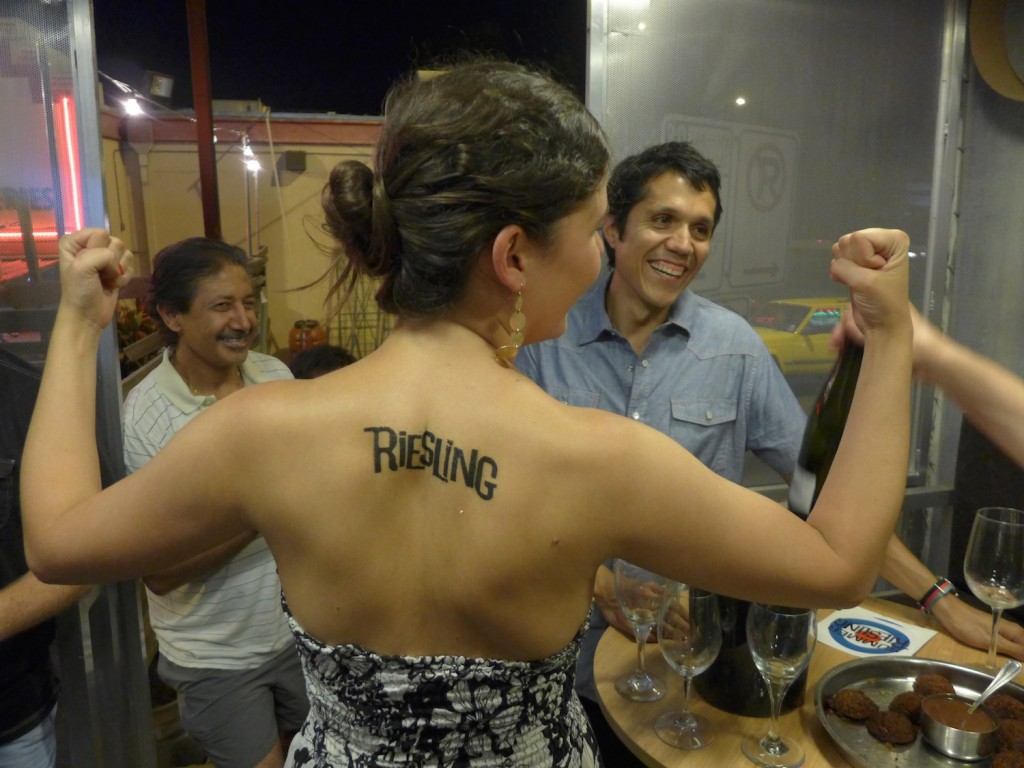 Riesling Begeisterung wo man es nicht vermuten würde, in Austin/Texas!
Trotzdem besteht eine Flotte nicht alleine aus einem Mutterschiff! Seit der Jahrhundertwende entwickelten sich die amerikanischen Rieslinge rasant. Fünf Jahre in Folge war Riesling die am schnellsten wachsende Weinkategorie in den USA. Das schlug sich in einer Welle von Weinbergspflanzungen nieder, deren Ausmaß bisher von den Medien nicht wahrgenommen wurde. Zwischen 2001 und 2011 wuchs  die Rieslinganbaufläche um 100% in Washington State (Platz eins), um 175% in Kalifornien (Platz zwei) und in Michigan (Platz vier) um ganze 180%. Zwischen 2006 und 2011 betrug die Wachstumsrate in New York State (Platz drei)  56%. Damit ist die USA zur zweitgrößten Riesling-Erzeugernation heran gewachsen! Parallel dazu stieg das qualitative Wachstum, wie man in PLANET RIESLING lesen kann; in allen meinen fünf Hitlisten der besten Weine der Welt sind amerikanische Weine vertreten!
Auch über andere Länder wie Kanada, Neuseeland und Chile, in denen es einen Riesling-Aufschwung gab, wurde bisher wenig berichtet. Durch die Riesling-Innovation aus Europa und Übersee entsteht wahrhaftig ein neue Geschmackswelt. Mein neues Buch sehe ich als Anleitung zu den neuen Weinen. Obwohl das Deutschland-Kapitel des Buchs wesentlich länger ist als in der englischsprachigen Ausgabe (BEST WHITE WINE ON EARTH bei Stewart, Tabori & Chang Verlag, New York) ist das Buch keinesfalls eurozentrisch, es nimmt alle Länder und Gebiete gleichmäßig kritisch wahr.
Ein wichtiges Anliegen von PLANET RIESLING ist der Abbau von Riesling-Mythen. Häufig wird von deutschen Weinfreunden behauptet, die Riesling-Weine aus Übersee schmeckten fett und süß, säure- und aromaarm. Dafür werden keine Beweise hervorgeholt, sondern die Tendenz, die es bei Übersee-Rotweine und Chardonnays gibt,  wird einfach auch den Riesling-Weinen der gleichen Länder unterstellt. Die Wahrheit ist aber, dass die Riesling-Weine aus Übersee meistens ähnlich säurereich oder noch säurereicher als die deutschen Rieslinge sind.
Oft haben deutsche Weinfreunde mir gegenüber behauptet, deutsche Rieslinge seien grundsätzlich die Besten der Welt, weil es hierzulande große Tag-Nacht-Temperaturschwankungen gäbe, dagegen in Übersee anhaltende Hitze herrsche. Die Wahrheit ist aber, dass die Temperaturschwankungen in vielen Überseegebieten wesentlich größer sind als in Deutschland. Wir haben nicht nur ein falsches Bild von vielen Übersee-Weingebieten, sondern auch von den deutschen Weingebieten. Durch eine Reise um PLANET RIESLING läßt sich sehr viel neues erfahren. Las uns los fahren!
Stuart Pigott, New York & Berlin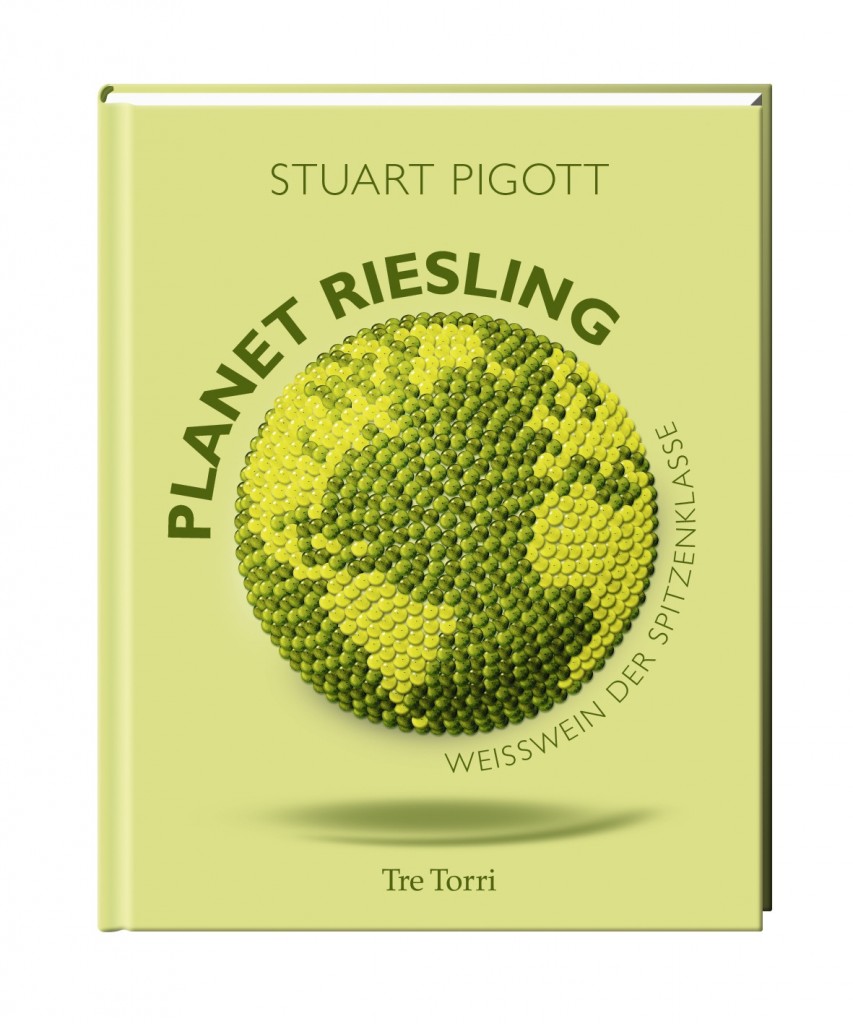 PLANET RIESLING kommt bald! 
Finally, the German language edition of BEST WHITE WINE ON EARTH called PLANET RIESLING will be published very soon by Tre Torri Verlag in Wiesbaden. Unten in Deutsch / below in German is the story of how my book has unexpectedly become part of the Great Dönnhoff Controversy. For english-speaking readers it may be hard to imagine that the super-elegant dry and sweet Rieslings from the Dönnhoff estate in Oberhausen on the Nahe could be the subject of any kind of debate. "Isn't it blindingly obvious that they're great wines?" many will ask themselves. However, the fact that Cornelius Dönnhoff took over the making of these wines from his father Helmut back in 2007, many people in the German wine scene didn't notice and only found out recently (mainly because they didn't want to see it), has ignited a major controversy. The fact that the new edition of the Gault Millau Wine Guide to Germany just demoted Dönnhoff has massively stoked the fires of this debate. Although there is much new material about German wines in PLANET RIESLING, this text is identical in content to that in BEST WHITE WINE ON EARTH.  In both books Dönnhoff is the only producer to appear the hit lists three times!     
Jetzt ist es ganz klar geworden: manche Mitglieder der deutschen Weinsezene sind gegen Dönnhoff. Seit der 'Gault  Millau Weinguide Deutschland 2015' das weltberühmte Riesling-Weingut H. Dönnhoff in Oberhausen/Nahe herab gestuft hat, ist das Gut Objekt einer heftigen offenen Kontroverse. Jetzt sind die Gegner, die das Weingut bisher hinter vorgehaltener Hand zerredet haben, lautstark geworden. Jetzt gibt es Aufruhr im Nahetal, das sonst so schön und ruhig ist!
Ich stehe aus tiefer Überzeugung auf der anderen Seite als der Gault Millau und das nicht, weil ich seit Oktober 1986 die Familie Dönnhoff kenne. Aus meiner Sicht ist die Qualität der  trockenen Dönnhoff-Rieslinge (vor allem die feinfruchtigen und kraftvollen "Großen Gewächse"– auch aus 2013) in den letzten Jahren keinesfalls abgesackt, sondern eindeutig gestiegen! Die edelsüßen Riesling Spätlesen des Guts sind nach wie vor vielschichtig und brillant. Deswegen feiert mein neues Buch PLANET RIESLING, das kurz vor Weihnachten im Tre Torri Verlag erscheinen wird, die Dönnhoff-Rieslinge und in der Ausgabe der Frankfurter Allgemeine Sonntagszeitung (FAS) vom 23. November habe ich Cornelius Dönnhoff zum Winzer des Jahre gekürt. So muss es sein!
Damit bin ich möglicherweise auch in die Schusslinie geraten, aber in meinen Buch und  in der FAS-Kolumne geht es nur um die Wahrheit und dazu muss ein kritischer Journalist stehen. An Angriffe bin ich schon seit Jahrzehnten gewöhnt; wer eine klare Position bezieht, wird beschimpft. Ein Buch wie PLANET RIESLING, das die Riesling-Weine der Welt beschreibt, ist Jahre lang im Umlauf und bleibt die ganze Zeit der Kritik ausgesetzt. Gerne!
Manche Leser werden zu Recht fragen, warum das Weingut Dönnhoff in der Kritik steht. Ist das Gut nicht eines der Riesling-Monumente Deutschlands? Ja, das ist es schon und nicht erst seit gestern. Mit den Jahrgängen 1989 und 1990 ist Helmut Dönnhoff vom Geheimtipp zum international bekannten Riesling-Erzeuger avanciert. Nach der Jahrhundertwende ist "Dönnhoff" durch einen großartigen Jahrgang nach dem Anderen zum Inbegriff der rassigen und mineralischen trockenen und der filigranen süßen Riesling-Weine geworden. Seitdem war die Rede von "der Helmut" und manchmal war der Ton schon halbreligiös!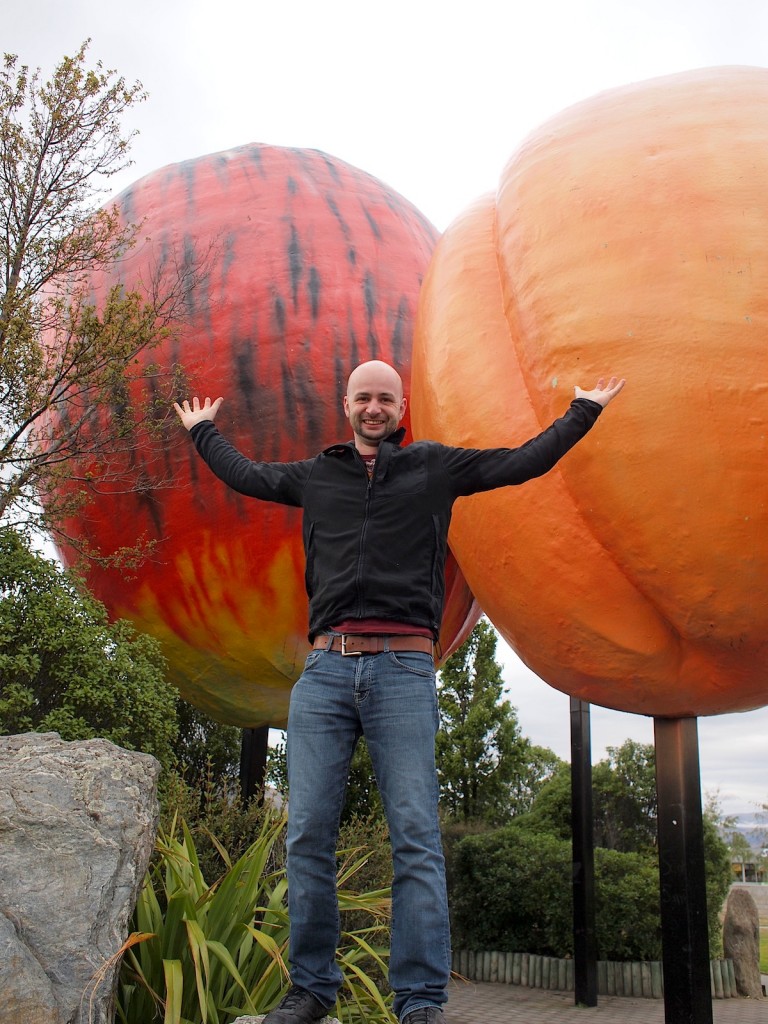 Nun wurde vor kurzer Zeit bekannt, dass Helmuts Sohn Cornelius (oben in Central Otago/Neuseeland) schon seit einigen Jahren hinter den Dönnhoff-Weinen steckt. Seit 2007 ist er für den Keller des Guts und viel mehr verantwortlich. Lange haben viele Mitglieder der deutschen Weinszene diesen Fakt verdrängt, weil sie an ihrem "heiligen Helmut" festhalten wollten. Nach und nach mussten sie die tatsächliche Situation im Gut wahrnehmen und das war offensichtlich ein ziemlicher  Schock. Aus der Sicht vieler Gegner ist Cornelius Dönnhoff das Problem, weil er nie wie sein Vater werden kann. Das ist natürlich gehässiger Unfug!
Auch "sachliche" Argumente werden von manchen Gegner vorgebracht. Sie deuten mit dem großen Zeigefinger auf die angeblich glatten und/oder technokratischen Dönnhoff-Rieslinge. Das starke Wachstum des Guts seit der Jahrhundertwende wird als Bestätigung für diese Behauptung genommen. Doch nur wenn man gewollt die Dönnhoff-Weine im Vergleich mit misslungenen "Natural Wines", die nur stinkig und ruppig schmecken, stellt, wirken sie "glatt" oder "technokratisch", bzw. reintönig und geschliffen. In der gegenwärtigen Weinszene gilt "Authentizität" über Alles, auch wenn es stinkt und beißt!  Urig auf Teufel komm raus waren die Dönnhoff-Rieslinge aber nie. Feinheit und Eleganz sind die Ziele von Cornelius, genauso wie sie es für seinen Vater Helmut waren.
Der Hauptunterschied zwischen den Weinen von Vater und Sohn erwächst aus der Klimaerwärmung. Während der 1970er, '80er und weit in den '90er Jahre musste Helmut um reife Trauben kämpfen. Heutzutage ist das aber kein großes Problem mehr. Das ist der Grund, warum die Weine von Cornelius oft etwas voller und einen Tick weicher in der Säure schmecken als die seines Vater. Aber auch dieser Umstand ist für die Gegner schlichtweg falsch; für sie muss Alles beim Alten bleiben.
Da denke ich an Friedrich Nietzsche, der solch krankhaft negative deutsche Geister als "Tarantulas" bezeichnet hat. Ich bin auf der Seite der globalen Community der Dönnhoff- und Riesling-Fans. Sie sind auch das Thema von PLANET RIESLING.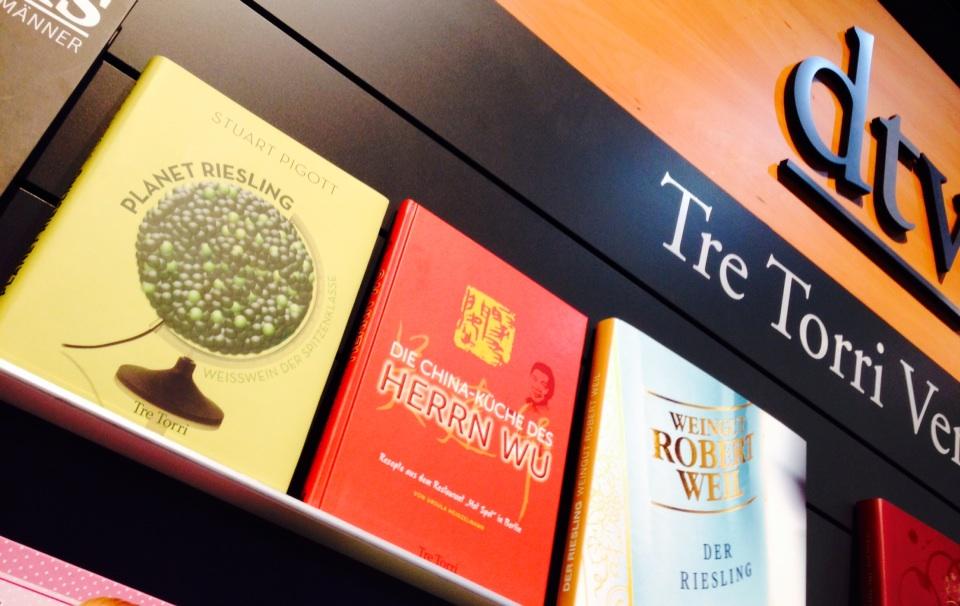 BEST WHITE WINE ON EARTH's German brother PLANET RIESLING is about to be published by Tre Torri in Wiesbaden/Germany, seen here at the Frankfurt book fair. It is not just a straight translation of the English language "original" though. The chapters on Germany have been greatly expanded and there are updates to almost every other chapter of the book. The format is also larger and the illustrations have been completely revised too. What remains unchanged is the global perspective and the back to first base approach that throws a lot of myths – not just Riesling myths, but wine myths in general – out of the window. I can't wait to see how it is received in the German-speaking world, because I don't think there ever was a wine book in German quite like this before.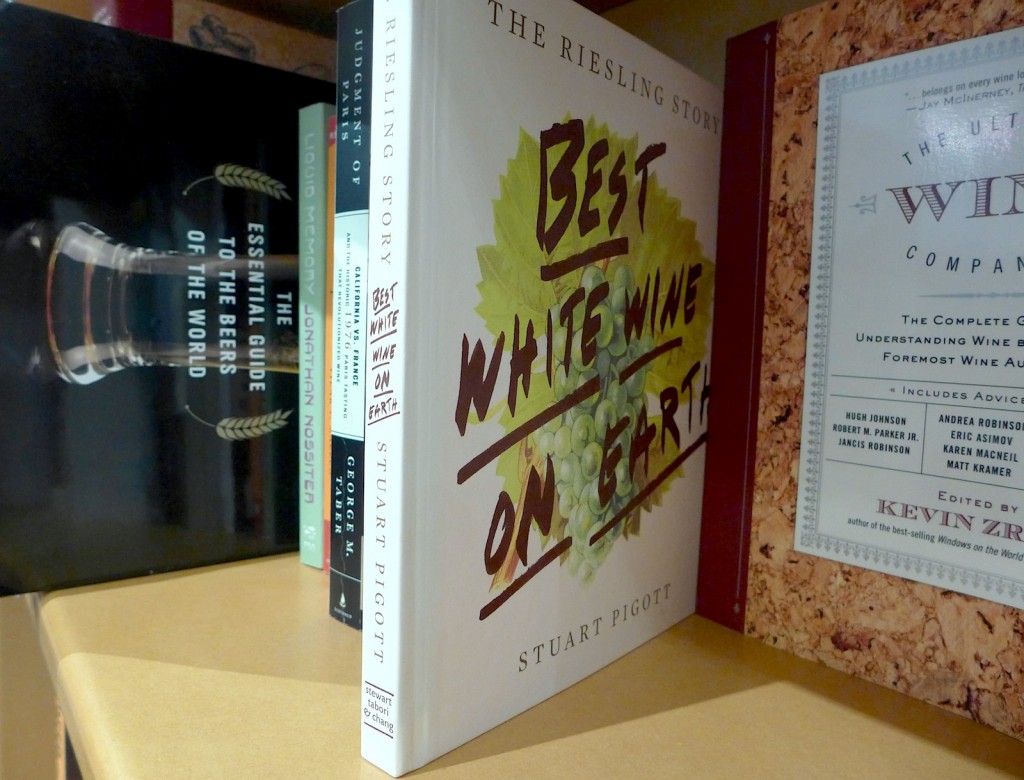 Here is my book on the shelf at McNally Jackson (52 Prince Street/Manhattan) my favorite bookstore in New York Wine City (NYWC), where it is in the best of company. I have to admit that after two and a half years work on this project seeing my book out there in the Big Wide World gives me even more pleasure than seeing it on the internet. I grew up with books and much as I value the World Wide Web as source of information I prefer the analog version (i.e. the book) if a piece of writing wins my respect. Of course, books have to be sold regardless as to whether they're virtual or hard-copy. I've put a lot of work into that recently as you can see by clicking the link to Instagram below.
Don Kavanagh just gave #BWWOE what I can only call a rave review in Wine Searcher, saying of me, that,
"he has somehow managed to transform his obsession into something good-humored, amiable and just a little bit bonkers."
Here is the link to this concise and entertaining description of my book:
http://www.wine-searcher.com/m/2014/08/getting-romantic-about-riesling
Andy Perdue recently wrote a very enthusiastic review of #BWWOE that was published in the August 1st edition of  The Seattle Times (Northwest Magazine), including the following immortal words:
"If you are any kind of wine lover, go find this book and bask in its illumination…We live on Planet Riesling, and Pigott is our emperor."
No doubt my detractors – they are many! – will see this as another example of the outrageousness which they see as emanating from me and spreading like some contagious disease in all directions. However, I must point out that I don't consider myself to be the emperor, king, pope or anything else of Riesling. I simply report on a subject I love, hopefully in an insightful and also critical way. For Andy Perdue's full article go to:
www.seattletimes.com/html/pacificnw/2024082384_0803grapevinexml.html?utm_content=buffercdc22&utm_medium=social&utm_source=twitter.com&utm_campaign=buffer
A great review of my book by Lettie Teague was published in the Wall Street Journal on June 27th. I don't think I was ever praised more aptly than when she wrote,
"I can't think of a better guide for an under-heralded grape than Mr. Pigott's. With just the right balance of scholarship and outrageousness, it's a book that Tom Wolfe might be proud to have inspired."
For more see the link below, although you may need to be a subscriber to access this:
http://online.wsj.com/articles/uncorking-the-city-new-book-by-stuart-pigott-gives-riesling-its-due-1403832538
It followed hot on the heels of the following extensive story by Irene Virbila in Los Angeles Times on June 7th. This one really takes not only my book, but also the subject of Riesling very seriously. Some of the wine press could learn from this example:
http://www.latimes.com/food/la-fo-virbila-20140607-story.html
The book was also recommended by Dave McIntyre in The Washington Post on June 25th, then on June 27th followed this in-depth article on the subject of my book and on the standing of domestic and imported Riesling in America:
http://www.washingtonpost.com/lifestyle/food/us-riesling-production-ranks-second-worldwide/2014/06/26/8ebb165c-fafe-11e3-8176-f2c941cf35f1_story.html
Andrew McFarlane also enthused about the book in his article about the City of Riesling event (July 26th-28th) in the Traverse City Redcord Eagle of May 28th. In fact, he was the very first person to write about it! See his latest story below:
http://eatdrinktc.com/traverse-city-of-riesling/
Finally one of my countrymen, Jamie Goode, has dared to say something positive about my book. So far the best any of his British colleagues could manage was damning it with faint praise, and I got a lot of flack for the title. Real the Goode news:
http://wineanorak.com/bookshop/bestwhitewineonearth.htm
If you spot something about the book in the media please report that on twitter using the  #BWWOE hashtag and @pigottriesling.
Riesling's day has come!
WATCH THIS SPACE!