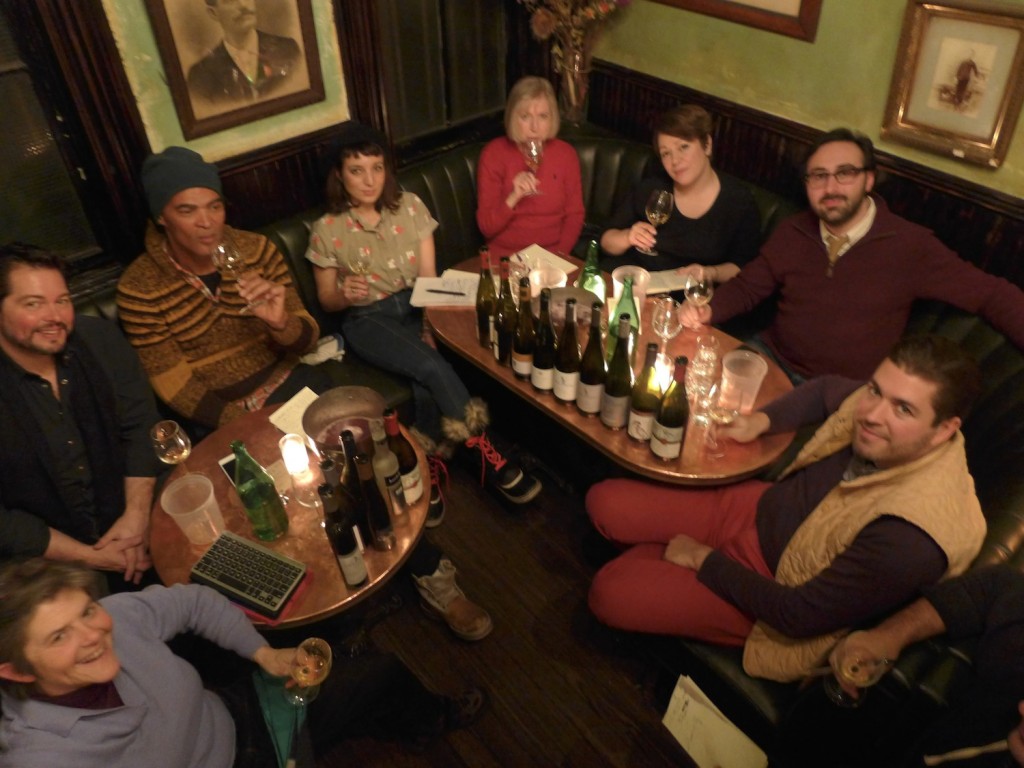 It wasn't part of any plan, but one thing lead to another and yesterday afternoon at Hotel Delmano in Williamsburg/Brooklyn I hosted a tasting of Rieslings and Pinot Noirs from the Niagara Peninsula in Ontario/Canada for a group of New York somms. I find Niagara, where 93% of Ontario's 15,000 acres/6,000 hectares of vineyards are situated, a totally fascinating place. It seems to us to be rather far north, but it's actually at the same latitude as Chianti Classico, 43° N. We think of it as cold because of the winters, but the mean July temperature of 71° F/21.7° C is identical to that for Napa Valley! Most of the vineyards are either on the bench lands of the Niagara Escarpment (cool) or on the alluvial plain below (uncool), but either way most of them are either flat or north-facing. Sure there are limestone soils on the benches, but the glaciers dumped a lot of other rocks from the Canadian Shield on top of them; an odd mix. However, for me the more important reason for doing this tasting was that when I was in Niagara this September I found a huge leap in quality compared with my previous visit 9 years before. Then there were no good Pinots and only a few exciting Rieslings, and now there's a bunch of both.
On paper the timing of the tasting was good for the Rieslings, since we mostly tasted wines of the unremarkable 2011 vintage. However, that kind of vintage is the real test for a winemaker, and this was a test that Charles Baker and Hidden Bench (Marlize Beyers and Harald Thiel) passed with flying colors. Their 2011s – the Vinemount Ridge from Charles Baker with its delicate herbal character and near-perfect (medium-dry) balance, the sleek and dry Roman's Block from Hidden Bench with its pronounced mineral character – showed what's possible in Niagara even when nature doesn't smile. There was general agreement that most concentrated and remarkable of the Rieslings was certainly the medium-dry 2010 CSV from Cave Spring, and we were sad that it wasn't possible to give this one more time in the glass. It was also interesting to see that the group had the same trouble I have guessing how much grape sweetness is in these wines. It is always more than you think, that is more than you can taste.
There was some general comment about the Pinots being too oaky, but I remember hearing this same comment being made by somms about Pinots from all kinds of other places. Only when Burgundy is in the glass does the subject of the oak aromas and tannins suddenly evaporate (although they are certainly in those wines and sometimes there's too much of them in Pinots from Burgundy too). The stars of this group were definitely the regular 2010 and 2006 Pinot Noirs from Hidden Bench. As Lisa Granik said of the 2006, "there's some delicacy to the tannins here, the wine has poise", and that was something the other wines lacked. These are wines which ought to be much better known in places like New York Wine City (NYWC).
We finished with three Riesling Ice Wines. After all it was with Ice Wine (the 1989 Vidal Ice Wine from Inniskillin won the Grand Prix d'Honneur at the 1991 VINEXPO) that Canadian wine first attracted international attention. Everyone seemed to love the bloodorange and passionfruit aromas of the 2008 from Cave Spring, but for some in the group the acidity of this wine was clearly a bit too much. Certainly the 2008 from Inniskillin was lusher with more baked fruit (pear tarte tatin) character, but for me didn't have the vibrancy of the Cave Spring wine. These are really details though. The main result was that many in the group tasted a row of Canadian wines for the first time, and we were all agreed that this is an important winegrowing nation that deserves to be taken more seriously.