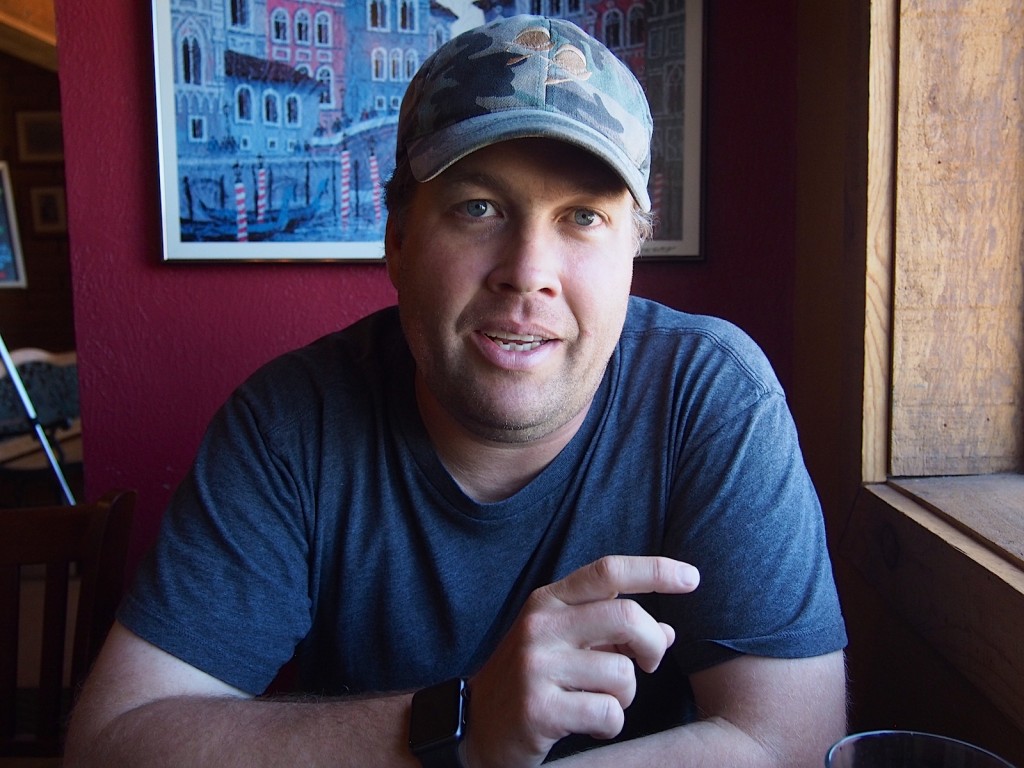 Although it doesn't look like it, this photograph of Todd Bostock of Dos Cabezas winery in Sonoita is missing something vitally important: Todd's wife Kelly Bostock. I'd already left Sonoita for Tuscon with Todd late yesterday afternoon when I suddenly realized that I'd forgotten to get a photograph of Kelly, at least one in which her equally strong personality comes across as like Todd's does in the picture above. My humble apologies to Kelly and to you the readers for this omission, because it skews this story somewhat as a result. You see, there are plenty of winemaking couples around Planet Wine, but Todd & Kelly Bostock really are shaping the Dos Cabezas wines and their marketing as a team, and that's still rather rare in the conservative world of winemaking.
The only point where there really seems to be a division of roles in this partnership is the job of spokesperson for this two person "politburo", which is something that Todd appears to do more of than Kelly. No doubt some of my colleagues would say that's because he's got the gift of the gab – he can talk very articulately at quite a pace for a seriously long time – however, his real gift is for finding a few words that vividly describe the most important things about Arizona's rapidly developing wine industry, the extreme environments of Wilcox and Sonoita where the Bostocks' vineyards are, and the remarkable Dos Cabezas wines. But sometimes what he said yesterday went way further even than that.
"All the beautiful stuff comes from the edge of disaster," came just before we sat down for lunch yesterday after a tour of the Bostocks's Sonoita vineyard. That made straightforward sense after what he'd told me about the problems the'd had with raccoons, deer and lightning. I mean in addition to the problems of frost, hail and rain discussed in yesterday's blog posting. That means that winemakers either go under or they find creative ways to deal with this multidimensional adversity. And together the Bostocks' have done that in way that leaves me breathless, but which a regular visitor to their beautiful tasting room in Sonoita will not necessarily get, that is unless they decide to ask the kind of questions I do.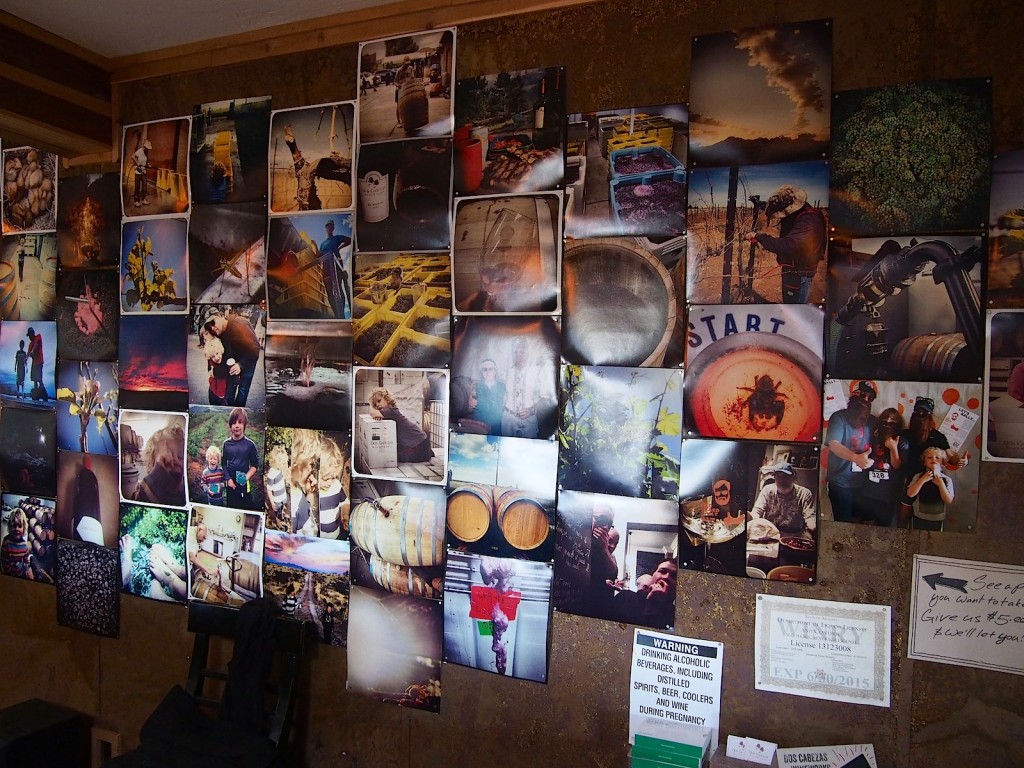 The photo wall behind the bar of the Dos Cabezas tasting room is one good reason why some of them do ask those kind of questions. It not only shows aspects of the savage sublimity of this place that visitors might not get during their often brief visits to the area (this applies to me too), it also tells the Bostocks story in a way that takes you close to the edge where all that beautiful stuff happens, and it provokes visitors' curiosity to find out much more than just how the remarkable Dos Cabezas wines taste. I guess that marketing people reading this will think to themselves, "that's just using instagram for experiential marketing!" but if it is that, then it is a special experiential marketing that retains an unusual down to earthiness.
Meskeoli is the name of Kelly and Todd Bostocks' main dry wine and some readers will remember me singling this out as the Riesling Innovation of the Year some months back. For those of you who missed that I should explain that the 2014 tastes a bit more of the Viognier grape (melon and a hint of apricot) than the 2013, but this grape accounts for just 25% of the blend, followed by 21% Roussanne, 19% Riesling, 17% Picpoul, 11% malvasia, 6% Albarino and 1% Muscat. From a New York Wine City (NYWC) or a CA somm perspective this is a mad, bad mix of grapes that shouldn't add up to anything more than confusion, but the startling reality is that it adds up to way more than the sum of these parts. That strikes me as being the basic idea behind most of the good and exciting wines made in Arizona (that are often unconventional blends), but in this particular wine that principal is raised to the power of ten. Wines that give me strong personal associations are something I live for, and this one has a floral note that reminds me of the smell of the room where my grandmother used to dry flowers from her garden (for flower arranging), but it also has a grapefruit note that's way more subtle than this aroma usually is in white wines (e.g. Sauvignon Blanc, Scheurebe). And the finish is seriously saline, which means the wine is intensely mineral, but also excites me because it reminds me of exploring rock pools on the coast of Cornwall, England as a child.
OK, Kelly and Todd Bostock's Meskeoli isn't the most elegant or subtle dry white on Planet Wine, but it is one of the most startling and expressive I can think of, and I'd rather have that than a polished but predictable taste any day, even if that polished taste is deemed "classic" by NYWC and CA somms. I also think it's important to remember that the 2014 Meskeoli isn't one year, and is therefore currently in a state of youthful exuberance. Todd told me he doesn't think it will age, but I think this is because he almost only experiences it when it's this young. My gut tells me it will also be great at 5 – 10 years of age, but probably I'm underestimating a marathon runner.
Like their leading colleagues in AZ, most of Kelly and Todd's production is red wine, and not without good reason. None of those wines are aged less than two years until release, some of them three or more, so tasting the 2013 vintage wines was a lesson in science fiction, because the best of them aren't even bottled yet. However, they are ready for bottling and that's a great time to taste young reds. It's plain to me from the cask samples I tasted that several of these wines, most notably the 2013 El Norte (a Grenache-based blend with a lot of richness, but also a great herbal-citric freshness) and the 2013 Aguileon (a powerful Tempranillo-based blend with aromas across the spectrum from black olive to pomegranate) are the best vintages of these wines to date. About the second of those wines Todd observed, "there was the wine we could have made to meet out production goal in terms of quantity, and there was the best wine we could blend from the barrels we had. Kelly was right that we had to make the latter." I'd say that she was spot on, for this wine is going to make some of the people who have been talking down AZ wine sit up and take notice. Then there's the 2012 Montana, a spectacular blended red that is as "crazy" and "right" as the Meskeoli, and is single the most exciting wine from Wilcox I tasted so far.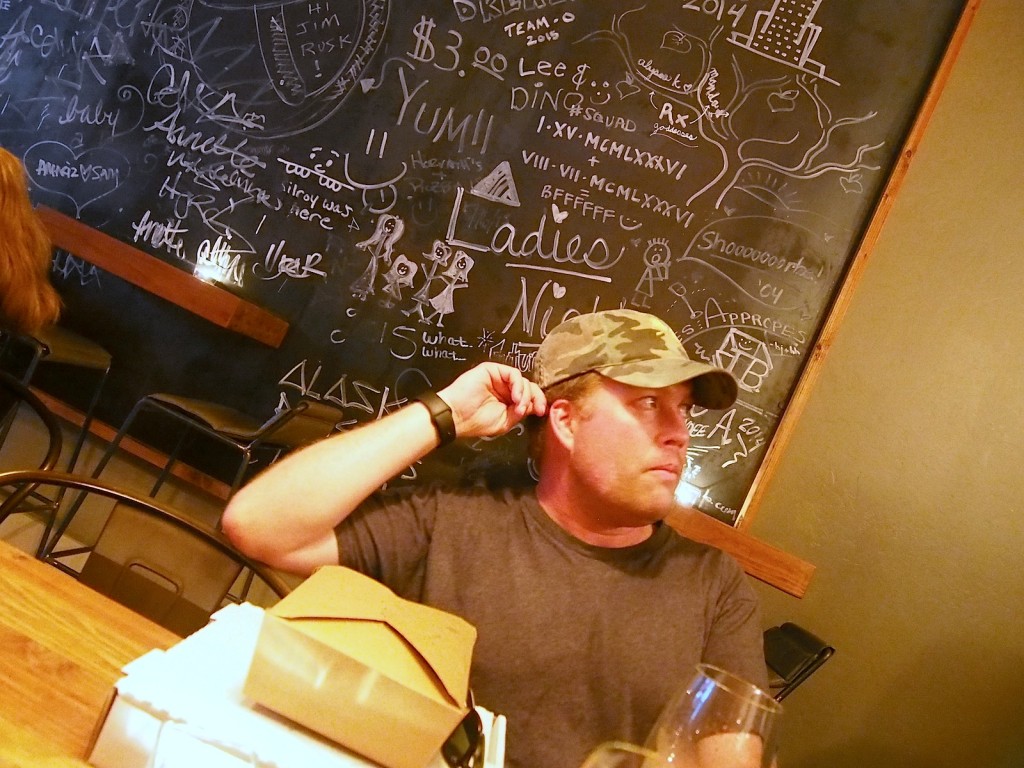 Yesterday evening I was inspired and enlightened by dinner at Pizzeria Bianco in Tuscon, but I feel that subject remands and deserves a posting all of its own with the title BEST PIZZA ON EARTH – The Chris Bianco Story. Please be patient! After that pizza, Todd and I wandered down East Congress Street to the Unplugged wine bar for a glass of 2013 Riesling Unplugged from Martin Tesch in the Nahe, Germany. That was like suddenly being beamed from one planet to another, but this is what wine in the 21st century is all about: connecting those dazzling aroma and flavor dots over vast physical and cultural distances. And, as you can see from the photo above, the pace has a special vibe. And it could only be in Tuscon, a city I immediately fell in love with. So, I have plenty of reasons to return, apart from the fact that I'm still not sure how I should best answer those tightly intertwining questions that popped into my head in the first of this series of postings about the Arizona wine industry. Give me more!