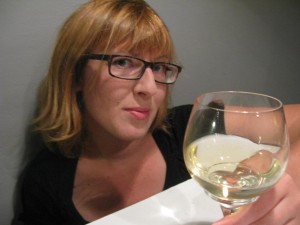 Dear Readers,
You might find it odd that the venerable Stuart Pigott would allow a fledgling journalist from Los Angeles the opportunity to editorialize on his website, and you'd be right. Somehow, a few weeks after I fell into Berlin, I was lucky enough to become a regular fixture at Mr. Pigott's table. I was hungry for knowledge about real German gastronomy and viticulture. I had only tasted a few of the overwrought Rieslings available in the US, and my experience of German cuisine extended no further than Bratwurst, usually prepared in the style of an American hot-dog, with plenty of relish, mustard and ketchup slathered over it.
Under the careful tutelage of Mr. Pigott, I have discovered the incredible breadth and depth of German wine. I remember the first Spatburgunder I had that really knocked my socks off– the 2005 Kastanienbusch from Weingut, Dr. Wehrheim. I also remember vividly the day that I discovered the incredible heights the varietal Blaufrankisch could reach. But aside from all these magical wine epiphanies, I remain a fairly cheap drunk.
I live in Berlin's Kreuzberg district in a one bedroom apartment overlooking a bar and a bus-stop. Last night, in a fit of lunacy, I actually split a €2.50 bottle of the cheapest Vodka available in northern Europe. It tasted like toilet cleaner, but it was delightful to pass the tiny bottle between friends before heading into a club for a night of raucous dancing.
In less hedonistic moments, I usually find myself splitting a 5 to 10 buck bottle of Grauburgunder, Silvaner, or Müller-Thurgau with my husband over a big bowl of cheap and filling fuel; Spaghetti Carbonara, Tabouleh, Pork-Chops with oven roasted root vegetables. I was a professional cook for 5 years and I learned a few tricks before realizing how psychotic you'd have to be to really chose that as a career. Nowadays, I write about wine and food for a variety of publications within Germany and the US. I also keep a blog dedicated to my observations on food, film, and life as an Ex-Pat. I look forward to sharing some of my discoveries with you here at Stuart Pigott's Planet Wine.
Thanks and please forgive my hangover,
Sabrina Small