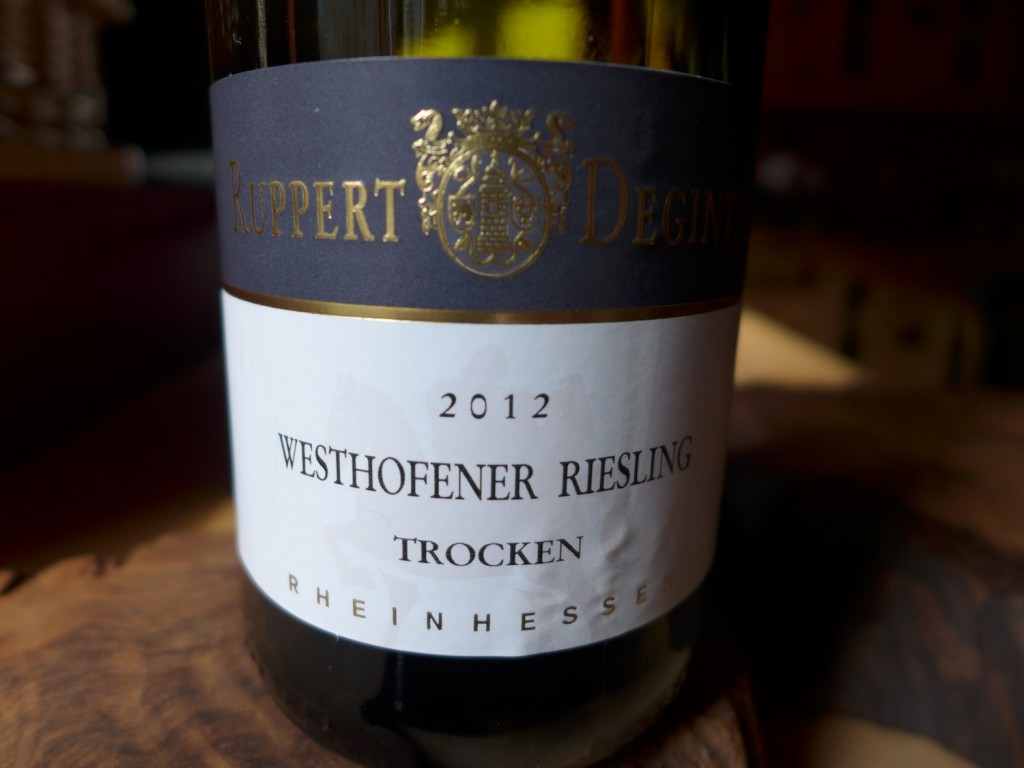 2012 Westhofener Riesling trocken from Rupper-Deginther for just Euro 6!
Sorry Riesling friends in America, Japan and a bunch of other countries. You can't just pop out to the neighborhood liquor store and buy this delicious dry Riesling from Jungwinzer Justus Ruppert of Dittelsheim-Hessloch/Rheinhessen! However, that is not a valid reason to ignore such wines as these, rather it's a good reason for STUART PIGOTT RIESLING GLOBAL to draw attention to these jewels that are just lying around waiting to be picked up by smart and innovative wine importers!
"Dittelsheim-Hessloch, where the hell is that?" I can hear you all saying. Yes, I also said that when I first heard the name exactly nine years ago in the early hours of the morning of 1st May 2004. Then I tasted a wine from Jungwinzer Stefan Winter (vintage 1980) called Leckerberg, tasty hill, and was amazed both by the rich peachy flavor of the wine and its beautiful balance in spite of hailing from the often heavy and clumsy 2003 vintage. Then I was stunned to hear that Leckerberg is actually the officially recognized name of a vineyard site. And it's no the only vineyard site in this corner of Rheinhessen with a funny name. There's also one called Mondschein, moonlight, and another called Lebkuchenberg, gingerbread hill, but more of that later.
Stefan Winter just became a member of Germany's elite VDP winegrowers association, and as such can hardly qualify as a Jungwinzer any more, but Justus Ruppert (vintage 1987) certainly does. We first met in November 2008 when I was a guest student at the Geisenheim wine school back in November, and since then he's become one of the most talented Jungwinzer  in Rheinhessen, (although even Dittelsheim-Hessloch offers him stiff competition in the form of the Wernersbach brothers, Stephan and Florian). This wine is perhaps the best value for money in his wide range of impressive dry Rieslings, Silvaners and Grauburgunders (Pinot Gris). Although it weighs in at only 12% alcohol it has a bouquet of yellow peach and ripe mini-banana, tasting at once really ripe and delightfully fresh. Here is the taste of the Wonnegau area of southern Rheinhessen without the bulky body and ponderous power you sometimes find here due to the combination of a favorable climate and sometimes rather deep, fertile soils.
If you want to taste the best dry Riesling Justus made to date, then you'll have to wait until September when the 2012 vintage of his "Weisser Stein", white stone, a wine from the Lebkuchenberg site, is released. It's only called that name, because the name Lebkuchenberg is currently banned by the Government wine inspectors, after having been abolished under the auspices of the 1971 wine law. This is much more herbal and mineral wine with underplayed power, and it costs just over double the price of the new wine of the month. However, it's worthe wait and the money!
2012 Westhofener Riesling trocken is Euro 6 from
Weingut Ruppert-Deginther
Kämmerergasse 8
D 67596 Dittelsheim-Hessloch
Tel.: (49) / (0)  6244 292
Email: kontakt@ruppert-deginther.de
Internet: www.ruppert-deginther.de