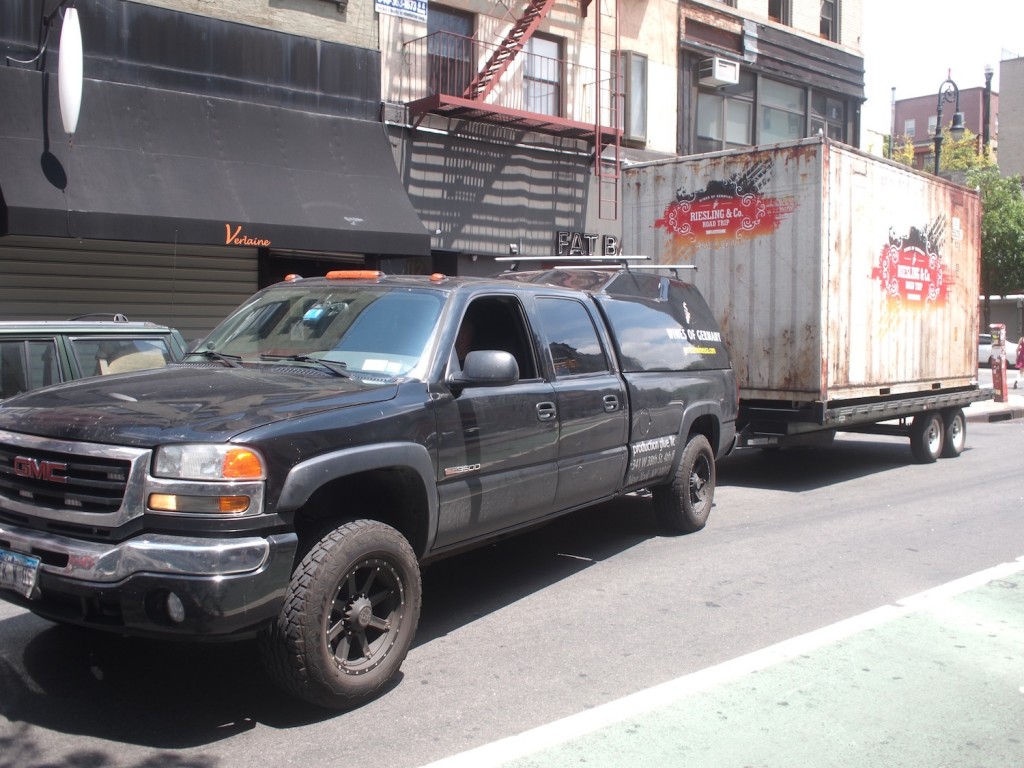 There were whales beneath those gentle-looking waves, but finally I thought it was safe to go back into the water. What I mean is that I naively imagined that once I'd return from Riesling Road Trip's coast-to-coast tour (or was it a race against the clock?) to NYWC "normal life" would begin again. It did, but only for about 15 hours. Then this morning I rolled out of bed rather too late and found a text message which told me that the shoot for my ultra-low budget, ultra-alternative movie WATCH YOUR BACK (a Riesling movie) planned for the Brooklyn Bridge this morning wouldn't work, because no commercial traffic's allowed on that bridge. Ouch! That's not the sort of quiet breakfast I'd been hoping for.
The Great Riesling Whale, i.e. the 20ft shipping container customized as a mobile tasting room by Wines of Germany USA for promotional events (pictured above) has no windows and hence would not qualify as an recreational vehicle, or anything else non-commercial. Let's face it a shipping container is a shipping container even if it has a cool bar inside and is plastered with German wine logos! A moment of panic was followed by a more sober telephone discussion with cameraman MarcarthurBaralla (of Defendshee Productions in Brooklyn) and we made a snap decision to switch to the Williamsburg Bridge. When I spoke to Devin Brignoni, the driver of the powerful automobile which pulled the Great Riesling Whale coast to coast I found that – thankfully! – he was half an hour behind schedule just like Marcarthur and I, so none of us hung around waiting for the others in spite of the sudden change of plan.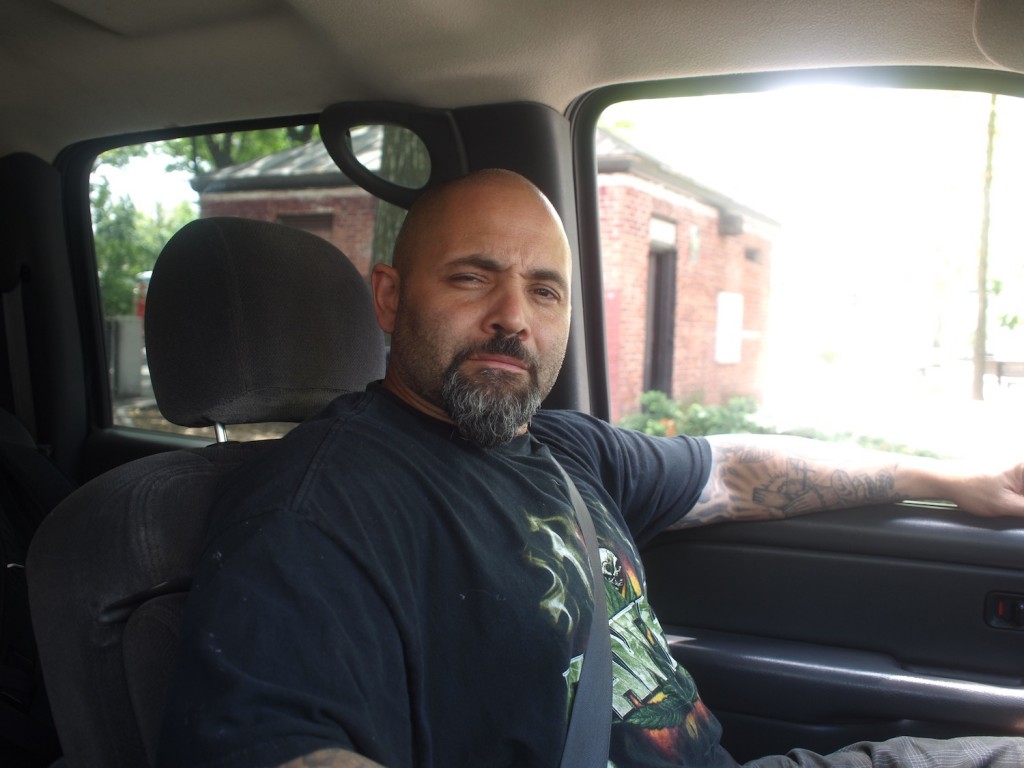 Devin Brignoni (pictured above) showed the same determination that took Riesling Road Trip across the entire country in barely more than a week mostly on time and without missing a single of our appointments. Likewise, Marcarthur Baralla (pictured below) was his usual serious, but relaxed self and as at our two previous shoots for WATCH YOUR BACK we were on the same wavelength not only for picture composition, but also on the crucial Question of whether a particular take was good enough or not. In fact, today we only once needed a second take and that was due to our ambition to get a shot in the can of the Great Riesling whale on the Williamsburg Bridge while a subway train was also using it to cross the East River. Art for Art's Sake! But we cracked that too and by 1pm everything we needed was in the can thanks to my hard-core shot-from-the-hip team.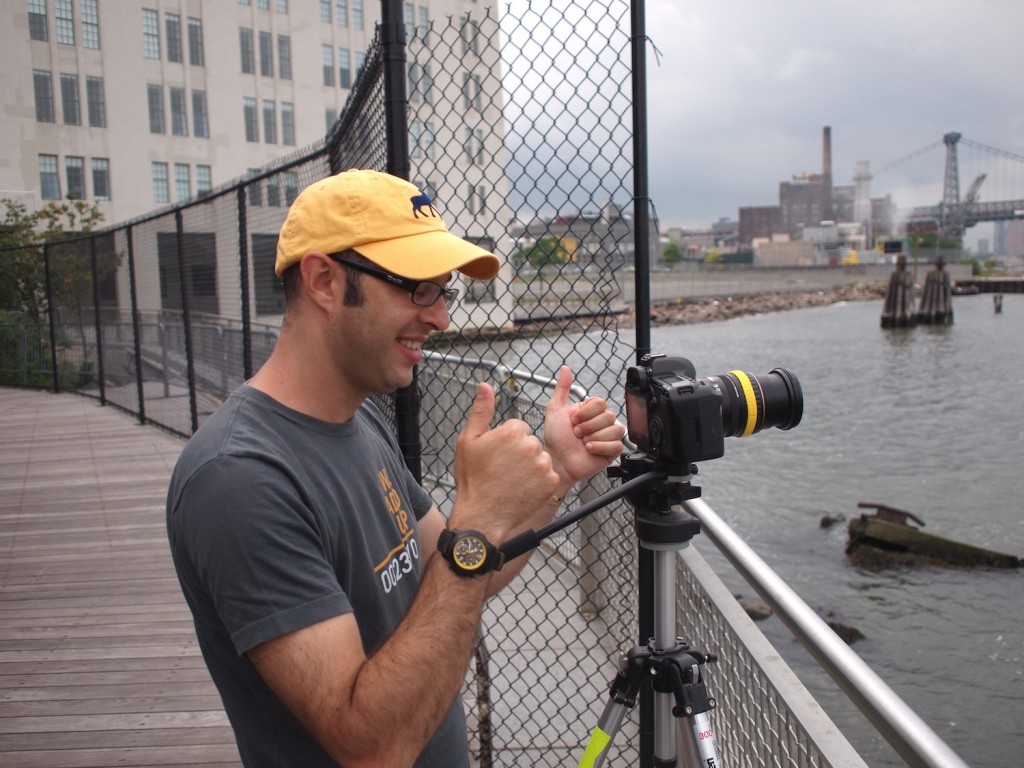 Today, working with special people like these two is crucial to all my work regardless of the medium and none of my stuff would be much good without their influence. Also, it really is a pleasure to work with non-neurotic perfectionists. I say that as an obsessive-compulsive person who struggles to remain in the present moment, but often then flips  off somewhere else in his head. Today there was no question of my flipping anywhere until everything was in the can. Now it really is safe to go back into those NYWC waters!