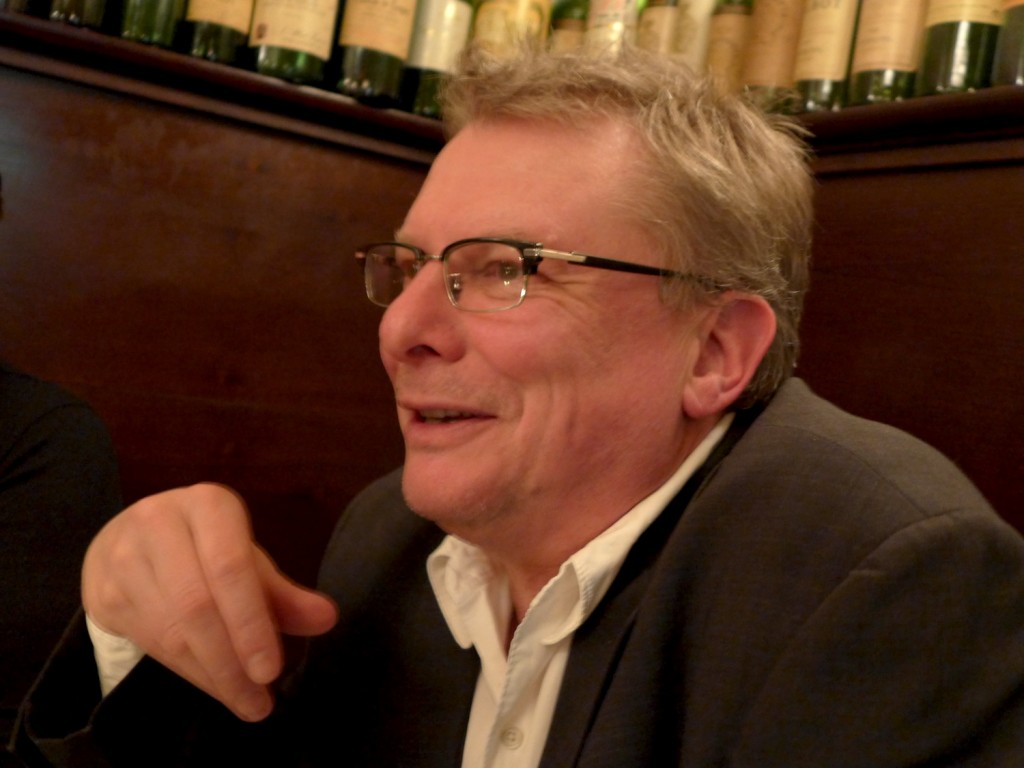 One of the most fundamental aspects of the way we think about wine is the division of grape varieties into two groups, the "noble" wine grapes and all the other wine grapes which are considered more or less "ignoble". For insiders the "noble" wine grapes are those from which a significant number of highly-regarded wines are produced, but the average consumer's perspective is always behind the times, shaped primarily by the wines produced 20 years to 50 years ago. For them, the list of "noble" wine grapes  is much shorter, because back then many fewer exciting wines with a high international reputation were only being produced. However, whichever list it is the red Portugieser grape is not on there! Then it takes a daring pioneer like Horst Hummel, pictured above, to show that the Portugieser grape ending up in the "ignoble" corner is far too simplistic.
Recent research suggests Portugieser a native grape of Austria, and the story of it having been brought to Austria from Portugal by an aristocrat during the 18th century seems to be as much a fairy tale as the Shiraz grape (the Australian synonym for Syrah, recently adopted by various other winegrowing nations) coming from the Persian city of that name.  Today, Portugieser is only widely cultivated in Austria, Germany and Hungary, but in all those places it is renowned as a grape variety for the mass-production of pale, insipid reds. The reason for that it its ability to regularly give crops of 120 hectoliters per hectare or 8 tons per acre without any trouble, and more is possible with the help of generous additions of nitrogen fertilizer to the soil. Grapes grown that way give red wines with weak color and a low tannin content. The genetic make-up of Portugieser is far removed from that of say Cabernet Sauvignon and the family grape varieties related to it, all of which still give wines with plenty of color and tannin even when over-cropped.  (Those tannins don't taste as good as those from low-cropped vines, but that's another story). When Portugieser is cropped heavily the acidity content also shoots up and can make it taste seriously tart. Then winemakers can be tempted to add sweetness in the form of grape juice or grape concentrate to "balance" it. My first ever Portugieser was consumed in a apartment block in the industrial town of Ludwigshafen am Rhein/Germany back in the spring of 1975. It called itself a red wine, but was more like a rosé. It tasted thin, cold (although it was served at room temperature) and sweet-sour. Ouch, ouch, ouch!
It took me a long time to realize that, along with Pinot Noir, Portugieser belongs to the group of grape varieties which give light red wines (i.e. with weak color and low tannin-content) when heavily cropped, but respond to drastic yield-reduction by giving much more color and tannin. For that reason the vertical tasting of Portugieser red wines which Berlin lawyer Horst Hummel gave at the Weinstein wine bar in Berlin-Prenzlauer Berg the other evening was not fundamentally surprising to me. He has been making wine in the Hungarian region of Villány since 1998 and the first wine he ever made was a Portugieser red. For most of the somms and wine lovers that attended the Weinstein tasting it was a total revelation. Many of them said things like, "how can this 15 year old Portugieser have such a deep color and still be so vivid and powerful?" And I have to admit that even I was stunned by Horst Hummel's 1999 Portugieser "Reserve", because I'd never experienced a mature wine from this grape which had aged so well.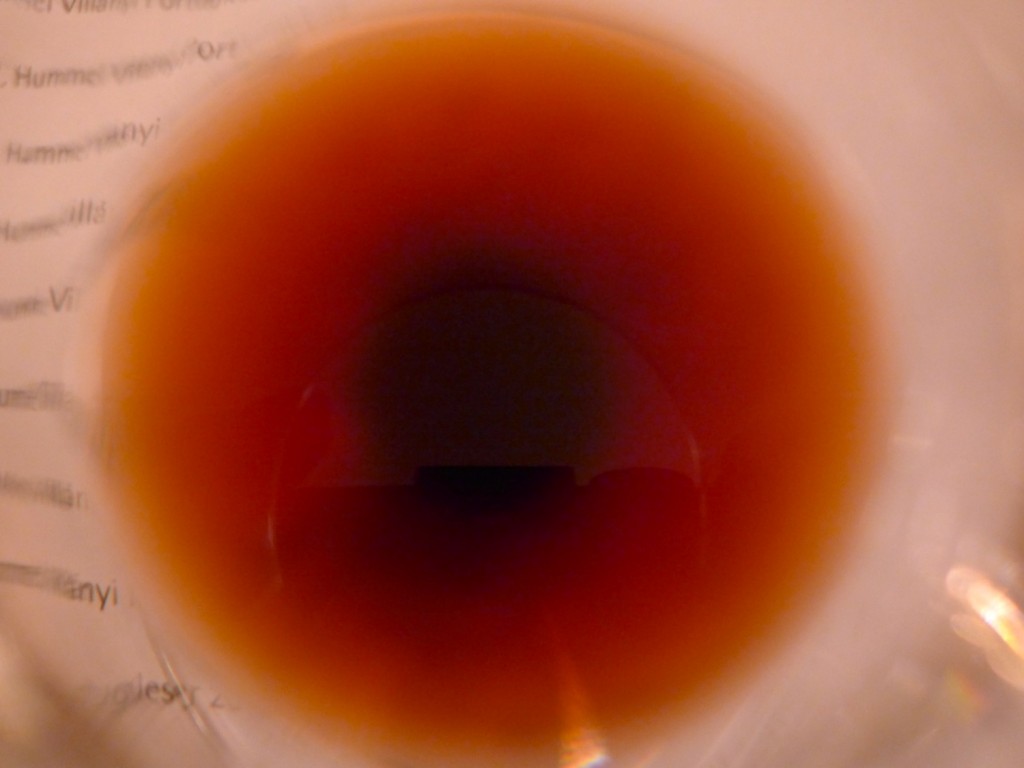 This photo looking directly down into the glass gives an idea of how the wine looked (although the color at the rim of the glass didn't look quite that amber in Weinstein). The current vintage of Horst Hummel's top Portugieser, the 2011 Jammertal, is far deeper in color, has really polished supple tannins and a pronounced mineral note at the long filigree finish. It costs about 20 Euros, which is quite something for a wine from this grape variety, but in absolute terms that is still moderate. What red wines can you get from Burgundy for this price? Nothing that comes close to the sophistication of this wine from one of those "ignoble" grapes! Hats off to Horst Hummel!
PS Almost every wine in this vertical tasting was at least impressive (although the 1996 had an acetone problem – one of the dangers of "wild ferments" without any added yeast), and to describe them all would require another two postings of this length.