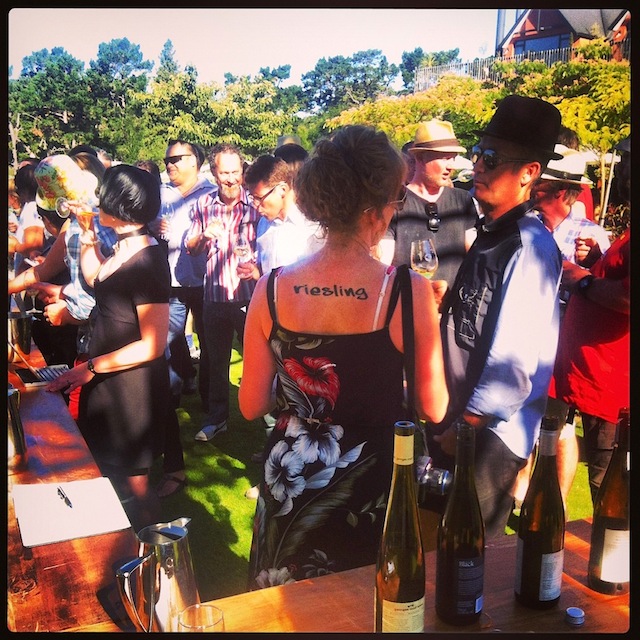 Joelle Thomson (the women with the Riesling back turned to the camera) is a journalist, wine writer and author of 14 books about wine in New Zealand. She was first bitten by the Riesling bug in 1994 and has never looked back. www.joellethomson.com. Here is her report on the current state of NZ Riesling, an underexposed part of Planet Riesling. 
The bus that took New Zealand Riesling devotees up State Highway 1 to this year's National Riesling Tasting might have been half full but our glasses were over-flowing as we tasted our way through over 100 Rieslings from dawn till dusk – and beyond.
How important is Riesling to New Zealand? It's a question that's easy to dismiss, if numbers are all you go by.
On one hand, Riesling is the sixth most planted grape in New Zealand today; on the other, it's been completely eclipsed by Pinot Gris over the past decade but – the biggest but – Kiwi Riesling has always aged brilliantly and its quality has never been better.
The country's slow growth of Riesling – just 356 hectares since 2003 compared to Pinot Gris' rise by 1,448 hectares during the same period (to 1,764 hectares today) in New Zealand.
Marlborough winemaker Andrew Hedley from Framingham Wines is one of the country's most avowed Riesling devotees and the way he sees it, New Zealand will never compete on volume or price.
"Riesling is not trendy, popular or big volume for New Zealand, but it adds to New Zealand's high quality image," says Hedley.
Fellow Riesling maker Mat Donaldson from Pegasus Bay Winery used to think Riesling might one day be the new Sauvignon Blanc but now he thinks the quality is the best it's ever been and that those who understand it are staunch followers. The wines prove both of them right.
This year is the third that New Zealand has had a National Riesling Tasting and it has been part of the country's Summer of Riesling movement; picked up and carried from what New York restaurateur Paul Grieco first began. And as importantly, this year was the first in which New Zealand Winegrowers supported the National Riesling Tasting; coordinating logistics, promoting it to New Zealand wineries, collecting information about the wines entered and collating  tasting sheets. If it all sounds functional rather than the romantic Riesling dream, Angela Clifford is not complaining. She is New Zealand's go-to Riesling organizer for the Summer of Riesling event each year, which she co-founded in New Zealand with winemaker Duncan Forsyth.
Clifford also co-owns Tongue in Groove wines with winemaker Lynnette Hudson while Forsyth is one of the owners and chief winemaker at Mount Edward in Central Otago. The pair both hope to see the support of New Zealand Winegrowers grow.
But there is no profit in Summer of Riesling. It wasn't designed to be profitable, but to entertain and to champion diversity.
So, what is the future of New Zealand's Riesling movement?
The lack of profit in the annual Summer of Riesling almost echoes the lack of profitability which has seen so many Kiwi winemakers turn to Pinot Gris instead. Almost. Those who champion Riesling in New Zealand are getting more adept at marketing and selling it, not least because they recognize just how superbly well it ages. Marlborough winemaker Dr John Forrest cracked open a bottle of eight year old low alcohol Doctor's Riesling with me last month and it blew both of us away. As always with Riesling, it tasted about half its age. Screwcaps help no end, as a long lineup of Pegasus Bay Rieslings tasted this year, which dated back to 1996, showed. This year there were 70 wineries who took part in Summer of Riesling. There were 12 international media at the National Riesling Tasting and two local media (myself and fellow wine writer Jo Burzynska).
"One international journalist told me there was just no way they could write another story about Sauvignon Blanc  because it's taken up so much airtime and they needed another white wine to write about from New Zealand. That person was hugely supportive of our Riesling," says Clifford.
There is strong support for Summer of Riesling from those who attend, but as Framingham winemaker and Riesling fanatic Andrew Hedley said, "Riesling doesn't have to just for   summer. Where would I be in winter without a big, dry, full bodied Riesling with pork belly? That's my ultimate comfort food."
Summer of Riesling, autumn of Riesling, Winter of Riesling or spring… I need no convincing; my New Zealand Riesling glass overflows with great choice from an exceptional line-up of top producers; my pick are shared below. No doubt many of their wines are not available internationally but if the chance presents itself to try these wines, leap in.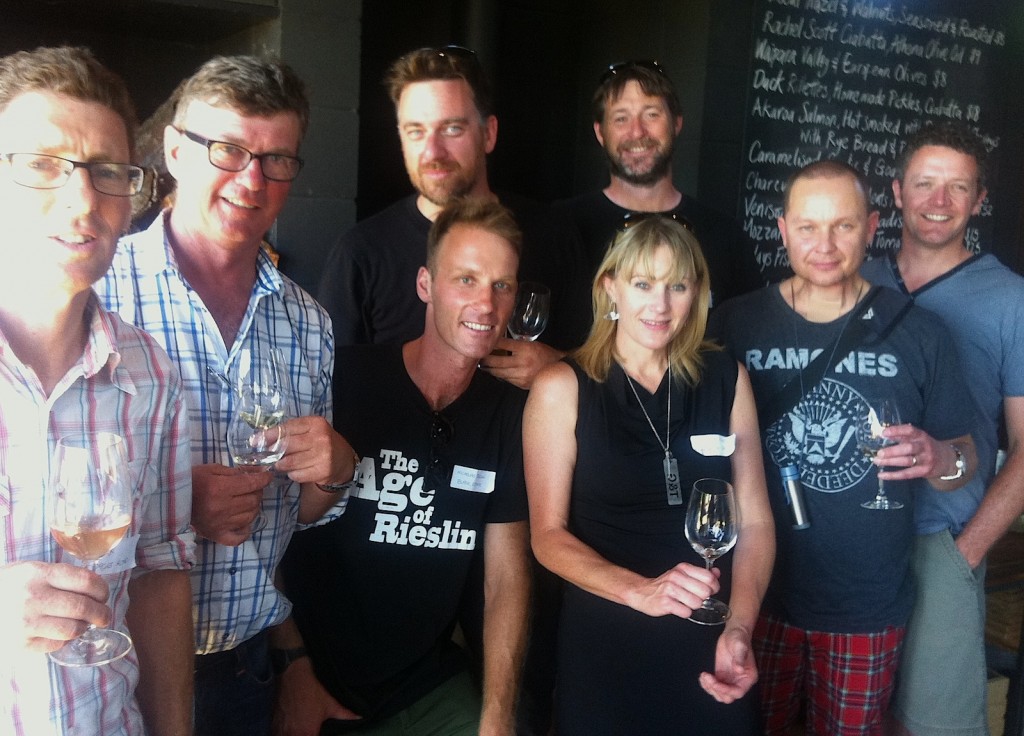 Joelle Thomson's top New Zealand Riesling producers
Aurum Wines, Central Otago, winemaker Max Marriott
Babich Wines, Marlborough
Black Estate, North Canterbury
Cloudy Bay Wines, Marlborough
Forrest Estate, Marlborough
Framingham Wines, Marlborough
Fromm, Marlborough
Greenhough, Nelson
Greywacke, Marlborough
Maude, Central Otago
Misha's Vineyard, Central Otago
Mount Edward, Central Otago
Neudorf Vineyards, Nelson
Nga Waka, Martinborough
Palliser Estate, Martinborough
Pegasus Bay Wines, North Canterbury
Prophet's Rock, Central Otago
Seifried, Nelson
Terrace Edge, North Canterbury
Tongue in Groove Wines, North Canterbury
Waipara Hills, North Canterbury
Zephyr, Marlborough