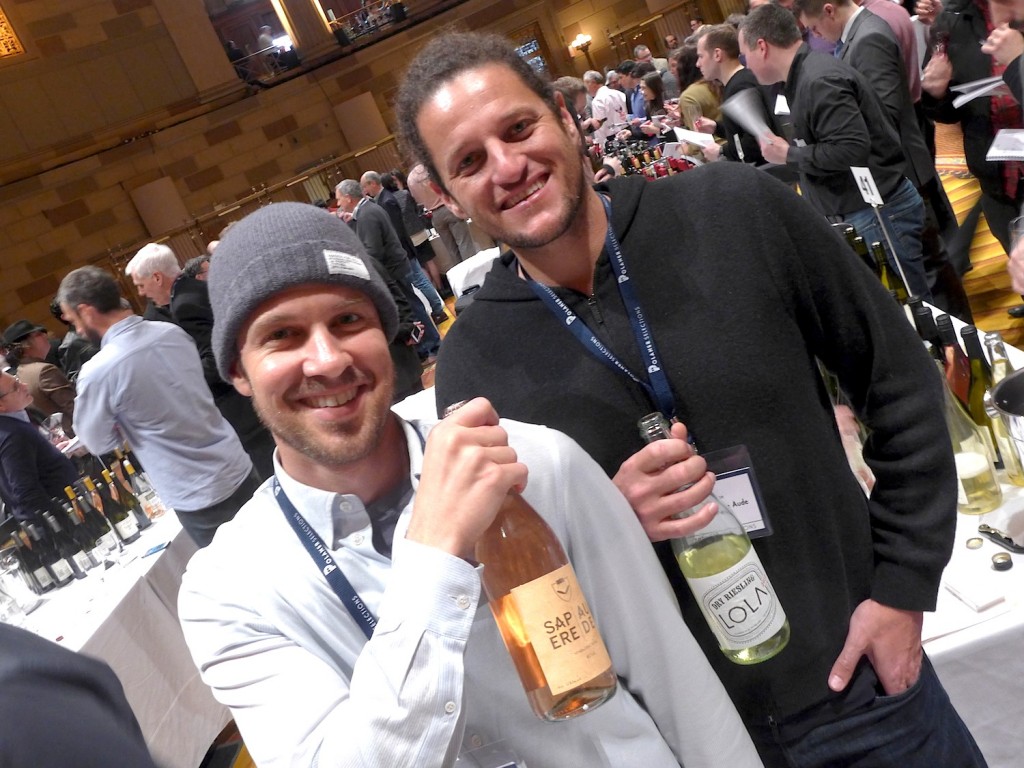 Yes, this posting should have gone online 36 hours ago, but completing the final corrections of BEST WHITE WINE ON EARTH left me with serious Riesling burnout and there was nothing to do but hit the snooze button big time. Now I'm back up at the surface and feeling pleased with what the book does and does not do. What it doesn't do is provide the reader with an encyclopedic mass of pseudo-information like some wine websites and apps do. What it does is introduce you to all the essential aspects of the global Riesling phenomenon – it's not just a product, but also a spirit, perspective, movement and force – in just over 200 rather normal-sized pages and is as up-to-date a form as possible. Of course, having said that immediately after locking everything in for BEST WHITE WINE ON EARTH – The Riesling Story I went to the Polaner Selections portfolio tasting at Gotham Hall/Manhattan and met another winemaker I would really have liked to include in the book. Seth Cripes of the Lola winery in Napa Valley (pictured right) let me taste his delicious 2012 dry Riesling from the Santa Lucia Highlands/Monterey County which proved to me that California Riesling is developing faster than even I believed.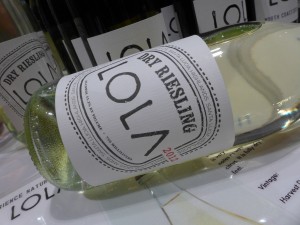 As the picture left shows, this is a very innovative package using the kind of bottle normally reserved for Prosecco type sparkling wines  and closing it with a crown cork. This matches the innovative profile of the wine in the bottle, which is dry and crisp with bright lemon and melon aromas, an attractive spritz of carbon dioxide and just 11.2% alcoholic content. The only down-side to this wine is the total production of just over 8,000 bottles. However, it is further proof that the Santa Lucia Highlands are a special place for Riesling. The conventional wisdom says this that those slopes in the Salinas Valley should all be planted with Chardonnay (and for reds Pinot Noir), but obviously this notion was shaped by fashion, most notably by the success of Mer Soleil Chardonnay by Chuck Wagner of Caymus in Napa. I salute Lola's winemaker Seth Cripes (right in the photo above), a native of the Gulf Coast of Florida on this unique Riesling!
By the way, the elegant 2012 Holly's Cuvée Chardonnay from Neely at the Polaner Selections tasting also made me think that maybe the Santa Cruz Mountains are the best place in California for Chardonnay, not the Santa Lucia Highlands, not Sonoma Coast and certainly not Napa Valley. As evidence I also present the Chardonnays from Thomas Fogarty, Ridge and Mount Eden. However, the combination of extremely high consumer recognition of that varietal and a well-known AVA name seems to still equal guaranteed sales for a healthy price, even if the wine is mediocre (of course, not all of them are).
There may not yet be a serious California Chardonnay problem, but Kym Anderson's paper 'Varietal Intensities and  Similarities of the World's Wine Regions' published in the Journal of Wine Economics Vol.5 No. 2 in 2010 should worry the state's larger producers of this varietal. With almost 22% of all American vineyards planted with Chardonnay it's the most widely planted grape variety in the US. Interestingly, also 22% of all German vineyards are planted with Riesling, the most widely planted grape variety there, inviting comparison of the two situations. The problem for American Chardonnay producers is that Australia, Chile, South Africa, Italy and France also have massive Chardonnay productions (plus a slew of less important producers around the planet), which means very serious competition for American Chardonnays in global markets. Let's say it, also here in New York Wine City!  In contrast, no other country has a Riesling production that comes close to Germany's. Healthy domestic demand in the major Riesling producing nations further mitigates the intensity of global competition for wines of this varietal. That helps explain why there's a global Riesling network of producers, importers, somms and fans supporting this grape, but there ain't no global Chardonnay network out there. More thoughts on this subject will follow!
PS the pink wine in the top picture is the Sapere Aude sparkling rosé that Seth Cripes also makes (from a blend of Pinot Noir and Chardonnay sourced in the Sonoma Coast) and it is also a dangerously refreshing wine!