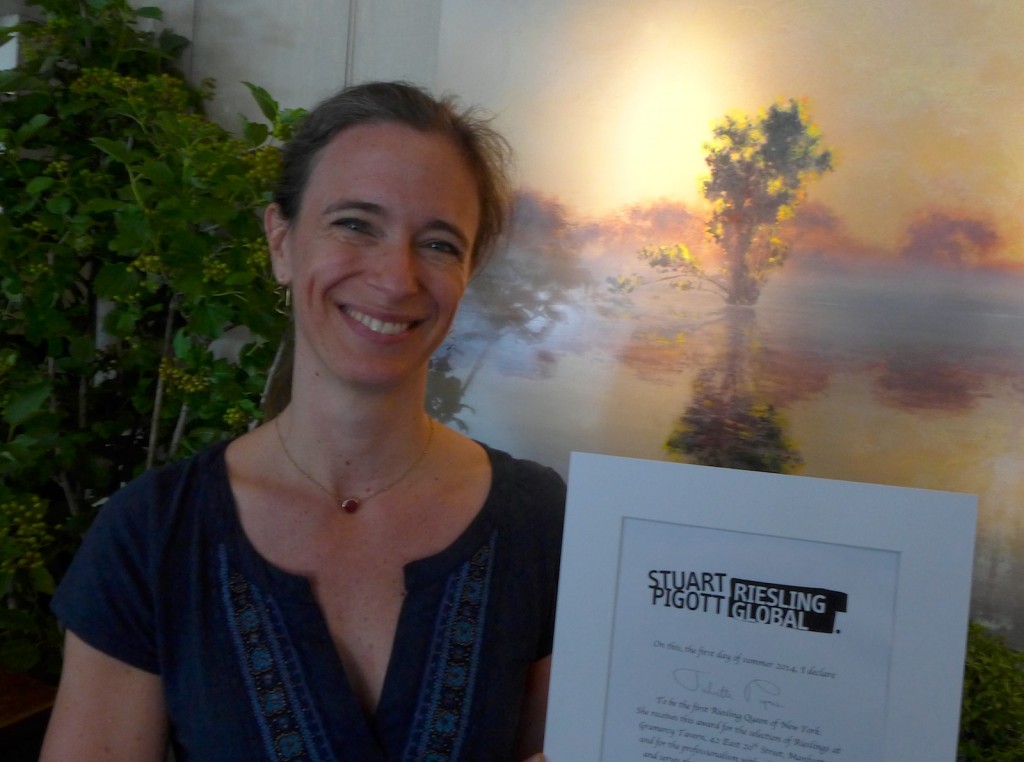 When I first got interested in German wine and Riesling just over 30 years ago – at that point the two almost seemed synonymous to me, so horrible weak was my knowledge – the German Wine Queens used to make me cringe. These young women who's job was to smile for the wines of their country, were so obviously a piece of pseudo-tradition that provided male and middle-aged regional politicians seeking reelection with photo opportunities, and also a crude marketing strategy to sell more mediocre wine with a bit of below the waterline sex appeal. It was often pretty gross and sexist too.
So when, beginning in the 1990s, a new generation of young women flipped this thing around and turned it into a method of advancing their careers, and put some real wine content into this hitherto hollow, stereotypic role I was seriously surprised. That development also got Paul Grieco all excited about the German Wine Queens as an ironic device for making Riesling look cool, and I have some video material that proves this actually worked. All that set my head spinning, and after throwing many ideas around during the last year I decided to create an award called the Riesling Queen/King of New York for a somm or someone else involved in wine professionally who has exceptionally advanced the cause of Riesling in a manner that is neither elitist or nerdish. The beginning of the Summer of Riesling seemed like the perfect moment to announce this, but there was just too much going on to give it the space it deserved, so here is the official announcement on the last day of New York Riesling Week. Juliette Pope, the Wine Director of Gramercy Tavern at 42 East 20th Street is the First Riesling Queen of New York!
How did it take me so long for me to wake up to what Juliette Pope has been doing with Riesling at Gramery Tavern? Well, her self-assured, but naturally modest nature has something to do with it, but also the status of this restaurant as an established classic, or even, in some peoples eyes, an establishment place. Gramercy Tavern has been around for two decades, Juliette have joined it in 1997 as a cook, then worked her way "up" (although it might not have felt like that at the beginning) to become Wine Director 10 years ago. The single page of the Gramercy Tavern wine list devoted to Riesling might seem too cautious to some fanatics, but what a page it is! I would be happy with any wine on it, the diversity of styles and places of origin being such that I could keep going back every day for a couple of weeks, order Riesling every time and still not get bored. It is a near-perfect introduction to the Big Wide World of Riesling that is my subject in BEST WHITE WINE ON EARTH – The Riesling Story.
In common with the rest of the list, there are no status wines for the sake of having status wines, nor are there self-important looking verticals of cult wines. Juliette and the restaurant sometimes take some flack for those things, which, to my mind, is a sure sign that they are not establishment. "There is so much other more interesting stuff out there," she told me when I asked her about that. She's a self-confessed "bad salesperson", which means she would much rather excite a customer with a bottle Riesling, or wine from another grape, at the lower end of the $50 – $100 core of the list than persuade them to go for something higher priced that could end up pleasing them less. Last, but not least, there's nothing strident about her commitment to Riesling, no posturing or egotistical role playing. For her, it's simply a special wine that deserves a special place and gets it for that reason. She's an extremely knowledgable ambassador of Riesling who would simply like to introduce those customers open for it to this remarkable source of drinking pleasure, and to expand the pleasure and awareness of those who have already been introduced.  As it says on the award certificate:
It doesn't get better than this!