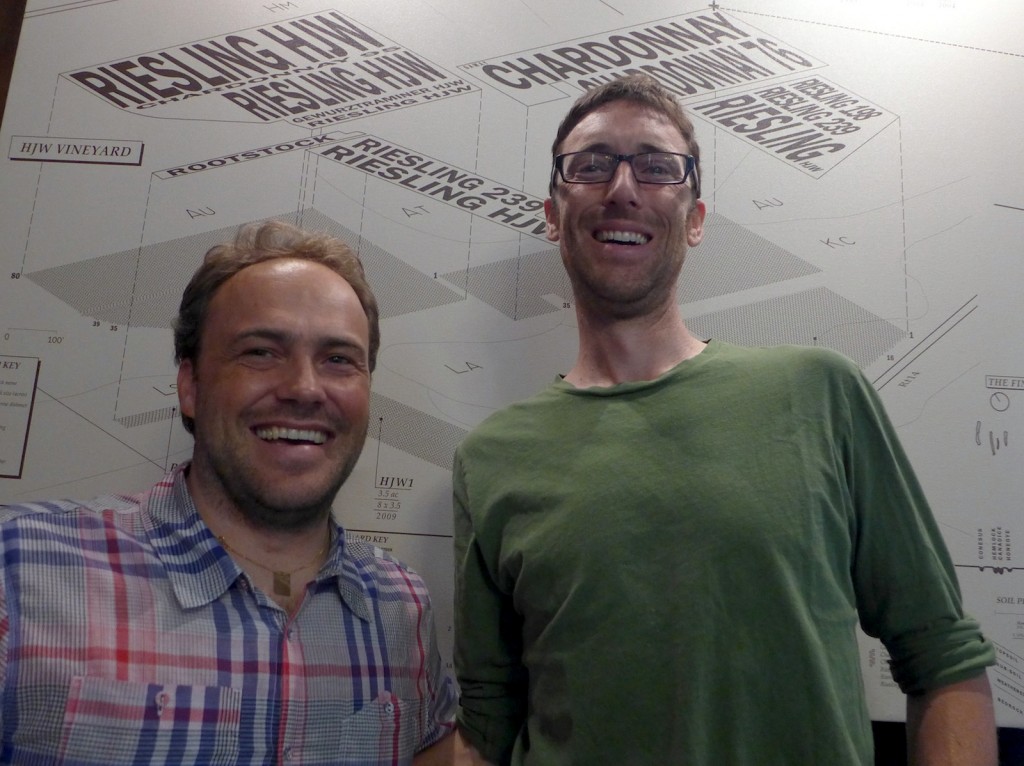 Sure, I came up from New York Wine City (NYWC) to the Finger Lakes (FLX) for the Rieslings – I'm at least as interested in those wines as when I first came up here almost exactly 10 years ago – and they have indeed continued to develop and improve. 2013 is a much better vintage for FLX Riesling than I had dared to imagine, particularly where the winemaker gave the wines plenty of time in the cellar, rather than hurrying them into the bottle. Nobody pushed that envelope further than Oskar Bynke (left) and Frederick Merwarth (right) of Hermann J. Wiemer on Seneca Lake (pictured in front of their new vineyard mind-map) where so far only the "regular" Dry and Semi-Dry Rieslings have been bottles and a couple of tanks are still fermenting. Some of their wines are still pretty embryonic, but my gut tells me that in their (very different – the '13s are a little lighter in body, more acidic and less lush in aroma) way they will be every bit as the great 2012s. The big surprise of my visit so far was some of the other, i.e. non-Riesling, wines.
Clearly some somms and wine lovers still wonder what I'm talking about when I say that Riesling never demands an exclusivity in the vineyard. Everywhere Riesling gives exciting wines other grape varieties grow successfully next to it. In Lower Austria Grüner Veltliner and Riesling are partners, in the Great Southern of Western Australia Shiraz (Syrah) and Riesling flourish next t one another. OK, the Rheingau is very Riesling-heavy, but even there Spätburgunder (Pinot Noir) is an important grape and now gives some very impressive wines. The FLX winemakers have finally really got Riesling – the acreage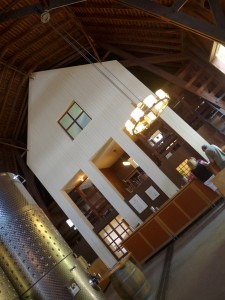 went up by more then 50% during the 5 years! – in a big way. The question is now what the "partner" grape variety might be. Chardonnay is well established here, but produces many solid wines, some good ones, but rather exciting ones. For a long time a lot of Finger Lakes winemakers wanted their second string to be Pinot Noir, because that is also one of the "classic" cool climate grape varieties, and it is also a very cool grape in the other sense.  However, to date I have tasted just one completely convincing FLX Pinot Noir, the 2012 Reserve from Sheldrake Point on Cayuga Lake.  So, if it definitely isn't Chardonnay, and doesn't seem to be Pinot Noir what could it be?
My visit to Hermann J. Wiemer yesterday provided a completely different answer to that question. Their "regular" 2012 Cabernet Franc is already a delicious wine, at once generous (discrete dry tannins) and fresh (moderate acidity and bright black berry notes) with a beautiful violet aroma. It is already way better than a slew of Loire Cabernet Francs which NYWC somms worship for their "terroir" character (often actually just the green paprika aroma of pyazines and tart acidity). The 2012 'Magdalena Vineyard' Cabernet Franc is a game-changing wine that proves the FLX can make great reds from this grape. I'm not talking about aromatic intensity or sheer concentration on the palate, rather breathtaking dry elegance (thanks to even finer dry tannins). Although the aromas of the wine are rather different and the balance different (most importantly less weight), it reminded me of the 2000 Château Cheval Blanc, perhaps the best young red wine I ever tasted from St. Emilion/Bordeaux. By the way, this is only the 6th crop from young vines and the prices seem friendly for red wines of this sophistication: $23 for the "regular" and (not yet fixed) about double that for the 'Magdalena Vineyard' bottling.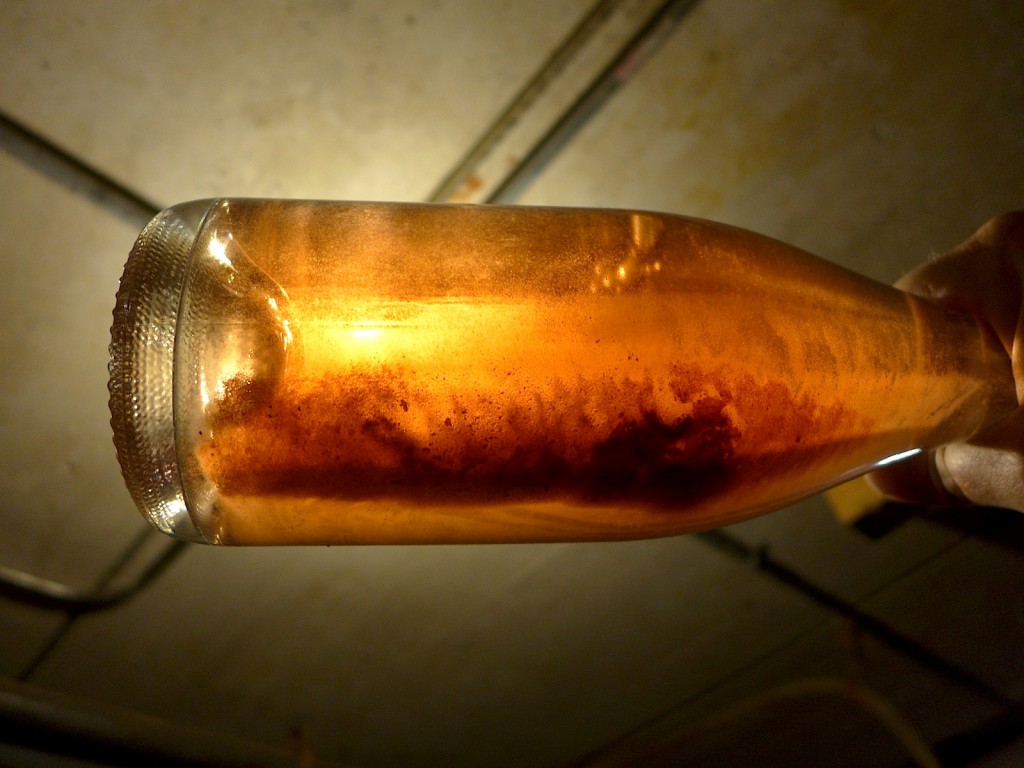 Sparkling wine ought to be a no-brainer for the FLX wine industry, but so far they have mostly just toyed with the style of wine which first made their reputation (then with native American grape varieties) back in the late 19th century. The above image shows Fred Frank of Dr. Konstantin Frank holding a bottle of the Château Frank 'Célèbre' Rosé, which is made from Pinot Meunier. This bottle has completed the second fermentation in the bottle and the deposit in it is the yeast from that second fermentation. This and the white Château Frank 'Célèbre', which is 100% Riesling, are great sparkling wines that are full of fresh fruit aromas and beautifully balanced. $20.99 is a very nice price for this quality. No wonder they've garnered a large pile of medals at wine competitions across America. However, for the American wine and gastronomic media they don't count, because they're not properly dry. Dr. Frank also produced dry sparkling wines in the Champagne mold from Chardonnay (the 2008 Blanc de Blancs is very elegant and still fresh) and Pinot Noir and I although they got more media attention I think they are still seriously underrated. Of course, setting up high-end sparkling wine production is an expensive business, because it takes several years before any product comes out. That is the simple reason that so few FLX producers have made a real commitment to it so far. However, based on the quality and success of these wines it is only a matter of time before sparkling wine becomes big in the FLX. The times they are a' changing!