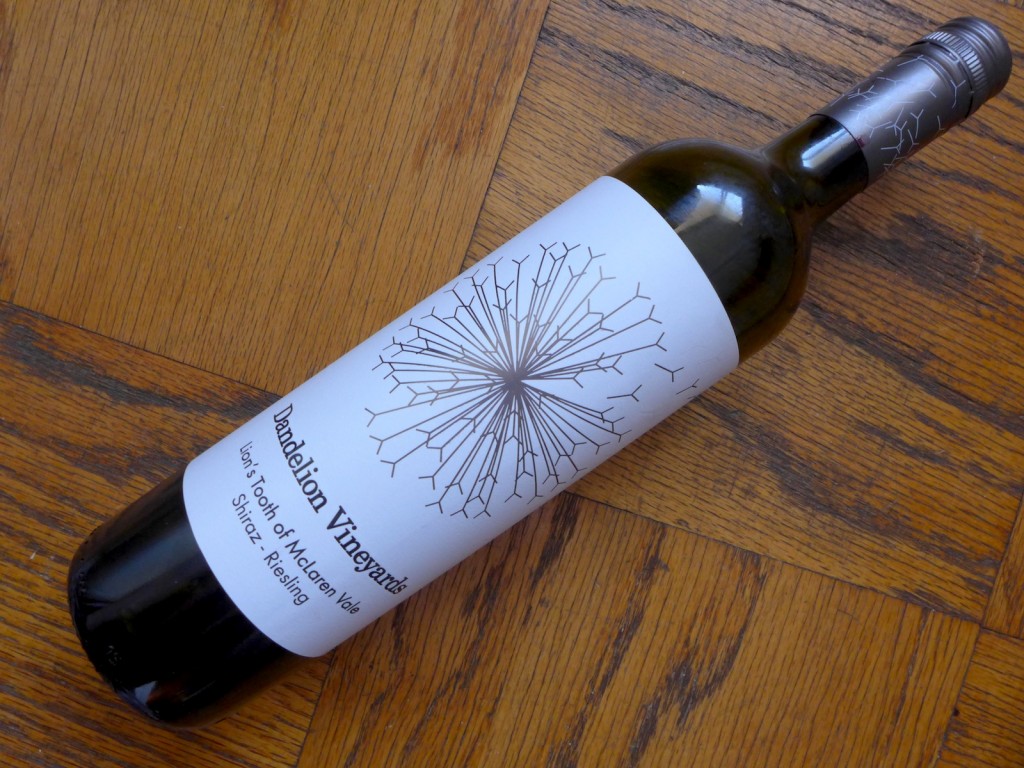 Lion's Tooth of McLaren Vale Shiraz-Riesling by Dandelion Vineyards
$15.98 plus 7% NJ sales tax at Wine Works
Dear Readers,
my Wine of the Month is always a kind of letter to you, and hopefully also a gift. I find these wines the same way that I do the other stories on this blog, by following a trail. I was introduced to Charlie Beatty of Wine Works at a New York Wine City (NYWC) tasting last fall, and he struck me as being both an incredibly knowledgable about wine and a larger than life personality who'd be a living legend if Wine Works was in Brooklyn/NYWC instead of Marlton/NJ.  I met Elena Brooks, the young Bulgarian winemaker of Dandelion Vineyards in Sydney-Australia back in February 2012. Her dry Rieslings from a century old vineyard in the Eden Valley/SA were the most exciting discovery I made during that visit to OZ, and are featured in BEST WHITE WINE ON EARTH – The Riesling Story (see pages 92-3).
So, when I walked into Wine Works the other day to meet Charlie and spotted a Shiraz-Riesling  (i.e. red-white grape) Blend from Elena called 'Lion's Tooth of McLaren Vale' on the shelf I had to try it. The label's claim that this wine, "is a long forgotten but timeless Australian blend rejuvenated," was seriously fascinating, but as yet I've been unable to find out if it's true that co-fermenting the two classic grapes of South Australia really has the kind of tradition that co-fermenting the red Syrah (the French name for Shiraz) and white Viognier grapes does in Côte Rôtie in the Rhône. Either way this is a stunning red wine for a very friendly price.
What makes it so special? Perfume is a word I rarely use for the smell of a wine, but in this case I think it is well deserved. The aromas of rose buds, high-end bitter chocolate and all manner of baking spices pour from the glass. Although it is rich and fleshy, as any good red from the rather warm climate of McLaren vale should be, the wine is anything but jammy, nor do the generous dry tannins make it overly chewy, and the freshness of flavor is delightful. I drained the bottle all too fast, but with every swirl of the glass it only got better, indicating a good aging potential if you can resist it longer than I did. In fact, it has the kind of richness, balance and complexity that I associate with wines that have much higher price tags. Dear Reader, read my lips, "it taste like it costs Between $50 and $100!" And for the nerds in the room the wine is 95% Shiraz and 5% Riesling.
PS The online shop of Wine Works says that the current vintage is 2010, but the bottle I picked off the shelf is a 2011.
Lion's Tooth of McLaren Vale Shiraz-Riesling from Dandelion Vineyards
is currently on sale at Wine Works of Marlton/NJ for $15.98 plus 7% NJ sales tax.
Tel: (1) 856 596 3330