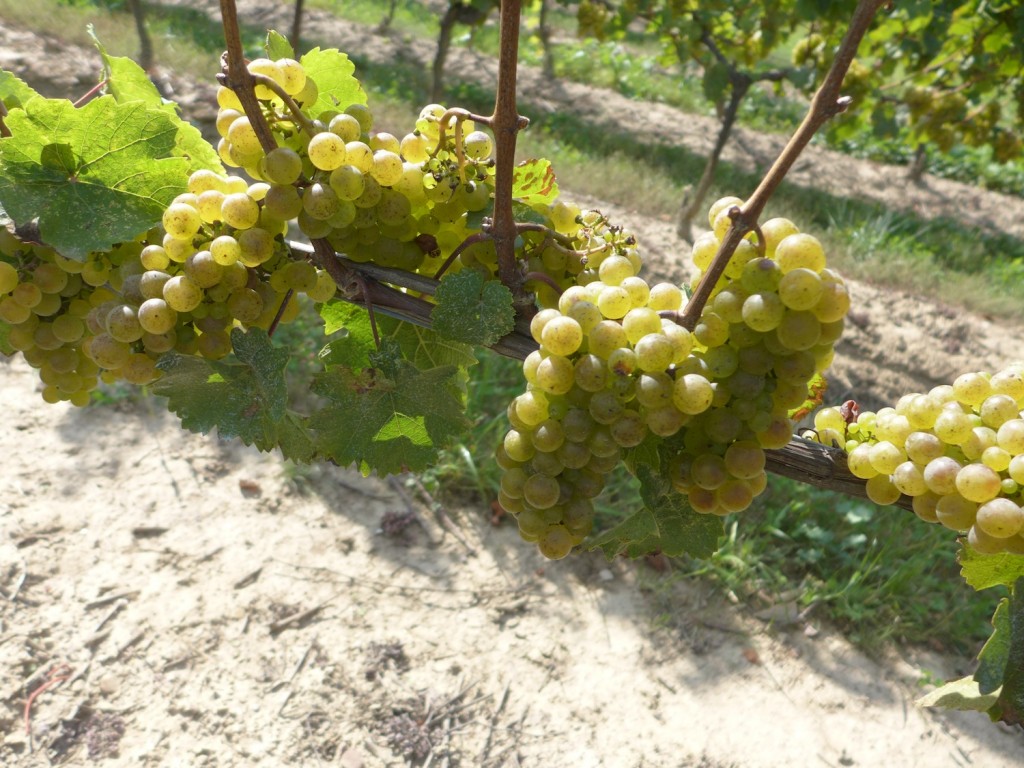 Riesling grapes in Cave Spring Vineyard in Ontario, Canada. Riesling is in the process of overtaking Chardonnay to became the No. 1 white vinifera grape variety in Ontario.
Jancis Robinson's just posted a story called 'Riesling – will it ever catch on?' that addresses the central theme of this blog and of my recently published book BEST WHITE WINE ON EARTH – The Riesling Story (Stewart, Tabori & Chang) and therefore has to be answered. From the title it's clear that she feels deeply skeptical about our favorite grape's chances, an impression the full text completely confirms.  Coincidentally, during the last weeks I was thinking a lot about why Riesling hasn't been doing better recently in certain markets, so I'm glad to have been prodded into getting my thoughts out there.
It seems to me that just as Riesling is a many-sided wine in terms of its taste characteristics – from feather-light to ton-heavy, from bone-dry to honey-sweet and every conceivable combination of those things – it is also many different things to many different people in many different places. A glance at the vineyard statistics confirms this on the production side, the numbers telling a very different story in each winegrowing region and nation where Riesling plays a significant role.
In Australia, for example, in spite of all the changes in image, marketing and styles for the entire wine industry during the last decades, (which enormous fluctuations up and down), the Riesling vineyard area has remained remarkably stable for almost half a century. Bone-dry wines have also remained the dominant style for the grape. Riesling seems as firm a feature of the Australian landscape as Uluru, and no other country on Planet Wine confirms to this pattern.
The situation in the US is an utterly different one, Riesling having been completely overtaken by the explosive growth in the popularity and vineyard area of grapes like Chardonnay and Merlot during the 1970s and '80s. Then, largely under the radar, Riesling has grown remarkably since the turn of the century due to dramatically improved winemaking, grass roots interest (also far outside the cool East and West Coast cities) and a healthy dash of guerilla marketing. This story is all about the American spirit of innovation.
Pictured below is Mike Beneduce of Beneduce Vineyards in Pittstown, New Jersey for whom 2013 was the first vintage of estate vineyard Riesling. I did his Blaufränkisch too!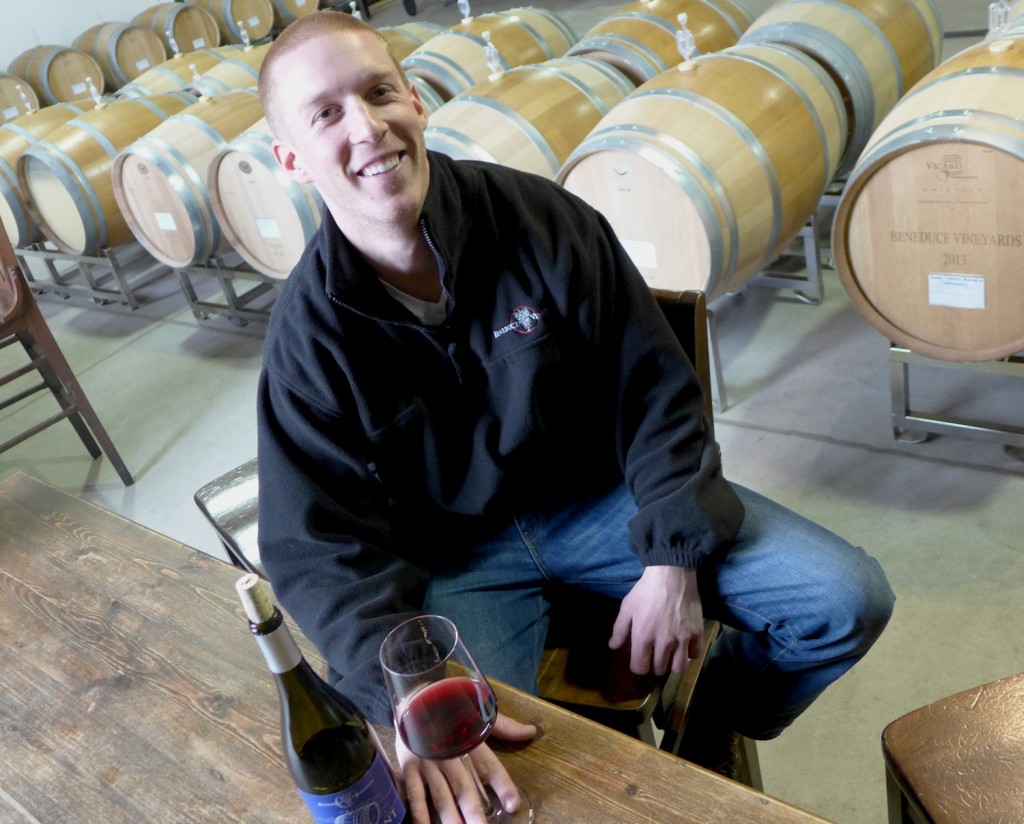 Sure, there are global trends in wine consumption, but even when exactly the same wines are being drunk around the globe, they are drunk in different ways in different cultures and mean different things to those very diverse drinkers.  This strikes me as being at odds with Jancis Robinson's conclusion that a world-wide Riesling bubble, which was only ever partially inflated has burst, because, "Riesling just has too strong a personality to appeal to enough consumers to gain global traction." Sure, Riesling hasn't grown in every market lately and has fallen back a bit in some places as moods and fashions have changed, but even in those places it isn't hard to find elements of the global Riesling network. That, as much as the wines from the best white wine grape on earth, is the subject of this blog and my book.
Globalization, in the sense of truly global trade, dates back almost exactly 450 years, (see Charles C. Mann's book 1493). However, its new instantaneous electronic form has obviously radically changed what that word means very fast. Even in the 21st century wine is a cumbersome product to transport, so it's remarkable how it has become part of global-social-media-pop-culture. Even more extraordinary to me is how "little" Riesling (not quite 1% of the global vineyard area) has been particularly successful at this. In contrast, Cabernet Sauvignon has not done well as a social media phenomenon, rather the wines of that grape seem locked in rigid hierarchical structures that prevent them creating a viral buzz. I feel sure that the lack of a global community of Cabernet winemakers (unlike either Pinot Noir or Riesling) and the high prices and elitist image of many of the wines reinforce this effect.
My guess is, that it is precisely because Riesling is so open to different uses and interpretations that it has been able to connect with so many people in so many places. The generally modest prices and free global exchange of ideas amongst winemakers clearly encourage the feeling that Riesling is a democratic wine to spread. Only older consumers who have a fixed notion of Riesling as sweet and bland, and younger status-orientated consumers who take their cues from the older generation (in order to feel secure in their judgments, I think), seem completely unable to find a new use or positive interpretation for Riesling. As Jancis Robinson rightly notes, she and other writers can only have a rather modest influence upon these deeply-seated prejudices.
Why do those consumers cling to an outdated idea of what Riesling is? I think the answer is that it is often linked to a macho conviction these mostly male consumers have that they knows about wine in some decisive or even absolute sense. What they actually know is a particular conception of wine that more or less fitted reality at some now rather distant point in time, usually the late 20th century which was dominated by Chrdonnay, then big reds. All those Parker points only reinforced this, even after wine fashions and styles had begun moving in very different directions (elegant, more aromatic dry whites and fresher less inky reds). As the Canadian media philosopher Marshall McLuhan famously said, most of the time most of us see the world within the comforting frame of the rear-view mirror, rather than through the windshield.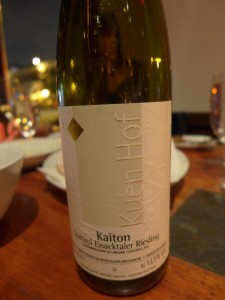 Pictured right is Peter and Brigitte Pliger's 'Kaiton' Riesling from the Eisaktal/Val d'Isarco in Südtirol/Alto Adige. Anyone who wants to know how minerality in wine tastes is recommended this Italian Riesling (and yes, it is a real Riesling, not a Riesling Italico). I was never able to buy a bottle of this wine from the them, because it was always sold out, so I was bowled over to find it on the list at Hearth Restaurant in New York where this picture was taken.  Seen through the bottle is Janie Brooks Heuck of Brooks Wines in Oregon, one of that state's leading Riesling producers. The 2003 Willamette Valley dry Riesling from Brooks was one of the most exciting white wines I tasted this year!
I think there's a logical conclusion to all this, which is that the more an individual, group or culture is open to the taste of wine (and what it can do for the drinker) the better Riesling tends to do.  The more they are ruled by ideas of status and/or "face", the greater the uphill struggle that the wines will have, and in extreme cases that might be like the North Face of the Eiger. Perhaps this is why, as Jancis rightly points out, Riesling does so well in Norway.
Let's have a closer look at Norway. On the 2014 United Nations Human development index it places first (compare with the US fifth and the UK 14th). The Economist Intelligence unit produces a Democracy Index every two years and in the 2012 edition Norway was first (compare with UK 16th and US 21st). Reporters Without Border publishes a world press freedom index and Norway is 3rd in the latest edition (compare with the UK 33rd and the US 46th). When I went to Norway in 2007 I certainly didn't like everything I found, but the openness of many, many people was remarkable. That is the kind of air which Riesling likes to breathe and in which it flourishes.
By the way, none of the world's leading Riesling producers have much problem selling out each year and even I have to be sharp in order to buy some wine directly from German winemakers like Helmut Dönnhoff in Oberhausen, Nahe and Klaus-Peter Keller in Flörsheim-Dalsheim, Rheinhessen, or their colleagues in Australia like Jeffrey Grosset of Clare Valley and Hermann J. Wiemer of the Finger Lakes in Upstate New York.