An enormous thank you to all members of the WEINWUNDER DEUTSCHLAND Team for your untiring efforts, your perfectionism and for your patience with me !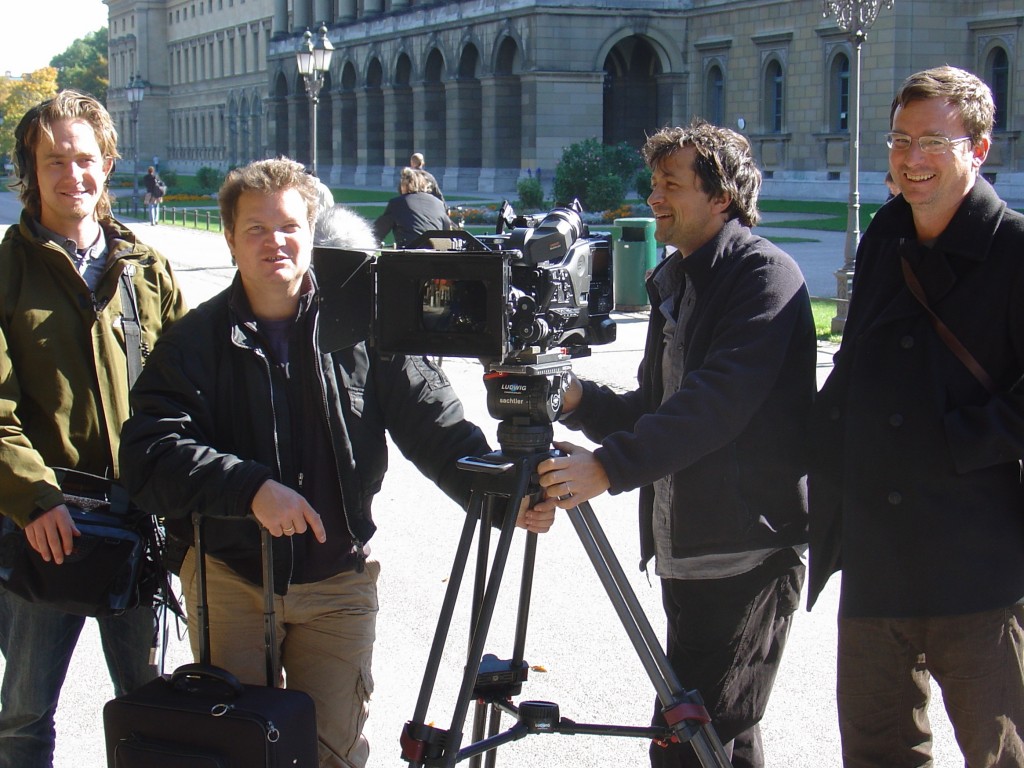 From left to right: Sound: Peter Wuchterl, Camera Assistant: Florian Bschorr, Cameraman: Sorin Dragoi, Director: Alexander Saran
I just realized that it's almost a week since I got back from the last trip shooting WEINWUNDER DEUTSCHLAND, or Wine Wonder Germany, the TV series I've been filming for Bavarian Broadcasting (BR) +++ Director Alexander Saran now has every shot he needs in the can and all the cut material he's so far shown me was A-quality, so why didn't I immediately let out a primal scream of joy into cyberspace ? +++ A week ago at the bleak railway station of Alzey in Rheinhessen it suddenly felt like being hit by lightning, but icy instead of firey +++ I'd just spent an hour sitting on the platform in a wind with a bite like that of the great white shark, whilst the WEINWUNDER DEUTSCHLAND team filmed me taste a sweet Riesling wine from several different angles +++ after half an hour lying semi-conscious under the shower in my hotel room I could finally feel my feet again and turned the hot water on my head, but when I touched it it felt like a block of ice +++ Shit ! +++ For the previous week I'd been sick with a really ugly cold, but kept on working, because Saran, the team and I had to shoot with Thomas Hensel of Weingut Hensel in Bad Dürkheim/Pfalz, Gert and Matthias Aldinger of Weingut Aldinger in Fellbach/Württemberg, Katharina and Manfred Prüm of Weingut Joh. Jos. Prüm, Egon Müller of Weingut Egon Müller-Scharzhof in Wiltingen/Saar and Alex Gysler of Weingut Gysler in Alzey/Rheinhessen (thanks everybody !) in order to finish our "Meisterwerk" +++ The problem at Alzey railway station was that my batteries suddenly went dead and the exhaustion I'd been ignoring for months sent me crashing down +++ For the first days after my return to Berlin I struggled with simple everyday stuff, and even now I still feel seriously burnt-out +++ I already came to two important conclusions though: 1) The result is worth all the stress and suffering, 2) When we film the second series in 2011 we have to reduce the stress and suffering +++ Thankfully cancelling my planned trip to Chile (sorry everybody, particularly Eduardo Chadwick !) has given me some time not only to recover, but also to reflect +++ A year ago I decided to ride the TV-torpedo wherever it took me (see Telegram 112) +++ My current reflection was stimulated by the fact that, after a silence, so long I wondered if it meant complete failure, I finally got some interesting reactions to the "Pigott Wine" +++ Kai Schubert from Schubert Wines in Martinborough/New Zealand was in Berlin and shocked me by telling me that he immediately recognized the style of my dry Müller-Thurgau, because, "if you reduce the yield of Müller-Thurgau in New Zealand, as we do, then it turns out tasting rather like your wine does" +++ Chandra Kurt (www.chandrakurt.com) wrote me that it was the best Müller-Thurgau she'd ever tasted; "really something" +++ Saturday I went to see David Fincher's great new film "The Social Network" and since then I've had some boss ideas for developing this website +++ the ice has been broken, watch this piece of cyberspace !!!