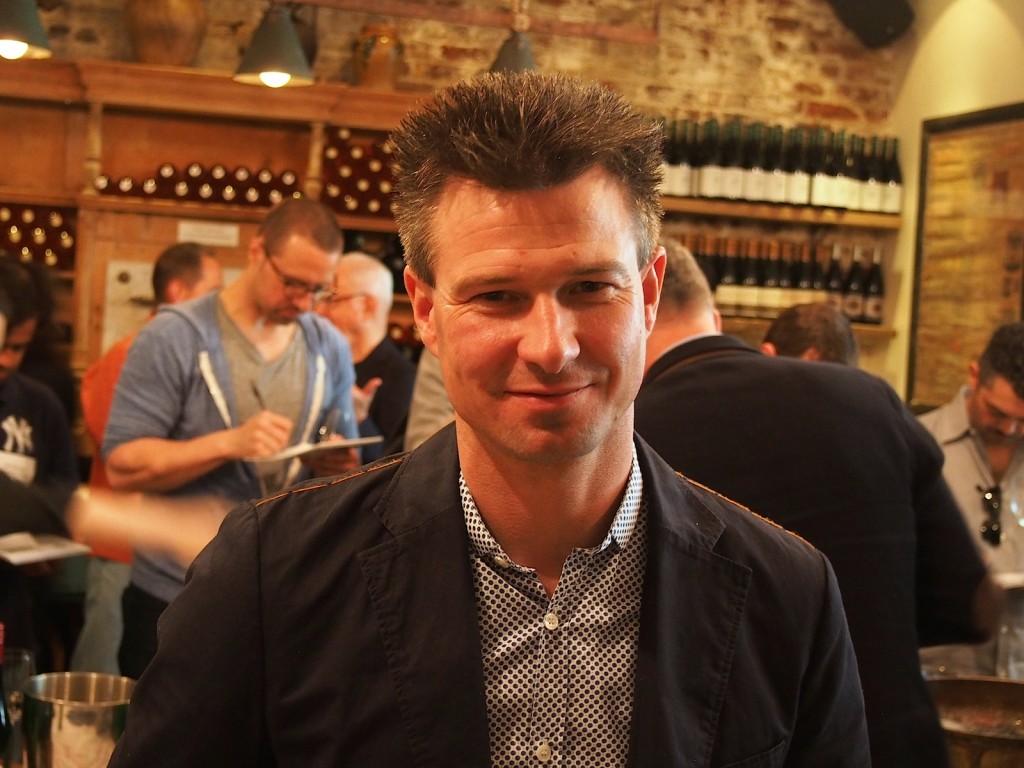 Yesterday, at the the Rudi Wiest Selections tasting of German wines here in NYWC (New York Wine City) I bumped into Tim Fröhlich of the Schäfer-Fröhlich winery in Bockenau in the Nahe. Tasting some of his 2013 and 2014 Rieslings reminded me what a great winemaker he is, how that fact still isn't widely realized in many places around the world, and as a result the reputation of the Nahe is also not always what it should be. One reason for all this is that Tim's top dry Rieslings (what he's best known for in Germany) can be pretty funky during their first year in bottle, sometimes even stinking a little. This is what winemakers refer to as reduction, which is the opposite of oxidation. Doing wild yeast ferments and allowing his top dry wines to go into the bottle with a slight reduction results in this youthful awkwardness. However, when I taste a wine like Tim's 2013 Felsenberg Riesling GG (from a steep south-facing site with very stony volcanic soil), then I have no problems at all. This wine now has intense grapefruit and smoke aromas, is powerful but still quite sleek, and has almost impossibly intense mineral freshness at the finish. During the better part of a year in the bottle the funk this wine initially had has blown off completely. This wine must be tasted to be believed!
Unfortunately, I forgot to take my camera with my to the Terry Theise Selections tasting in NYWC  just two days before, so there's no photograph of Vincent Bründlmayer to accompany my description of his sensation dry 2013 Riesling Heiligenstein 'Alte Reben'. This wine is so concentrated, yet has a supermodel silhouette and an amazingly long aftertaste that literally took my breath away. I haven't tasted an Austrian Riesling which did quite that to me in quite a few years and it was the high point of this tasting. The other important conclusion I drew here is that in 2014 the dry Grüner Veltliners from Austria are a bit more consistently successful than the dry Rieslings.
What both tastings made clear was, that although there are some pretty poor 2014 vintage German and Austrian white wines out there on the market, the top producers in both countries were able to pull off a minor miracle and their 2014 wines are more charming than their 2013s. Any rumors that 2014 is a poor vintage in Germany and Austria are unfounded and based on ignorance. Cheers!