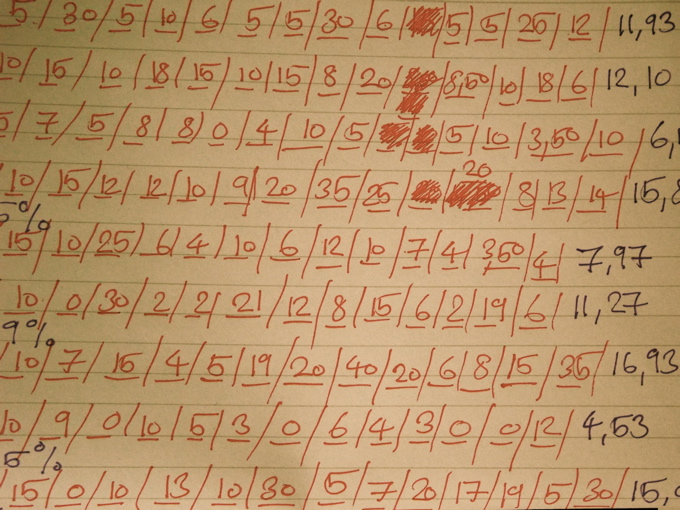 I remember when I was a child I loved the show Lifestyles of the Rich and Famous. It was a show hosted by an eccentric British man named Robin Leach, who occupied a place in American culture not so dissimilar to the one Stuart Pigott occupies here in Germany. He was an interloper who bridged two worlds—the luxurious ones of the rich and famous, and the normal boring ones that the people at home watching led. At the end of each episode Robin Leach would end with his catchphrase: "Champagne wishes and caviar dreams."
Champagne, that insubstantial effervescent stuff, and caviar—those delicate little eggs—are two of the most overpriced foodstuffs in the world. We need only a name: Cristal, or a place: Iran, and we are ready to plunk down buckets of cash to experience the heights of gastronomy. Most of us purchase these items only on special occasions and imbue them with so many superlatives that we can hardly taste them at all. A high price should be indicative of a standard of quality, but often, the price stands in for the quality. After all, if you open a bottle of €200 Cristal you don't want it to taste like a cheap Prosecco.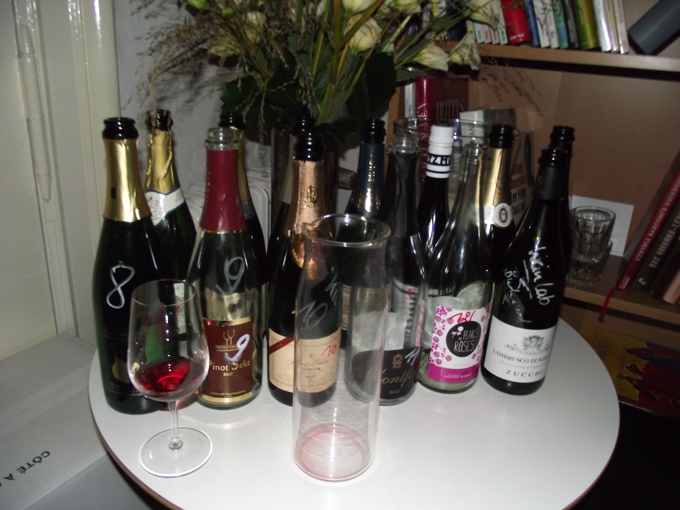 Funnily enough, when a mix of 15 wine experts and heavy users got together this past monday at Hammers Weinkostbar to blind taste 26 sparkling wines, that is exactly what happened. Our mission was to price these bottles on taste alone. With each swish and spit we had to ask ourselves, "What does this taste like it's worth?" It was a challenging assignment, to say the least. For one thing, 26 bottles is a rough load on the taste-buds and nose. Sparkling wines are especially difficult because after awhile those little bubbles feel like they are sandblasting your tongue.
On a more theoretical level, the pricing of these wines by taste, began to feel on many levels, like a personality test. I began fretting over what it would say about me if I underpriced everything, like some sort of coupon clipping housewife who refuses to buy the good mustard because it's not on sale. On the other hand, I worried about overpricing everything and coming off as a novice amidst the wine experts gathered at this event. In the end though, the pricing average for most of the bottles was widely varied.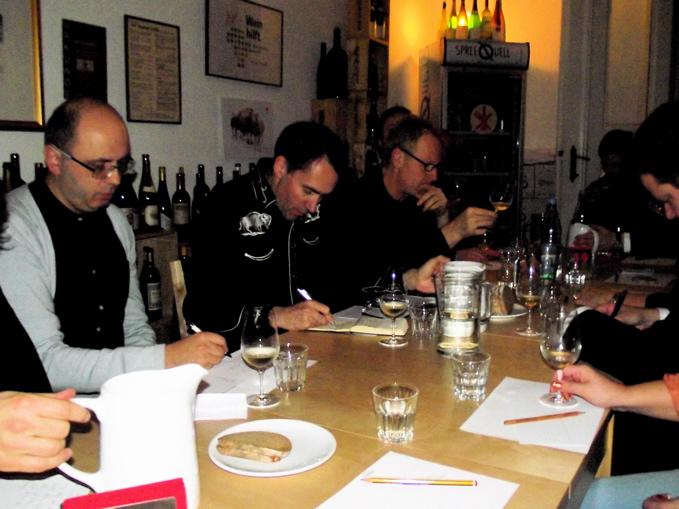 All of us were aware that the wines had a price difference of factor 50, with the most expensive wine costing around €200, or 50 times more than the cheapest one, but none of us could recognize this bottle on taste alone. The bottle in question was a 2004 Roederer "Cristal" Brut. In my tasting notes, I have written, "yeast, soft bubbles, pinot; a bit one note—would price between €8 and €20." In the end I gave it the top price in that spectrum. I didn't want to undervalue my own assessment. I never would have guessed that what tasted like a 20 euro bottle actually cost €179. Another participant wrote succinctly, "I get no kick from this champagne." Stuart, it should be noted, priced the bottle at a mere €7.
But not every bottle had a heart of foam. Some of these sparklers were valued higher than their actual price. The 2008 Weingut Klostermühle "Monfort Brut" was valued at € 23,40 but only costs € 12,50 at Hammers. Another hero of the tasting was the 2009 Winzerhof Stahl "Prickelnd Secco" which was valued on average at €9,53 but cost a mere € 6,50 at Hof. Amazingly, the bottle that I brought along had a great showing as well. The 2008 Weingut Bamberger "Pinot Cuvée" was valued on average at € 16,93 (I valued it at €40 in my tasting notes) and only costs € 14,50 at Vin Aqua Vin.
If the purpose of this tasting was to weed out the high priced crap that is sold on name alone and bring to the surface ingenious newcomers who are using methods like Co2 injection to bring their bottles to life, then it was a rousing success. The third most highly rated bottle from the tasting, the NV Weingut Kirsten "Pinot Rosé Brut" retails for €12 at Hof and it's bottles like these that make it possible for all of us to have "Champagne wishes and caviar dreams."