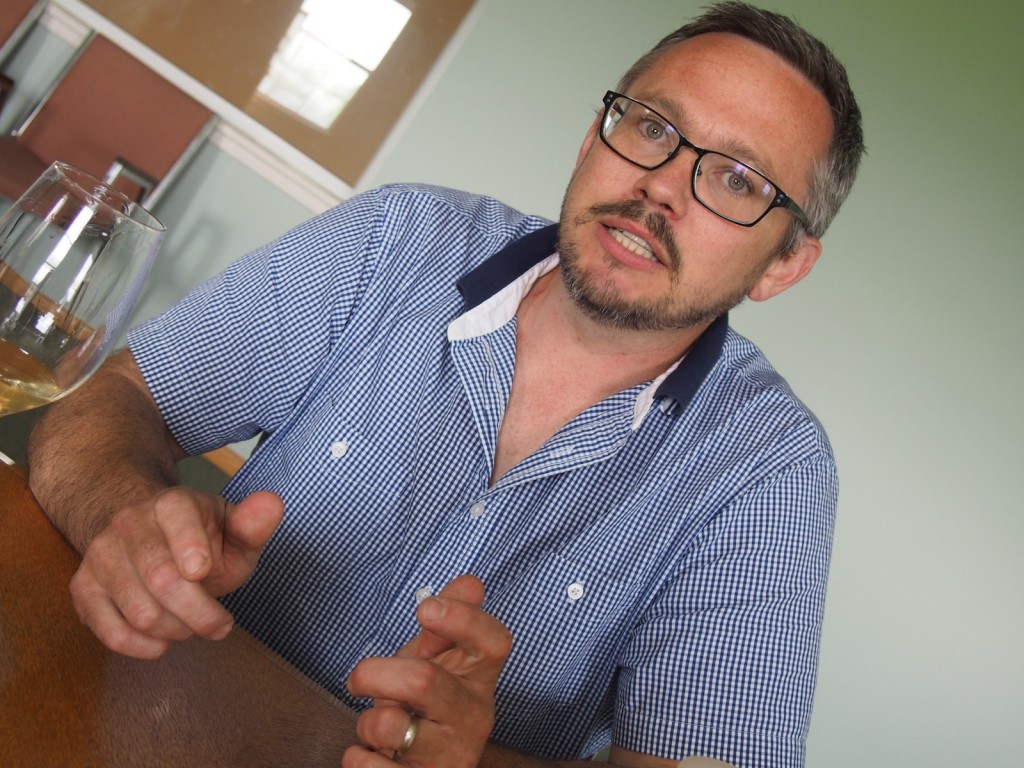 One version of the Peter Becraft story says that he's been the chief winemaker of the Anthony Road winery on the West side of Seneca since 2013 and has done a good job of following in the over-sized footsteps of his predecessor Johannes Reinhardt, a German immigrant now concentrating upon his own Kemmeter winery just across the road. All of this is true and that story has been written quite a few times by the wine and food press. There's nothing you can say against, except that it barely scratches the surface of the full story of Peter Becraft's metamorphosis. The magazine Edible Brooklyn went a step further and talked about hold how when he first moved up to the FLX in Upstate New York, just for the 2006 wine harvest, his accommodation was an Airsteam trailer he brought up with him from New York City. This comes quite a bit closer to the full story, as does his concise bio on the Anthony Road website, but even these versions only hint at the full, unexpurgated truth. For this reason, I took the time for a long talk with Peter the other morning during which he did almost all the talking and I did listened…
"My wife and lived in New York City where she was working in the restaurant industry, as the pastry chef at River Café, and I was the casting assistant to a fashion photographer. 9/11 happened as we were walking to work. It unfolded in front of us. That was the impetus to follow our passion. I started working in a wine shop in the Financial District as well as for the photographer: Tuesday thru Friday lunchtime in the studio, then the rest of Friday and Saturday in the wine store. That's where I got introduced to really good wines. We started vacationing in wine regions. My wife started her own chocolate company CaryMo."
The first wine Peter poured me during our talk was his 2014 Cabernet Franc Rosé, which at 13.1% is quite a powerful rosé in the FLX context with plenty of redcurrant type fruit and some dry tannin in the finish. That should make it very good not just with light summer food, but also more robust dishes. As good as this wine is, the 2014 Unoaked Chardonnay tops it with it's bright white and citrus fruit aromas, ripe juicy fruit and some tannin that is beautifully married to the fresh acidity at the energizing finish. If all regular Chardonnays were as refreshing and characterful as this I'd drink lots of Chardonnay.
"When we first came up to the FLX in May 2006 we'd been in New York City for about a decade. We were living well, but just getting by. I knew Anthony Road from the Green Market on Union Square and it was the last stop we made. Actually, it wasn't the Riesling which did it for me, it was the 2005 Pinot Gris. Then we got talking to Johannes, he asked back into the cellar and we tasted a  wines from the barrel for one and half hours. Finally,  he said, "you know I'm looking for someone to help with harvest. So in early September the Airsteam and I came up to Anthony Road, and we're both still there."
It was amazing to think that eight years before the 2014 harvest Peter had no experience of winemaking at all, then to taste his 2014 Skin Ferment Chardonnay. This is the first vintage of a daring piece of experimental winemaking, since the wine was fermented on the grape skins as if it were a red. That's how a lot of so-called "Orange Wines" are made, but they often end up more or less oxidized (hence the color), more or less disharmonious and more or less faulty. This wine may not be fruity like the regular Chardonnay, but it has a lot of freshness alongside some serious tannins that are reminiscent of red wines, complex savory notes and a saline character like Fino Sherry. "I'm not looking for funk in my wines," Peter explained, "I like that in my music."
"Everything I learned, I learned here. For the first two years after I moved up in the spring of 2007 I worked half in the vineyard and half in the cellar. I went to the school of Johannes Reinhardt where they play classical music in the cellar." As he spoke in the background rock music pumped out of a speaker, and for some reason that prompted me to ask Peter one of those kid's questions, like "Why is the sky blue?" How did you do it, I mean go from being a photographer's assistant to being the winemaker of a rather high profile winery? "Passion and hard work. In this country is quite easy to change paths. I don't think it's like that in Europe."
Anyone who finds Peter's Skin Ferment Chardonnay too fruitless and tannic for their palate, but wants a dry wine will surely like the 2014 Pinot Gris, a dry white that's bursting with an entire fruit salad of aromas (including plenty of melon), is juicy and generous, but still has a great freshness and clocks in at just 12.8% alcohol. In comparison to the highly successful Pinot Gris of Oregon this is lighter, crisper and drier, and most Italian Pinot Grigio tastes wishy-washy in comparison. This is definitely not what the FLX are famous for!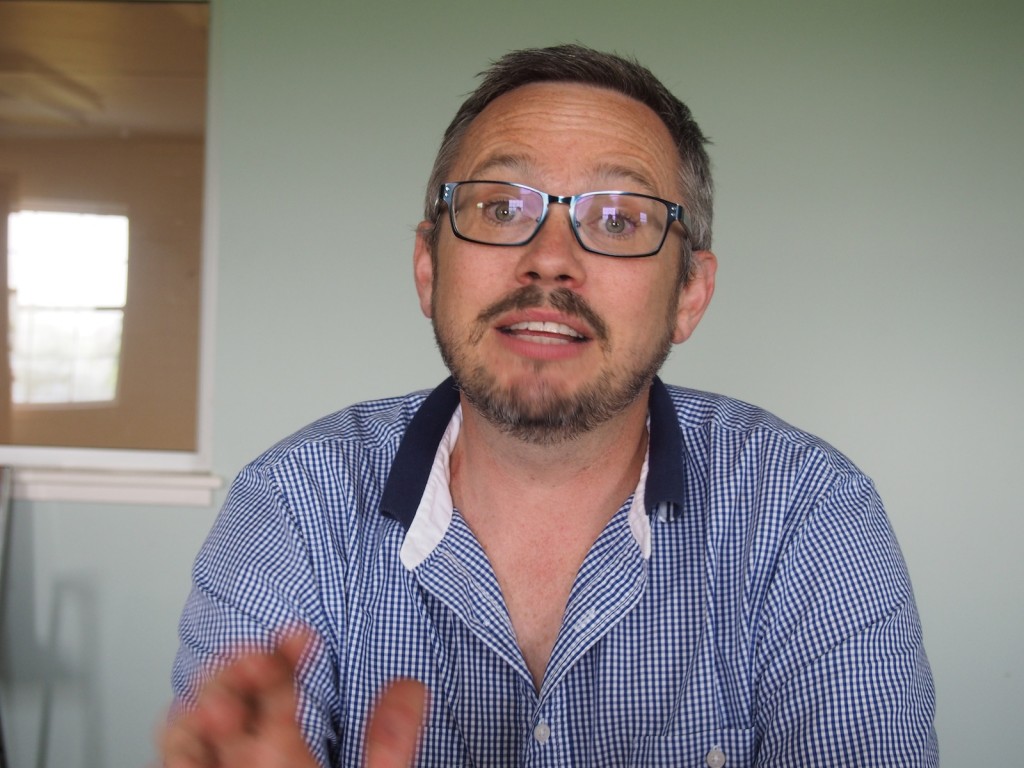 The other day Peter's explanation of how he got where he is today was a little skeletal, but a couple of other meetings with him – once at a July Fourth garden party then a few days later at a very serious Riesling tasting with a small group of colleagues – filled in some of the blank spaces. Peter is a thinker who picks up ideas that people around him throw out, then chews them over in his mind. Often he's very quick and nimble at this, other times it's like the long slow burning of a fuse during which it seems like nothing's happening, then suddenly a startling new idea pops out of his mouth. That's surely how Peter absorbed both the off-hand comments and long explanations that Johannes Reinhardt supplied him with during the years that they worked together, finding his own way through the maze that is winemaking. Maybe that sounds rather obvious, but I promise you doing it for as humbly and receptively for the length of time Peter did it – and he still does it! – is not typical in  the wine industry. Here, as in all other fields of human endeavor, ego is a monster lurking in the shadows or blurting out BS and frothing at the mouth front of stage.
Of course, Anthony Road is best known for Riesling, and as well as making their own dry Riesling Anthony Road also make one for the New York Yankees. Their 2014 Dry Riesling is a remarkable wine that's a perfect example of the new dry FLX Riesling style. With it's ripe pear and floral aromas plus some yeastiness due to it's youth and the care taken not to manhandle it in the cellar (the yeastiness will fade over the next few months) this an effusive wine that bowls right up to you. On the palate it has a pronounced herbal and saline mineral character, but whereas those things make some of the new dry FLX Rieslings rather challenging, here they're wrapped in juicy fruit that makes the wine as appealing as it is expressive. And that is clearly Peter Becraft's aim as a winemaker: to entice and fascinate, to please and startle. The Metamorphosis is complete!