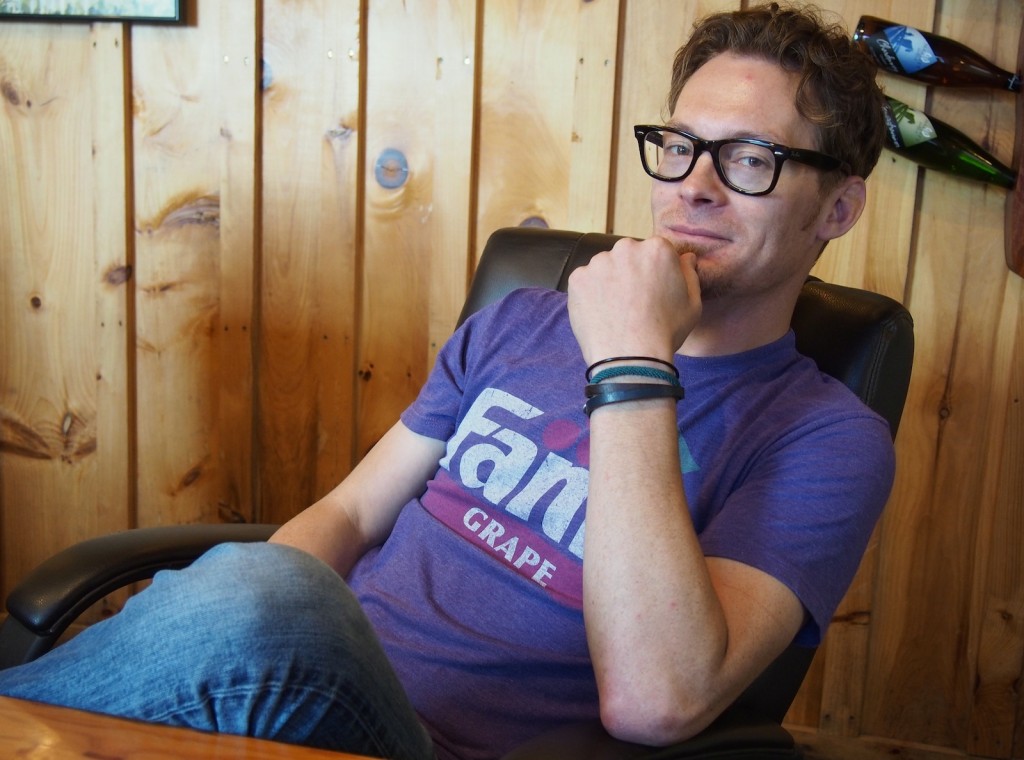 Since this is the last time FLXtra is appearing this season it's time to do a Riesling & Co. Wrap, and to report on all the important things that didn't make it into the "paper" so far. This isn't because they're less worthy than the stories published so far, but there was a limited amount of time I had for writing and often one or two potential stories would slip by on a single day for no better reason than the complete lack of time to hammer them into the keyboard. As you'll see though, each has something in its own way.
The tasting rooms of the FLX are an eye-popping and brain-rattling experience. Sometimes there's a bizarre disconnect between the gaudy and raucous buzz out in a tasting room and the elegant, subtle wines. I even encountered a bit of this at Hermann J. Wiemer, the region's established number one producer of high quality wines!  Nowhere was this disconnect more radical and disorientating than at Hazlitt 1852 Vineyards in Hector on the East side of Seneca Lake where Michael Reidy, pictured above, is the winemaker. This is actually two wineries in one, the larger of the pair being situated in over in Naples where a branded sweet red wine called Red Cat is produced in vast quantities. That's the product drawing most of the let-it-all-hang-out crowd to this tasting room and pumping up the feeding-frenzy energy there to the point where you think that it can't go any higher…but then it does! The small, but well-equipped wine behind this zoo is like an oasis of calm where Michael has been quietly crafting some excellent Rieslings since 2010.
The Hazlitt's 2014 Dry Riesling and the candidate for the 2014 Dry Riesling Reserve are the best wines he's made to date although the 2012s and '13s were already very good. They're quite substantial, ripe and creamy wines (the Reserve is more powerful and has more extravagant grapefruit and pineapple aromas), but at the finish the characteristic driving acidity of the region comes through. There's also a 2014 Semi-Dry Riesling with a Mosel-like vibrancy and aromatic charm. After tasting these, and the impressive 2013 Sauvignon Blanc (it has some paprika and passionfruit, but is no NZ-SB-clone thanks to the ripe melon aroma and moderate acidity) it was hard to believe that Michael started in just such a tasting room back in 2004. Later he went to Cornell University to learn the science of winemaking and on graduation he decided to stay in the region, "because you could see that we were in the knee of the curve." He's now one of the winemakers responsible for pushing the FLX up the steep section of the curve it's now on, also with the Hazlitt dry reds for a description of which there's sadly not adequate space here.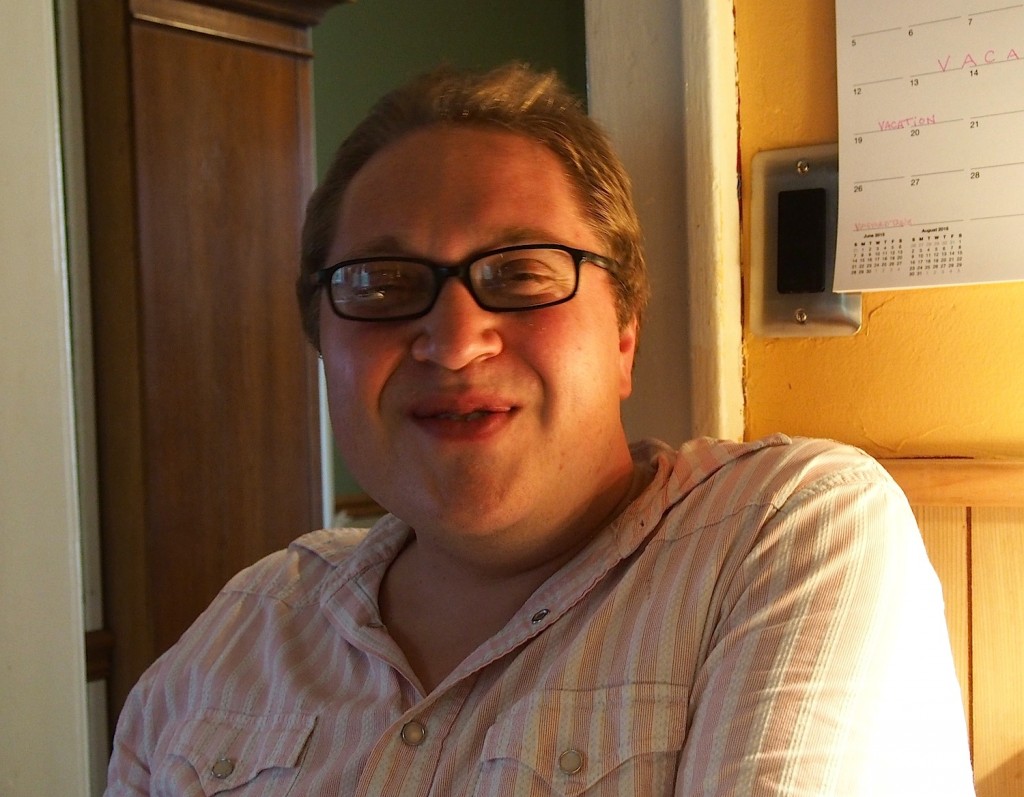 Although it is a big jump in terms of personalities and winemakers from him to August Deimel of Keuka Springs, pictured above at a Fourth of July party in Geneva, it makes sense, because he too is Cornell trained and a master of the science of wine in more sense than one. When I finally got to talk with him at some length I quickly began to wonder if his years at St. John's College in Santa Fe didn't have a far more fundamental influence on his thinking. As he put it, "four years without a single lecture!" but endless discussions. This reminded me somewhat of my time at the Royal College of Art in the Mid-1980s, which in retrospect shaped my thinking in an entirely comparable way.
When August arrived at Keuka Springs in May 2012 he immediately put his mind to cracking Gewürztraminer as a dry wine, one of the most horrible challenges in all of winemaking. Few young winemakers anywhere in the world are interested in pursuing this white whale, and to my serious amazement with his 2014 he has already nailed it! The most remarkable of these wines is the barrel-fermented, bone dry 2014 Dynamite Vineyard Gewürztraminer that is discretely aromatic for this grape (turkish delight rather than full-throttle lychee), but has a stunning textural complexity of a kind I usually associate with elegant high-end Chardonnay. I had no idea this was even possible with the thick-skinned, bitter and low acidity Gewürztraminer grape! Although August's regular 2014 Gewüztraminer is a somewhat more conventional wine it manages to be pretty dry, beautifully balanced and not have too big a build, that is within the heavyweight champion of the world context of this grape. I also really liked the Keuka Springs 2013 Humphreys Vineyard Dry Riesling, a wine that manages to be strong and delicate at the same time and can't wait to taste the 2014. At the other end of the white wine spectrum is the full-throttle, super-succulent 2014 Vignoles, a witches brew of pineapple, citrus and darker more mysterious flavors; the best wine I ever tasted from this hybrid grape!
The problem with August's story is that to tell it properly I would really need to give him an entire full-length blog posting. Because that won't work this time I'm forced to scratch the surface and to try tease you by saying that I think he's a winemaker with a genuinely revolutionary vision for the FLX that will surely lead to many more surprising wines like those just described during the coming years. Dear Somms of New York Wine City (NYWC), please wake up to this guy NOW, rather than several years too late. Many of these wines are screaming to be on the tables in your restaurant NOW!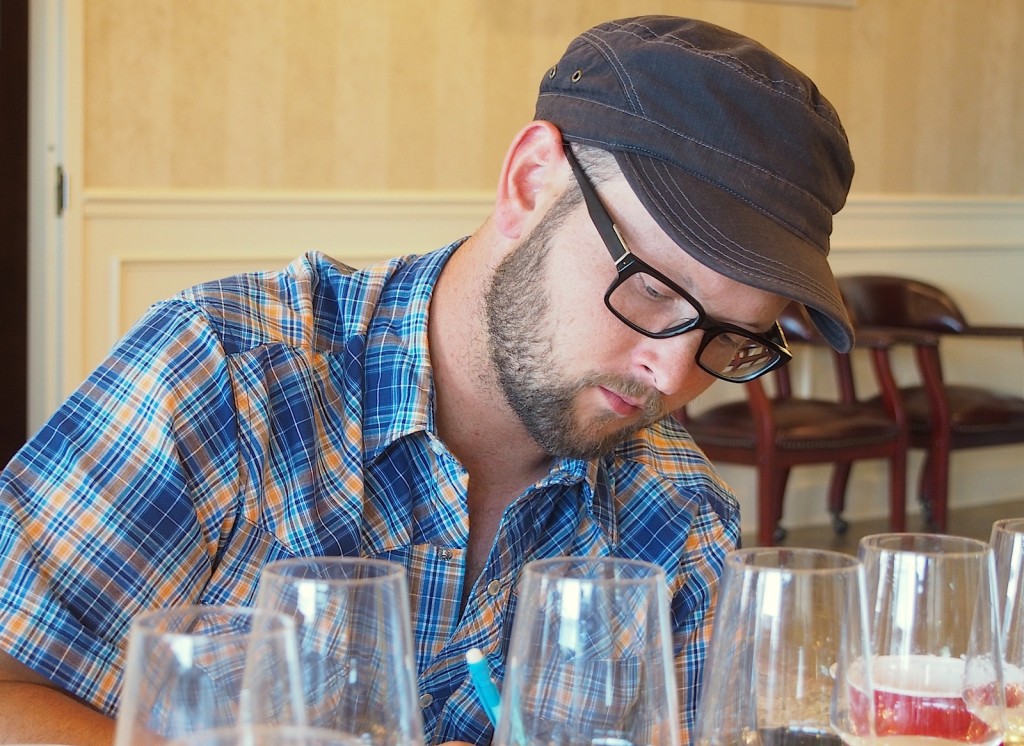 The reason that the Somms of NYWC will have to wait at least another year in order to get the chance to be excited about what Nathan Kendall, the new winemaker at Villa Bellangelo on the West side of Seneca Lake is doing is that the first of his daring new Rieslings won't be released for more than a full year. I managed to taste them blind at a tasting of 2013 and 2014 dry and medium-dry FLX Rieslings (maximum 20 grams per litre / 2% unfermented sweetness) staged at Villa Bellangelo on the afternoon of Fourth of July. In this context, both the 2014 Dry Riesling and the medium-dry 2014 Bellangelo Riesling tasted crazy young with a funky yeasty aroma (technical term reduction), but had a serious textural quality as well as lemon-lime freshness, and ended on a salty mineral note. The yeasty funk was controversial amongst the dozen or so winemakers who joined me at this tasting, but I feel confident that in another year this will have waned substantially, and these Rieslings will make many people talk and some swoon. Nathan's gained the reputation of the gift of the gab, but as you can see from this picture above he's also a very thoughtful guy; another complex personality I sadly cannot fully explore here.
At least equally controversial at the Fourth of July FLX Riesling tasting were the wines from Bloomer Creek on the East side of Seneca Lake. Here the thing which ticked some of the tasters off was the fact that these wines had spent a long time on the deposit of dead yeast left by the fermentation (technical term gross lees) without much sulfites to protect them from oxidation. However, after seeing how stylistically consistent the three 2013 Rieslings from Bloomer Creek were even the naysayers had to admit that the wines have a totally distinctive style and pack a lot of flavor for only 11.5% alcohol. I love the notes of dried pear and peach, the hint of floral honey and the richness of wines like Bloomer Creek's 2013 Morehouse Road Dry Riesling have, and I applaud the fact that they taste like nothing else in the region. The photograph below shows Debra Bermingham (also a talented painter who deserves a blog posting for her work) and Kim Engle of Bloomer Creek with a dog I'm nicknaming the Third Man, not least because this scene looks like something out of a movie!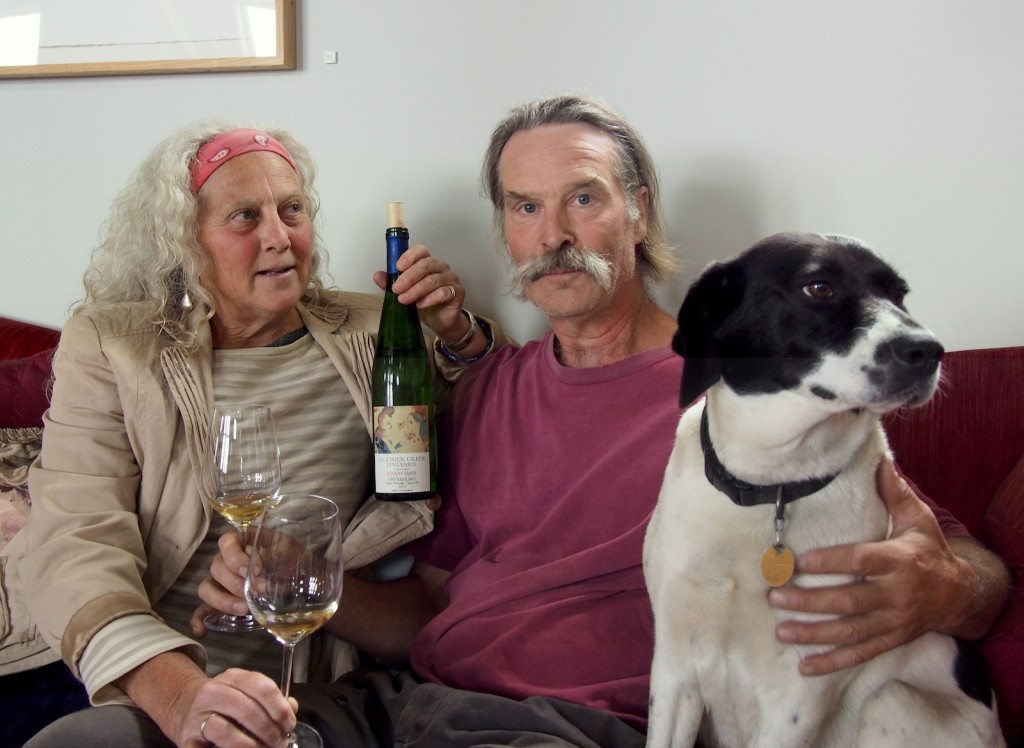 There were a number of individual wines at that Fourth of July tasting that deserve a mention. Of the 2014 Dry Rieslings those from Lucas (pretty), the 3 Generations from Lakewood (succulent and elegant), the KV Estate from Knapp (ripe and crisp with intense herbal notes), the wine from new-old kid on the Cayuga Lake block Randolph O'Neil (very cool both literally and metaphorically), the STV Vineyard from Silver Thread (ethereal and mineral) and Caywood East Vineyard from Wagner (a daring wine for such a big producer with notes of mushroom and lime) all impressed. I also like the 2014 Dry Riesling from Glenora (intense aroma of basil and super-fresh style), but it is mislabeled as "dry" with almost the maximum sweetness that was allowed for this tasting.
Because we focused so much attention on the 2014s that day – all the winemakers shared my curiosity about how these (often just bottled) young wines would show – that meant some of the best 2013s were acknowledged, but got a bit forgotten due to the 2014 beauty contest that followed them. I'm thinking particularly of the three medium-dry single vineyard wines made by Mark Wagner of Lamoreaux Landing in Lodi on the East side of Seneca lake. When they were a year younger I'd been slightly disappointed by them, but all have developed beautifully and they now have more power and length than most of their contemporaries along with great harmony. That, together with the track record of this producer over the previous years adds up to the fulfillment of the conditions I demand for wines to qualify as "classics".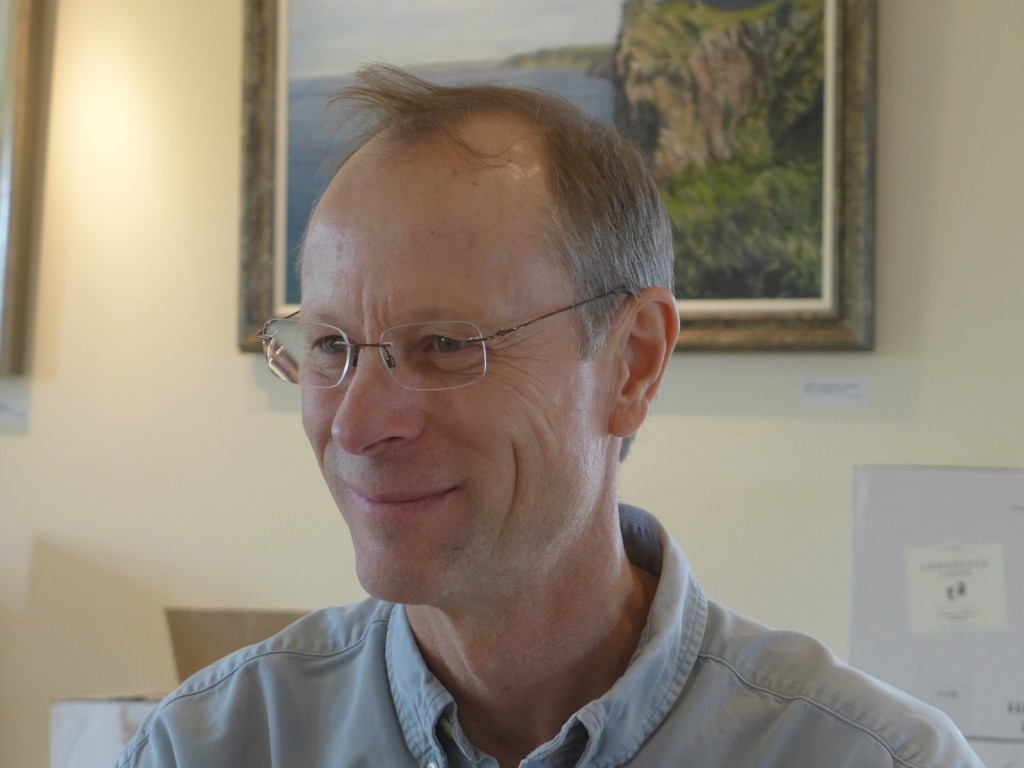 When I visited Mark, pictured above, on the Third of July I was able to taste his 2014s and this time I wasn't disappointed in any way with the still embryonic wines. Of them the 2014 Dry Riesling is by far the most forthcoming, in fact it was as effusively and enticingly floral as the gardens of the FLX were at the same time. Of the three 2014 single-vineyard wines the Yellow Dog had quite an austere personality in spite of a lot of substance, and needs some months or years of aging to give its best. The touch of blackcurrant is already very distinctive though. The Round Rock was as closed up as a ship with all the hatches battened down bracing for a storm, but is built to take even a hurricane in its stride and has an uplifting freshness at the finale. The unquestionable star of the trio is the Red Oak, with a bouquet of peach, blackcurrant and hibiscus that is much more forthcoming than those of its siblings. There's a great concentration of ripe fruit here, but after starting lush the wine slowly turns drier and drier, more mineral and more mineral as it extends in the direction of the Event Horizon of FLX Riesling…
To be continued!