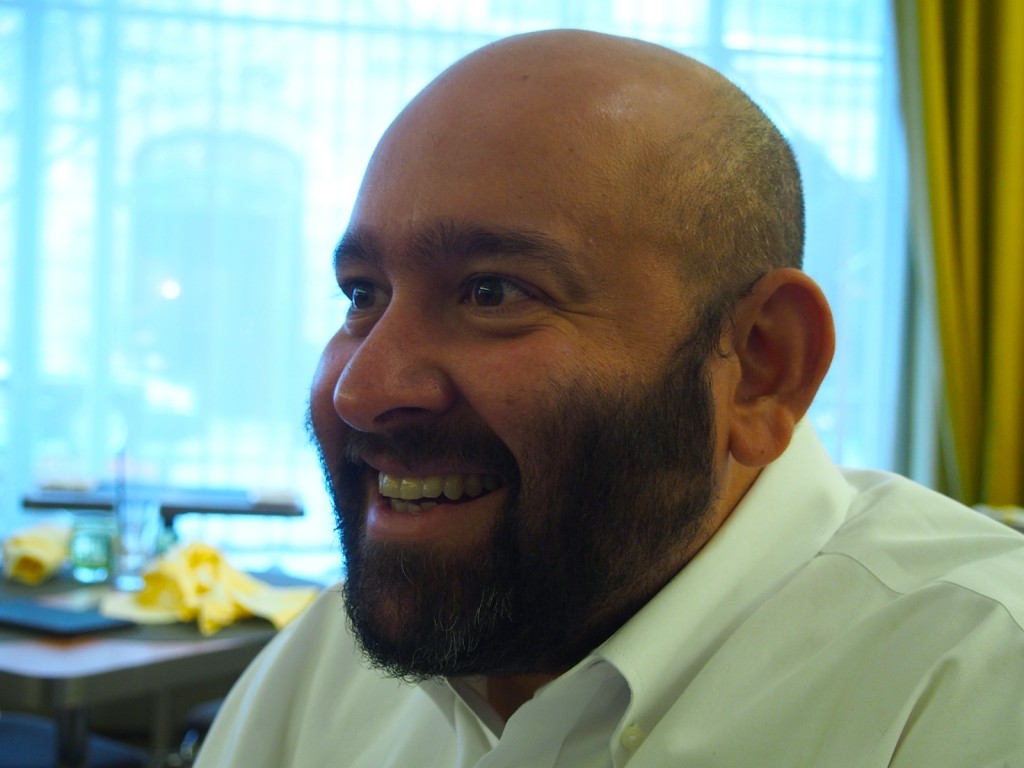 I'm sitting in my "country cottage" in Williamsburg, Brooklyn with a glass of the 2013 Sanford & Benedict Pinot Noir from Rajat Parr's Sandhi Wines in Lompoc, Santa Barabara County California. Although the bottle was opened 8 days ago it's still full of life, and I will probably kill it while I'm writing this posting. However, one thing is for sure, this wine is about as far away from those sunny Claifornia, "good, good, good, good vibrations," as wine can get. This is a deadly serious wine that is also seriously daring and extremely cool in NYWC (New York Wine City) where skepticism of California wines is deeply rooted and endemic. Typically, they are regarded as fat and heavy, but Rajat Parr's wines are exactly the opposite of that. In fact, I think that I should warn you not to mess with this Dude – I mean the wine! – unless you are prepared for a taste experience that is set on a collision course with mainstream Californian wine. The roads fork here and the man pictured above is in good part responsible for that situation! Depending on your NYWC perspective he is either the devil incarnate or he is the savior of California wine. Middle ground? Don't be stupid! This is NYWC – the Center of the Known Wine Universe – and the future of California wine, the most high-profile American wine is at stake!
Perhaps that might seem like a critical statement, even an attack on Rajat Parr, but I assure you that it's nothing of the kind. It's my attempt to grasp a complex situation that Rajat has in part created, and that to a greater part developed around him in ways he couldn't control. That basic situation is true of anyone who sticks their neck out, as I'm well aware having stuck my neck out a long way many times. I first met Rajat in Vienna back in June 2012, but that was at the Slanted Door Restaurant (of San Francisco, California) pop up during the hectic VieVinum wine fair. It was crowded, there was (rightly) much excitement about Charles Phan's food (about as far removed from the Wiener Schnitzel as you can get) and no chance to talk at length. Then, by a slightly elliptical route I received samples of the 2013 wines from Sandhi Wines and Domaine de la Côte and a lunch invitation from Rajat Parr. At Restaurant Boulud Sud not far from Columbus Circle, where I took the picture above. I found him to be charming – a word I try to avoid using at all possible costs – and a very relaxed gourmet. However, he also said a bunch of stuff that made it clear how serious and determined he is, to the point where I struggled to make sense of the man, the phenomenon. Let me state it plainly, what Rajat is doing is NOT part of the regular world of the California wine industry.
I'm also still seriously struggling to make sense of the wines, and I began tasting the Chardonnays from Sandhi Wines (all made from bought in grapes like the Pinot Noir reds) 11 days ago. Those dry whites were pretty challenging, and I was much less impressed by them than the reds from both of Rajat's labels. First of all, it was a shock to taste Chardonnays that were lighter in alcohol and higher in acidity than is normal for dry German Rieslings in this century. You see, in the past it was always the other way around, even if the Chardonnays came from that grape and Pinot Noir's homeland Burgundy. To be frank, if they hadn't taste so strongly of the lees (techie term for the yeast that settles to the bottom of the barrel/tank after fermentation is completed) then they would have been seriously lean, tart and sometimes green. I like that lees character, but I wondered if the wines weren't way too dependent upon it to halfway harmonize. And the regular 2013 Santa Rita Hills Chardonnay struck me as just plain thin. Sorry, but I'd rather drink the "basic" Santa Barabra County Chardonnay from Au Bon Climat winery than any of these wines. And I promise you I am not afraid of acidity!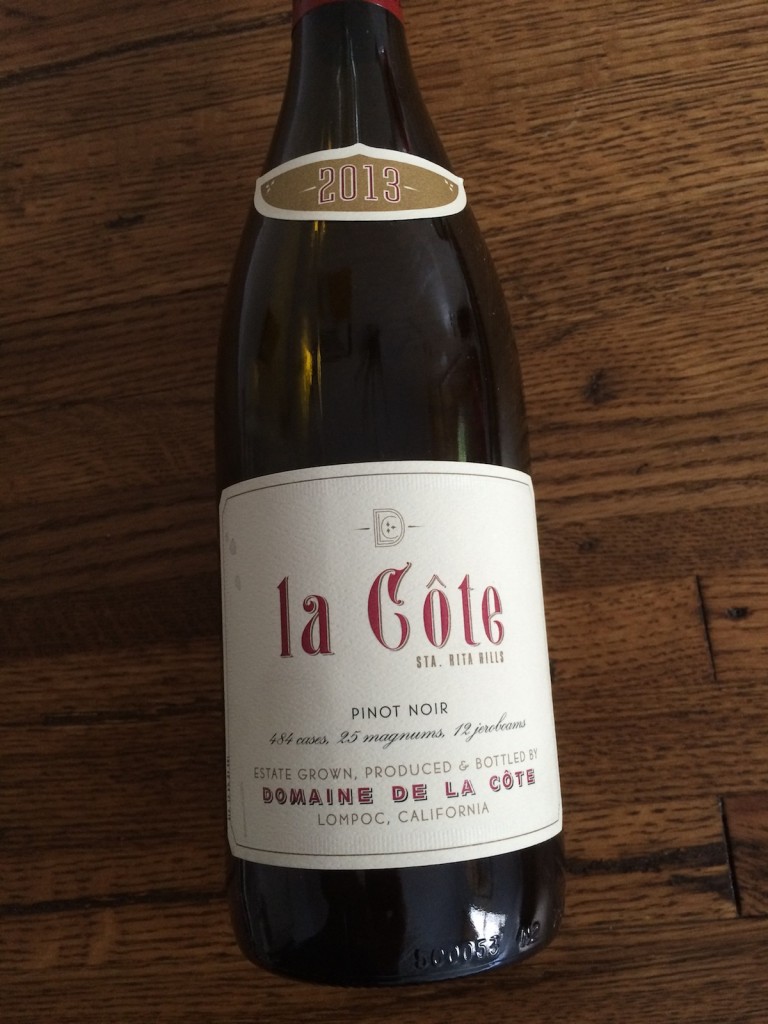 I spent a lot of time and trouble trying to figure out the Pinot Noirs from Sandhi and Doamine de la Côte, because they were so heterogeneous. Not without reason did Bruce Schoenfeld write in his The Wrath of Grapes article published in New York Times at the end of May this year that these wines tasted as if they came from several wineries. The only thing that they had in common (also with Rajat's Chardonnays) was low alcohol and high acidity. Here the balance of the wines is less challenging though, but the only category of California wines that they fit into is the new IPOB (In Pursuit of Balance) one, a style and an association of winemakers that Rajat was a co-creator of. Once again, the crucial question is just how good do these wines taste, and my answer can't be a simple thumbs up or thumbs down because of their diversity.
The most exciting of them for me was the relatively full-bodied (13% alcohol is the high end of the scale for Rajat's wines that often have less than 12%) 2013 Memorious Pinot Noir, a wine that had some richness and tannic power as well as aromatic delicacy. At about $60 retail this is a modestly priced wine from Rajat's range compared with the 2013 La Côte Pinot Noir at just under $100 a bottle. Much as I liked the elegance of that wine it did not blow my socks off, even in terms of subtlety (and it is subtle). Returning to the example of Au Bon Climat, winemaker Jim Clendenen's top Pinot Noir, the ravishing Isabelle, averages $49 per bottle retail according to wine-searcher.com. That makes it a steal compared to Rajat's wines.
Of course, everybody has to decide what they want and what they're prepared to pay for it. All the Sandhi and Domaine de la Côte wines extremely well made and most of them are very distinctive, but you have to be willing to pay a serious price for any of them. In spite of that, during our conversation Rajat said that, "maybe Domaine de la Côte will never be commercially viable." This combination of high prices and a weak bottom line struck me as pretty crazy, and it can only be explained by the extremely low yields. He quoted a yield of 0.77 tons per acre for the 2015 La Côte Pinot Noir, or just under 12 hectoliters per hectare. I translate the yield into the European measure, because as the label for this wine shows, the reference point for Rajat is entirely European. Looking at the Burgundian style label I again feel confused. It looks like a pastiche, but according to Rajat it is a homage. For me it's a positive thing to have role models and to use them both as an inspiration and as a measuring stick for your own progress. However, this looks very literal, almost like a slavish copy.
Having a label designed for a California wine that looks totally Burgundian is one thing,  making wines in California that taste something like Burgundy is another. The obstacles to that begin with the facts that Burgundy is at about 47° North and has a mildly continental climate, whereas the Rajat's vineyards are at about 34° 30′ North and, being only 8-9 miles from the Pacific Coast, have a distinctly maritime climate. That divergence in growing conditions is massive, but only the most obvious of the many obstacle to achieving such a goal, because there are a ton of other differences between Burgundy and California. The question I can't get out of my head is whether Rajat's isn't trying too hard to imitate Burgundy under conditions where this is simply impossible. Has he made himself a slave to the role model wines that he loves? Is he pushing the envelope of elegance way too far and too hard? I ask those questions as someone who also has a tendency to try too hard and push the envelope way too far.
I haven't quite finished that bottle of Sandhi Pinot Noir, although I have been enjoying it, but this is one complex story, and I just saw a completely different angle I could have used to writing it. Maybe tomorrow, if I can find the time and the ideas develop in an interesting way I will write that story too. Rajat is a very complex guy and the ramifications of what he's doing are much greater than his critics (Robert Parker being the most prominent) give him credit for. And for the first time in many years I described someone as "charming" and "serious".