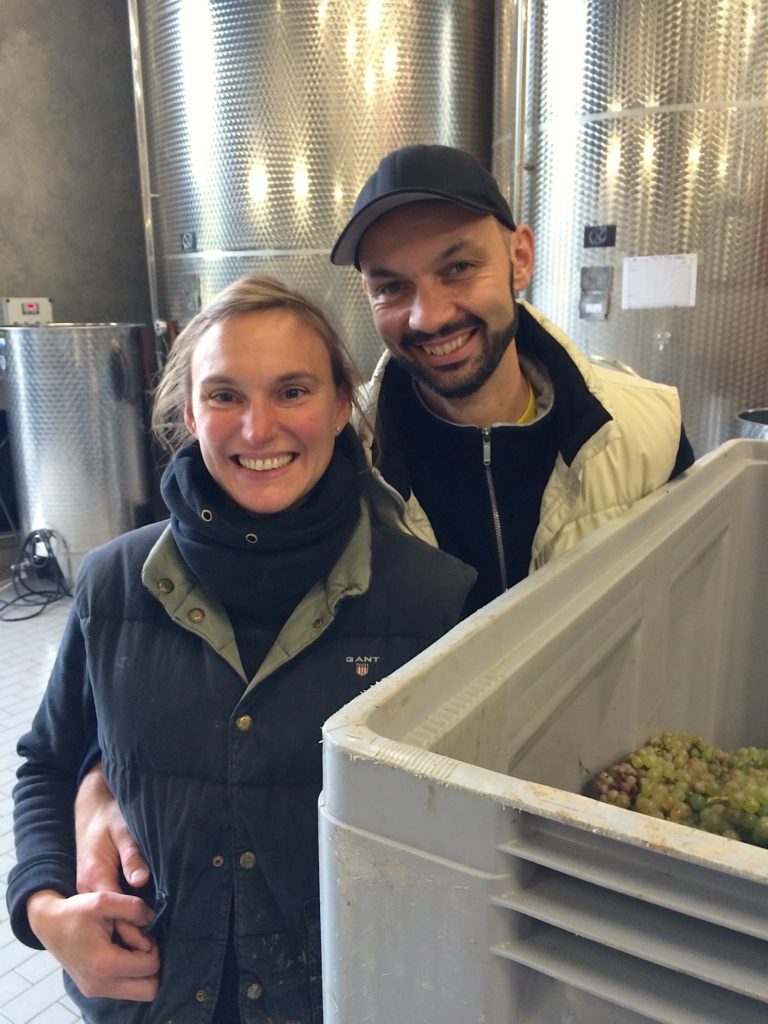 I sometimes tell people that, "I'm a living fossil with the emphasis on living." What this means is that I've been doing this job in more or less this way for around 30 years. This year in May was the 30th anniversary of my first visit to Schlossgut Diel in Burg Layen/Nahe, and my second visit followed 30 years and a few days ago. During those days Armin Diel not only introduced me to the wines of Schlossgut Diel, but also to the first German wines matured in small new oak barrique casks that I ever tasted and to the wines of the Nahe in general. (Although it was clear that Barriqueweine were no less a fashion back then than Naturweine, i.e. Natural Wines are now, it was equally obvious that something lasting would develop out of them and enrich the wine culture of Germany.
Since the fall of 2006 Schlossgut Diel has undergone a subtle, but far-reaching transformation under the current winemaker Armin and Monika Diel's daughter Caroline (left in the photo), and during the last years she has been supported in this by her French husband Sylvain Taurisson Diel (right in the photo). Sylvain previously held a senior position at Valrhona, and is the only example I know of someone sidestepping from chocolate to wine. He didn't drink his first glass of wine until the summer of 2009, but this has given him a fresh view of the world of wine that is very different from that of living wine fossils like myself. That has been complimentary to Caroline's approach, which was decisively been influenced by her experiences of French wines and the French high-end wine industry (amongst other places she did a stage at DRC in Burgundy). The wines she is making now show how well she learned those lessons. For some reason this is a story that hasn't been well told so far, perhaps because of the long shadow of Armin Diel, and that's the reason I have to tell it here.
Of course, any wine story is only really interesting if the wines it is associated with taste good, and I tasted more than 30 wines when I visited Schlossgut Diel in order to get a clear idea of what is being produced there today. Most of the Rieslings along with the Pinot Blancs and Pinot Gris (all dry) were 2015s and they were almost all of excellent quality. However, the more important thing is the distinctive new Schlossgut Diel style – powerful and intensely mineral, but never heavy or loud – and the spot-on balance of almost all the wines. The dry Rieslings are never too tart, phenolic or too alcoholic, and when they get some bottle age, as the superb 2014 Goldloch GG had, they acquire a serious elegance and a complex spicy-mineral finish. The Pinot Blancs and "Cuvée Victor" (now mostly Pinot Blanc) are amongst the best examples of this grape from a cool climate that I know, and I was also very taken with combination of charm and character that the Nahesteiner Pinot Gris possesses.
The highlight of the tasting though were the stunning 2015 sweet Rieslings. This has long been a strength of Schlossgut Diel as the dramatic and still impressive 1990s and 1993s show. However, just as Caroline has given the dry wines an elegance they often missed before, so she has given the sweet Rieslings a precise balance that makes them much more charming as young wines than they used to be. My gut tells me that these wines will also age even better too. Here I recommend two relatively new additions to the range as an ideal introduction to these wines. They are the light and still very fresh 2014 Riesling Kabinett (a so-called Gutswein without a vineyard designation) and the more luscious 2015 Dorsheim Riesling Auslese (a cuvée from the estate's three top sites) that is also available in half bottles. Here is all the succulence that makes these categories so appealing, but combined with floral and herbal notes, the acidity and minerals making the finish light up.
And I will shortly be writing something about the sparkling Sekt in the the Sunday edition of the Frankfurter Allgemeine Zeitung so will only say now that this is one of the top Sekt producers, with a style closer to the Krug and Bollinger champagnes than any German sparkling wines. And although still rather closed the 2014 Pinot Noir "Cuvée Caroline" is by far the most elegant and sophisticated red wine I ever tasted from the Nahe.
Please note: I know that some of you would like a lot more detail, but that is what I am now doing on JamesSuckling.com since September 1st this year, and it would be a terrible mistake to duplicate. The process of adjusting to this change continues.