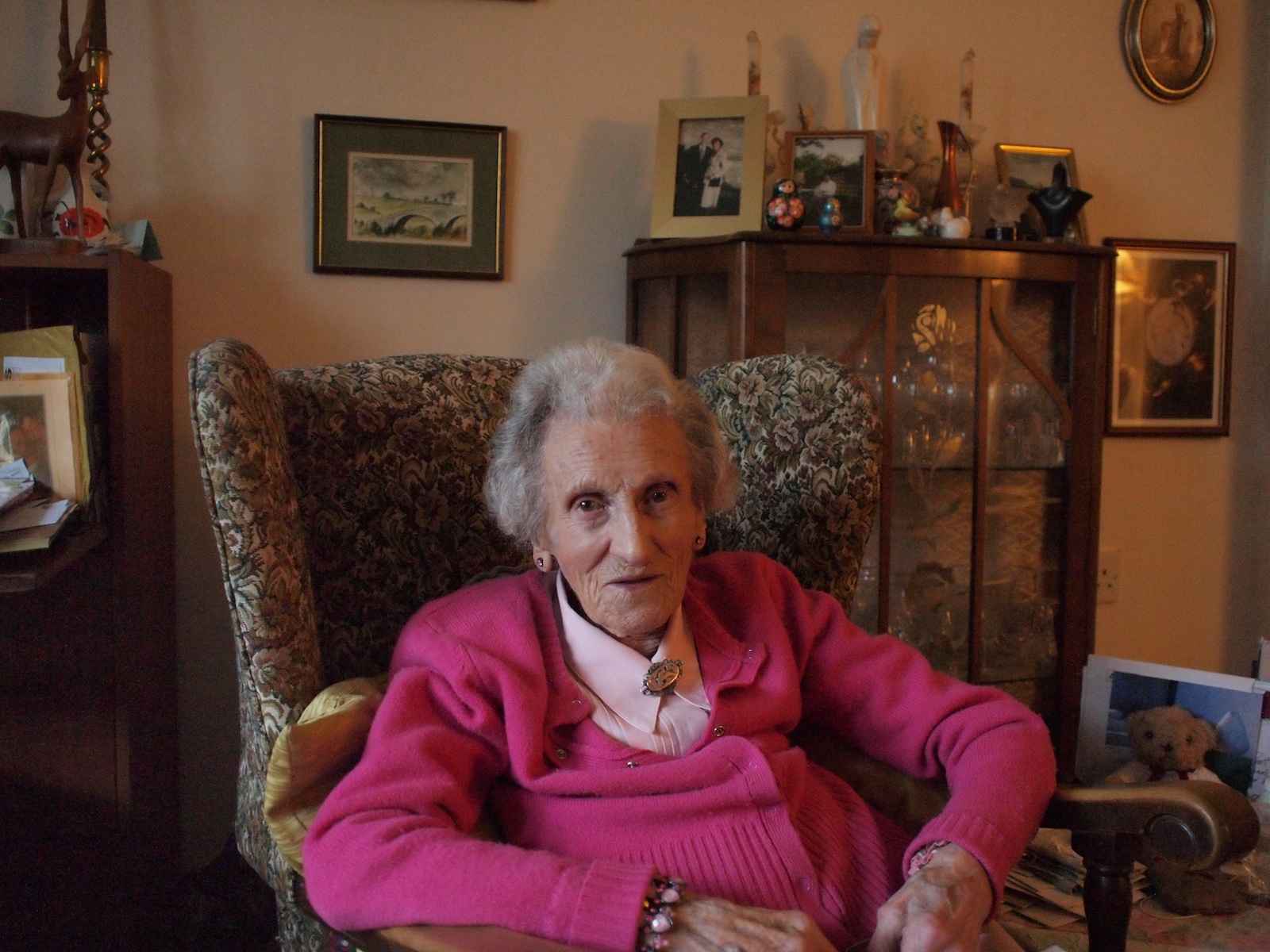 This is my maternal grandmother Annie Pratt who died ten years ago today on her 101st birthday, and this is one of the last photograph I took of her just a couple of months earlier. She's sitting in her favourite chair in the house where she lived alone until one week before her death and is surrounded by all her things. For a bit more than the last decade of her life she lived in the small country town of Lenham in Kent/England and after I took this photo we walked into the historic centre of town together. The town fitted her perfectly, because it combined many modern conveniences with the appearance of timelessness. She loved the antique stores and if tea had not needed to be made at some point, then she would have spent all day in them lovingly examining old things great and small. That might seem like a detail, but I think not. Although she often had strong opinions I find it hard to imagine a more peaceful person than her.
The truth is thought, that she lived through most of the turbulence of the 20th century. On the 21st of June 1919, aged 9, she witnessed the scuttling of the German fleet at Scapa Flow in the Orkney Islands/Scotland, where her father was a customs officer. In 1928, aged 18, she came 6th in the national Civil Service examinations, and went to London alone to join the Civil Service. All this made a deep impression upon her and she often recounted these stories. In 1939, when she was 29 years old, the outbreak of the Second World War brought the worst period of chaos and destruction in her life. By then she was married to Neville Pratt and lived with him and their two children, my mother Sheila and my uncle Derek (later a famous watch maker), in the green London suburb of Petts Wood. One advertisement for houses like theirs in Petts Wood described them as "bijou baronial residences", and this too fitted my grandmother perfectly. The family survived the war unscathed and the family business, Pratt's Stores in the London district of Pimlico, was rebuilt. Pemberton's Stores in the film Passport to Pimlico (1949, Ealing Studios) gives quite a good idea of what it was like, although Neville was nothing like the way Stanley Holloway portrayed Arthur Pemberton. Rationing in Britain continued until 1955 and this meant some suffering for my grandmother as she struggled to bring up her children. Throughout her adult life her health also frequently troubled her and she talked a great deal about that, often repetitively. In spite of all these things she was a contagiously happy person and I'm sure it was this that first attracted me to her as a very small child.
After Neville sold Pratt's stores and retired in 1968, he and Annie moved to the small country town of Chulmleigh in Devon/England, the county of her birth. It might sound completely ridiculous, but for me their sprawling bungalow became an image of eternity. The kitchen was the centre of this seemingly unchanging world and the warmth from the old-fashioned Aga stove was the physical parallel of my grandmother's love. For many years nothing gave me greater pleasure than to sit and talk with my grandmother at the kitchen table. When I was a struggling art student she and Neville supported me in many ways and when I graduated from the Royal College of Art/London in July 1986 she felt vindicated. The truth is I squeaked through, but that didn't interest her one jot. I could put letters after my name and she was a terrible snob who attached great importance to titles. Of course, Royal was the most significant aspect of "MA Royal College of Art" for her. It took me a long time to share her enthusiasm for royalty, but the political upheavals in the UK since her death have proven how in troubled times they do offer stability, regardless of their failings. I now admit she was right not only about that, but about almost everything except the Channel Tunnel. She vehemently opposed it, clinging to her belief in a mythical England that was green and pleasant and where Jesus undoubtedly walked in ancient time. However laughable that may seem now, I was a beneficiary of her loving nature that was rooted in those beliefs. And I still feel her love for me just as I did when she was alive.
Note: Of course, England has long been many things other than a green and pleasant land. In order to avoid one-sidedness, idealization and nostalgia I end this posting with an image from one of the nation's greatest satirists, William Hogarth. My grandmother would have greatly disapproved of everything this 18th century English image depicts!