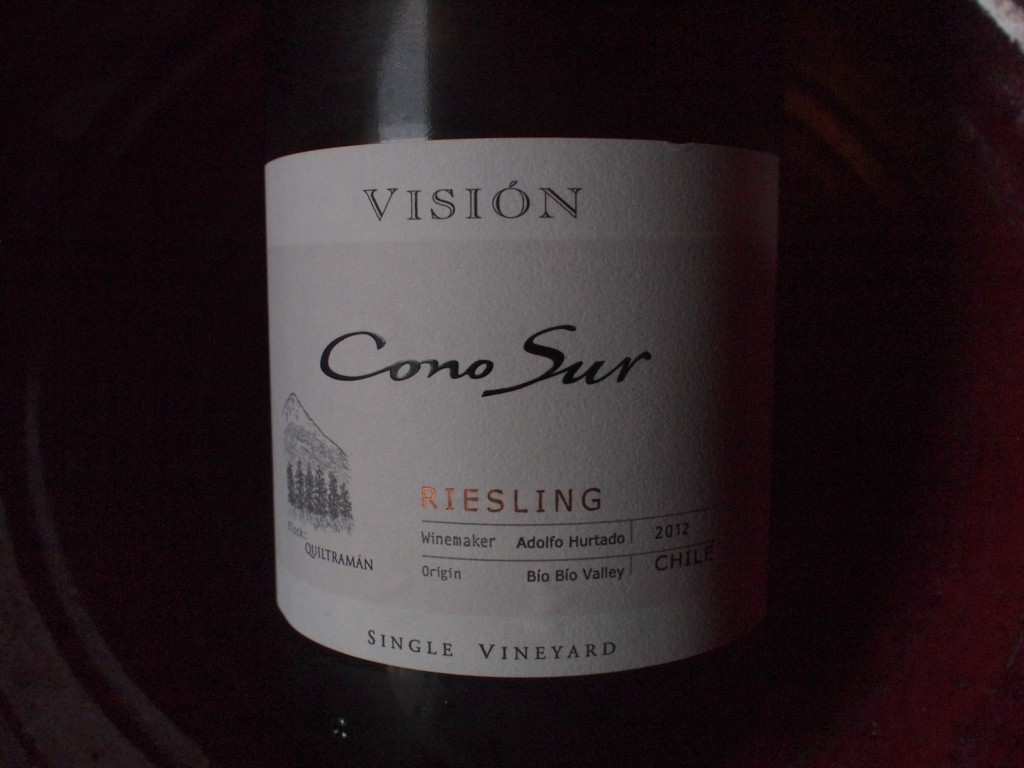 Riesling "Visión" from Cono Sur for $13.99 
My last working day was one of quiet brainstorming which ended with me dropping into Edi and the Wolf on Avenue C. It's not the only funky restaurant on the street, but it's certainly the funkiest. I felt like I was on a ship traversing some unknown subterranean sea. Bumping into Constance Chamberlain of Brand Action Team who I'd first met the night before at the Big Bottles from Burgenland party (see Day 4 below) reminded me that it was time for my wine of the month and that I'd already made a surprising choice. Within minutes she'd found a source for it in the NYC area! So here it is with thanks to Constance.
Chilean Riesling? Isn't Chile the place all those well-made bargain price Sauvignon Blancs and Cabernet Sauvignons come from? Yes it is, but there are also 333 hectares of Riesling planted there, much of it in the cool and moist southerly regions like the Bio-Bio Valley 500 kilometers south of Santiago. That's where the dry 2012 Riesling "Visión" from Cono Sur grows. It is the first Chilean Riesling to really excite me and one reason that it does so is that it doesn't taste like any Rieslings I know from anywhere else in the Southern Hemisphere. With their limey aromas and piercing acidity many of the simpler Chilean dry Rieslings are quite similar to cheaper Australian Riesling. This wine from the Quiltramán Block (i.e. vineyard) has an intense aroma of ripe pineapple with hints of lime, rhubarb and blossoms. In spite of the high acidity it was a wonderful juiciness and quite some power. And it's really good value for money. Congratulations to winemaker Adolfo Hurtado for showing that Chile can also produce high quality dry Rieslings!
Riesling "Visión" from Cono Sur is $13.99 from
Wine Hunter
650 Shunpike Road, Chatham / New Jersey
Tel.: (973) 377 0014
www.winehunter.com