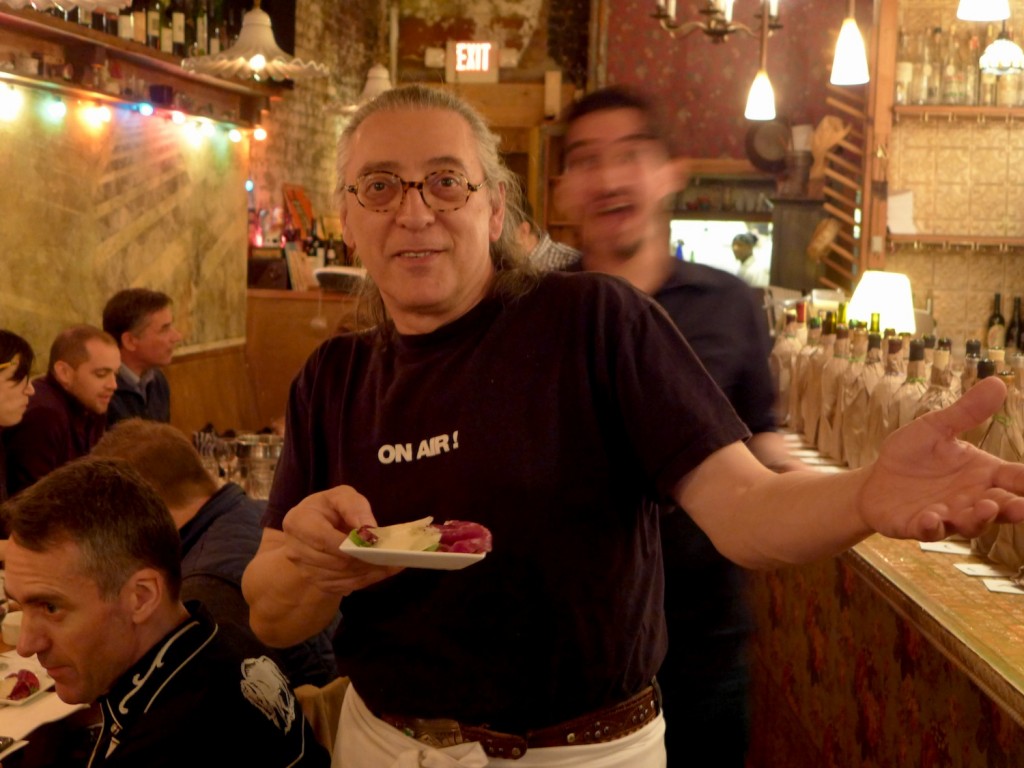 As regular readers of this blog are well aware, sometimes I tell the stories as soon as they've happened and sometimes I need to chew things over for several days before I'm halfway sure what I really think. The other day at Alesio Restaurant in Brooklyn (pictured is chef Albano Ballerini of The Classon) I attended a really fascinating blind tasting of white and red wines from the state of New Jersey. It's a little-known fact that New Jersey, as well as having a lot of industry and plenty of fruit-growing, has the seventh largest wine industry in the Union and over a thousand acres of (widely scattered) vineyards. There are all manner of reasons – also old-fashioned prejudice – why this is ill-appreciated even in New York Wine City (NYWC), but here I just want to tell you about how the juice from the wrong side of the wine tracks tasted.
We started with the whites and they confounded my expectations to such a degree that I really didn't know what to write about them until today. You see, I was expecting the world of the 2012 Pheasant Hill Vineyard Chardonnay from Unionville Vineyards, because the 2010 of that wine had been sensationally elegant. It was the best new Chardonnay I'd tasted in many years! There's nothing wrong with the 2012, in fact the wine is beautifully made, but the tropical fruit character and rather soft acidity resulting from a certain over-ripeness of the grapes (in spite of only 13.4% alcohol) robbed the wine of the delicacy and freshness which made the 2010 (with just 13.1% alcohol) so special. My gut tells me that the NJ climate results in the grapes of some varieties going from ripe to over-ripe almost overnight given warm fall weather. I liked both the quite crisp pear-flavored 2012 'Estate Reserve' Chardonnay from Heritage Vineyards and the rich, creamy 2010 'sur Lie' Chardonnay from Amalthea Cellars. However, in both these cases the wines were still too fresh (technical term: reduction). When will they open up? The other white that grabbed me was the sleek, elegant and slightly spicy 2012 'Signature Series' Albarino from Hawk Haven Vineyard with salty-mineral aftertaste.
The reds also confused me, for they were way more heterogenous than I'd expected, most importantly in the stylistic sense. However, there were also several wines that had turned  too far in the vinegar direction (technical term: volatile acidity) to get my vote, however good some other aspects of them tasted. Some wines had clearly also been worked too hard during fermentation (technical term: over-extracted), perhaps in a vain attempt to compensate for deficiencies in the fruit or through an excess of winemaker ambition. I really liked the complex black fruit and pepper aromas of the 2010 'Leitner' – a blend of a trio of Austrian red grapes Blaufränkisch, Zweigelt and St. Laurent – from Mount Salem Vineyards, but even in that case a little bit less tannin would have made the balance so much more appealing. However, the wine did prove the considerable potential these varieties have in New Jersey.
Tomato is an aroma in red wines which some people don't like, but if there's enough ripe fruit character too I don't mind it. That's why the 2010 Cabernet Franc was controversial and one of my favorite wines. I liked the balance of ripe black fruit flavors with a hint of the vegetal stuff and warm, moderately dry tannins. The 2010 'Europa VII' from Amalthea Cellars – a blend of Cabernet Franc, Merlot and Cabernet Sauvignon self-consciously modeled on Chateau Figeac in St.-Emilion/Bordeaux – also had a hint of something vegetal. Each time I tasted this wine I found it more appealing, since the vegetal tough lifted the quite full and dry tannic body. This is clearly a wine that's not yet at its peak.
At the other end of the stylistic scale was the bold, ripe and powerful 2010 'The Big O' from Unionville Vineyards – a blend of both Cabernet Sauvignon and Franc with Merlot and Petit Verdot – that tasted a bit massive and chewy a year ago, but now has a wonderful balance in spite of the serious tannins at the finish; another wine with great aging potential. The 2010 Cabernet Franc from Working Dog Winery (labelled as Silver Decoy, a name the winery has had to abandon for legal reasons) was almost as powerful and a shade more elegant. As well as having a ripe blackcurrant note there were also has hints of smoke, balsamic vinegar and mint in its bouquet, which means some real complexity. It was quite a big mouthful with plenty of moderately dry tannins and a discrete acidic freshness. This was not only my favorite red on the day, but also the favorite of Aldo Sohm, the somm from Le Bernardin in New York. His judgement of the entire tasting summed up my own feelings, "NJ is a really crazy world of wine!"
It clearly demands closer attention and on December 4th I will be heading out to try and get to make more sense of it. Many thanks to Marcarthur Baralla of Defendshee Productions for organizing the tasting and helping me get this far. Watch this Space for the report of my road trip December 5th/6th!