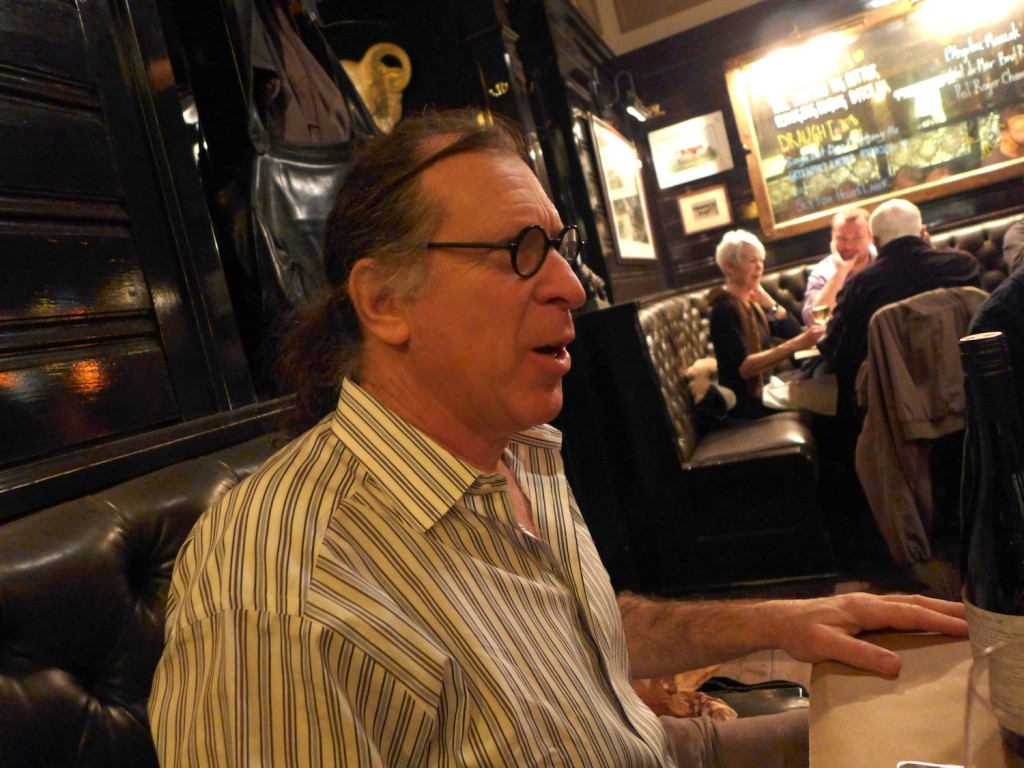 The picture shows Randall Grahm, the guiding spirit of Bonny Doon Vineyard of Santa Cruz, CA, USA, Earth at lunch today in The Breslin on West 29th Street, Manhattan, NY, USA, Earth. However, what it actually records is a moment of serendipity and revelation for me. It was near the end of the tasting of the latest hits from Bonny Doon and he announced to the table that he wouldn't be retiring until he dies. That seems to make eminent sense to me, but landed with thermonuclear force on the table, perhaps because the other people there all have jobs with salaries (something I haven't had since September 1981, I think). I immediately sensed that something important was going to happen, as if I'd caught sight of the shadow of someone about to enter the room.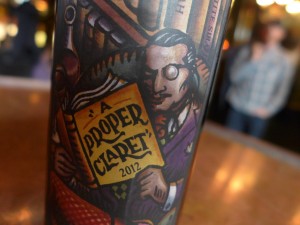 As much as for anything else we had gathered to taste Randall's his newest creation, the 2012 "A Proper Claret" pictured above. At first glance this seems like Randall contradicting himself, because as he himself said, "officially I hate Cabernet", and Cabernet is the basis of any proper Claret in the very English sense of that term. As the wine was poured Randall explained how he'd discovered a weird Cabernet vineyard that was box-pruned (imagine the foliage of each vine in the row having a box-like shape, so that the row looks like one long green box). The tiny clusters with tiny berries instantly fascinated him and there was only one way to find out if this might be the key to making a red wine with lowish alcoholic content, but lacking the green aromas (technical term: pyrazines) that afflict most low alcohol Cabs. That was to test his hunch by trying it out. The result is a great success, even if the blend of 62% Cabernet Sauvignon, 22% Petit Verdot, 8% Tannat, 7% Syrah and 1% Petit Sirah hardly resembles the recipe of any actual Claret from Bordeaux. However, it taste convincingly Claret-like with red berry aromas, a nice freshness and gentle tannins that scream drink me! "Blending is the only thing I can do," Grahm explained, "I'm not a technically good winemaker." For more info see:
Then came the last wine, a tank sample of 2013 white wine which  we suddenly realized he expected us to guess. First, there was a moment of silence and brain-wracking
"Moscato?" someone threw in and Randall just shook his head.
"Spätlese?" I suggested on the basis of the peach aroma, the low alcohol and juicy interplay of fruit and acidity.
"Kabinett," he replied, which confirmed that it was indeed a California Riesling. "We'll be bottling it in three or four weeks."
"Back to your roots!" someone else at the table commented, referring to the 'Pacific Rim' Riesling brand Randall launched with the 1991 vintage, which is when I first met him, roughly twenty years ago. I still have my notes from that day and the sample labels he gave me! (Pacific Rim subsequently turned into a self-contained winery, now owned by Banfi of New York, that today makes some of America's best Rieslings).
"I'm just trying to make some dough!" Randall threw back, which also landed on the table with thermonuclear force. A winemaker admitting that he wants to make money; sacre bleu! You won't hear anyone from Brugundy (just to take one example of a pricey and holy wine) say that, because it could undermine all the breathtaking Terroir Talk and maybe even raise the delicate question of how many hundred percent profit margin there is on some of those Grand Crus. I could sense that special moment was approaching fast.
People then drifted off to their next appointments and I decided to scrub mine (sorry Gigondas, that I didn't your tasting today at Rouge Tomate!) In a rather confused way I blathered to Randall some of the ideas for a new book (not BWWOE – The Riesling Book due out in May/June 2014) and something seemed to click for him. Then he poured out all the stuff that follows and it clicked with me big time.
"Nobody's written about the sea change in the wine industry. 20 years ago it was much more idealistic. People in the wine industry wanted meaning and now they want money. OK, I'm interested in both. Now there's a cynicism and self-consciousness, and a sense of randomness…The weird thing is 20 years ago your job as a winemaker was to a really great wine. If you did, then you sold it. Now you don't know if you can sell it! Then you've got all the new shock labels. Is that how you sell wine now?" Finally, he rather sheepishly acknowledged that, of course, he was responsible for some of the first eccentric wine labels. Some of them were sitting on the table in front of us. That only made what he said all the more fascinating.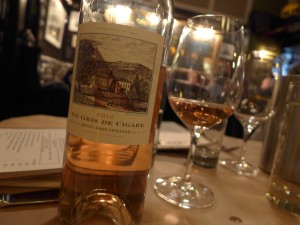 PS I'm sorry that this story is already so long that I'm not going to be able to comment in detail on all the wines we tasted. Suffice to say that these were the best wines I ever tasted from Randall and I advise you all to catch up on what he's been doing lately by picking up a bottle or six at the first opportunity. They're all strikingly original California wines. I mean, when did I ever write about a California rosé that if I'd tasted it blind I would have placed it in Southern France and that it had a mineraly finish? The answer is, of course, is that I never wrote anything like that before. I feel sure that these are going to be game changing wines for California and will inspire many young and young at heart winemakers there and beyond. Randall certainly inspired me too!