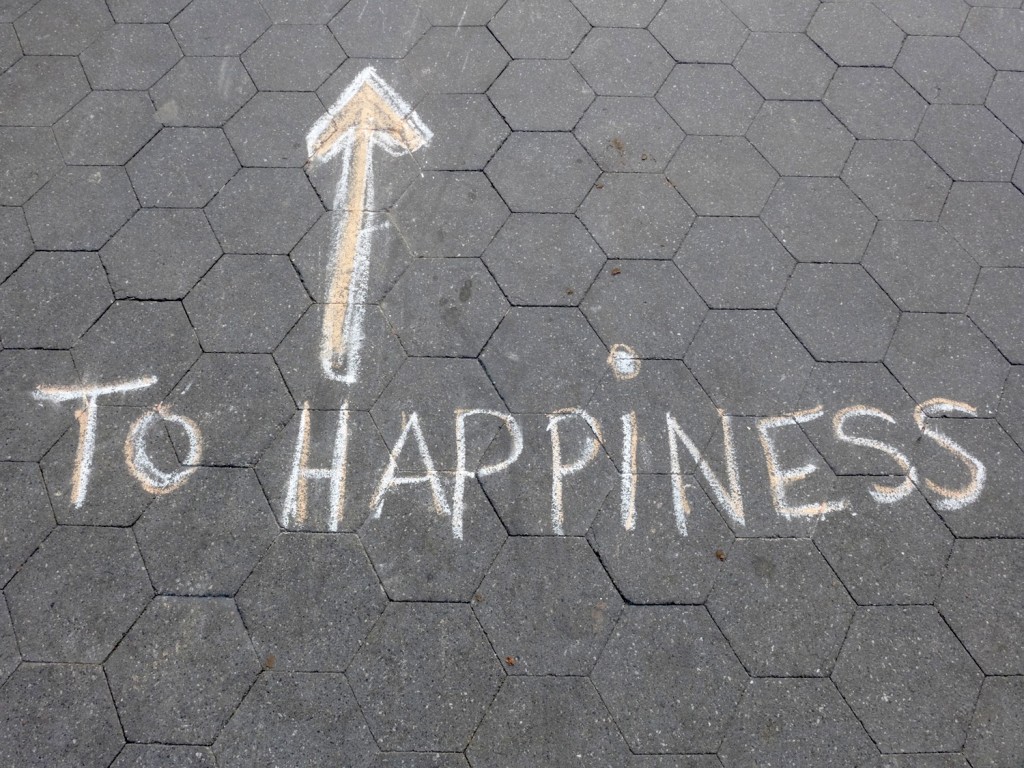 I may be British and a visitor to the USA, but the assertion of the American Declaration of Independence of July 4th 1776 that there are certain  rights and that these include, "life, liberty and the pursuit of happiness" made a great impression upon me from the moment I first heard those words as a small school boy in suburban London. The opening words of the preamble of the American Constitution of September 17th 1787, "We the people…", struck me as being no less momentous. 2013 was a year during which I thought often about those two statements in all manner of situations, and as you can see from the picture above here in New York I managed to find the right direction for happiness, even if that path has been anything but straight or smooth. I hope very much that all of you, wherever you are reading this, have also been able to move in that direction. If not I extend my sincere hope that you will succeed in doing so during the coming year. To all readers, the occasional no less than the regulars I send my best wishes for the New Year!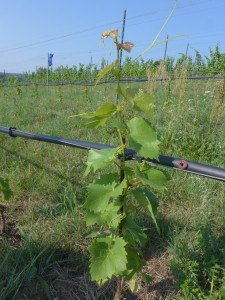 A lot of stuff happened to me during 2013 and I don't propose to review it all, because that would be too long-winded. My aim on this blog is to be up-to-date yet thoughtful, reporting in depth without becoming long-winded. However, certain things stand out and deserve a mention. The first of these was the planting of  almost a thousand vines of the red grape variety Pinotin at Klosterhof Töplitz vineyard in Töplitz just SW of Berlin at roughly 52° 30´North. Excepting those in the very driest corner of the slope they grew well, as you can see left, and we are set for a first harvest (probably one barrique) in 2015. Thank you everyone who helped with the planting and subsequent care of the vines. Soon after that my attention switched back to Riesling and I began traveling to all the important winergowing regions in North America where Riesling is grown. They are, in the order that I visited them, Columbia Valley/Washington State, Willamette Valley/Oregon, various parts of California, the Finger Lakes/New York, Okanagan Valley in British Columbia/Canada, the Old Mission and Leelanau Peninsulas/Michigan and the Niagara Peninsula in Ontario/Canada. It was striking to how Riesling seemed to be more or less on a roll in all of these locations. In New York State it recently became the main vinifera grape variety, in Ontario it is about to become the most important white vinifera grape variety and in Washington State the vineyard area devoted to it doubled during the last decade.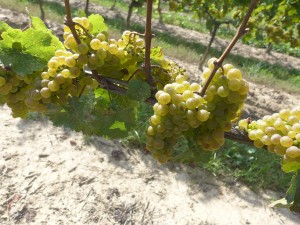 Even in Oregon where it is overshadowed by the vast Pinot Noir acreage and the serious Pinot Gris plantings it has grown a third during the last ten years. I photographed the bunches of Riesling pictured here in a vineyard belonging to Cave Spring on the Beamsville Bench of Niagara in Mid-September. Many thanks to all the winemakers who went out of their way to help me understand how Riesling ticks in their regions and who introduced me to competitors.
I must also thank the team from Wines of Germany in New York with whom I undertook the first Riesling Road Trip from Venice Beach in Los Angeles/California to New York City during the latter part of June. Not only did I see a great swathe of the country I'd never been to before (e.g. Arizona, Texas, New Orleans, Alabama), but I got to hear how Riesling is developing in the US market. Perhaps it isn't racing ahead as Moscato did during the last years, but the foundations of its growth seem rock solid and consumers right across America are slowly drifting in the direction of less sweet wines. That strikes me as extremely positive news.
Of course, at this point my mind also turns back to the many amazing wines, Riesling and otherwise which I drank and tasted during the last year. It's hard to single one out of the many Riesling discoveries and innovations I encountered over the others, although I gladly did so for www.Wine-Searcher.com and you can find it by clicking on the link below. Interestingly, I wasn't the only one of their authors to pick a new North American Riesling as their wine of the year. That was also a wine I considered picking, so congratulations are also  due to Bob Berthau of Chateau Set. Michelle in Washington State for the revolutionary Auslese-style 'Eroica Gold':
http://www.wine-searcher.com/m/2013/12/our-wines-of-the-year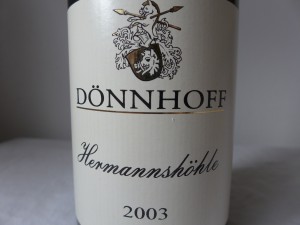 The bottle I enjoyed drinking the most was probably this one. In a tasting of the 2003 vintage dry German Rieslings for the German wine magazine FINE at the end of August (see issue #4 / 2013 for my report) the 2003 Hermannshöhle 'Großes Gewächs' (GG) from Helmut Dönnhoff in Oberhausen/Nahe was the most ravishing of the handful of stand-out wines. Was I ever going to drink it though? Then, when I got back to New York in early September I found I had a bottle of it in a box of mixed mature dry Rieslings saved for a blind tasting. Because too many wines were now lined up for that tasting I pulled it and drank it with friends one evening instead. This wines has a liveliness and delicacy for the vintage shaped by the "summer of the century", for a vintage which was an almost 1:1 rerun of the opulence and creaminess of the 1959 vintage in Germany. It also has a treasure chest brimming with golden aromas of all kinds that I could spend all evening going back to again and again. Time has only improved it and if you can run get hold of well-stored bottles and the cork is good this is one of the most amazing Rieslings young or old I can recommend you. And yes, it ought to hold, I'd say at least another decade. So, to all intents and purposes this is my wine of the year!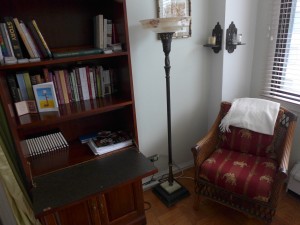 The late summer and early fall were dominated by work on the manuscript of the book which I've been researching since February 1st 2012 (when I arrived in Adelaide/South Australia) BEST WHITE WINE ON EARTH – The Riesling Story, due for publication in Stewart, Tabori & Chang in early June 2014. I wrote most of it at this small desk on the 14th floor high above West 16th Street (between Fifth and Sixth Avenues) in Manhattan. Perhaps the cramped working space helped me to be concise. Certainly, at just under 200 pages it is much more compact than anything I've written in a good while, although the subject is the Riesling wines of the world and the global Riesling phenomenon. It's also my first book in English in almost a decade. In a few days I'll get the first sample pages back from the designer and the last phase of work before the book's appearance will begin. Since it will primarily be illustrated with my own photography that will be particularly exciting. But don't let me turn this short look back turn into a tome!
MAY THE RIESLING FORCE BE WITH YOU IN 2014!