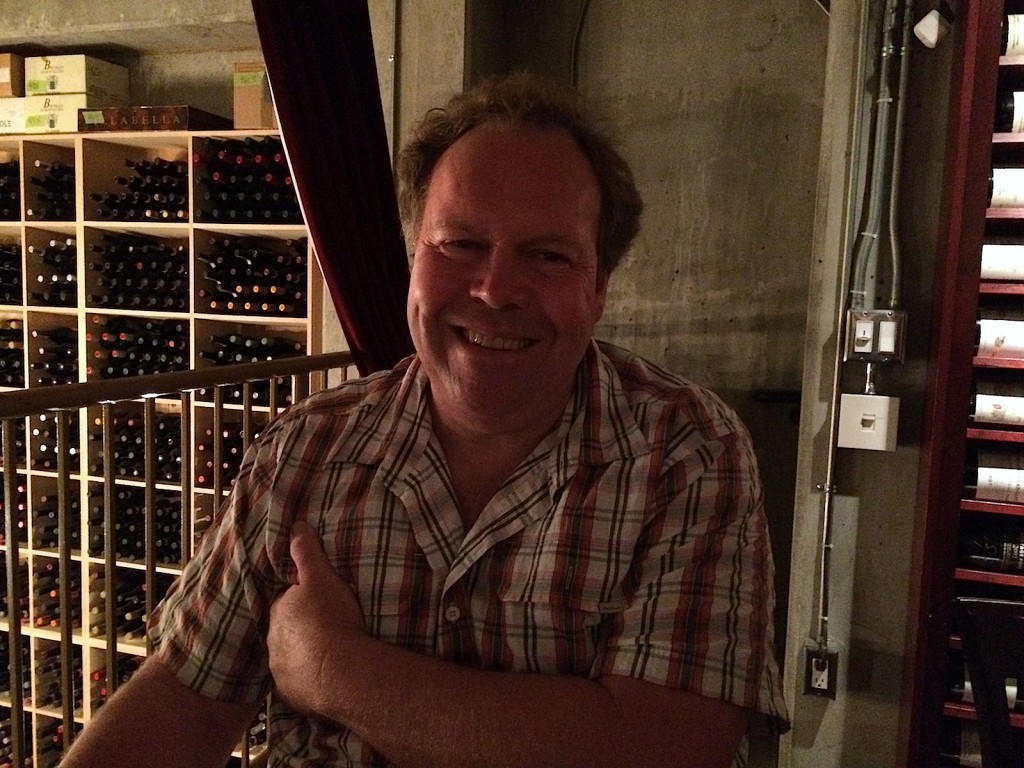 If you are on my wavelength, then you're always interested in the things that don't fit in, that is don't fit into the mainstream, the pattern of convention, the box. Sometimes this is linked with failure, more commonly to modest success, so it was great to finally meet Norman Hardie of the eponymous winery in Prince Edward County who makes very unconventional, non-mainstream wines that don't even acknowledge the box's existence, but has managed to have a considerable success with them. His sleek and delicate, yet extremely expressive 2013 Chardonnays, Pinot Noirs and Riesling are probably the best wines he ever made. My iPhone photo shows him in the cellar of Barbarians Steak House on Elm Street in Downtown Toronto.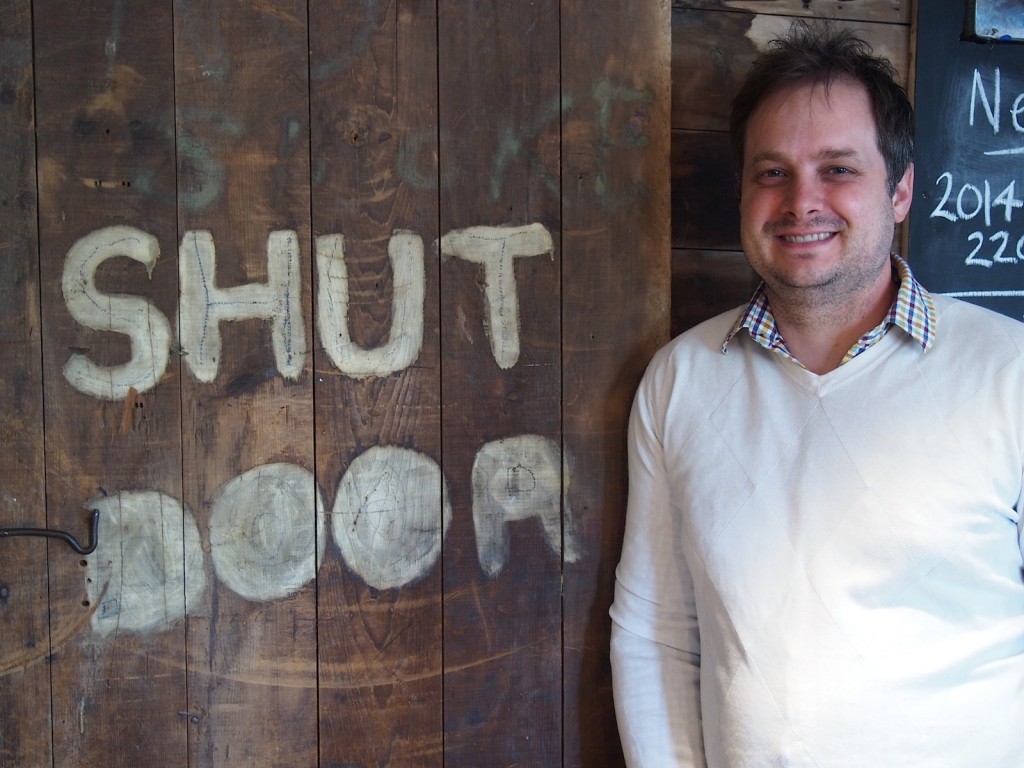 In his way Ilya Senchuk is every bit as daring as Norman Hardie, for his tiny Leaning Post winery in Stoney Creek/Niagara is a work of almost complete improvisation and the old barn that is its home has only been open to the public for 18 months. In spite of this his medium-dry 2013 Riesling has unusual ripeness and textural complexity for my favorite grape in this challenging climate, and immediately places him on my list of rising Ontario Riesling Stars. However, it its way his 2012 Syrah from the Keczan Vineyard was even more impressive, because it proved that exciting Syrah is possible in this region, something I'd not been entirely convinced of before. Not only did it have some real power (something different from sheer volume and weight), but more importantly pepper, smoke and lavender aromas leapt from the glass at me. Time prevents a serious description of Ilya's no less daring Pinot Noirs.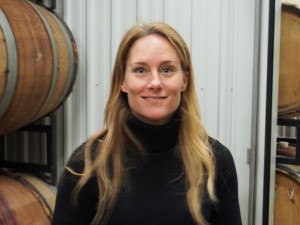 Pinot Noir is the main focus of another new producer, Domaine Queylus run by Thomas Bachelder (ex-winemaker of Le Clos Jordanne) and Kelly Mason, pictured right. Their cellars are situated in the most unlikely of locations surrounded by green fields up close to the highest point of the Niagara Escarpment where no wine tourist ever goes. Possibly those are people they are also trying to avoid, and that certainly fits their wine style that assiduously avoids the sweetish, fruity charm that (ignore what the books and somms say) is rather easy to coax out of Pinot Noir. Instead, their wines are hard-core dry and it is the savory and the earthy qualities that interest them, and here too the 2013 vintage – just about to be bottled – stands out for its great balance. These wines may be outside the Ontario box, but if you put them in a row of Burgundies, I think they will taste very "classic".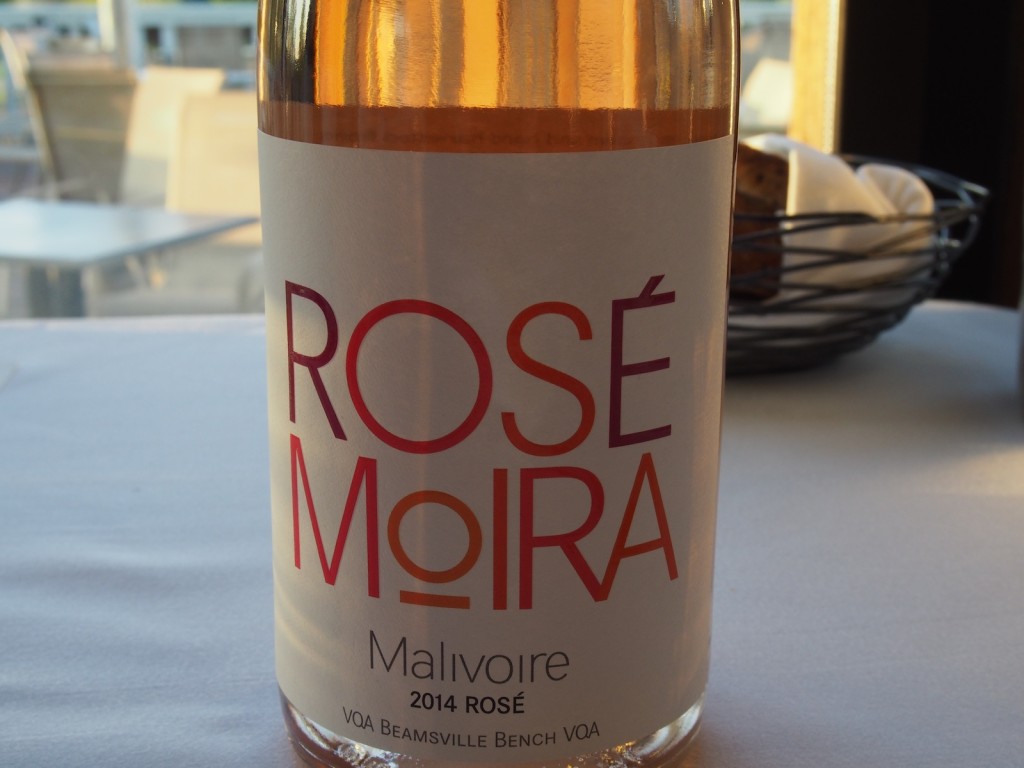 For me the most exciting thing about wine is the fact that even if you are on what seems to be familiar ground – this is my third trip here within less than two years, so it's starting to feel familiar – there's always another surprise. I already knew the wonderful Gamay reds that Stephen Gash is making at Malivoire, but I had no idea that the winery also makes one of the most delightful and delicious dry rosés in North America. This wine is somehow dead serious (so much so that some consumers will reject it as being too uncompromising) and yet totally playful. That's a rare combination on Planet Wine and one that I was certainly not expecting yesterday evening. Sadly, it was also the end point of this elliptical pass I made through Ontario on the search for Rieslings and wines of other kinds that excite me. I feel like I'm just beginning to make sense of the place, but have by no means exhausted its potential to excite or surprise. I will return!