Yes, that crazy color is very real!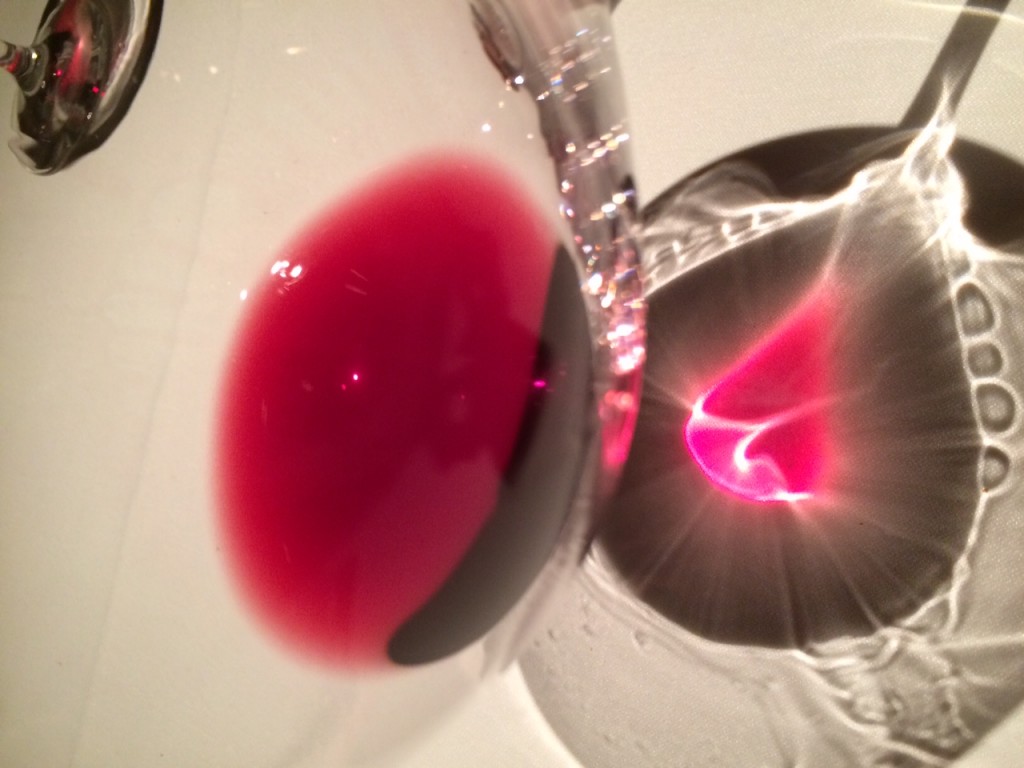 This picture was taken with the iPhone of the Special Person who generously took me out to dinner at Gramercy Tavern at 42 East 20th Street last night. The wine in that glass was my 55th birthday party, and I promise you the color has not been tweaked, altered or paint-shopped in any way. The 2013 Frappato from Manenti in Sicily, a producer I'd never heard of before, and the first wine from the Frappato grape that ever lit my fire. I know I was quite intoxicated by that point, but I remember saying, "this tastes better than any Beaujolais I ever drank!" You see, I love well-made Beaujolais, but this was just drop-dead delicious.
It was a great meal with many memorable courses, most notably the Thai-style spicy scallops and the pea, asparagus and garlic soup. For a restaurant that draws this many non-foodies, they both packed an uncompromising punch of flavor. In contrast, the 2008 Scharzhofberger Riesling Kabinett from Egon Müller on the Saar/Germany was about as subtle and delicate as wine gets, period. In spite of that, it held its own against the full-on intensity of those dishes, which proved again how Riesling with a few years of aging on its back is one of the world's great food wines. Of course, that's no news to regular readers of this blog.
Another grape I find inspiring is Grüner Veltliner, aka Grooner. Austria's most important indigenous grape variety (almost 30% of the total vineyard area) has only been in commercial production in the US since 2005, and when a colleague told me she was writing a big article about the grape and wanted to taste a range of American Grooners this proved me into action. Yesterday afternoon the First US Grooner Tasting took place at Aldo Sohm Wine Bar on at 151West 51st Street, and it gave all who attended plenty to think about. As one of the tasters observed at the end of the tasting, a work-in-progress like this group of wines is much more challenging to make sense of than a well-behaved group of wines of an established category, precisely because there are no lines marking out the playing field.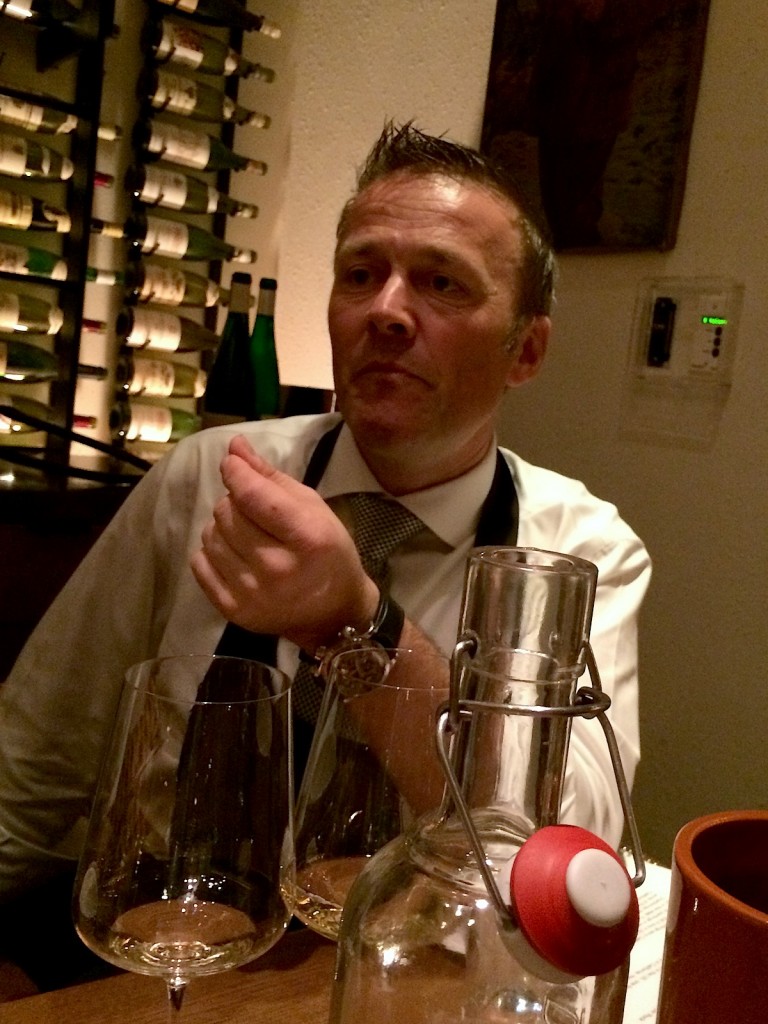 Tasting the seriously dry, aromatically and texturally complex Sohm & Kracher Grooners from the Waldviertel/Austria was a great introduction for the American wines. Aldo Sohm, pictured above, concisely analyzed how his and Gerhard Kracher's wines tick, I learnt a bunch about Austrian Grooner, and along the way found out that most white burgundies are fined and the winemakers are convinced this makes them taste better. That's exactly the opposite of what the Great Burgundy Wine Myth says!
Graham Tatomer of Tatomer Wines in Santa Maria/California not only made the most    exciting American wines in the tasting – I particularly loved his fresh and fleshy 2013 Paragon Vineyard  – but also said some important things, no least, "One of the big draws, why we are planting so much Grüner Veltliner in the US, outside Austria, is that it has at least as great a range of styles as Chardonnay." This very well described the dozen American wines which went from the Sauvignon-like freshness and vitality of the 2014 from Dr. Frank in the Finger Lakes/NY (12% alcohol) to the peachy and floral richness of the 2013 Steiner Vineyard from Carlisle Winery in Windsor, Sonoma County/CA (14.1% alcohol, but not directly perceptible). Who thinks of Grooner when they think of Oregon wines? Almost nobody, because of what I call the Pinot Fog (plantings of Pinot Noir and Pinot Gris dominate the state's vineyards). However, the 2014 from Chehalem in Newberg in the Willamette Valley has a great nose of herbs, white fruits and lemon, was succulent and very bright. I never tasted an Oregon Pinot Gris that good! Most surprising of all were the concentrated and still embryonic 2014s – Stone Cellar and Stone Cellar Reserve – from Galen Glen in Andreas/PA. Yes, Pennsylvania makes serious Grooner, and Galen Glen makes serious Riesling there too!