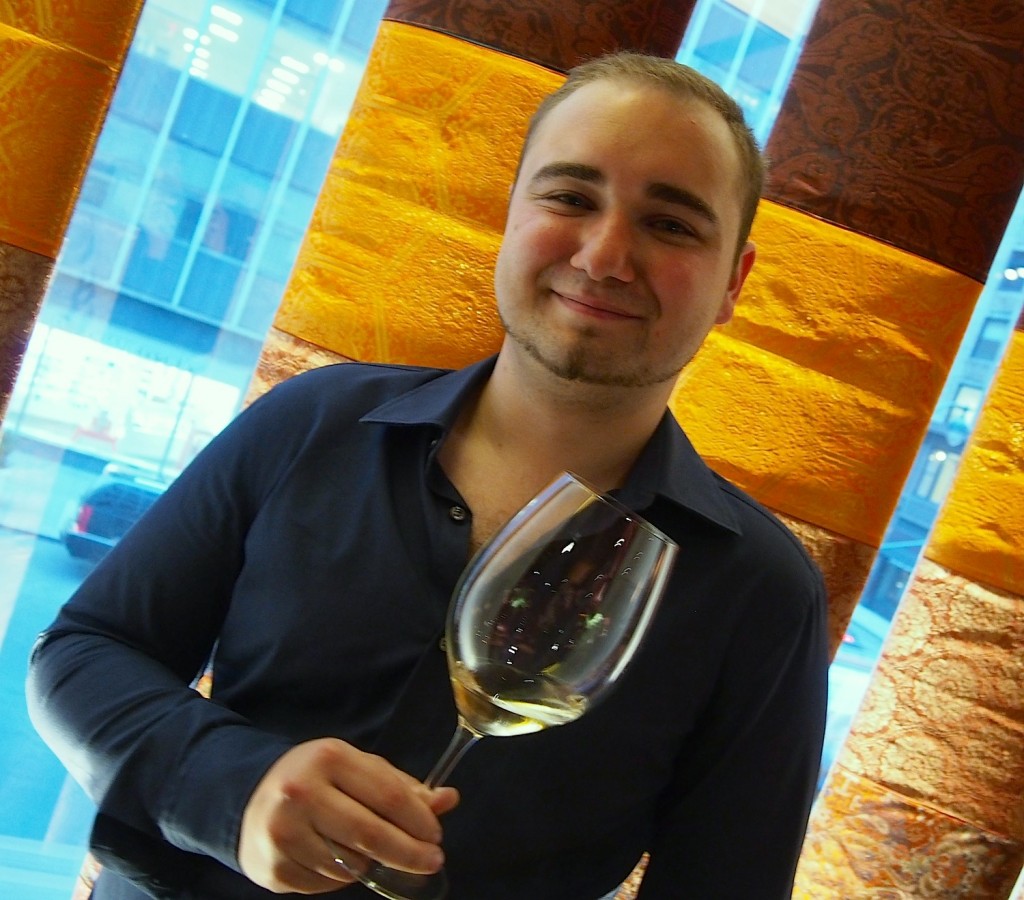 Maison Hugel of Riquewihr long seemed like the bastion of tradition in Alsace/France, but last night at the tasting dinner they and their US importer Frederick Wildman staged at Zuma Restaurant at 261 Madison Avenue that image cracked, dissolved and began to coalesce in an entirely new form. The agent of this metamorphosis from old to new was Jean Frédéric, 27, son of Etienne Hugel, the Hugel brother in charge of marketing. Two points need to be stressed here to prevent the wrong impression being given: 1) this is a genuine metamorphosis in which the same creature changes from one form to another, 2) it is still in progress.
Jean Frédéric likes saying some radical things like, "the biggest drama of Alsace is that we're losing our style. 20 years ago people knew they would get a dry Riesling, a dry Pinot Gris an a food friendly Gewürz, but now there are too many easy-drinking sweet wines. This is a terrible mistake." However, they are all deeply rooted in what it's fashionable to call the brand DNA. I use this expression, but Jean Frédéric said, "I prefer to say family than brand, because it's been a family company since 1639." "You don't look that old!" somebody heckled. "We're all getting older!" he quipped back. That's the sense of humor he displayed all evening, but that joke doesn't alter the fact that some serious rejuvenation isn't happening to the Hugel wines and some aspects of the way they are marketed.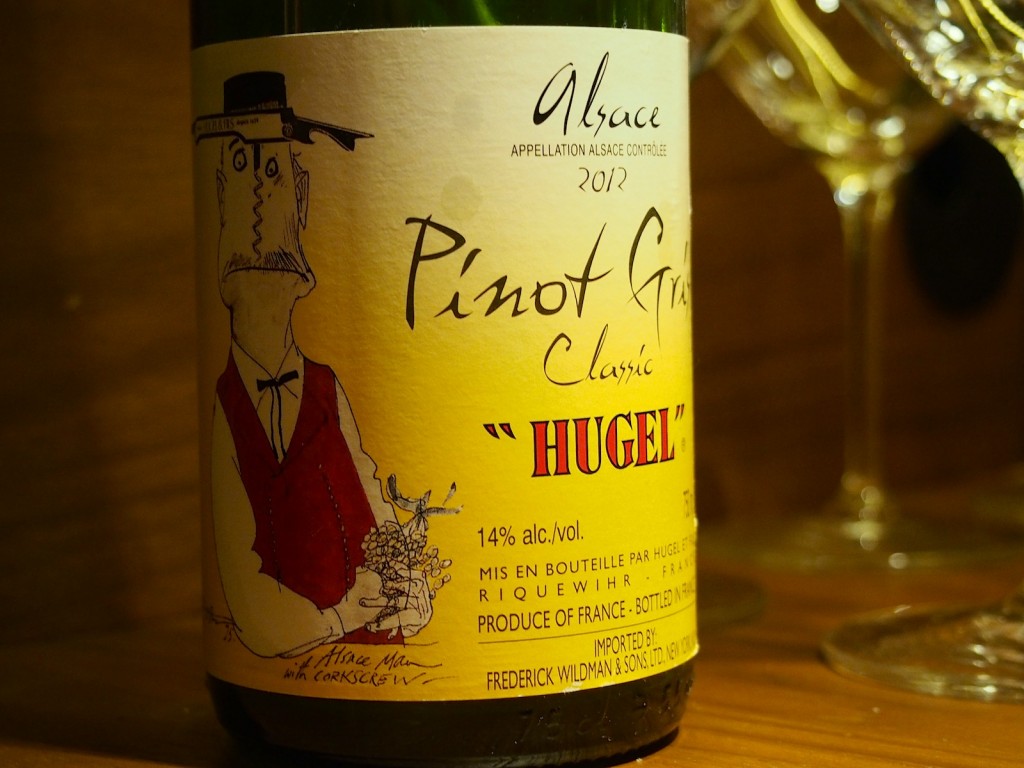 One of the biggest changes Hugel are making became apparent when one of the first wines was poured, the 2012 Pinot Gris Classic showed. I could describe the label which features a Ralph Steadman cartoon of an Alsace winegrower in tradition costume (now rarely seen), but it makes way more sense to who it to you, see above. Superficially, the only thing the new Hugel label has in common with the old one is the yellow background color and the company name in that very distinctive red script. However, when the old label was introduced back in 1921 it embodied the very latest thinking in brand marketing, and was based upon the design of the Maggi spicy cooking condiment; a huge brand at the time. Maggi had conducted modern-style consumer testing of alternate designs and found that a red brand name on a yellow background was most easily recognized by them. A member of the Hugel family who worked for Maggi for  a while brought that discovery with him to Riquewihr. Now they are taking a similarly radical step for their Classic range of varietal wines, which will all switch to the label above. By the way, that Pinot Gris is a delicious wine, with the richness and suppleness of the variety when the grapes are picked ripe (and the vines weren't over-cropped), but properly dry and clean.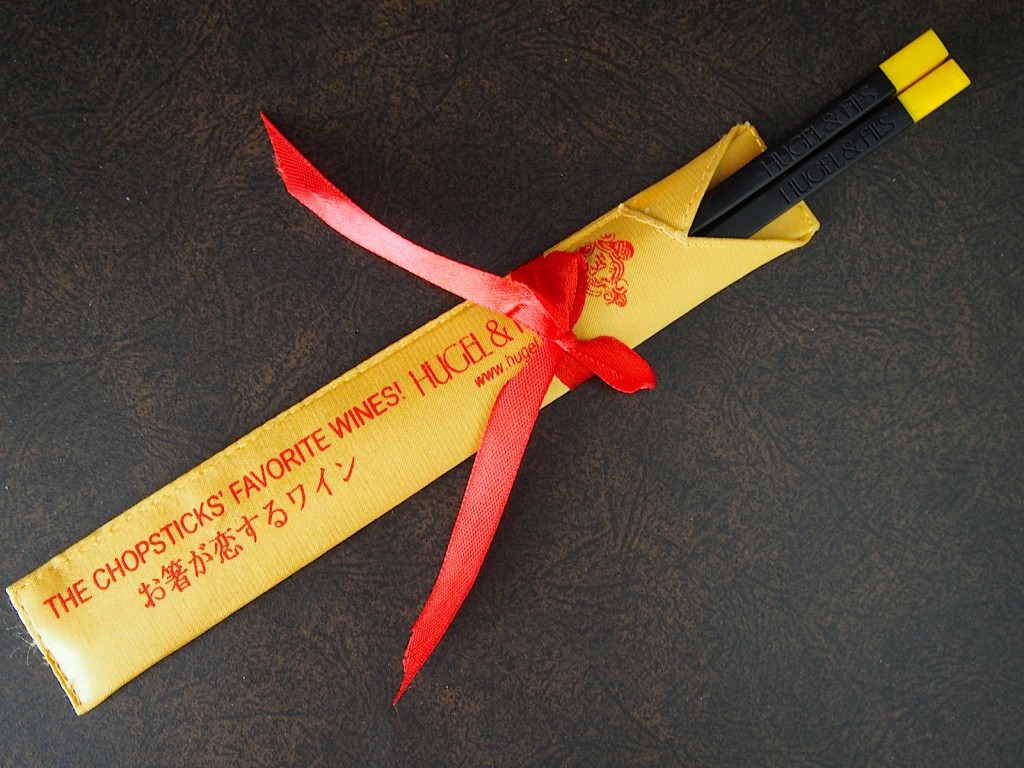 It made complete sense staging the tasting at Zuma, because the Asian-fusion cuisine matched the dry Hugel whites beautifully. The excellent sushi and sashimi really lit up the 2013 Riesling Classic, that had seemed a little sullen (too young) when first poured. As you can see from the above image, the affinity of their wines for this kind of food is a card that Hugel is now playing big time and with some panache. No doubt this also aligns with Jean Frédéric's personal taste, for otherwise he couldn't have spoken with such enthusiasm about this subject. And this is by no means the end of this story. At the end of the summer Hugel will launch their first wine with a Grand Cru vineyard designation on the label, the 2007 Riesling Grand Cru Schoenenbourg. Watch this space!