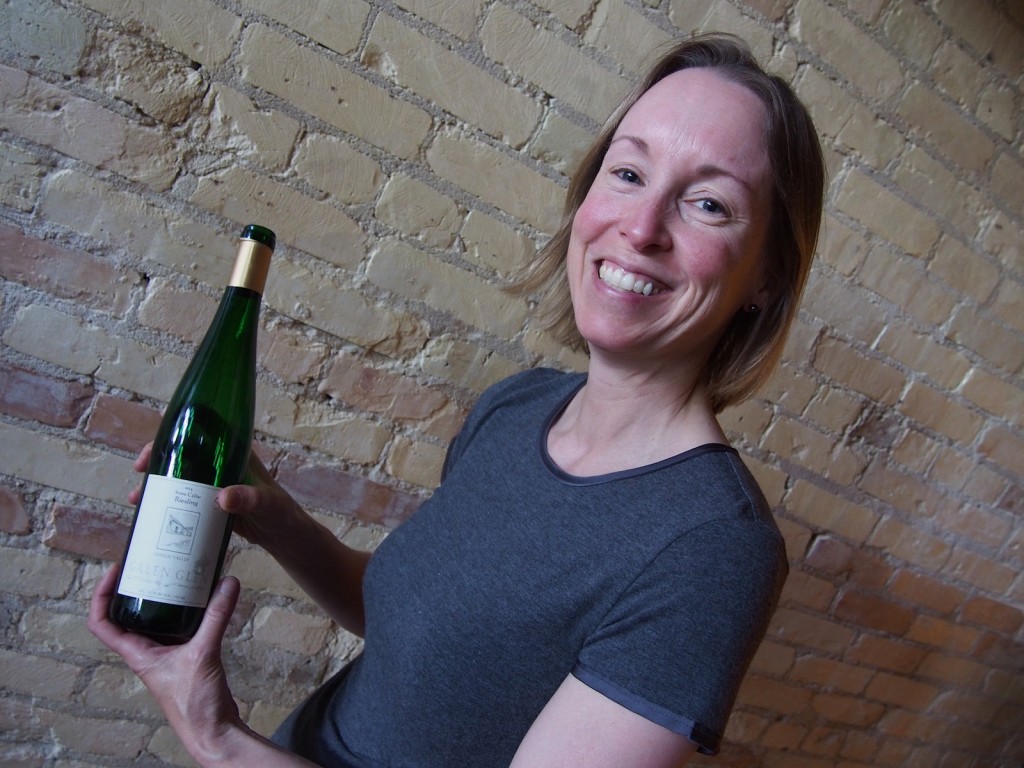 An event like @CityofRiesling in Traverse City is a great opportunity to experience a bunch of wines that you otherwise wouldn't have tasted, but far more important are the people behind the wines. As Brad Bickle, who's business is mergers and acquisitions told me, "it was a great opportunity to actually talk with the winemakers as you tasted their wines."In Brad's case the revelation at the Night of 100 Rieslings were the powerful and vivid dry wines from Brooks in Oregon which winemaker Chris Williams presented, which were a world of flavor he hadn't associated with the grape before. By the way, Chris Williams jet skied across Grand Traverse Bay to reach the Night of 100 Rieslings, which confirmed his status as an underground rock star wine guy!
In my case, the taste of the wines from Galen Glen in the Lehigh Valley, Pennsylvania was familiar, but it was no less an important experience for me to talk with winemaker Sarah Troxell, pictured above, about them for the first time. Galen Glen planted back in 1999, but has been under the wine media and wine scene radar, because of their "wrong" location (wine from PA isn't supposed to be good), their focus on the "wrong" grape varieties (Riesling and Grüner Veltliner aren't supposed to be growing in PA), and the fact that they sell most of their production through their own tasting room (for the wine scene what doesn't make it to NYC and SF/LA doesn't really exist). However, none of that alters the fact that these are white wines of purity and elegance with a lot of subtlety, and for me these are great wines and she is an underground rock star wine chick. Over the two days of the event I learnt from her how a lot of precise hand work lies behind all this, which makes a lot of sense. Wines like this are never accidents.
Salon Riesling on the second day was composed of a series of four tastings hosted by panels and some really great discussion took place. Of course, Riesling's difficulties in the marketplace were discussed and the session that compared Riesling with Sauvignon Blanc (SB is my favorite grape's main competitor) was very illuminating. SB is one-paced and often simplistic, not least because the vines are often over-cropped and the wines are rushed into the bottle as a result of the same imperative for profit maximization. The consumer isn't aware of this though, because they are focused on the narrow range of aromas and predictable taste profile of the wines. It is exactly this predictability that attracts them, because it means they have the comforting feeling of knowing exactly what they're getting. That's why it accounts for more than 7% of all wine sales in the US compared with Riesling's 1% share of the market.
Of course, compared with SB Riesling is seriously individual, and has a staggering range of aromas and tastes. As I wrote in BEST WHITE WINE ON EARTH it spans the entire range from bone dry to honey sweet, from featherlight to ton heavy. As Nicolas Quille of Pacific Rim in the Columbia Valley of Washington State pointed out, "the beauty of Riesling is its limitation in the marketplace." This is a painful truth and although the introduction of the IRF taste profile indicating the sweetness level of (many but sadly not all) Rieslings is a big step forward it is not a complete solution to that problem. He has done a great job of improving the balance of all the Pacific Rim Rieslings in recent years, to which all the 2014s are still on the full lees; a daring move for a winery of this size Meanwhile the 2013s from Pacific Rim prove that quality and quantity can be combined in modestly-priced Rieslings that have a rather mainstream appeal. That's quite an achievement!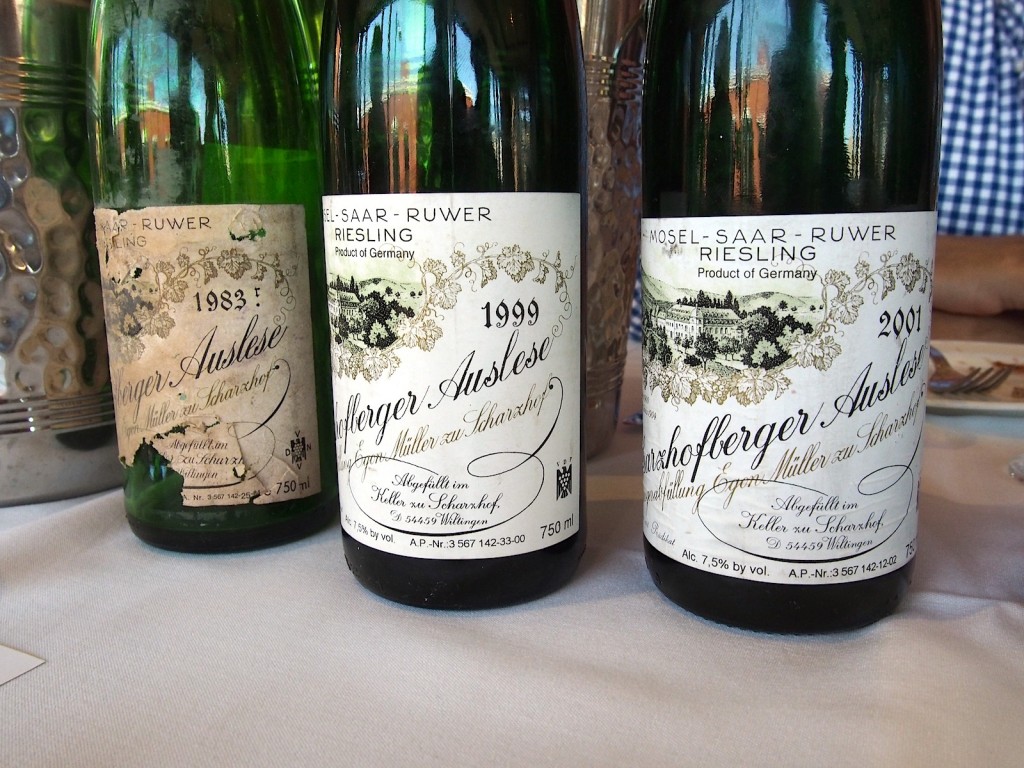 I brought a vertical tasting of Scharzhofberger Riesling Auslese from Egon Müller-Schrzhof with me to Traverse City and they were served at a lunch on the final day. It was great to find that the oldest of these wines, the 1983 Auslese, was still in great shape, because this was one of the first wines I put in my cellar exactly 30 years ago. Other high points were the enormously concentrated 2001 Auslese Gold Cap – all the honey, dried figs and mango you could ever want! – and the 2005 Auslese, which seemed to expand directly from my mouth into the deepest corners of my nervous system. These would be very expensive wines to buy ($500 – $1,000) per bottle, but the great thing about Riesling is how they peacefully co-exist with startling original, modestly priced wines like the 2014 Stone Cellar from Galen Glen. In the Cabernet world more modestly priced wines rarely get taken seriously except as cheaper alternatives to the "right" stuff, even if they're as beautiful as the 2012 from Smith Madrone in Napa, California.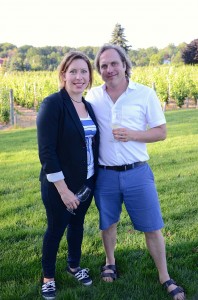 Events like this wouldn't happen without people like Amanda Danielson of The Franklin and Trattoria Stella (two of Traverse City's best restaurants) and Sean O'Keefe of Mari Vineyards, pictured right. Organizational talent, determination and hard work aren't enough to pull off something like this year's @CityofRiesling. For that, you need all those things plus a vision of what the wines make possible in terms of human interaction (the subject of today's blog posting). Discussion at the seminar tastings was so exciting, and raised so many important questions and issues, because the panel members were chosen on the basis of what they would have to say, not on their fame. Often those who are almost famous have way more to say for themselves than those who's fame and egos are as big as zeppelins. In Traverse City the panelists enabled me to learn not only what is happening with Riesling in the US, but also how that fits into the broader picture including the stuff that is supposed not to happen (for example the illegal kick-backs used to buy into restaurant wine lists and onto store shelves in some states).  However, the most important revelations all were the startling new Rieslings of exceptional quality are being produced in the US. For example, the 2014 "239" Dry Riesling from Bruce Murray's Boundary Breaks estate in the Finger Lakes of New York isn't released yet. Wines like this will make waves when they reach the market shortly.