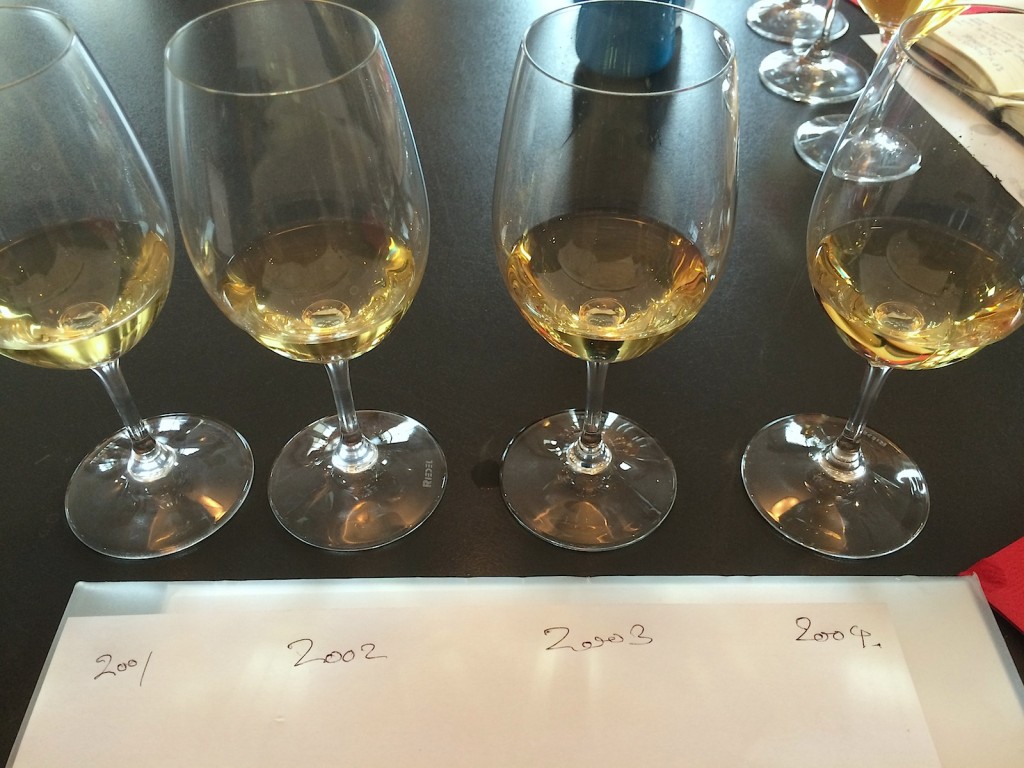 Why is there so little interest in mature wines like those pictured above? Most wine drinkers never have the chance to taste a particular wine from many vintages stretching back over 10 to 15 years, and those who lucky enough to have only done so generally only did that once or twice How can you actively desire something you've never experienced before? I think there's also a difference between dabbling in a new experience and immersing yourself in it, because the former rarely leads to new habits being formed whereas the later does. The importance of habits in shaping our patterns of consumption and preferences whether in wine or other things is greatly underrated. The truth is that we are to a very large degree creatures of habit, but these habits can be changed. But enough philosophy for this afternoon, because this posting has a couple of concrete subjects.
The first of them is the vertical tasting of the dry Rieslings from the Sheldrake Point Estate Winery on Cayuga Lake yesterday afternoon that I was lucky to be invited to. I say "lucky", because although I get to taste those 10 to 15 vintages of a particular wine quite often due to my profession, I very rarely get that chance in the FLX. Many producers who are making the best wines didn't exist a decade or more ago, or if they did the quality took a big step up during that time. Then the comparison between wines of high quality current production with mediocre earlier production doesn't real tell you anything apart from the simple fact that this producer got a lot better!
The most striking thing about the dry Rieslings from Sheldrake Point was the fact that the oldest  wines, the rich and weighty 2001 and the much lighter and much crisper 2002, both showed really well. The fact that regular quality wines produced in serious quantities can keep that well is a very positive sign. OK the 2003 had not aged so gracefully (it was drying out) and the 2004 was a bit too tart, but from the 2009 vintage onwards there was an impressive consistency of style and quality. This was also true of the rather more powerful and concentrated Riesling Reserve and even those wines from the unremarkable 2006 and very difficult 2009 vintages were seriously fresh and vivid. Probably the rich (apricot and tangerine aromas dominate) and beautifully balanced 2012 Riesling Reserve is the best white wine Sheldrake Point produced before the stunning 2014 that hasn't been released yet. On which note, look out for the regular 2014 Dry Riesling due for release in just a couple of weeks. It is a steal!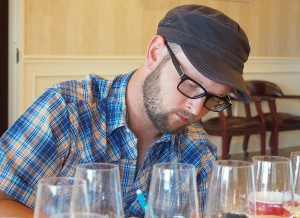 Then the concentration of the group of tasters was abruptly broken by a Facebook posting from Nathan Kendall, the winemaker of Bellangelo Winery on Seneca Lake for the 2014 and 2015 vintages (pictured right). It said:
For the last year and a half, I've had the great opportunity to make wines for Bellangelo Winery. Wishing them continued success. As of today I'm moving on to focus on the growth of my personal label, N. Kendall Wines. Also, stay tuned as I have some new exciting projects in the works as well!
That was a shocker had seen coming, and I had seen Nathan twice recently in NYC. The first time was at the first presentation that the winemaker group FLX Unfiltered & Unrefined in the Royal Seafood restaurant in Mott Street, Chinatown on the evening of Wednesday, March 2nd when he was showing the wines of his own label, and then the New York Drinks New York tasting on Tuesday, March 8th when he was showing the Bellangelo wines. The almost the off-dry 2014 Riesling he showed at the latter event was a striking wine that is just beginning to open up and (quite rightly) hasn't been released yet. This situation didn't suggest in any way that a big change was coming, rather it looked like Nathan would continue on this twin track career.
The FLX Unfiltered & Unrefined tasting demands some more serious comment. The one slightly questionable aspect of this group is the way they seem to be trying to position themselves as belonging within the broad (and increasingly confusing) circle of natural and alternative winemakers. Certainly, they can all claim to be makers of alternative wines, at least if that's defined simply as wines with a non-mainstream taste. However, they certainly aren't "natural" winemakers by any stretch of the imagination, or if they are then you have to make that category elastic to the point where it becomes meaningless.
This odd tasting in a Chinese restaurant was not only great fun, it was also my first chance to taste the wines from the Shaw and Wild Brute wineries. Shaw showed several mature wines, of which the muscular and tannic 2010 Pinot Noir was the most interesting. My only criticism of Wild Brute is given that name the wines were actually rather easy to drink, except for the 2013 Cabernet Franc, which is still a little bit wild and brutishly young in the positive sense. I really like the reds from Element winery that Master Sommelier Chris Bates founded, particularly the 2102 Cabernet Franc and the 2013 Lemberger. However, the most fitting description of this style is that I can come up with is that it is clearly inspired by certain traditional style French wines, but (thankfully) omits the hardcore funkiness often associated with them.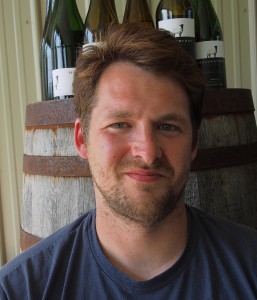 Nathan Kendall's Rieslings are very striking, but if it's bright fruity aromas that turn you on this is the wrong place to seek that tutti-frutti winogasm. However, if you like your dry Riesling to have some serious textural components then these wines – I'm thinking particularly of the dry 2012 and 2013 – could well excite you. The problem is that Kris Matthewsen of Bellwether Wines (pictured left) is also in the group, and he also makes dry Rieslings that are medium-bodied but have a lot textural complexity. As alternative as Kris's wines undeniably are, they are also rather aromatic and I find them more interesting and satisfying than Nathan's. I'm thinking particularly about the recently released Bellwether 2014 Dry Riesling from the Sawmill Creek Vineyard with it's white peach, apple and lemon notes and a great balance for a high acidity dry white with just 11% alcohol. Hats off Kris!
What I've done here is simply to report on Nathan's step sideways out of Bellangelo and off  completely in his own direction. Whether this is a positive step or not is another matter. You could say that it was a sign of the increasing dynamism of the FLX, or you could regard it as a petulant act of an ambitious and talented young winemaker. Time will tell us which it was better than I can with the facts currently at my disposal. Of course, it creates a problem for Bellangelo's owner Chris Missick, but there's plenty of time until the 2016 harevest and I'm sure that he can solve it well before then.