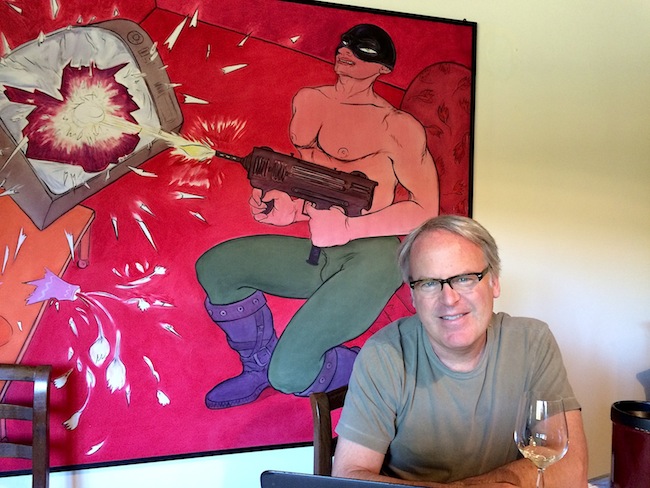 Who believes in the beauty of wine? James Suckling (pictured above) and I, along with many others too. However, some of our colleagues seem to have a problem with it. My report about the wines of the Nahe region of Germany came out just a few days ago on JamesSuckling.com (for the link scroll to the bottom) and very quickly it became clear that while many wine lovers agree with me about their beauty, some of my colleagues are stunned and outraged by my report.
What's the problem? It's very simple really: I dared to rate many dry and sweet Rieslings from rising star producers 90+ and some 95+ because that's how good the wines struck me when I tasted them. For us at JamesSuckling.com the taste of the wine is everything; fame gains a producer no extra points and being unknown denies them no points either. We are fundamentally democratic in our approach and open for every kind of wine beauty.
Over the last 20 years the printed guides to German wines – there are now 5 of them! – developed a system of rating not only individual wines, but also producers. The problem with that approach seems to be that if a producer is highly-rated, then their wines get higher scores than they would if the producer was less highly rated. During my research for the series of German wine reports (Mosel, Rheingau, Rheinhessen, Pfalz and Nahe) I wrote this year for JamesSuckling.com I was repeatedly told by rising star winemaker in Germany that they didn't get 90+ scores from one or other German wine guide, "because I've only got two stars/grape symbols, not four or five." Looking at several of the guides (Falstaff seemed to be an exception) I could see exactly what the young winemakers were talking about.
The problem with this situation is that it results in a distorted picture of the nation's wines being communicated to the readers of the wine guides. I reject this not only because it creates a strange hierarchy but, more importantly, because the ratings fail to reflect what you or I can taste. The beauty of certain wines doesn't seem to count fully for some of my colleagues.
Of course, giving a wine a 95+ score makes a big statement, and the words of description I used for these wines on JamesSuckling.com do the same thing. Of course, I am sticking my neck out with them and if the majority of readers disagree with me about the beauty of that wine, then I made the opposite mistakes to the wine guides. However, in my opinion every wine critic must be willing to take that risk to state her or his opinion as clearly as possible. Certainly, this is how James Suckling has worked over the 30 years I've known him, and this was an important reason for me to join his team.
I must point out that these "high" ratings are not the product of my desire to lavish praise on underdog producers. Rather, they result from the great ambition, determination, perfectionism and rigorousness of the new generation of German winemakers who emerged from the last turn of the century. They have created a wealth of new wine beauty and this demands my attention. However, because of the inherent conservatism of their methods and what strikes me as a grudging attitude to recognizing the achievements of young talent, the printed wine guides are lagging behind this development. All too often their ratings seem to be influenced by the situation 5, 10 or more years ago.
Maybe I am wrong, but my gut tells me that behind this problem lies in the longing for more certainty than is realistic in our rapidly changing world. Many of my colleagues seem to yearn for is a canon of classics that though not static, changes by small increments that are determined by them. They want the illusion that they are in charge, when the truth is that the market is the decisive thing. At JamesSuckling.com we want to be part of that dynamic and believe that doing so enables to have more influence than if we try to pull the breaks on.
None of this means that we are against giving well-established producers top ratings if their wines deserve it. Some of my favorite wines during JamesSuckling.com tastings this year were 2014 Château Mouton-Rothschild (rated 98), 2008 Vega Sicilia Unico (rated 100 points) and the 2015 Hermannshöhle Riesling GG from Dönnhoff (rated 97 points). Take a look at the Nahe report on JamesSuckling.com by using the link below and decide for yourself. Please note that you can read the story for free, but to see all the ratings and tasting notes you have to take out a subscription. The only thing we have in common with the wine guides is that you have to pay for the results of extensive tastings. Please don't hesitate to tell me what your impression is. You can easily find me on Facebook and Twitter.
https://www.jamessuckling.com/wine-tasting-reports/lost-world-riesling-nahe/?mc_cid=1336fcb083&mc_eid=0765a4a47d