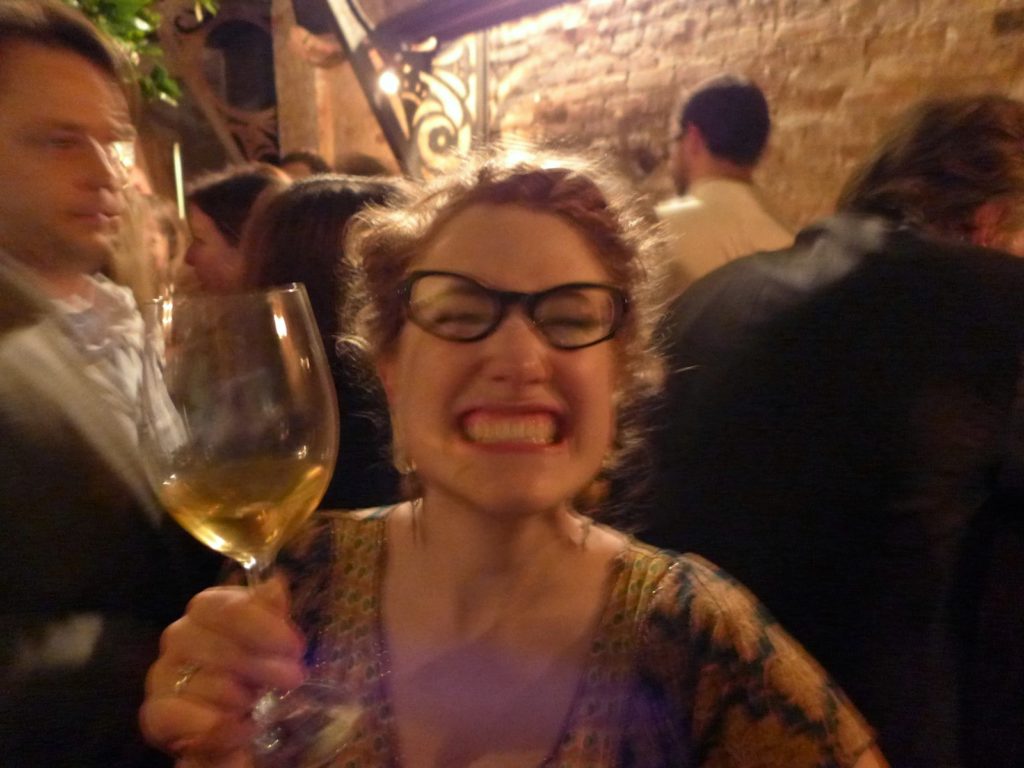 I am a small part of the documentary movie WEIN WEINBLICH or Wine Women team. We – Christoph Koch, Gunnar Swanson and I – are seeking a young female winemaker who is studying at the Geisenheim Wine University to be one of the stars of this movie. There is no age limit and you don't have to be from a wine background, nor do you need to look anything like a Hollywood movie star! Because fluency in the German language is a requirement the German version of this announcement precedes the English version. 
WEIN WEIBLICH sucht den SUPERSTAR
Stuart Pigott sucht das größte Nachwuchstalent unter den angehenden Winzerinnen an der Uni Geisenheim!
"Wein Weiblich" ist ein Dokumentarfilm in Spielfilmlänge (100 Minuten plus) für den wir eine Jungwinzerin suchen, die Studentin an der Hochschule Geisenheim ist.
Ihre Aufgabe: Sie muss einen eigenen Wein machen.
Die Vorgabe:   Trockener Riesling, Jahrgang 2018 (min. 300 Liter).
Vom ersten Rebschnitt bis zur Abfüllung begleiten wir Sie mit der Kamera. Im großen Finale findet eine Blindverkostung mit allen Weinen der Protagonisten statt. Mit dabei sind die Winzerinnen Dr. Eva Vollmer, Katharina Wechsler, Silke Wolf (Shelter Winery), Theresa Breuer und der Weinkritiker Stuart Pigott, der für dieses Projekt auch einen eigenen Wein kreiert. Am Besten haben Sie genauso viel Spaß an der Sache wie wir. Dann wird es richtig gut! Bitte nicht vergessen: wir sind NICHT in Hollywood! Unser Ziel ist so nahe wie nur möglich an die gegenwärtige Realität des Weinbaus zu kommen!
Am 31.01.2018 findet unser Casting an der Hochschule Geisenheim statt. Sie müssen sich und Ihr Weinbauprojekt "Trockener Riesling 2018" vor uns und der laufenden Kamera präsentieren (max. 10 Min., jede Teilnehmerin bekommt einen eigenen Termin).
Alle Bewerbungen bitte an folgende E-Mail: casting@wein-weiblich.de
Wir nehmen max. 20 Bewerbungen an. Die ersten 20 Bewerberinnen werden berücksichtigt und bekommen einen Termin am 31. Januar. Die Dreharbeiten beginnen mit dem Casting und enden im Sommer 2019 (ca. 8-10 Drehtage für Sie insgesamt)
Sie erhalten zwar kein Geld, aber werden zum SUPERSTAR!
Stuart Pigott und das WEIN WEIBLICH Filmteam freuen
sich auf Sie.
*********
WEIN WEIBLICH seeks the SUPERSTAR
Stuart Pigott seeks the best new winemaker talent amongst the female students of Geisenheim!
"Wein Weiblich" is a documentary film of feature film length (100 minutes plus) for which we are seeking a female student at the Hochschule Geisenheim.
Your task:                     to make your own wine
The parameters:          dry Riesling, 2018 vintage (minimum quantity 300 liters)
From the pruning of the vines to the bottling of the finished product our camera will follow how you make your wine. The finale of the film will be a blind tasting in which the wines of all the protagonists will be included. This means that your wine will stand next to those made for our film by Theresa Breuer, Silke Wolf (Shelter Winery) Dr. Eva Vollmer, Katharina Wechsler and the wine critic Stuart Pigott. Ideally you will have as much fun doing all this as we will filming it. Then the results will be really good. Please don't forget that this is NOT Hollywood! Our goal is to get as close to the contemporary reality of winemaking as possible!
The 31.01.2018 is the casting day for this role and the casting interviews will take place at the Hochschule Geisenheim. You must then present yourself and your dry Riesling 2018 project to us in front of the running camera (maximum 10 minutes per candidate, each of whom get an appointment to prevent long waiting times).
Please send your application to the following email address:
casting@wein-weiblich.de
Unfortunately we can only accept 20 applications, since this is the maximum number of casting interviews we can on 31.01.2018. Therefore it is important to apply as soon as possible. Shooting begins with the casting interview and extends through to the end of the summer 2019 (in total you can expect c. 8-10 days shooting).
Sadly, we can't pay you for all this,
But it's your chance to become a SUPERSTAR!
Stuart Pigott and the WEIN WEIBLICH film team look forward to working with you!