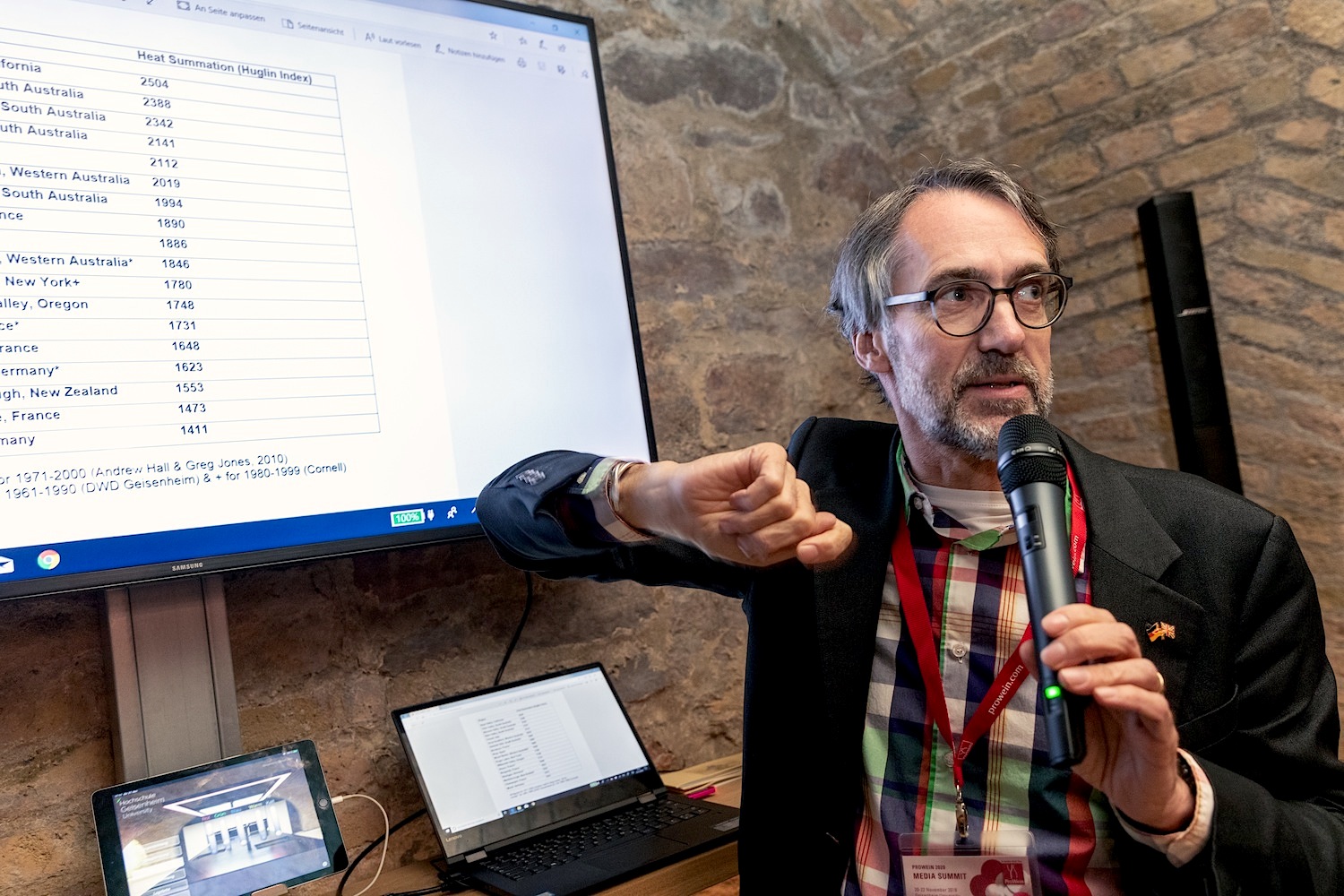 Here is the second part of the presentation the Paula Sidore and I made at the ProWein Media Summit on Climate Change at the Geisenheim Wine University. We wanted to prove that you can taste a variety of strategies for dealing with what we call the Climate Challenge. Scroll down if you want to start with the more theoretical Part 1. #unitebehindthescience !
Stuart Pigott: Not so long ago I wrote a blog posting called Cool Climate is Dead in Old Wine Europe. It was inspired by the fact that the heat summation for the vegetation period of 2018 in Geisenheim/Rheingau (not the warmest place in Germany) was just below the long-term average for Barossa Valley/South Australia, by no stretch of the imagination a cool climate wine region! 2019 was another warm year with a new summer high record being set in Germany. The last cool years here 2010, 1996, 1991 and 1987, so they are getting ever rarer. The last cold year was 1984, so global warming already abolished them. This is part of a general pattern through the continent's "classic" winegrowing regions, that is Old Wine Europe.
Cool climate still exists though in New Wine Europe, for example, Poland. That coutnry now has 534 hectares of vines split between 447 wineries, up an incredible 2,500% since 2000. Two years ago Paula and I showed a dry white wine of the Solaris grape produced by the Turnau estatePoland's largest with 24 hectares, at another ProWein tasting and it astonished everyone who attended. Solaris is also the most important grape variety (42%) for Denmark, which now boasts a total of 98 hectares of vines split between 90 commercial vineyards. There are around 40 vineyards in Sweden and perhaps as many as 12 in Norway (including Weingut Keller of Flörsheim-Dalsheim/Rheihessen!) However, statistically the most important member of New Wine Europe is the UK, and our first wine, a sparkling wine, comes from there.
Balfour 1503 Classic Cuvée Brut NV from Hush Heath in Kent/United Kingdom
Since 2000 the vineyard area of the UK increased by 300% to 3,579 ha. Just under 70% of these vineyards are planted with the three main Champagne grapes, Pinot Noir, Pinot Meunier and Chardonnay, and they are used almost exclusively for the production of Champagne methode sparkling wines. 2018 was the largest vintage to date in the UK with a total wine production of 13.2 million bottles, or which just over 9 million bottles will be sparkling wines like this. Balfour is very much part of the UK spakling wine boom, the first vineyard having been planted in 2002.
Paula Sidore: 1503 refers to the year the Hush Heath Manor was built. The cuvée is 64% Pinot Noir, 32% Chardonnay and 4% Pinot Meunier, the vines were 14 years old, planted on clay over sand, a different geology to Champagne's chalk. The base wine was fermented in stainless steel with 12 months on the lees to retain fruit freshnes. The the acidity is a staggering 12 grams/Liter (measured as tartaric acid), even higher than in Champagne. There are 10.6 grams/Liter of sweetness from dosage, but because of the huge acidity ithey are't obvious. And there's just 11.5% alcohol, which would be an unusually low figure for a Champagne. In the end it tastes rather Champagne like, but with a fresher acidity.
Even as England is enjoying a boon from rising temperatures, across the Channel the Champagne region is getting very nervous. Over the past 30 years there has been a 1.1° C increase in average temperature during the vegetative persiod in the Champagne region and grape maturation is now happening closer to 80+ days after bloom, rather than the traditional 100 days after bloom. That means harvest is taking place an average of 18 days earlier than 30 years ago. 2019 saw a 10-11% crop loss due to sunburn, with the highest temperature ever recorded in Champagne: 42.9° C. During the last 30 years acidity levels have also dropped by 2 grams per liter (measured as tartaric acid) and potential alcohol levels have increased by an average of 0.7%.
Many winemakers are already stressing that, as a result, the Champagnes they are producing today are very different from those made by their fathers. Jean-Baptiste Lecaillon, Chef de Cave for Louis Roederer, joked: "We invented bubbles to make up for unripe grapes. As farmers, our job, our life, our passion has been to adapt to climate change for hundreds of years. If the future heats up too much," he jokes, "we'll just have to make Burgundy."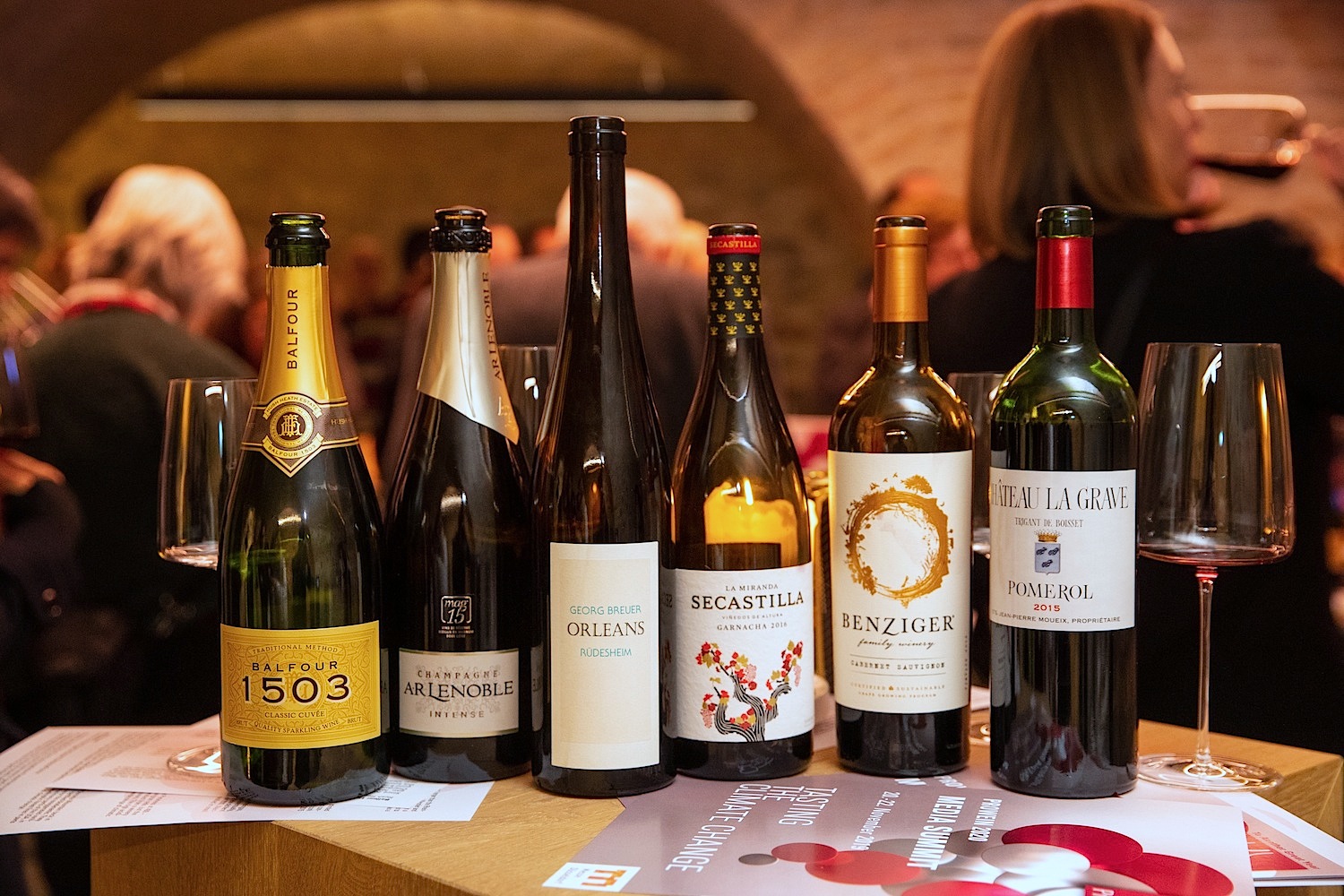 Intense "mag 15" BRUT NV from A.R. Leonble in Champagne/France
In 2014, organically minded, 18 hectare, Champagne House AR Lenoble in Damery/Marne, co-owned by  winemaker Antoine Malassagne and sister Anne, began bottling their "mag" series in an effort to drive continued freshness in their Champagnes. Reserve wines are traditionally a kind of insurance policy against crop damage, or to blend with the current vintage to achieve a particular, replicable style. The percentage of reserve wines contained in this blend is an unprecedented 45%, many of which were aged in magnums under natural cork under a pressure of 1.5 atmospheres. The magnum format has the ideal "liquid to oxygen" ratio, and as these reserve wines age under pressure are therefore protected from oxygen, resulting in a subtly aromatic palate and excellent freshness. They feel that reserve wines also add extra freshness.
This wine was hand harvested, pressed using the traditional vertical wooden press, only the first run of juice going into the fermenter. The blend is 45% Pinot Meunier, 40% Pinot Noir and 15% Chardonnay. Each varietal was vinified separately, mostly in stainless steel vats, but about 15% was fermented in new oak barrels. The doasge is a very low at 3 grams/Liter.
Variety may be the spice of life, but when it comes to what you plant in the vineyard it's also a really significant decision for the winemaker. Here are two different approaches to the question of survival through the choice of grape variety. While some winemakers have reached for disease resistant vine crossings (so-called Piwis), many others are reaching for the past to prepare for the future by fostering heritage varieties that were all but extinct.
2017 Orléans from Weingut Georg Breuer in Rheingau/Germmany
Native varieties are often far better suited to an individual terroir than international varieties. Orleans is one of those varieties. It is a rare white wine grape variety grown in small proportions in the Pfalz and Rheingau. During the 19th century, the thick-skinned, high acid variety thrived in the best vineyards of the Rheingau and Pfalz, especially on the Rüdesheimer Berg Schlossberg, and often in field blends together with Riesling, Silvaner, and others. The high demands it placed on the vineyard – only the very best were good enough to ripen it – meant that it was eventually almost entirely replaced by the earlier-ripening and more aromatic Riesling. The variety is among the earliest proven Frankish varieties, first mentioned under the name Hartheunisch in 1539. By 1890, Orleans was down to 11.4 ha and the last Orleans wine was pressed in 1921.
The variety was long thought to be extinct, then in the 1980s a few old feral vines were found growing on the terraces of Germany's Rüdesheimer Berg vineyard by Professor Helmut Becker of the Geisenheim Wine University. Experimental plantings were carried out in Laumersheim/Pfalz by Weingut Knipser cloned from 7 old vines from the Cistercian monastery Eberbach. In November 2008 five wild Orleans grapevines were discovered by the biologist Andreas Young near the single vineyard monastery Disibodenberg of the Klostermühlenhof winery in Odernheim/Nahe), estimated to be at least 500 years old, making them the oldest vines in the world.
In 1995, Bernhard Breuer of Weingut Breuer returned Orléans to its Rheingau origins, by planting 500 vines on the slopes of Berg Schlossberg. The wine is vinified in a small wooden barrel, as an homage to the region's tradition and story. Production is about 400 bottles annually. The wine has a certain general resemblance to Riesling, but the aromas are totally different.
Stuart Pigott: Now let's turn to a totally contrasting example of a heritage variety being rediscovered.
2016 La Mirande de Secastilla from Vina del Vero in Somontano/Spain
The vineyards of the Vina del Vero estate in the DO Somanto are situated in the foothills of the Pyranees at 400 – 800 meters above sea level. The region is lush, green and hilly, and as a somewhat new appelation (1984) has taken a fresh approach to winemaking, varieties, vineyard practices and packaging. And while the region is famous for ripe but elegant Cabernet Sauvignon reds, the traditional grape of the region is actually the indigenous Garnacha, aka Grenache. After Vina del Vero was acquired by Gonzalez Byass in 2008 they decided there was great potential in the region's Garnacha reds and they now produce two excellent wines, of which is the cheaper at just Euro 8,95. I included it in our tasting to demonstrate that sustainability is not just for super-premium wines drunk by the cool people and can also be undertaken by major players.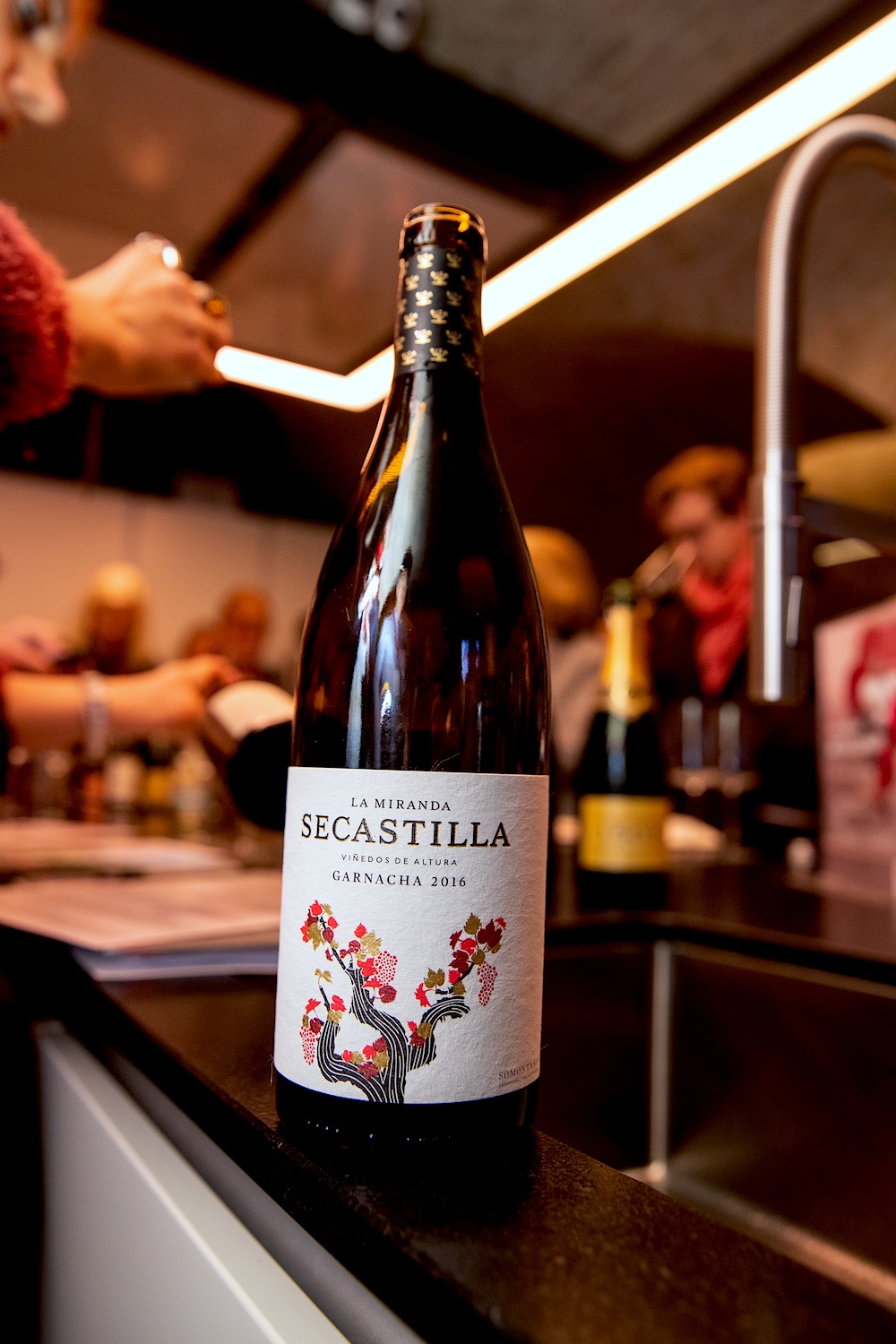 Garnacha is a late ripening variety, meaning that in warm climates the grapes can be left on the vine quite long to develop complex flavors. The high acidity/low pH and the delicate floral aromas of this wine show what Garnacha is capable of at the cooler end of its climatic range. Low bush vines planted at a low density require much less waterthan denser plantings of vines that are spalier trained on wires in the conventional way, The hoodlike canopy of leaves also protects the grapes from the afternoon sun and slows the evaporation of moisture from the ground directly beneath the vine. Even if Somontano warms and dries considerably, the predicted change in Spain generally, then Garnacha will still produce good wines with a rather similar anlytical profile. In contrast, to extend Cabernet's future in the region it must be planted at higher altitude, which brings us to the next wine.
Paula Sidore: Finally, we move from the cooler climates into the powerhouse reds that fueled wine consumption in the 80s and 90s, the red blends of California and Bordeaux. With a rich, dense opulent style and alcohol levels already topping 15% in warm years, the climate challenge is real and heavy on the palate.
2016 Sonoma County Cabernet Sauvignon from Benzinger in California
Cabernet Sauvignon grapes make America's favorite wine, and they are the lifeblood of Napa Valley, the USA's most famous wine region. Cabernet accounts for fully 65% of the grapevines grown in Napa, where last year the crop reached a record $1 billion in gross value. But Cabernet, like much of Californian agriculture, is under threat. As Napa's wine industry continues to confront rising temperatures a small but growing contingent of vintners is becoming more vocal about the need to address climate change head-on.
 While individual approaches in the estates (shade cloths, rotating the exposition of the vines) help, they are only a bandaid. Winemaker Dan Pietrowski from Larkmead Vineyards in Calistoga/Napa said: "There's going to come a point with Cabernet in Napa where you have it seared on the outside and completely raw on the inside. Cabernet sauvignon may no longer be well-suited to Napa Valley's climate in 20 to 30 years." Larkmead's research block will include Chenin Blanc, Petite Sirah and Zinfandel, "heritage varieties" that once were popular in Northern California, but were largely supplanted in recent decades by Cabernet Sauvignon and Chardonnay as the market for those wines grew. The goal at Larkmead isn't to replace Cabernet entirely, but to develop a larger palette of grape varieties with which to supplement it.
Stuart Pigott: Sonoma has not seen as much warming as many parts of the USA during the last century, in fact certain parts of the county have cooled slightly. However, the catastrophic forest fires in parts of Sonoma in 2017 and again this autumn, are almost certainly linked to climate change, so warming isn't the only problem. Changes in rainfall patterns can only bring challenges.
The Benzinger family bought the old Wegener Ranch on the lower slopes of Sonoma Mountain back in 1980 and from 2000 the 85 hectares of high-altitiude vineyards they began conversion to biodynamic cultivation. They make classic style California wines without the massive to monolithic structure or the intense vanilla oak of many modern reds. They have also worked to make less of an impact on the environment, for example, reducing, water consumption per liter of produced wine from 100 to about 1. On average it takes 496 liters of water to produce a liter of California wine. This wine grew at between 130 m – 200 meter above sea level on volcanic clay and loam. It has 14.5% alcohol and a pH of 3.75, but California Cabernets can easily top 15% alcohol and sometimes go as high as 18%, pHs above 4.0 are not unusual.
2015 Château La Grave Trigant de Boisset from Pomerol/Bordeaux
More than any other famous Bordeuax wine appellation Pomerol has a problem with climate change. Today 14% – 15% alcohol has become normal for these wines in warm years like 2010, 2015 and 2018. As one of the region's leading winemakers who wishes to remain anonymous recently said, "if it gets any warmer, then we will have to replace the Merlot grape, because in the good vintages it now gives 15% alcohol."
This wine is the best Pomwerol we could find for just under Euro 50 per bottle. The property has 8 hectares of vineyards planted with 85% Merlot and 15% Cabernet Franc on gravel and clay soils on the western side of the plateau of Pomerol. It was acquired by Christian Moueix in 1971 and they aren't afraid of modern winemaking technology. For example, all their top reds are pressed under nitrogen. Thermo regulated concrete and stainless steel areused for fermentation, extraction is cautious and the wine then spends 16-18 months maturing in French oak, 40% of which is new. That makes for a very silky and sauve wine in spite of 14.5% alcohol. Quo Vadis Pomerol? No, I think rather it's rather Quo Vadis Bordeaux!
You see, according to France's meterological service, in Bordeaux the average temperature during the vegetative period has risen 2°C since 1950. However, during the last decades the fashion for soft red wines with full body lead to a boom in the planting of the rather early-ripening Merlot grape. In 2000 it accounted for a whisker under 50% of all the region's vineyards with 62,209 hecatres, but since then plantings leapt to 58.5% or 71,637 hecatres in 2017. This is exactly the wrong trend and the leading winemakers of St. Emilion, Pomerol and their "sattelite" appellations are already moving away from Merlot and towards the later ripening Cabernet Franc that gives wines significantly lower in alcohol and higher in acidity.
Paula Sidore: Recently, as a result of the research presented by the Bordeaux Wine Council initiated in 2003, winemakers in the Bordeaux and Bordeaux Superieur appellations have the possibility to experiment with 7 additional varietals from the 2021 vintage: Arinarnoa, Touriga Nacional, Marselan, Castets; Alvarinho, Lilorita and Petit Manseng. Most of them are late-ripening, some are new to the region and some are forgotten ones making a comeback. "Climate change is challenging the very nature of our appellation system," Bernard Farges, president of the AOC Bordeaux said, "If our wine is defined by the blend of grapes, the style and typicity will change with the climate. Or is it defined by a style and flavors? If the latter, you need to change the blend to maintain the wine's identity in changing circumstances."
Climate Challenge is of course NOT the first challenge the wine industry has faced, nor will it be the last. Europe faced the Phylloxera outbreak in the 1860s, then the great frost in 1956. Grapevines, like people, are resilient. All over Planet Wine, hard-earned wisdom that has been passed down through generations is being reconsidered. Where to put vineyards, which grape varieties to choose, hhow to farm the vines, how to make the wine and how to sell it — these key issues for wine producers must all be rethought as a result of ongoing climate change.
Then there is the consumer. These approaches only work when the consumer gets involved, educating themselves and then showing their support through their buying power and advocacy.  As Ghandi said, "As a man changes his own nature, so does the attitude of the world change towards him…We need not wait to see what others do." Personal and social transformation, he is suggesting, go hand in hand. We agree!