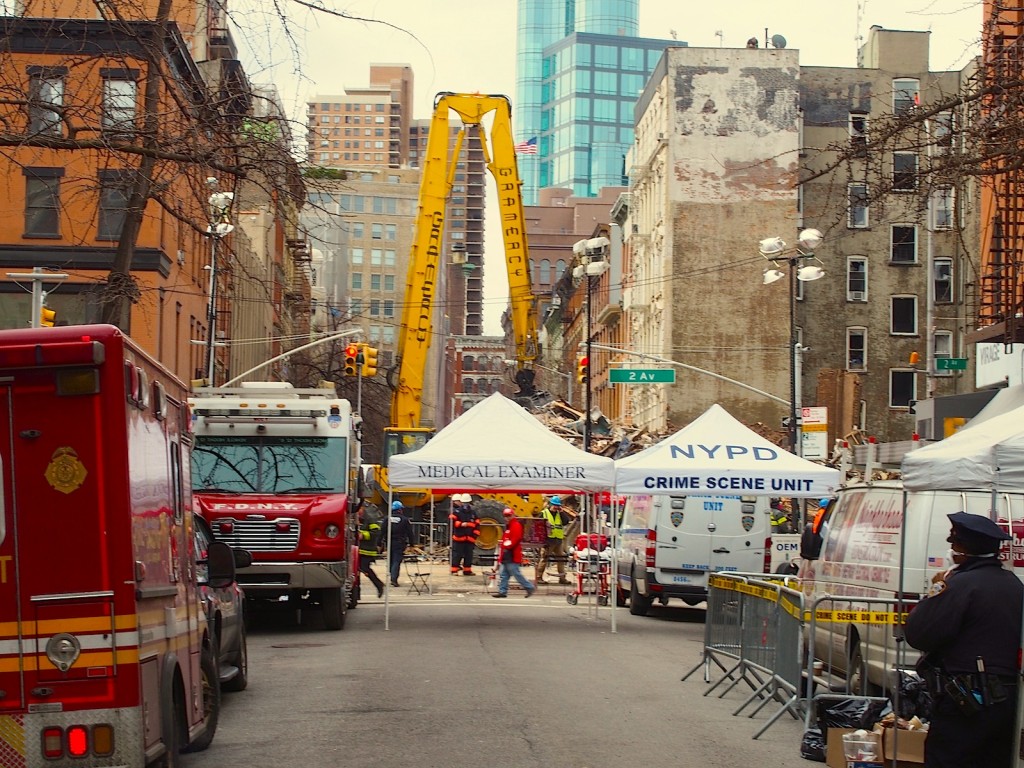 Pictured above is the junction of 2nd Avenue and East 7th Street in Manhattan where on Thursday afternoon a gas huge explosion lead to a fire that consumed three entire buildings, the ruins of which can be seen in the photo behind all the cops, Fire Dept vehicles and the red stop lights. Just 10 minutes before the explosion I'd driven by in a friend's car, but this wasn't the reason I had to visit the scene of this terrible accident that appears to have cost at least two people's lives. I had to pay my respects to all that was lost that day. You see, this place really means something to me.
When I began coming to New York City for longer periods at the end of 2012 I stayed in a shared apartment on East 7th street just yards from this junction that the tenant Jürgen Fränznick nicknamed the 'Hotel of Hope'. It was there that I wrote the first posting entitled 'New York Riesling Diary' late on November 26th, 2012. For almost a year my room at the Hotel of Hope felt like home, because it was somewhere that my hopes blossomed after a long period of depression I had been unable to shake off at my home in Berlin. When I woke on Tuesday, December 4th in my room I felt that an enormous weight that I'd been carrying for many months had dropped from my shoulders, and I began to become the person that I am today.
I could write a lot about this part of Manhattan, but another writer has already said nearly all of it better than I could, so here's the link to Sarah Larson's excellent story in The New Yorker. There are just two things I would add to what she writes. The first is that the entire thing struck me as being like a miniature 9/11, except that this was an accident rather than terrorism. 2nd Avenue is still completely blocked off to traffic south of East 14th Street and this photo was taken as close as I could get to the scene of the disaster. The second thing is that just a few blocks from this intersection on East 12th Street between 1st Avenue and Avenue A was the original Terroir wine bar and this has now gone too, although not with a bang, but a whimper. It recently reopened as Fifty Paces and it looks good, but that loss cannot be replaced either. It was where my book BEST WHITE WINE ON EARTH – The Riesling Story was conceived. Of course, New York is famously the eternal city of construction as well as of destruction, so what has gone will be replaced by something very different, but possibly no less positive. We will see.
http://www.newyorker.com/culture/sarah-larson/the-east-village-fire-love-saves-the-day?intcid=mod-latest