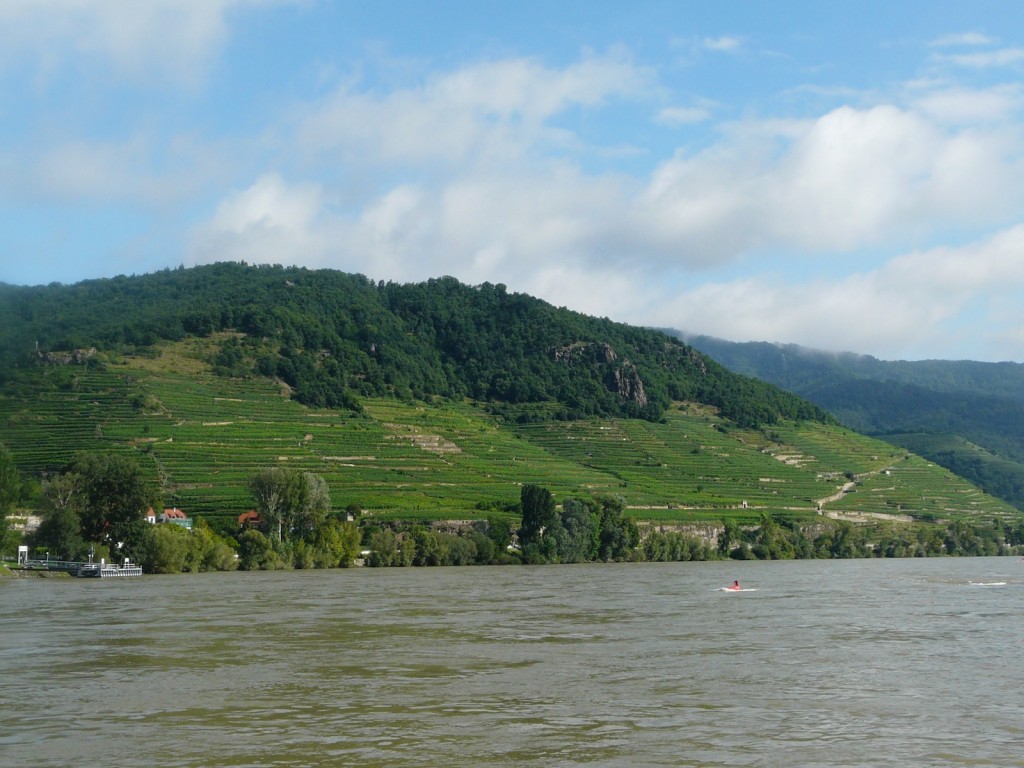 Although Austria is one of the most important producers of dry Riesling on Planet Wine the profile of these wines varies enormously from market to market, and here in the USA is well below the relative prominence and popularity of Grüner Veltliner. This was no doubt the reason that the Austrian Wine Marketing Board staged a very ambitious tasting of these wines that covered all the significant producing regions, and spanned the vintages 2013 back to 1990. The 1990s was the period of fastest growth in the vineyard area planted with Riesling in Austria (and it still continues to grow, if at a slightly slower pace), and was also the period of my most intense involvement with these wines, so there was a personal reason for me to be seriously interested to taste these wines.
Although just 4.06% (2009 figures from Statistics Austria) of the nation's vineyards compared with Grüner Veltliner's 29.4%, much of the latter produces everyday quaffing wine and almost nobody is making that kind of wine from Riesling in Austria (here the contrast with Germany is striking!) With Riesling Austrian winemaker are focusing on producing good to top quality. Combine this with the fact that, in contrast to just about every other Riesling producing nation/region, Austria is making almost exclusively dry wines and you can see why these are way more important for the nation than that 4.06% suggests. However, there are also massive differences in the degree of commitment to Riesling of the various regions. 16.4% of the Wachau's vineyards are planted with Riesling, the figures for the Kamptal, Kremstal and Wien (Vienna) are 9.4%, 10.3% and 13.7% respectively. At the other end of the scale in Mittelburgenland – the heart of the homeland of the red Blaufränkisch grape – it is just 0.16%, or about one hundredth of the regions specializing in Riesling!
Of course, the important thing is how the wines taste, and the excellent 2013 vintage is the right place for those Riesling drinkers unfamiliar with these wines to start. 2013 was a cool vintage, but those growers with a good standard of vineyard cultivation who picked late ended up with wines around 13% and a bright acidity . The 2013 Heiligenstein "Atle Reben" from Jurtschitisch in Langenlois, Kamptal is a beautifully elegant example with great subtlety of aroma and flavor, entirely drinkable now but with many years of life ahead of it. The 2008 Heiligenstein "Alte Reben" (old vines) from Willi Bründlmayer also in Langenlois showed how brilliantly wines like this can age. It still had bright peach and grapefruit aromas, and a racy finale with serious mineral intensity.
In warm years like 2011 dry Austrian Rieslings like the Steiner Kögl from Salomon Undhof in Stein, Kremstal can push 14%  alcoholic content with the power and richness that brings, also the much softer acidity that comes with those things, but still have a really satisfying balance. Those wines can also age very well as the 2003 Reserve from Müller-Grossmann in Palt, Kremstal, a wine from a very hot year that still has great citrusy freshness. It is this style that is more widely associated with Austrian dry Riesling and Germany very rarely come up with wines of this type, so there is something unique about it in Europe.
Inevitably, it was the older wines in the tasting that took the limelight. For Willi Klinger, head of the Austrian Wine Marketing Board, the 1997 Achleiten "Smaragd" from the Domaine Wachau – it is that region's co-operative winery – was particularly significant, because he was the director of that winery when this wine was made. Although this was quite a warm year that wine had a moderate 13% alcohol and at 18 years of age was delicate and filigree in flavor with a had impeccable balance. No less exciting and lively were the more powerful and concentrated 1999 Loibenberg "Smaragd" from F.X. Pichler in Loiben, Wachau (conclusively disproving the rumor this producer's wines don't age well), and the 1997 Steinrigl "Smaragd" from Prager in Weissenkirchen, Wachau that was simultaneously mellow and energizing. I vividly remember these wines when they were young and they have kept all the promises they made back then when Planet Wine was a very different place to what it is today.
What more do you want from mature dry white wine?
Photo of the Achleiten & Klaus sites of Weissenkirchen, Wachau by Gerhard Elze