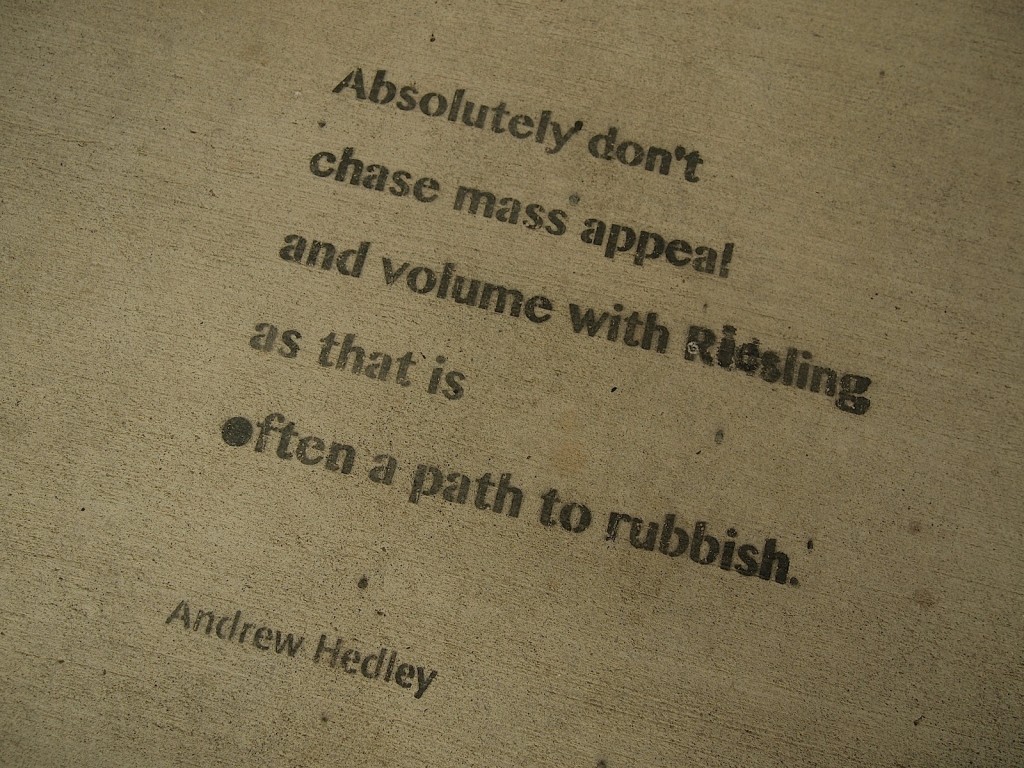 It's often asserted that the 1971 German wine law was The Great Problem, the one cataclysmic cause of that Temporary Lapse of Riesling from which the world has been emerging (some places faster than others) since the last turn of the century. However, I have to point out that de facto nearly all of that wine law still applies, and, in spite of that fact, German Riesling made a quantum leap in average quality during the last 15 years and achieved much wider acceptance on the domestic market as a direct result of this development. In fact, the problem in Riesling's homeland was an interlocking set of mutually reinforcing factors of which the wine law was one, but that would require a scholarly work of some length to adequately analyze. Internationally, the complexity of the situation was lesser and is therefore more easily unravelled.
Recently in London, Jancis Robinson spoke about how her first wine was an off-dry white called Lutomer Laski Riesling from what is today Slovenia, but was then part of Yugoslavia. I shivered involuntarily as she spoke that name, because this was usually the cheapest wine in a 75cl bottle on the shelf in UK supermarkets when I started drinking wine with some regularity back in the late 1970s. It is hard to describe how rough and ugly that wine tasted back then, because today no wines on the supermarket shelf taste that bad! Of course, Lutomer Laski Riesling wasn't made from the noble Riesling grape, but from Laski Riesling, aka Welschriesling, aka Riesling Italico, a grape with no close genetic relationship to Riesling. Emerald Riesling, a crossing of Riesling and Muscadelle bred at UC Davis for the warm climate of California (it's also quite widely cultivated in Israel, because it retains it's acidity when grown in warm climates) is another example of this. International trade agreements that stopped grapes like this using and abusing the good name of Riesling were a vital step towards my favorite grape's rehabilitation.
What the 1971 German wine law did was to simultaneously enable the long term exploitation of geographic names traditionally associated with high quality Riesling wines, e.g. Piesport/Mosel and Nierstein/Rhienhessen, and to virtually free producers from any limit on the level of sweetness that those wines could contain. It was the combination of those factors which created sweet 'n' cheap 'n' famous-sounging, the combination that achieved such mass appeal with such deadly consequences. However, that shouldn't be seen as an isolated phenomenon rather in the supermarket shelf context where those wines stood close to Lutomer Laski Riesling (in the UK) or Emerald Riesling (in the US) and other similar pretenders. That shelf became a bozos' corner which any wine drinker who believed she or he was drinking only better wines avoided like a leper's colony, and it was this that hammered Rieslings reputation.
Thankfully, that stuff either isn't going on any more, or is drastically reduced (depending upon where you are on Planet Riesling). The problem for Riesling today is really only the challenge of persuading consumer to try the wines with an open mind, that is without thinking that it must all be sweet 'n' cheap and Germanic. Today, a lot of contemporary dry German wines don't taste the way consumers expect Germanic wines to taste! That sweet 'n' cheap image is the long shadow of the Temporary Lapse of Riesling, and it's length results from deeply-rooted prejudices. For many people it still seems to be unthinkable that the same nation could produce The Ultimate Driving Machine (BMW's slogan in the US) and also offer The Ultimate Drinking Pleasure. That's the slogan I propose for German wine in the US with the goal not only of changing the wines' image, but also the image of Germany as a whole. Why not?
PS My apologies for delay in getting this brief story up, but I was sick for almost a week with a very nasty cold.