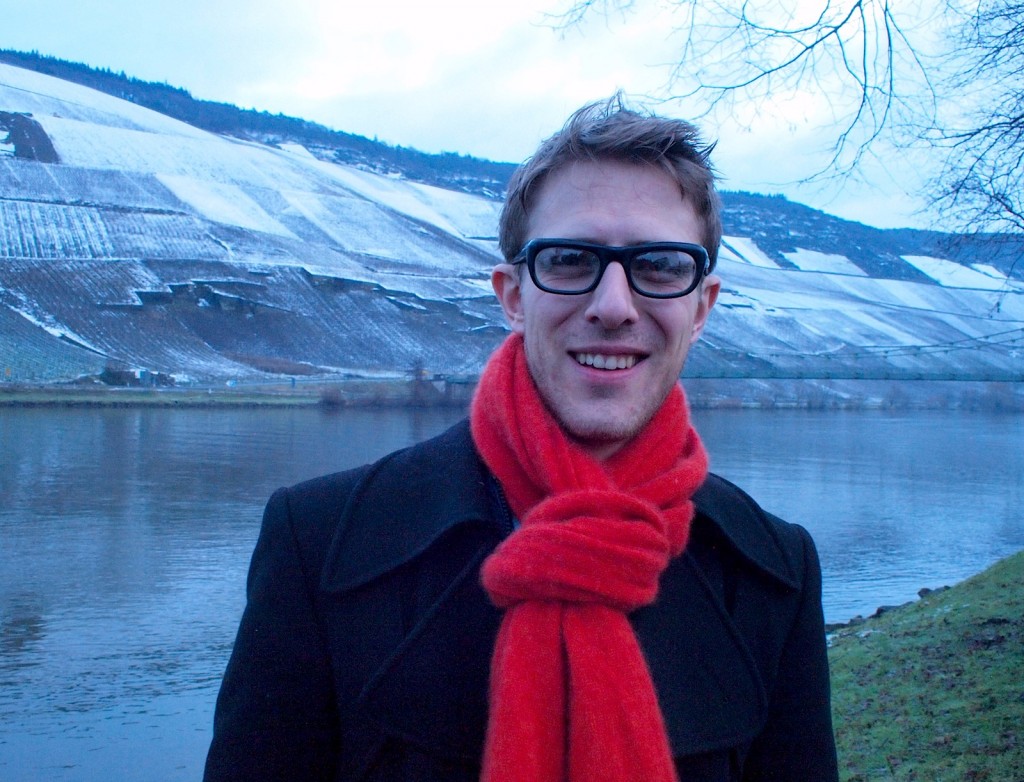 New York somm Peter Weltman was still under age – shock, horror! – when he drank his first Riesling back in 2004. It was a Spätlese from J. J. Prüm in Wehlen/Mosel, probably from the Wehlener Sonnenuhr site that owes it's global fame to the Prüm family. The photo above shows him in front of that site early this morning. Yesterday J. J. Prüm was our first appointment and we tasted the 2012s and 2013s with Dr. Manfred and Amei Prüm, which are exciting, but very contrasting wines (the 2012s are elegant and graceful, the 2013s much more racy and mineral with quite a challenging acidity). I first visited J.J. Prüm back in May 1984, so this was some kind of double anniversary, for Peter a 10 year one and for me a 30 year one. However, as I recently observed, sheer age doesn't make wine or anything else more important.
From this and the photo you can tell that there's a generational gap between us, but this is one of those friendships where I only really feel as a distance when we talk about something that was new for the young me and therefore before Peter's time. For differing personal reasons, but in the same basic way, the Rieslings of J.J. Prüm and the jazz piano playing of Bill Evans are things which bridge this generational gap. Wine, like music, bridges distances between people both in space (for example Mosel wines being drunk in New York or Berlin) and in time (the age difference between Peter and I or any other two people). This is because wine and music are "abstract", that is they don't have an obvious content – song lyrics are content, but often not consumed as such, particularly by people with other mother tongues. They touch us emotionally, that is they connect directly with the traces intense experiences in the past left in us. This is something fundamental to being human that has nothing to do with the intellectual side of us, but of course connects with that too. I think that's enough philosophy for one grey, winter morning!
If you look closely at the photo it shows something that a lot of wine books talk about, but you can seldom actually see. The snow melts first in the best vineyards, because they have the best exposure to the sun and are warmer for other reasons too (lower altitude, less exposed to cold wind, etc). You can clearly see that the lowest third of the Wehlener Sonnenuhr is the best part of the site, and that's where most of the best Rieslings we tasted at J.J. Prüm came from. Some aspects of wine, like the way it connects with our memories and emotions are very difficult to analyze, while others such as this are rather easy to explain and grasp. This combination is what makes my job so endlessly fascinating. Every day that gives me a Riesling to live.