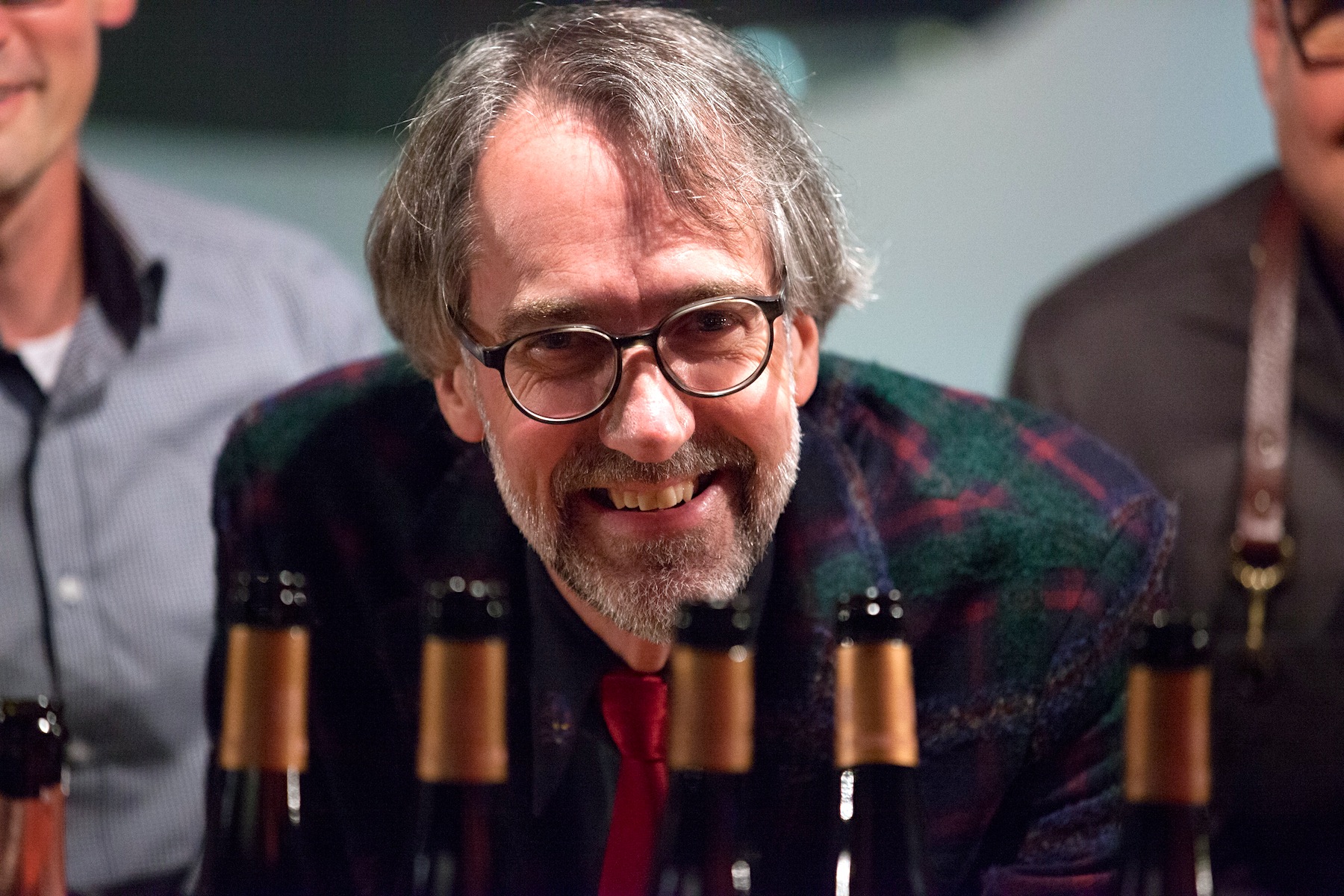 Für den deutschsprachigen Text bitte nach unten scrollen!
I went to Gut Hermannsberg (GHB), the ex-State Domain of the Nahe region of Germany, from JamesSuckling.com in March 2019 to be Riesling Ambassador for their 10th anniversary year under the ownership of the Riedel family. That went so well my engagement at the estate was extended for another year. Then, last summer James Suckling asked me to help him out due to all the problems resulting from the Covid-19 pandemic. I wrote a series of reports for him, most notably about the great 2019 vintage in Germany, and as a result he recently made me an offer too good to refuse. So, in March 2021 I return to James Suckling full time. I shall continue writing for a number of German language publications and for my English language blog, as I've done for the last two years. I will also remain very good friends with GHB's owners, Jens Reidel and his wife Christine Dinse, plus his son Jasper Reidel who has managed the estate since May 2018.
The last two years were an exciting time to be at GHB, most importantly because of the high quality of the 2018, 2019 and 2020 vintages; the estate's best wines since the late 1980s. I speak from long experience, having followed all the estate's ups and downs since my first tasting there on the 26th April, 1984. The recent gentle shift in wine style towards more fruit and charm has been less frequently commented upon in the media than the GG's intense terroir expression, but that's the wine scene's way of seeing things. They strike me as being equally significant.
They were also two remarkable years due to the drastic contrast between them. In 2019 I spent a lot of time presenting the estate's wines to sommeliers, wine merchants and other trade people. At GHB we felt that the wines were not always as well understood as they deserved to be, and that we must to try to close that gap. Along the way I learned a great deal about marketing and distribution from GHB's managing director responsible for sales Achim Kirchner, an excellent teacher. Together we were able to make considerable progress in increasing awareness of the wines' originality and GHB's distinctive philosophy.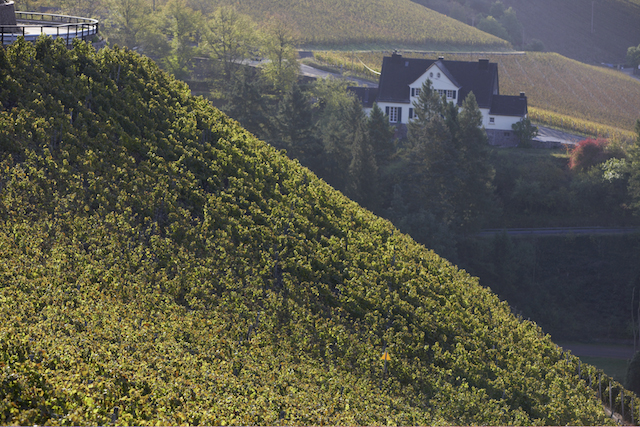 In August 2019 came the 10th anniversary celebration of the Reidel family's ownership to celebrate, for which I had to take a crash course in eagle handling! (The Prussian eagle has featured on the label since it was founded as a Prussian Royal Domain in 1902). Have a look at the videos on the Internet to see what I mean. I also wrote and edited the lavish booklet records of the achievements and some of the tribulations of that decade, both for Gut Hermannsberg and Planet Wine. It also functions as an extra chapter to the estate's chronicle (researched and written by Christine Dinse) published in March 2012, bringing that work up to date.
Of course, 2020 was dominated by the Covid-19 pandemic and GHB's communications moved online, just like they did for everyone else. I recorded and presented dozens of short videos, many featuring Gut Hermannsberg's winemaker Karsten Peter. We also shot a series of 20 minute programs for Magenta TV #dabei (German language) in just a couple of weeks, something I didn't think possible until we did actually it. Karsten Peter played a vital role in that project alongside Moritz Nagel, then a buyer for leading German wine merchant Hawesko. Julian Huber of the Bernhard Huber estate in Malterdingen/Baden generously helped us out with the shows that had red and rosé wine themes. You can still view them all on Magenta TV!
Together with Jasper, I did a lot of work on the new GHB website and luckily that it went online just before the first lockdown in spring 2020, because that helped the wine estate master that difficult situation. Sadly, GHB's guesthouse and restaurant were both closed for much of 2020 and early 2021. Hopefully you will soon be able to visit GHB once again (it's just an hour's drive west of Frankfurt Airport) to enjoy the breathtaking views of the famous vineyard sites from the terrace outside GHB's Vinothek. I shall miss the view of the legendary Kupfergrube vineyard's mighty terraces from my office window.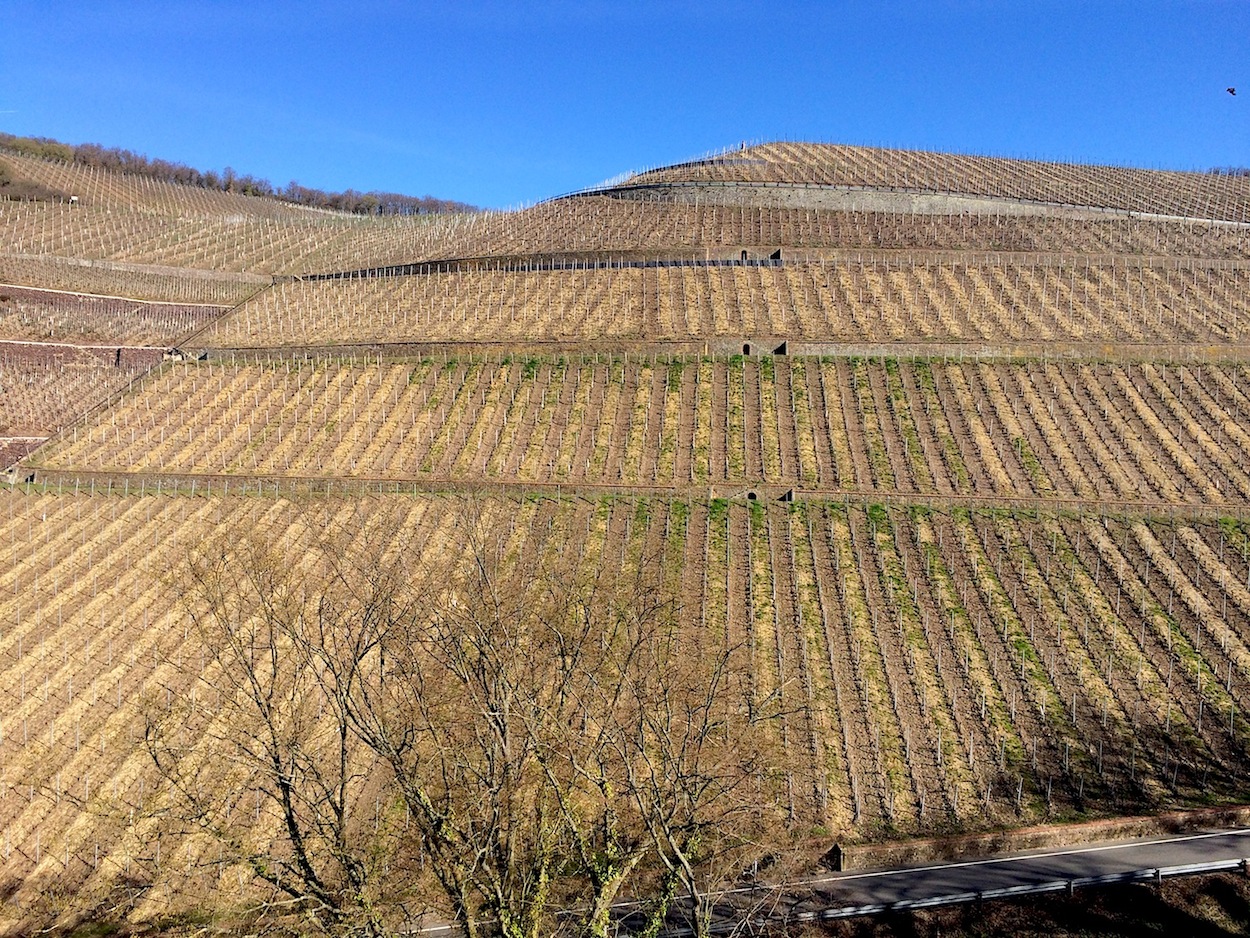 Looking to the future, I undertook an analysis of climate change in the Middle Nahe Valley. The warming of recent years has mostly had a positive effect, since it means great dry Rieslings can be produced here every vintage. That certainly wasn't the case back in the 1980s when the estate focused on Rieslings with natural grape sweetness. Even the 2018 growing season – the warmest since ever recorded in Germany! – did not make any of GHB's dry Rieslings soft, heavy or dull. That's a reassuring sign, because I'm sure Germany will get more growing seasons like 2018 during the coming years. GHB and the other top producers of the Nahe are very lucky that the wines retain their cool climate personality even under such conditions.
Drought has become a major issue though, affecting the vineyards each of the last three growing seasons, and gaining in severity. In 2020 the irrigation of GHB's younger vineyards was necessary for the first time. The estate was far from being alone in Germany in having to reluctantly take that step. Thankfully the recent rains have refilled the vineyard soils with water, preparing them for the coming spring.
In both years the last two years GHB's vineyards escaped massive spring frost damage by a whisker. The period of cold nights in April is a double-edged sword, because it is a danger to the young vine shoots, but also slows down their growth with positive effect. As a result, even in very warm years the Riesling harvest is late enough to benefit from cool autumn nights. They help preserve the acidity and promote the development of delicate aromas in the grapes.
Finally, I want to come back to one of the first things I did when I arrived at GHB. The hashtag #GHBismyDRC (in German #GHBistmeinDRC) caused a bit of a stir in the wine scene. Of course, DRC stands for Domaine de la Romanée Conti, the most famous wine producer of Burgundy. It was never meant as a bald statement of fact, rather one of intent; my personal interpretation of GHB's long-term goal. Today the estate is committed to returning to the first rank of dry white producers on Planet Wine, just as it was on the day I arrived. I'm delighted that I was able to help it take a few more steps along the steep path to the very top. The summit is now in sight.
Many thanks to the Reidel family and everyone at GHB. I raise my glass of 2019 7 Terroirs to you all!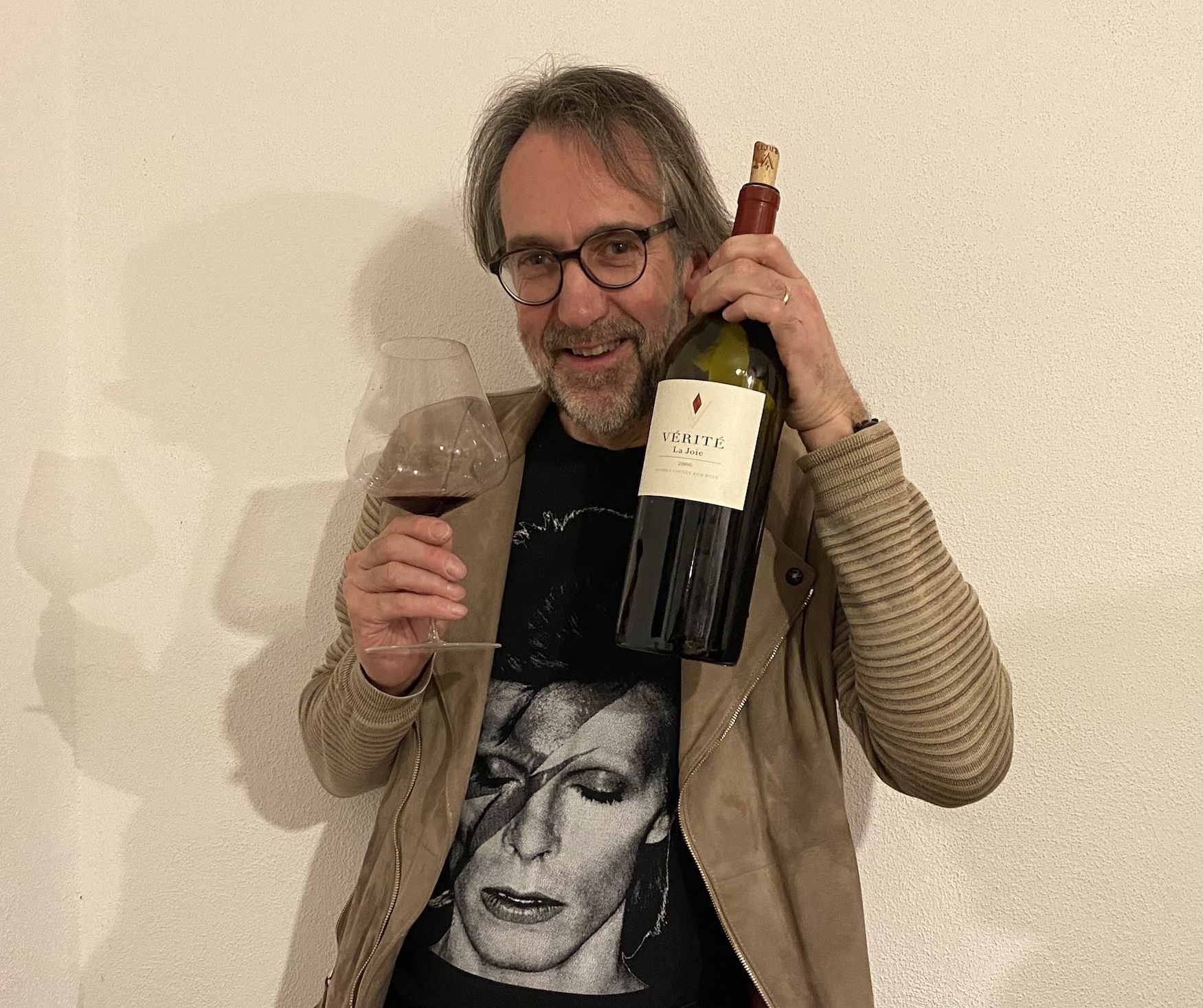 ZEIT FÜR VERÄNDERUNG – ALLES FLIESST (AUCH WEIN)
Anfang März 2019 ging ich von JamesSuckling.com zu Gut Hermannsberg (GHB), der ehemaligen Staatlichen Weinbaudomäne der Nahe, um als ihr Riesling Ambassador im 10. Jubiläumsjahr des Betriebs unter den Eigentümer der Familie Reidel zu arbeiten. Diese Zusammenarbeit ist so gut gelaufen, dass es um ein Jahr verlängert wurde. Dann, letzten Sommer hat James Suckling mich gebeten ihm auf Grund der Virus-bedingten Reiseeinschränkungen wieder zu helfen. Ich habe eine Reihe Berichte für ihn geschrieben, vor allem der sehr umfangreiche Bericht zum Thema des großen Jahrgangs 2019 in Deutschland. Darauf hat er mir vor Weihnachten ein sensationelles Angebot gemacht und am 1. März 2021 kehre ich fest zu ihm zurück.
Nebenher werde ich weiterhin Berichte für diverse deutschsprachige Zeitschriften und meinen englischsprachigen Blog schreiben, wie ich es die letzten zwei Jahre auch gemacht habe. Ich bleibe weiterhin freundschaftlich mit den Eigentümern von GHB, Jens Reidel und seiner Frau Christine Dinse, sowie mit seinem Sohn Jasper – seit Mai 2018 Geschäftsführer von GHB – eng verbunden.
Die letzten zwei Jahre waren eine aufregende Zeit für GHB, nicht am wenigsten wegen der hohen Qualität der Jahrgänge 2018, 2019 und 2020; die besten Weine des Gutes seit den späten 1980er Jahren. Das kann ich mit einer gewissen Sicherheit sagen, weil meine erste Verkostung im Haus am 26. April 1984 stattfand. Mit den neuen Jahrgängen gab es auch einen sanften Schwenk der Weinstilistik Richtung Frucht und Charme, aber die Medien haben eher die intensive Terroir-Prägung der Weine kommentiert, weil das eine ihrer großen Themen ist. Aus meiner Sicht sind aber diese zwei Aspekte der aktuellen Weine gleichermaßen wichtig.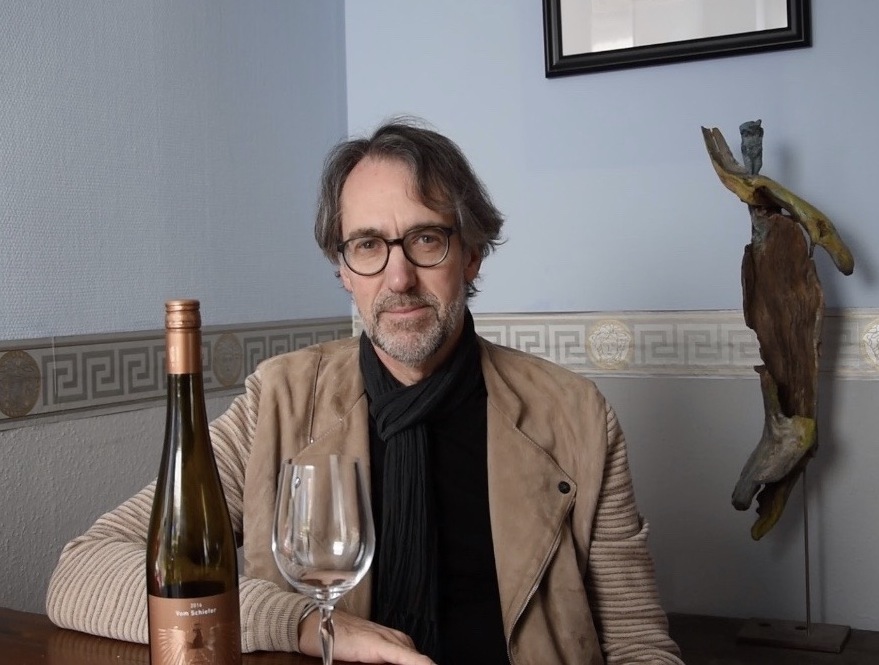 Die letzten zwei Jahre waren extrem kontrastreich. 2019 habe ich sehr viel Zeit und Energie in Verkostungen für Sommeliers, Weinhändler und andere Weinfachleute gesteckt. Wir waren der Meinung die Weine seien manche Orts nicht gut genug verstanden und wir mussten diese Wahrnehmungslücken schließen und die Philosophie von GHB besser kommunizieren. Durch diese Arbeit habe ich sehr viel über Vertrieb und Marketing für hochwertige Weine von dem Vertriebschef und Geschäftsführer GHBs, Achim Kirchner gelernt, ein sehr guter Lehrer. Zusammen haben wir das Bewusstsein für die Originalität der GHB-Weine deutlich gesteigert.
Im August 2019 wurde das 10. Jubiläum der Übernahme des Gutes durch die Reidel Familie gefeiert und ich musste dafür sehr kurzfristig lernen, mit einem lebendigen Adler umzugehen. (Der preußische Adler steht auf dem Etikett seit das Gut 1902 als Königlich Preußische Weinbaudomäne gegründet wurde). Schau mal die Videos von der Feier im Netz an. Direkt danach habe ich ein großformatiges Heft zum Thema die letzten 10 Jahre auf GHB und auf Planet Wein geschrieben und lektoriert. Es fungiert als zusätzliches Kapitel zur Gutschronik (von Christine Dinse recherchiert und geschrieben) welches im März 2012 erschienen ist. Damit wurde dieses Werk aktualisiert. 
2020 war natürlich vom Virus dominiert und die Kommunikation von GHB fand fast komplett online statt, wie es auch fast jedem anderen Weinbaubetrieb ging. Ich habe zahlreiche Kurzvideos selber aufgezeichnet. Eine Reihe davon wurden vom GHBs Winemaker Karsten Peter moderiert. Wir haben auch zusammen eine Stafel 20 minütiger Sendungen für Magenta TV #dabei gedreht. Moritz Nagel, damals Einkäufer für die führende deutsche Weinhandlung Hawesko hat auch kräftig mitgewirkt und Julian Huber von Weingut Bernhard Huber in Malterdingen/Baden hat uns bei den Sendungen mit Rosé und Rotwein-Themen großartige Unterstützung geleistet.
Zusammen mit Jasper habe ich viel Arbeit in die neue GHB-Website gesteckt und glücklicherweise ging sie kurz vor dem ersten Lockdown im Frühling 2020 online. Das hat dem Weingut sehr geholfen, um gut durchzukommen. GHBs Gästehaus und Restaurant waren leider für lange Zeit  2020 und Anfang 2021 geschlossen. Hoffentlich werden Sie bald wieder das Weingut besuchen können und die sensationellen Blicke auf die Spitzenlagen von der Terrasse und Vinothek genießen können. Ich werde den Blick auf die mächtigen Terrassen und Mauern der legendären Kupfergrube aus mein Bürofenster vermissen.
Mit Blick auf die Zukunft habe ich die Klimaveränderung im Mittleren Nahetal wissenschaftlich analysiert. Die bisherige Erwärmung war weitgehend positiv, weil es dazu führte, jedes Jahr hochwertige trockene Rieslingweine erzeugt werden konnten. In den 1980er Jahren war das Klima deutlich kühler und das Gut hat deswegen vorwiegend Weine mit natürlicher Restsüße erzeugt. Auch die extreme Witterung 2018 – die wärmste, die je in Deutschland gemessen wurde – hat keinen der trockenen Riesling-Weine von GHB plump, weich oder fad gemacht. Das beruhigt mich sehr, weil ich mir sicher bin, dass es zukünftig häufiger Jahre mit solcher Hitze geben wird. Auch dann werden die Weine von GHB und die der anderen VDP Betriebe an der Nahe ihr Cool Climate Geschmacksprofil behalten.
Dürre ist ein ernsthaftes Problem geworden und wurde die letzten Jahre immer schlimmer. Sommer 2020 hat GHB erstmalig die jungen Reben kräftig bewässern müssen. Damit waren wir keinesfalls alleine in Deutschland! Gott sei Dank haben die Regenfälle der letzten Monate die Weinbergsböden an der Mittleren Nahe wieder gut durchnässt und auf dem kommenden Frühling vorbereitet.
2019 und 2020 haben die Weinberge der Mittleren Nahe ganz knapp die Spätfrostgefahr überstanden. Die kalten Nächte in April sind ein zweischneidiges Schwert, weil sie eine Gefahr für die jungen Rebtriebe sind, aber anderseits ihre Entwicklung bremsen. Das führt dazu, dass auch in sehr warmen Jahren wie 2018 und 2019 die Weinlese an der Mittleren Nahe spät genug statt findet, um von kühlen herbstlichen Nächten zu profitieren. Sie helfen die Säure zu konservieren und die Bildung von feinen Aromastoffen zu unterstützen.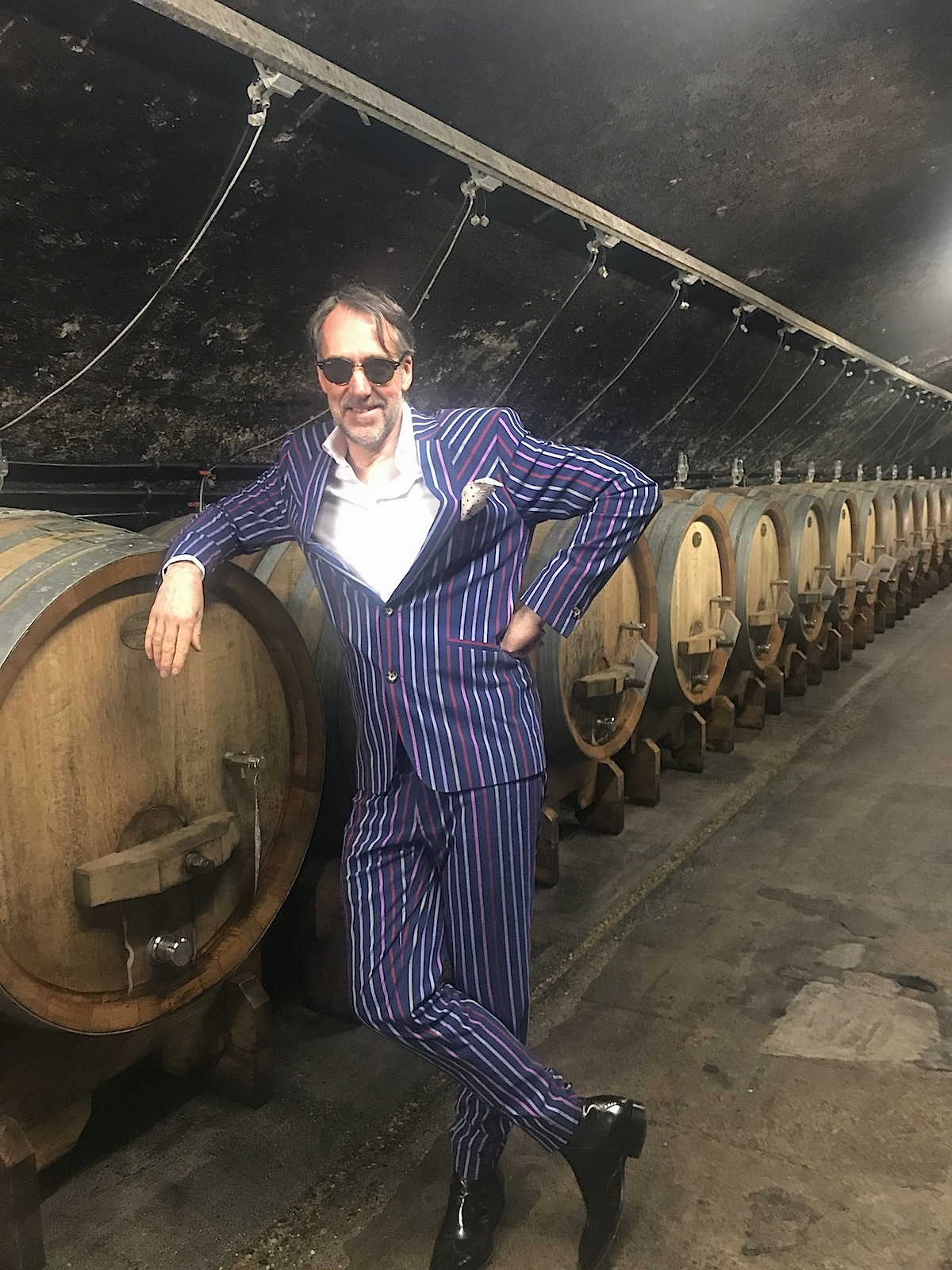 Anschließend möchte ich zu einer meiner ersten Taten auf GHB zurückkehren. Der Hashtag #GHBistmeinDRC (in Englisch #GHBismyDRC) wurde von manchen Mitgliedern der Weinszene falsch verstanden. DRC steht für Domaine de la Romanée Conti, der berühmteste Weinerzeuger Burgunds.  Mit diesen Worten wollte ich nicht angeben, sondern das große Ziel von GHB persönlich interpretieren. Die Besitzer und das Team des Weinguts wollen es zurück zur Weltspitze führen und dieser Gipfel ist in Sichtweite. Es freut mich, dass ich helfen konnte, es ein paar Schritte weiter auf diesem steilen Weg zu bringen. Das große Ziel von GHB bleibt es, einer der führenden Erzeuger von trocknen Weißweinen auf Planet Wein zu werden.
Ich hebe mein Glas 2019 7 Terroirs und bedanke mich bei der Familie Reidel und dem ganzen GHB-Team für die Unterstützung!