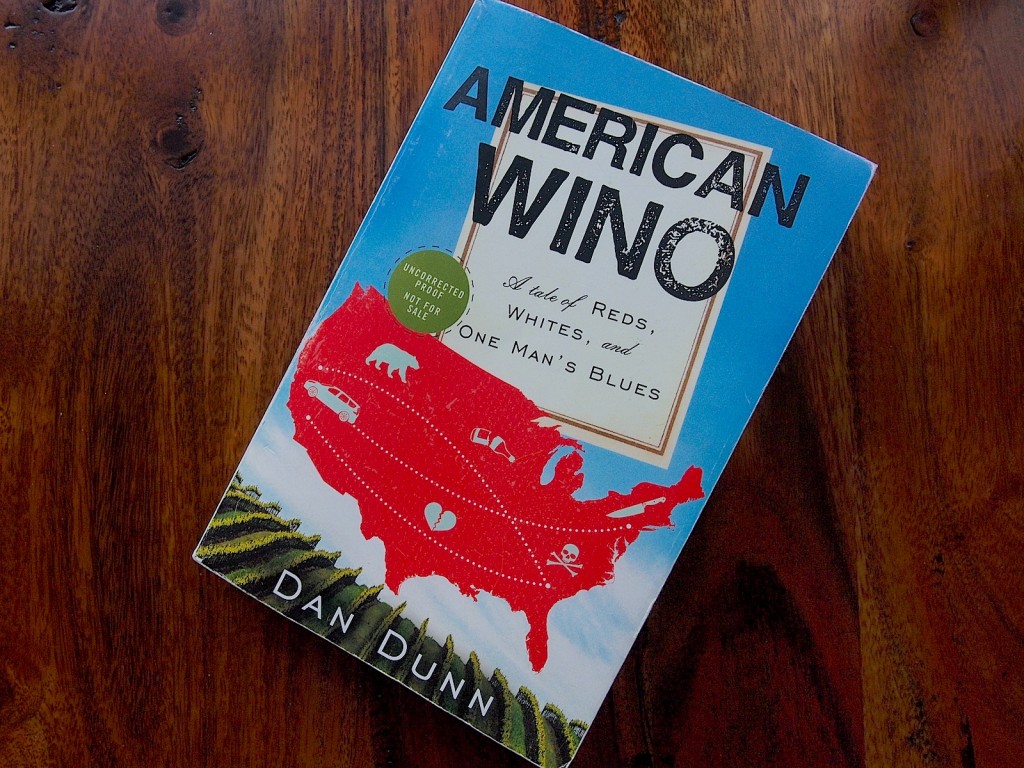 Let me be completely frank with you: I don't like Dan Dunn's book AMERICAN WINO, in fact I find it extremely frustrating, so frustrating that while I was reading it I said, "what the fuck?" I don't know how many times and I threw it against the wall a couple of times too. So you're probably wondering why I'm bothering to review it here, or even why I made the effort to struggle through its 338 confused and confusing pages. Maybe you're also now wondering if I'm taking a sadistic thrill in craving this new wine book into pieces in the public place that is cyberspace. The truth is the opposite though, for I have forgiven Dan, although his book is a gross outrage. Why did I do that?
The worst thing about Dan's book is the he keeps on losing it, by which I mean the thread of his story about a coast to coast journey of discovers through the mostly unknown grape growing regions of the United States of Wine, by switching his attention at exactly the wrong moment. In particular, just as you think he's going to tell you something really interesting about obscure American wines he's promised to give you an intro to he gets completely distracted by his dead brother, ex-girlfriend or their dead dog! We end up learning more about them and his inability to pick up girls (often much younger than him) than we do about American wine; inexcusable unprofessionalism!
His admission that, "luckily, the one thing that doesn't scare me is actually being full of shit. I've known that I 'm full of shit for a very long time. It's pretty much the only thing that I'm comfortable with in life," is a typical example of his humor, but it doesn't makes this situation any better. Sure, his frequent attacks on the "snootytorium" that is the wine scene are well deserved, but they are as often off-target and off-subject as they succeed. Much of this crap-shoot is packed into "wine-centric sidebars" that result in those weak moments when I gave into anger and proved to myself that I have more upper body musculature than I admit to.
OK, sometimes – often just when you gave up hope that this wine book would discuss wine in any meaningful way – Dan does tells you something fascinating about little-known and under-appreciated American wines like the Muscadines of Georgia, but there is no consistency to this at all. For example, after he left Sonoma County, California – not exactly the least important winemaking location in the US – I felt I had learned exactly nothing about it, nor had he expressed a serious opinion about it; scandalous incompetence! But I kept reading. I always kept reading AMERICAN WINO even when I was totally infuriated by Dan's perverse personality and by his inability to tell a coherent story, and even when I was bored by a his compulsive rambling.
Clearly he has the same writer hero as me, Hunter S. Thompson (who I also find infuriating and rambling) and he also writes about some of the same winemakers as I do, such as Maynard James Keenan (yes, the singer of Puscifer and Tool), who makes the Caduceus Cellars and Merkin Vineyards wines in Arizona (see my ROCK STARS OF WINE AMERICA #2: AZ with MJK, available on Kindle). So please dismiss this tirade as jealousy for a colleague who made it into out-dated print when I didn't.
Why did I forgive Dan then? Not because his book enormously helps me to establish Gonzo wine journalism as category (which it does!), or because it takes a bunch of unfamiliar winemaking locations in America as seriously as I believe they deserve to be (which it does!) but because again and again AMERICAN WINO excited me in ways little other wine storytelling or other storytelling ever does. The book is worth $16.99 (published by Dey St.) just for Dan's description of seeing rock group U2′s movie Rattle and Hum for the first time!
Be warned, at times this book could make you so frustrated that you will commit violence against it and/or your own person, but you must suffer all that for the outrageously things it will also to do to you, and to get to them you must read it right to the end!
PS Publication of ROCK STARS OF WINE AMERICA #3 on Kindle about the Finger Lakes in Upstate New York will be May 2nd.