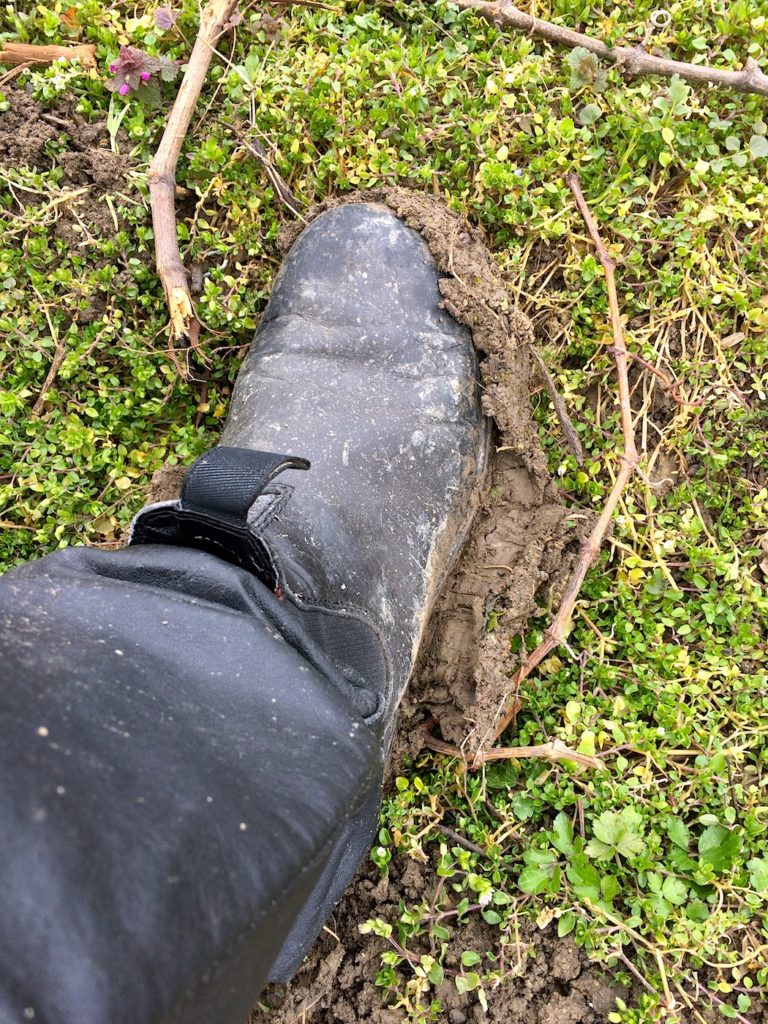 Für den Dokumentarfilm WEIN WEIBLICH arbeite ich dieses Jahr im Weinberg. Hier meine Gedanken zum zentralen Thema des Weinbaus: Schlamm. Wer interessiert ist unseren Projekt zu unterstützen kann auf den Link zu unseren Crowdfunding klicken. / This year for the documentary movie WINE, WOMEN, RHINE I'm cultivating a small vineyard in the Nonnberg site of Wicker at the eastern end of the Rheingau. Here, in German, are my thoughts on the vital subject of mud. I hope to be able to provide an English translation shortly. Anyone interested in supporting us should click on this link:
www.startnext.com/weinweiblich
DER SCHLAMM UND ICH
Scheiße! Der Schlamm hier im Weinberg schluckte mich und will mich nicht wieder los lassen. Wie ist das mir, einem Journalisten, der normalerweise Weine am Schreibtisch aus feinen Gläsern testet, passiert? Wie wurde dieser Schreibtisch-Tiger in ein Nilpferd verwandelt das fest im Schlamm steckt?
Es passierte mir nachdem ich heute anfing in "meinem" Weinberg zu arbeiten. Das sind sechs Rebzeilen in der Spitzenlage Nonnberg, einem sanften Hang nahe der kleinen Weinstadt Wicker am unbekannten östlichen Rand des Rheingaus. Diesen Weinberg habe ich von dem Winzer Reiner Flick für dieses Jahr geliehen. Schon innerhalb einiger wenigen Minuten hafteten fette Klumpen von Schlamm an meinen Stiefeln. Meine Füße fühlte sich fünf Kilo schwerer und doppelt so breit an wie vorher. Noch schlimmer: egal wie ich meine Stiefel schüttelte klebten die Schlamm-Massen fest daran! Wie soll ich so arbeiten?
Wenn der Normalo an Weinbau denkt, dann kommt ihm ganz was anderes in den Sinn. Er sieht prächtige Bilder von der Weinlese im goldenen Herbst: goldenes Reblaub und goldene Trauben! Wegen der warmen Sonne des Altweibersommers sind alle Lesehelfer leicht bekleidet und fröhlich. So kann es im glücklichen Fall auch vorkommen, aber dies hier ist die nicht weniger reale verschlammte Kehrseite davon.
Als ich das erste mal hier arbeitete, vor zweieinhalb Wochen, herrschte Frühling. Die Sonne schien, es war mild, der Boden war trocken und blieb unter meinen Füßen stehen, statt sie zu verschlingen. Das waren angenehme Arbeitsbedingungen für den Rebschnitt – die erste große Arbeit des Winzerjahres – und ich kam dementsprechend gut damit voran. Und das, obwohl ich nur mit einer alten Rebschere ausgestattet war und aus der Übung bin. Vor neun Jahren schnitt ich zum letzten mal eine Rebe! Wie geht das?
Es ist schon schwierig genug mit einem solchen Gerät ein Stück Rebholz, welches zwei Zentimeter dick ist, durchzuschneiden. Um das zu schaffen muss man mit der Schere fest drücken und mit dem Ding "schaukeln". Danach hat eine Dusche gut getan und ich litt unter etwas Muskelkater, aber ich war gut drauf – statt einem Häufchen Elend, wie ich mich jetzt fühle.
Lange Zeit war Schlamm dafür verantwortlich, dass Winzer kein cooler Beruf war. Das gute Gesellschaft hat alle Arten von Landwirtschaft für unter ihrer Würde betrachtet. Nach wie vor verstehen die wenigsten von ihnen überhaupt die Unterschiede zwischen Boden, Schlamm, Kompost, Mist und Scheiße, weil sie sich nicht damit auseinandersetzen wollen. Statt dessen neigen Normalos dazu sie alle als "Dreck" zu bezeichnen, was fachlich gesehen Quatsch ist. Trotzdem ist Winzer Anfang des 21ten Jahrhunderts ein cooler Beruf geworden, weil es als kreativ gilt, bzw. in "Winemaking" oder "Wein machen" umgetauft wurde.
Das ist jetzt auch meine Aufgabe. Ich muss einen trockenen Weißwein aus der Riesling-Traube für den Film WEIN WEIBLICH erzeugen. Ich bin natürlich kein Weib aber die vier weiblichen Hauptfiguren des Films haben verlangt, dass ich genau das für die Kamera mache was sie auch tun. Und das habe ich anstandslos zugesagt, auch weil ich nicht diesen Schlamm erwartet habe. Meine vorherigen Übungen mit Weinbau waren in Lagen mit steinigen oder sandigen Böden die tendenziell nicht in fetten Klumpen an meinem Schuhwerk hafteten.
Das hier ist aber wirklich Winemaking! Denn ohne diese Arbeit tragen die Reben keine reifen Trauben und ohne reife Trauben gibt es keinen Wein – Basta! Aber auch ich verbinde Winemaking meistens mit schönen Holzfässern in einem prächtigen Weinkeller, aus dem Schmutz in jeglicher Art verbannt wurde. Auch vor meinem inneren Auge ist eine Probe des edlen Weins, die der Winemaker mit einer langen gläsernen Pipette aus dem Fass zieht, strahlend klar. Das ist natürlich so weit weg von Schlamm wie man sich nur vorstellen kann und das ist auch mein Ziel.
Der Weg zum Ziel ist aber auch für mich lang und "dreckig". Mein Wein wird hoffentlich in etwas über einem Jahr genau so aussehen wenn ich eine Probe mit der langen gläsernen Pipette aus "meinem" 500 Liter Holzfass im Keller vom Weingut Flick in Wicker ziehen werde. Dummerweise verwandeln sich Trauben nicht von selbst schlagartig in trinkfertige Weine verwandeln.
Zuerst muss der Most aus den Trauben durch die Kelterung gewonnen werden, was eine Menge Überreste (Beerenhaut, -Kerne und der Stilgerüst) hinterlässt, die schnell zu Matsch werden können. Dann vergärt die Hefe den Most zum Wein, was aber auch zu einer ganzen Menge schlammartigen Depots, bzw. tote Hefe führt. Das muss von dem jungen Wein getrennt werden, was auch nicht so einfach ist. Erst Monate nach der Traubenernte herrscht im Keller DAS was der Normalo unter Sauberkeit versteht. Dann folgt die Abfüllung, was wiederum zu anderen Arten von Schlamm führt. Aber dann hört es endlich damit auf!
Aber bevor ich damit überhaupt anfangen kann, muss ich x-mal während der nächsten sieben bis acht Monate hier im Weinberg arbeiten. Da die Rebe nicht wie Korn wächst, sondern eine ganz Menge Pflege erfordert, habe ich sehr viel Arbeit vor mir. Mal wird das Wetter schön sein und die Arbeit daher schlammlos, aber manchmal wird es eher nass sein und ich werde mich wieder in ein Nilpferd verwandeln. Wie gut das Ergebnis schmecken wird kann ich Ihnen jetzt leider keinesfalls voraussagen, weil die Qualität des Weins zum guten Teil vom Herbstwetter abhängt. Im Gegensatz zu schnöder Büroarbeit ist das Ganze unglaublich hart und ziemlich unberechenbar.
Wie mein guter Freund, der Rockstar James Maynard Keenan (Sänger von der Heavy Metal Gruppe Tool und von seiner eigenen Band Puscifer) der auch Winzer in Arizona ist (Caduceus Cellars & Merkin Vineyards) oft sagt: "Rock Musik ist Chaos. Weinbau ist Chaos. Wenn Du keinen Chaos verträgst lass die Finger von den beiden!" Aber er ist süchtig nach Winemaking und ich bin es inzwischen auch. Wir Winzer nehmen den Schlamm im Kauf, weil manchmal kommt ein Wein raus der so genial ist, dass fast jeder Trinker so was sagt wie, "Wow! So was habe ich noch nie im Leben geschmeckt!" Dafür kämpfe ich mich weiter durch den Schlamm.
Oh je! Jetzt fängt es an zu regnen und das Wasser fließt mir den Nacken runter…