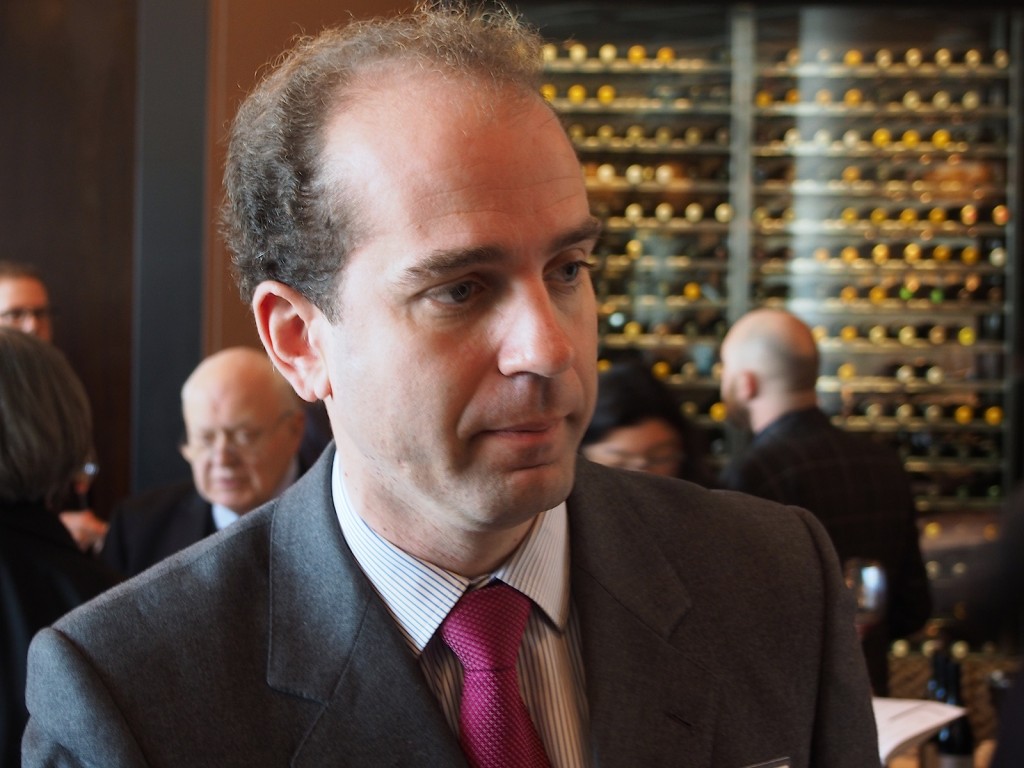 I've been to Burgundy in France many times, mostly I had a great time there, and I tasted many wonderful burgundy wines red and white (next to some grossly over-priced inferior wines), but in spite of all that I never saw, felt or tasted Holy Burgundy. Many somms, experts, critics and wine freaks have talked to me at length about that "place", and clearly they believe implicitly in its existence, but it remains a myth to me. I therefore have to assume that it's like an aura exactly overlapping the actual wine growing region of Burgundy and its wines that some people can see with a kind of vinous "third eye". For better or worse, I just don't get that, perhaps because I'm a member of the reality-based community. That's the reason I find all this Holy Burgundy stuff seriously spooky.
All of that went through my head as I entered the glitzy Restaurant A Voce in the Time Warner Centre in Manhattan, one of the least spooky places that I can imagine on this wine planet of ours. There the NYC importing company of Frederic Wildman held their annual Burgundy tasting at which the 2013 vintage was presented (nearly always in the form of cask samples). This was a fascinating contrast to the tasting staged yesterday in NYC by In Pursuit of Balance (IPOB – see below), the group of California producers of wines from the same grapes – the red Pinot Noir and the white Chardonnay – who's collective goal is to make wines with balance, elegance and subtlety. These are exactly the qualities that are supposed to make red and white Burgundy stand out so far above other wines that prices going into the hundreds of dollars per bottle wholesale are justified.
It's been quite some time since I've tasted this many high-end burgundies in such a short period of time, and the reason for that long gap is that pricing. However, I assiduously judged these wines purely on taste, then looked at the price list, just as I do for all other wines. How a person feels about the smell and taste of a wine is a fundamental form of reality, but it is one that's easily influenced by things like price and the situation in which a wine is served (which I have described for that reason). Although there were a few tart and lean reds, and some of the whites from less famous appellations were rather simple, there were many impressive wines. Most exciting of all were the innovations, by which I mean an excellent producer I was previously unfamiliar with, and the results of a radical change of direction at a very well established producer.
Domaine Jacques Prieur is one of Burgundy's Big Names with holdings in a slew of the elite Grand Cru and Premier Cru vineyard sites upon which the region's reputation depends, and which are also a focus of the Holy Burgundy cult. In 2008 Edouard Labruyère, pictured above, took over direction of winemaking at the family's wineries including Domaine Jacques Prieur, and what he's done for the white wines since then is really remarkable. The 2013 whites I tasted had a stunning freshness and purity of aroma and flavor, the oak aromas form aging in oak barrique casks (only 20% of them are new) and the creaminess from contact of the young wines with the lees (there is no stirring of the deposit of dead yeast in the casks) very discrete. The 2013 Meursault Santenots her Cru had a delicate aroma of honeycomb, was racy and intensely mineral; one of the best young white burgundies I've tasted in years! Riesling fans, you will almost certainly love these wines as I do (but please look at the prices before ordering!) Maybe the change in style at Domaine Jacques Prieur is less pronounced in the red wines, but they too are brighter, less opulent and oaky then they used to be (all positive). Congratulations!
The discovery was Domaine Lignier-Michelot in Morey St. Denis. The 2013 Bourgogne Rouge from Virgile Lignier is the first wine of this lowly Appellation (I'd say it was an almost anti-Holy Burgundy designation on the label) that impressed me in many years. Not only did the wine have plenty of fruit, but also supple dry tannins and a harmonious acidity for this high-acidity vintage. There were more expensive examples of this Appellation on show at the tasting which tasted mean and tart in direct comparison. I also found the 2013 Chambolle-Musigny from this producer stunningly "untypical". Chambolle is supposed to be a delicate and lacy wine, but this was powerful, tannic red full of ripe black berry aromas. I find it exciting when producers dare to be that different, also in (Holy) Burgundy!