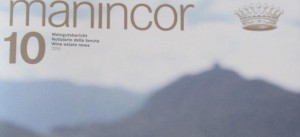 Manincor is a biodynamic wine estate, and because biodynamic growing has an element of the absurd to it, the notes from the 2009 growing season also tend to sound a little….new age-y. After the first big storm hit in a year marked by close calls, the wine growing team at Manincor "confined themselves to tea treatments: chamomile to calm the vines, stinging nettle applied at full moon to stimulate vegetation, and horsetail during the waning moon phase to aid in closing wounds." Sounds more like treatment for a middle age divorcée than a vineyard, but I for one am comforted by the idea that there weren't copious amounts of chemicals dumped on the vines.
No matter how homeopathic their methods were, the process of making wine inevitably leads to certain key decisions and after a hail storm hit during the ripening phase in August, the winegrowers made a snap decision to harvest grapes from the most directly hit sites—10 hectares in just 3 days. The rest of the grapes ripened according to their own schedule, but except for the Cabarnet Savignon and the Petit Manseng, the character of much of the wine produced in 2009 was determined by the forced early harvest. Naturally, the wine team deems the young wines exceptional…multi layered, fruity, mineral in all the right ways. They credit their success with their decision to switch to biodynamic methods.
I understand that wine is not sold on taste alone. I get the need for flowery writing, superlative laden reviews from ultra cheesy German celebrity Thomas Gottschalk, and overwrought descriptions of idyllic landscapes:"The Manincor Sauvignon would fit perfectly in a scene painted by Manet." Wine is, after all, a luxury good and as such has to indicate a leisurely beatific lifestyle. Still, having never tasted this wine, I feel like I am being snowed before the first sip ever reaches my lips. If the wines themselves are really good, why weren't they described from the get go instead of relegated to the last page with microscopic text? Why do I have to strain my eyes to find out that the 2008 Lagrein Rubatsch has complex aromas of blackberry and bilberry (but no mention of price or alcohol levels) while the crafters of this brochure are more than happy to put information about "sheep providing natural manure and introducing their animal souls into the vineyards," in large print?
In the end, I found all the talk of sheep, tea, and full moons detracted from my impression of the wine itself. I would, however, be more than happy to receive a couple of sample bottles from the Count's estate and re-evaluate my opinion.