Maybe you haven't heard of him yet, but I promise you that Mr. Wu is on the fast track to fame, and not only in Berlin where his Hot Spot restaurant in the Charlottenburg district of the city serves by far the most exciting Chinese food I tasted in Germany. The reason for his rapidly growing fame is that he's become a double ambassador, for Chinese culture and German Riesling, moving back and forth between two worlds which appear separated by a mighty chasm with an agility that makes action movie heroes look feeble.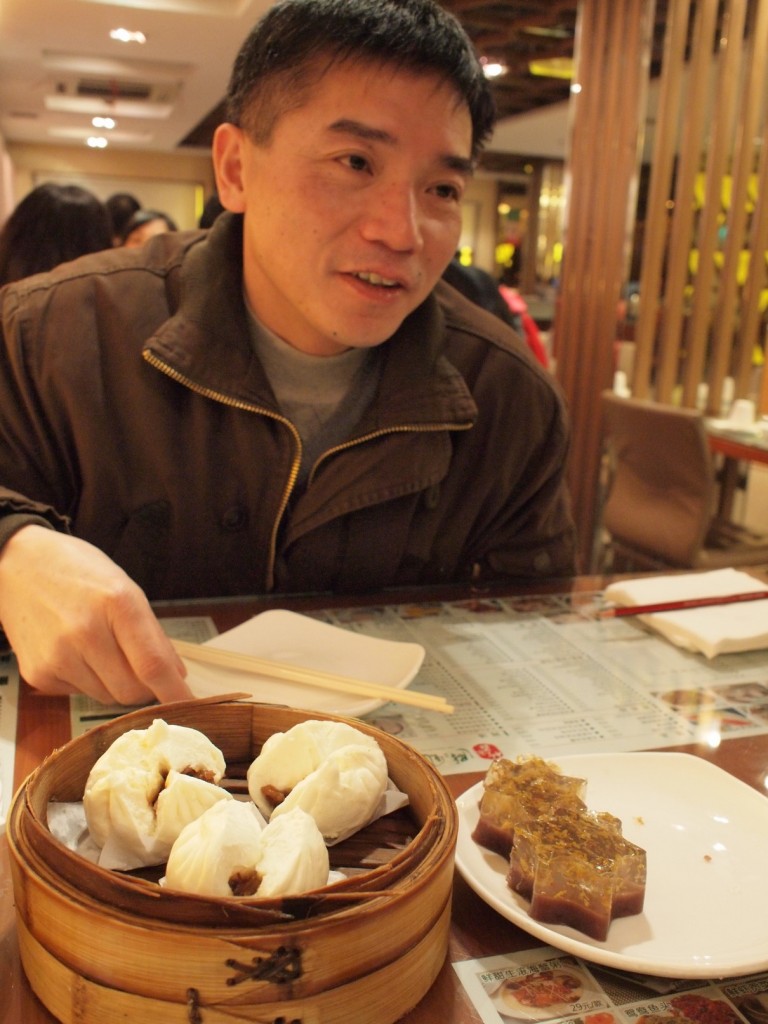 On one level Mr. Wu is just a regular guy working long hours running a small business with his wife and raising their kids like so many other people in Germany, China or America. There's nothing fancy about Hot Spot either. It occupies a space that previously was home to a failed steak house in a rather boring street off Ku'damm, the main drag of West Berlin.  And instead of doing a lot of expensive redecorating almost the entire investment went into the kitchen and the cellar. However, there's also no question for me that Jianhau Wu, to give him his full name, embodies 21st century globalization and his restaurant is a center for inter-cultural exchange. In Hot Spot "Planet Wine" is real!
How could I forget the moment when I realized all this? I was at home on the morning of September 9th, 2010 and when I opened the New York Times website there right at the top of the front page was a photograph of Mr. Wu pouring a customer a glass of Riesling. The accompanying article was about the integration of foreigners in Germany, a political red-hot potato, with the journalist presenting him as an unusual positive example. However, that's not the point. Again and again, for all kinds of reasons Mr. Wu has suddenly found himself in the beam of a spotlight; something which happens entirely without the work of PR people or marketing departments. Journalists, like so many other people, just latch on to Mr. Wu.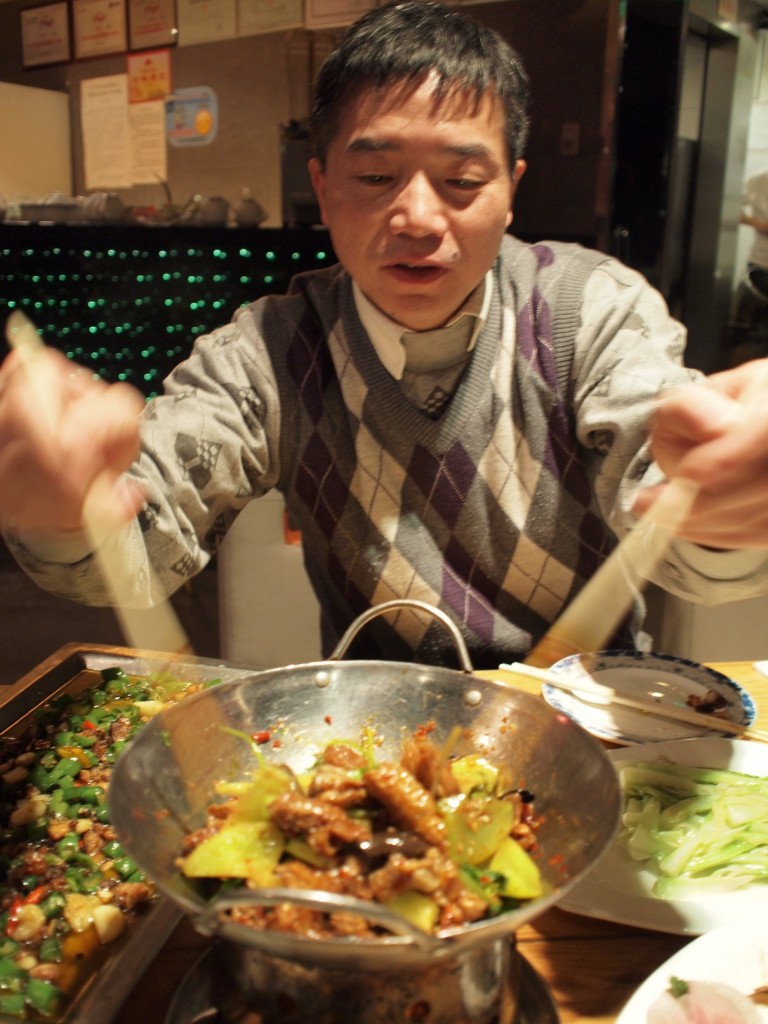 I always visualize him speaking with guests in his restaurant, pouring wine or putting the finishing touches to a dish at the table.  The way Mr. Wu feels entirely at home doing all these things and his complete openness with all his guests – be they famous German politicians, the Chinese ambassador or locals from around the corner –  sends out signals that expand like ripples moving out from the point where a stone falls into a pond.
Several years ago while my dentist was filling one of my teeth he spoke with great excitement about a new Chinese restaurant in Berlin called Hot Spot. With his drill whizzing in my mouth I had no choice but to listen to him. I know that I shouldn't let myself be influenced by names, but I was, jumping to the conclusion that a Chinese restaurant with a western name that conventional couldn't be any good. Still, my dentist raved about the wine list, "lots of older Rieslings from Christoffel", that is sweet Rieslings from Kajo Christoffel of the Joh. Christoffel Jr. estate in the Middle Mosel/Germany. I mentally noted that, thinking maybe I should check out Hot Spot in spite of that name. Who knows? Those ripples were moving towards me.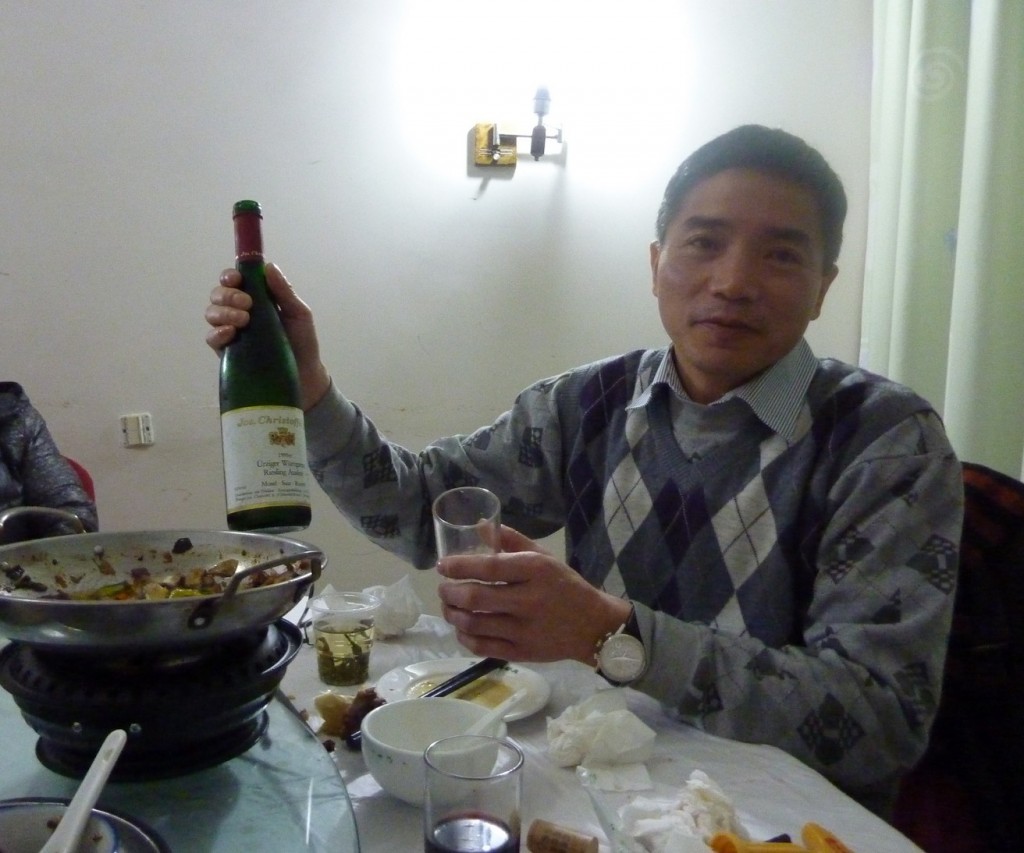 Chinese food and Riesling doesn't strike many people as a natural combo, but what they are usually thinking of is westernized "Chinese" food and cheap sweet German wines (that may not even have been made from the Riesling grape) which they tried many years ago. Like a lot of other people I used to drink beer with Chinese food until I finally made it to Hot Spot and Mr. Wu blew my mind. I quickly realized there's no such thing as "Chinese Food", rather there are as many regional cuisines in China as in Europe. The various local and personal interpretations of these has created a spectrum of flavors as wide and multi-colored as that of Riesling.
At Hot Spot there are two chefs, one cooking in the Shanghai style, the other in the Sichuan style, but in both cases most of the dishes are seriously spicy. So the restaurant's name does make sense. On the list are hundreds of Rieslings ranging from bone dry to lusciously sweet (plus many exciting wines from other grapes and other places), all at friendly prices. Mr. Wu's talent lies in the marrying them with his expressive cuisine in ways that are continually surprising and sometimes breathtaking.
For example, Sichuan pepper has a palate-numbing taste quite different from the heat of chili or pepper. One evening Mr. Wu insisted that I drank a powerful dry Riesling from Tim Föhlich of Schäfer-Fröhlich in the Nahe/Germany, the Felseneck "GG" with chicken breast "mala" spicy; a dish crawling with chili and Sichuan pepper. Deeply skeptical I took a sip of the wine after a big mouthful of the dish and wow! Mr. Wu had wowed me again.
Though he acknowledges that Rieslings with a pronounced grape sweetness taste best with certain spicy Chinese dishes, Mr. Wu prefers wines that are almost dry with many of dishes on his menu. That certainly applies to the trio of beef and beef tongue and beef offal with coriander and chili. Once the Riesling "Superior" from Maximin Grünhaus (von Schubert) in the Ruwer/Germany was magical with that seriously hot spot of a dish. The combination of the subtly spicy lamb with onions and leeks with the Uhlen "Laubach" from Heymann-Löwenstein in the Terrassonmosel/Germany was also mightily satisfying. But you have to come to Berlin and discover for yourselves!
Afterword: At the end of January I went on a very different journey of discovery with Mr. Wu to China. Maybe there'll be time to tell that story another time. However, I have to tell you know about how skeptical he was about the quality of Chinese wines and how surprised he was at how good they often were. That even happened when I insisted on ordering a bottle of 'Great Wall' Riesling which he holds in his hand in the photo below. As the great Chinese philosopher Lao Tse repeatedly points out: all things will change.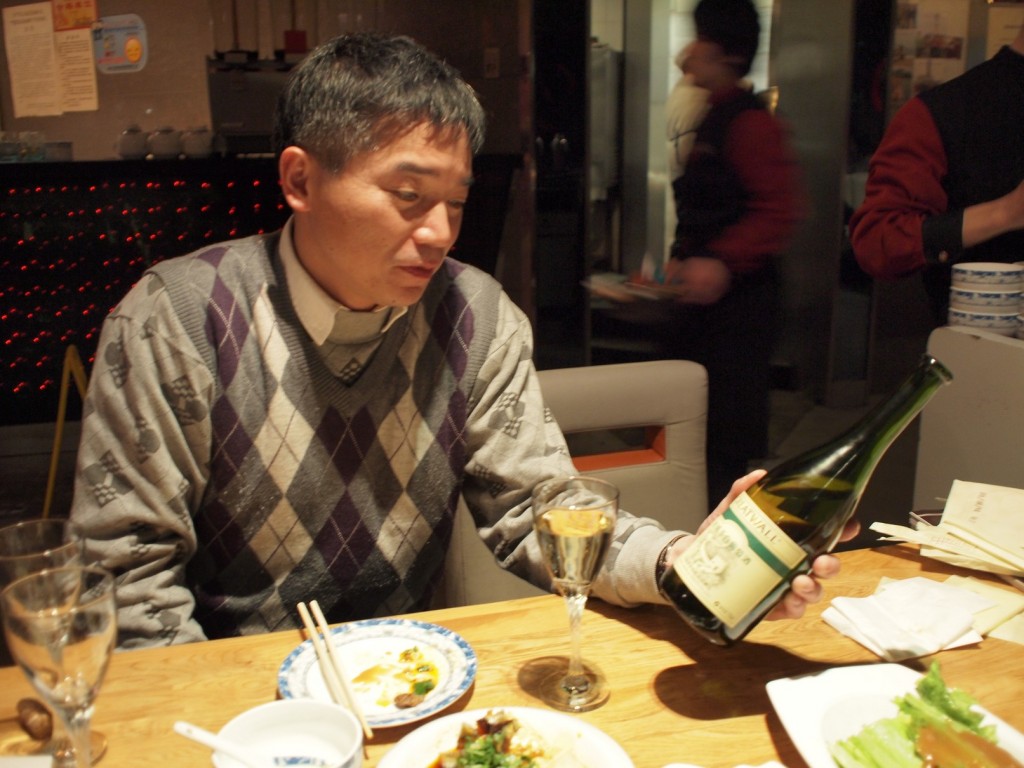 Restaurant Hot Spot – Eisenzahnstrasse 66 – D 10709 Berlin/Germany
Tel: (49) / 0  30 8900 6878 – Fax: (49) / 0  30 8900 6877
E-mail: wu@restaurant-hotspot.de  –  Web: www.restaurant-hotspot.de