Whether you already know it or not I have to introduce you to one of my favorite places on Planet Wine. Forget where you are now, what you're doing, how it looks and how you feel. The sun is low in an azure sky and a wind that sharpens the mind, crystalizing my  thoughts, is blowing through the Golden Gate whipping strands of fog into the city. Back home 6pm would be way too early for dinner Saturday night, but here it feels just right.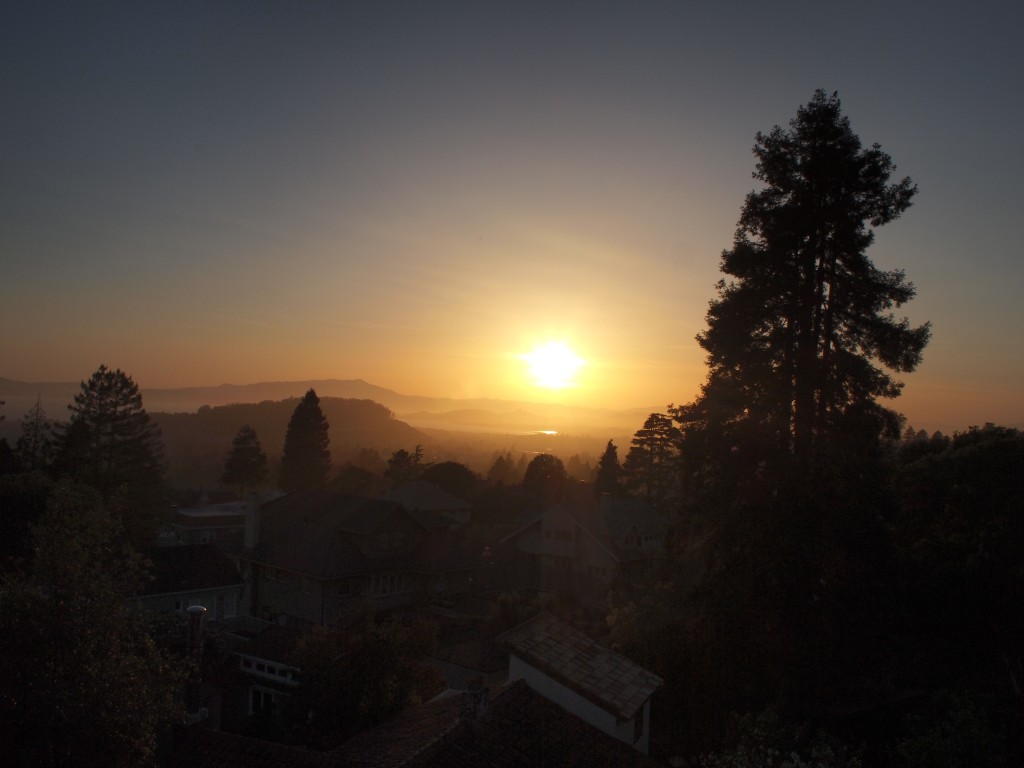 Just for a moment as I step into San Francisco's cavernous Ferry Building it feels eerily quiet after the creative bustle of the Farmers Market this morning. Then I pull open a glass door and breathe in the intoxicating swirl of warm sounds and smells…The Slanted Door is the biggest grossing restaurant in California and one of the America's most famous restaurants. However, the bald repetition of those facts doesn't even begin to convey what this place is all about. Since it opened in 1995 the Slanted Door has been a melting pot of Vietnamese cuisine, the best Californian ingredients and California's gastronomic spirit, whose roots are deepest here in San Francisco. This is its 21st century cliché-defying reincarnation. Nothing here is off-the-shelf standard, yet it all feels so natural and joyful.
For me no less than for many other of the roughly one thousand customers per day this is also a seriously remarkable wine destination. Forget all the verticals, horizontals and icons of wine. Where else are the why, how and what of wine so perfectly matched as here? At least since my first visit in the summer of 2000 one of the most important departments of the wine list has been Riesling. In my book  that makes the Slanted Door a Riesling Palace!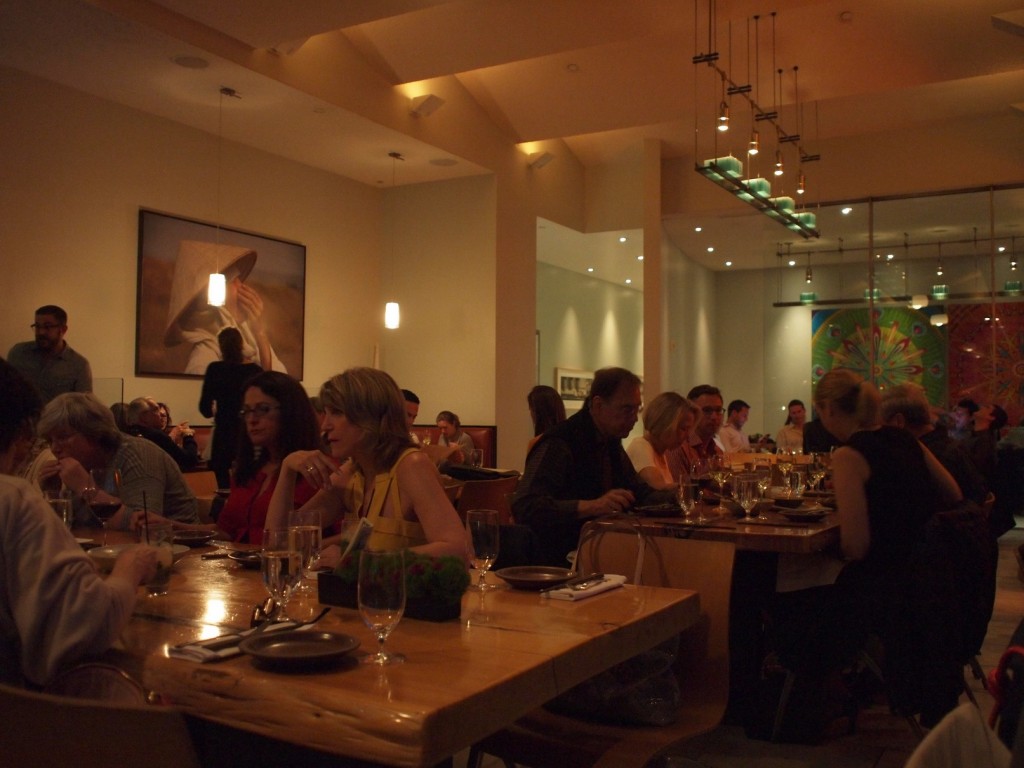 Today this is first and foremost the work of two remarkably normal citizens of Planet Wine, Chaylee Priete and Gus Vahlkamp, though they'd also want me to give their entire team a nod. As Gus said to me the last time I visited the Slanted Door just a few weeks ago, "we have the lower-case d-for-democracy approach."
"Why did you pick this wine?" I asked as he poured the 2010 Seligmacher dry Riesling from Eva Fricke's eponymous micro-wine estate in Germany's Rheingau, "Because, then I get to drink it!" answered Chaylee, who was sitting next to him.
This might sound out of wack in a "sophisticated" restaurant, but it fits the Slanted Door just like a glove. In the fine dining cosmos "sophisticated" often actually means self-consciously fancy and self-importantly complicated, but those are things which this place always completely avoided.  The consistent excellence of the quality (nothing ever disappointed me at the Slanted Door), the seemingly effortless self-confidence of the food, the unfailing optimistic atmosphere and straight-down-the-line approach are surely the secrets of its popularity.
"When Mark Ellenbogen wrote that wine list I think it was going very much against the grain," Chaylee said, pointing me in the direction of the restaurant's back story. Mark Ellenbogen was sommelier back in 2000, though we were never introduced. "Back around 1997 California wines grew much bolder," Gus observed. So Mark went in the opposite direction, plunging deep into German Riesling and Austrian Grüner Veltliner and a bunch of other things that were seriously uncool at the time. That seriously astonished me on my first visit. (I drank a Mosel Riesling from Carl Loewen and a Kamptal Grüner-Veltliner from Hirsch, both almost unknown at the time).
Today the Slanted Door sells almost 9,000 bottles per year of Grüner Veltliner by the glass and roughly every eighth bottle of wine sold there is a Riesling.  40 of the 175 wines on the list are from my favorite grape, though the Slanted Door is just a short drive from the magic kingdom of California Cult Cabernet, Napa Valley. Feel the Force! So this move was anything but a fad or a short-term marketing ploy, rather it became a tradition because it worked with the food. The customers bought into it big time.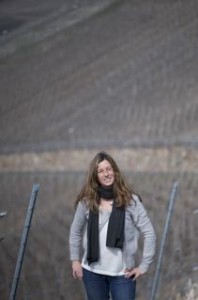 "When I started doing the list one and a half years ago I didn't want to make a lot of changes," Chaylee continued, "the wines we have are such a perfect match with our food, with almost any food." If anything many long-term relationships with winegrowers have been intensified. For example, Germany's Josef Leitz (in the Rheingau) and Joahnnes Selbach (in the Mosel) are custom-making Rieslings for the restaurant.
But Gus and Chaylee have work to do and I'm hungy. So, let's eat! The yellowfish sashimi has an melt-in-the-mouth texture and a wonderful cleanness of flavor, the ribs are as sweet and succulent as last time, the pork chop with pineapple and chili one of the best sweet-sour-spicy flavor combinations I've tasted in a long time.
OK, I'm being unfaithful to Riesling tonight, but the dry Muskateller from Nikolaihof in Austria's Wachau is a type of wine which only Riesling winemakers seem to really master. And the elegant Blaufränkisch red from Moric in Austria's Burgenland comes from one of my favorite winemakers, Roland Velich. These are both wines seriously influended by the Riesling Spirit.
Of the German Rieslings on the current list the Seligmacher from Eva Fricke is $89. If I'd wanted something slightly sweeter, then the 2008 Musbacher Riesling Kabinett from Müller-Catoir in the Pfalz would have been a great place to start; a crowd-pleaser for just $40. However, there's no denying that the 2009 Domprobst Riesling Spätlese from Willi Schaefer in the Mosel at $69 is more sophisticated and barely sweeter. The latter would have been perfect with that pork chop. This is also a rare restaurant that takes mature wines seriously without making a fetish out of bottle age. All that holy dust! The 2001 Rothenberg Spätlese from Gunderloch in Rheinhessen would be a steal if I wasn't so jet-lagged.
The sun has set and fog fills the city streets, traffic noise reverberating through them as I walk back to my hotel with crystals showering through my mind the whole time.
The Slanted Door, 1 Ferry Building # 3, San Francisco, CA 94111
Tel.: (1) 415 861 8032 – Web: www.slanteddoor.com