"The Cantonese are the only Chinese people who cook with fish sauce," said Charles Phan brightly. That sounded like a simple observation from the founder and master chef of the Slanted Door restaurant in San Francisco, but it's implications go a lot further than you'd think. Although his parents are both Cantonese, Phan's cuisine is definitely Vietnamese – the country where he grew up – and his home is California. For him you are what you cook, eat and drink and his own identity is at once absolutely clear, yet pretty complex.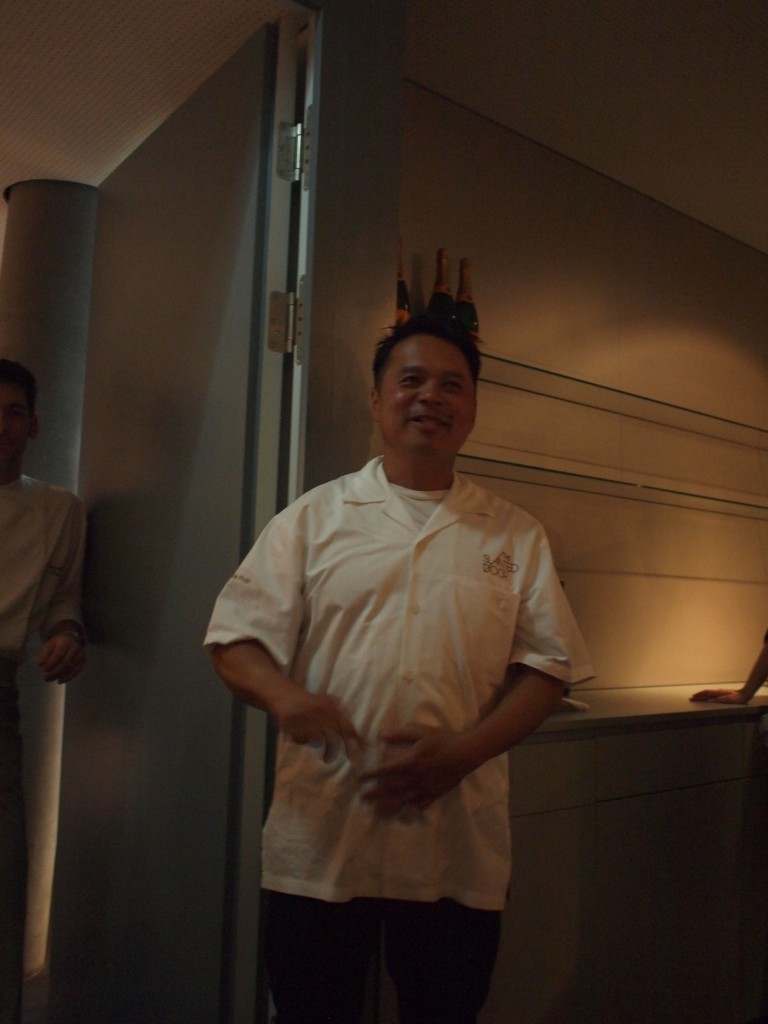 When I left Berlin on Saturday, June 2nd for a week of wine tasting in Austria (a Think Piece on Austrian Riesling follows shortly!) I felt sure I'd got the Slanted Door story all wrapped up, but I quickly found out I was dead wrong.
Just a few hours after I arrived at the VieVinum wine fair in the Hofburg (former imperial palace) in Vienna I got an email from Slanted Door wine buyer Chaylee Priete saying that not only was she at the VieVinum, but part of the restaurant team was also in the city. There would be a Slanted Door pop up in the Wine & Co restaurant on the Mariahilferstrasse the following evening and could I come?
Of course! leapt at the chance to experience the Slanted Door's cuisine and the mind-boggling clash with the schnitzel capital of the world made that seem even more appetizing. Quickly I had enough people anxious to join me to fill a table.
A long day tasting high-end Austrian Rieslings, Grüner Veltliners and Blaufränkisch reds at the VieVinum sounds like heaven to a lot of wine lovers, and on the Sunday it was exciting, but if you're a professional and you're taking your job seriously, then it's also exhausting. The combination of the warm, humid weather and an air-conditioning system made up of nothing more than a few open doors and windows made it pretty brutal. It wasn't until I'd blasted all the sweat off my body under the shower and waled to the Mariahilferstrasse from my hotel that I felt the first tingle of excitement.
After taking the escalator to the third floor at Wine & Co. we were instructed to climb an unlikely looking staircase which looked like it lead to offices. But no, suddenly we were in the Slanted Door pop up savoring the most delicious rice cake I can remember eating – daikon rice cake in a sauce with shitake mushrooms, shallots and chilli soy sauce.
The 2011 Grüner Veltliner Smaragd 'Urgestein Terrassen' from F.X. Pichler in the Wachau was as perfect with it as the 2011 Riesling Urgestein from Schloss Gobelsburg in the Kamptal  DAC had been with the shrimp, pork and mint spring rolls with peanut sauce that came before it. Classic Slanted Door!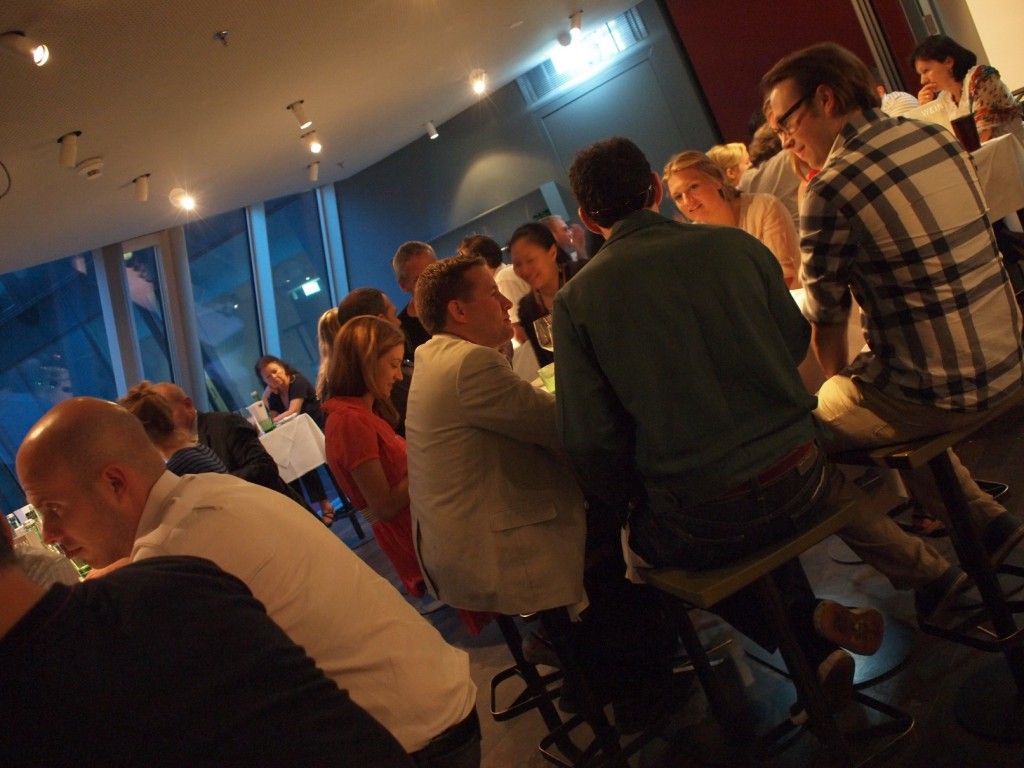 Then came the unexpected high point of the evening, which was a little speech of thanks from Charles Phan and the chance to talk with him as the rest of the guests hurried home or on to nightclubs. The best I can do here is just to let the man speak for himself:
"A lot of people think we're an SF company, but we travel back to Viet Nam every year…"
"A third of our staff are Mexican and a lot of them think that we steal their ideas and ingredients…"
"Vietnamese cooking is all about smell, but we think texture is really important too…"
"Our first wine list featured Italian wines, but they didn't really work with the food, so we changed…we want to be kingof what we do, so we just did Riesling!"
PS You are what you cook, eat and drink…DRINK RIESLING!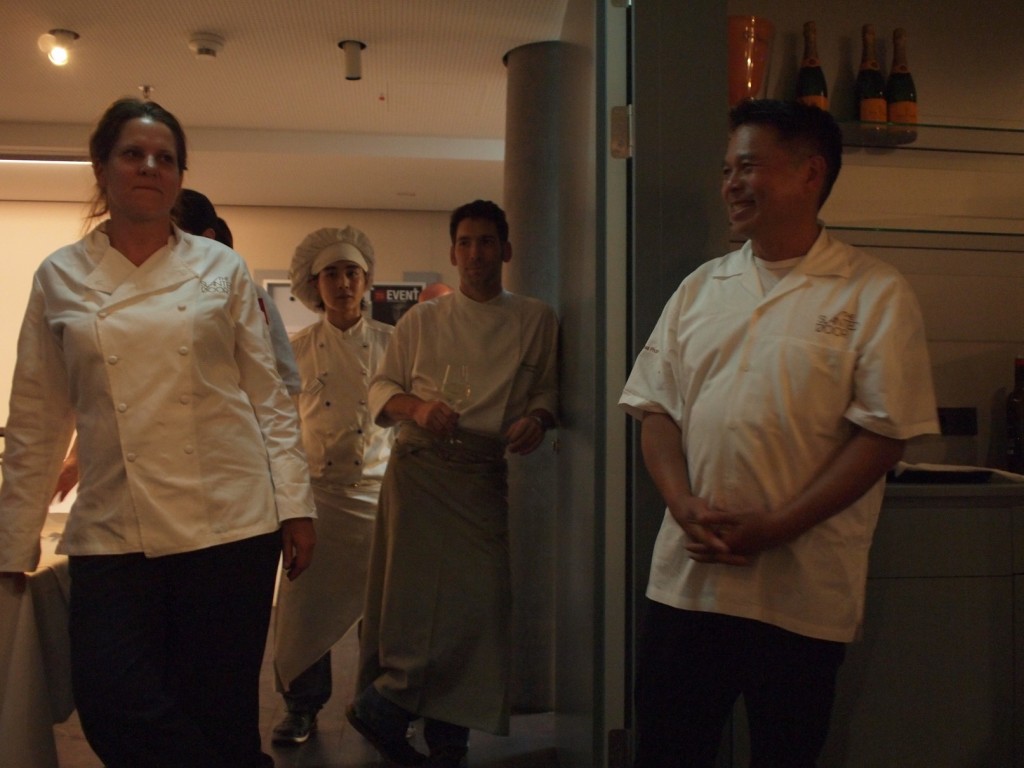 The Slanted Door, 1 Ferry Building #3, San Francisco, CA 94111
Tel.: (1) 415 861 8032 – Web: www.slanteddoor.com