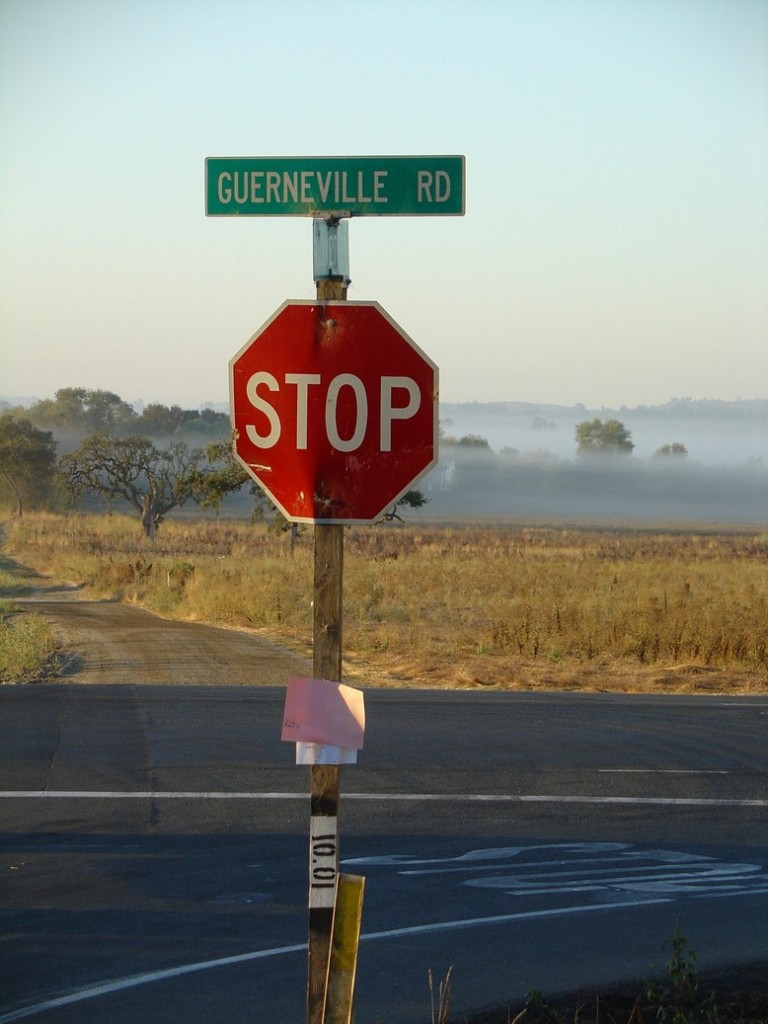 It's time to stop and think hard about Riesling, also Riesling in California where I took this photo early one October 2005 morning on my way to work the crush at the Riesling-free Scherrer Winery in Graton/Sonoma. Changing sides or trading place helps you see things differently, and getting to know economist Karl Storchmann of New York University forced me to rethink my attitude to statistics. Now I see that there is an art both to gathering good stats, and to analysing those gathered by others. So, without expecting very much, I started looking for Riesling stats from around Planet Wine to see what they could tell me and very soon I was reeling from shock. The global situation has changed profoundly during the last decade, and nowhere more than in the United States of Riesling! However, several of my North American sources told me that no journalist had even asked these questions before, nor had anyone bothered to assemble a statistical overview before!
One of the first things I found was a table of statistics for Riesling global in the annual German statistics, (see: www.deutscheweine.de). It gave the following information, to which I have added the acreages, which were calculated by multiplying the hectare figures by 2.471 (the number of acres to a hectare). It looked pretty convincing at first glance, even if the USA was placed fifth though it had the fourth highest figure, then I started digging deeper and realized how outdated and (unintentionaly) misleading it was.
1. Germany 55,847 acres / 22,601 hectares
2. Australia 11,399 acres / 4,613 hectares
3. France 8,680 acres / 3,513 hectares
4. Austria 4,603 acres / 1,863 hectares
5. USA 4,620 acres / 1,870 hectares
6. New Zealand 2,266 acres / 917 hectares
7. Chile 754 acres / 305 hectares
8. South Africa 531 acres / 215 hectares
9. Luxemburg 403 acres / 163 hectares
10. Argentina 279 acres / 113 hectares
11. Switzerland 30 acres / 12 hectares
Global Total 89,413 acres / 36,185 hectares
It seemed to me that Washington State was the logical place to start, since I felt sure it must have the largest acreage of any state in the Riesling Union and I quickly found the following stats:

Washington State now: 5,307 acres / 2,148 hectares
Washington State a decade ago: 2,648 acres / 1,072 hectares
Growth: 100%
One of the significant factors here is that Washington State is home to the world's biggest Riesling producer, Chateau Ste. Michelle. If we add all their labels up including their Eroica joint venture with Ernst Loosen their production averages more than 13 million bottles per year. However, they are certainly not alone. For example, the Pacific Rim winery, which began life back in 1992 as a Riesling brand of the Bonny Doon winery of Santa Cruz/California is now up to about 2 million bottles per year, almost all of it Riesling.Last year Grahm sold Pacific Rim to Banfi in New York, which was widely reported, but I didn't find anything in the press that dug more than one inch below that bald fact.
So I moved on to California, which is surely not widely associated with Riesling either in the wine scene or amongst the wider drinking public. What I found shook me to the core. The growth of the Riesling vineyard area in California far outpaces Washington State, and the wine media – including me – failled to spot that!
California now: 3,831 acres / 1,550 hectares
California a decade ago: 1,510 acres / 611 hectares
Growth: 153%
Here the contrast with Syrah is interesting. I thought that California Syrah was a cult amongst collectors and a real crowd pleaser too, i.e. everything Riesling is not in California. OK, sometimes those California Syrah are too moumental in scale for my taste, but with a slew of Parker points and gobs of whatever metaphysical thing it is they confer on wines, who gives a fuck about my opinion? I thought that's the equivalent of an AAA creidt-rating and gaurantees a buzz in the broader market, but obviously there's a similar kind of dislocation between ratings and reality here as there was with the sub-prime derivatives. All my trade contacts tell me that California Syrah is a stubbornly hard sell in the US, excepting for a few brands with a long-standing commitment to the varietal.
On the other hand, I imagined that Riesling was never going to have more than a small toehold in Calfironia, not least because those same trade contacts kept telling the wines were saddled with the image of being sweet and bland, which seems to be an evil omen for any California wine. Peversly those big California Chardonnay brands which actually taste sweet and bland have a dry image, because the producers always talked and walked dry. However, this explanation for Riesling's position in the state obviously now belongs in the waste paper basket of history and new research is called for, by which I mean market research, and Stuart Pigott clearly has to hit the California Riesling trail.
Oregon is a completely different story and this is not the place to discuss when (it was after the NASDAQ), how and why and the Great Oregon Pinot Bubble burst. The fact is that there has been a slow, but steady drift to Riesling during the last decade, a development that has also been ignored, because the wine media still has a crush on Orgeon Pinot Noir. In fact, some of them also seem to be wet-dreaming about it in order to make this a 24/7 love-in.
Oregon now: 800 acres / 324 hectares
Oregon a decade ago: 605 acres / 245 hectares
Growth: 31%
This is the moment to ignore the small detail of a national frontier and look over the 49th Parallel at British Columbia. I first got really excitied about Okanagan Valley Riesling five years ago when I first tasted the "Bladerunner" dry Riesling from Tantalus. However, I have to admit that until a few days ago I had no idea how much of it there was. Riesling is the 10th most important grape variety in BC and there's quite a lot of it planted there.
British Columbia now: 439 acres / 178 hectares
Sadly, BC couldn't supply me with a decade ago stat, so I can't say what the growth is, though I suspect that it is higher than in Oregon and perhaps at the same level as Washington State. However, what I can do is to say that taken as whole the West Coast of North America now has a total of 10,400 acres / 4,200 hectares of Riesling! That total, together with the growth which lies behind it, strikes me as a very significant development. I suggest it means that Riesling has ceased to be an underground wine on the West Coast and is now a major varietal in the market place and in the minds of very many consumers.
Why haven't we heard and read more about that? Well, it's "only" Riesling and Riesling is percieved as being static, because the area planted with Riesling in its German homeland is rather static, and Germany still defines Riesling in the minds of many in wine media and the wine scene. As the great Canadian thinker Marshall McLuhan said, "People never want to look at the present; people live in the rearview mirror because it's safer, they've been there before, they feel comfort. Anybody who looks at the present is a threat, a nuissance in the extremist degree."
PS Thanks Karl Storchmann for getting me to look at the Riesling present!
PPS Part 2 follows in a few days and will be equally crazy!