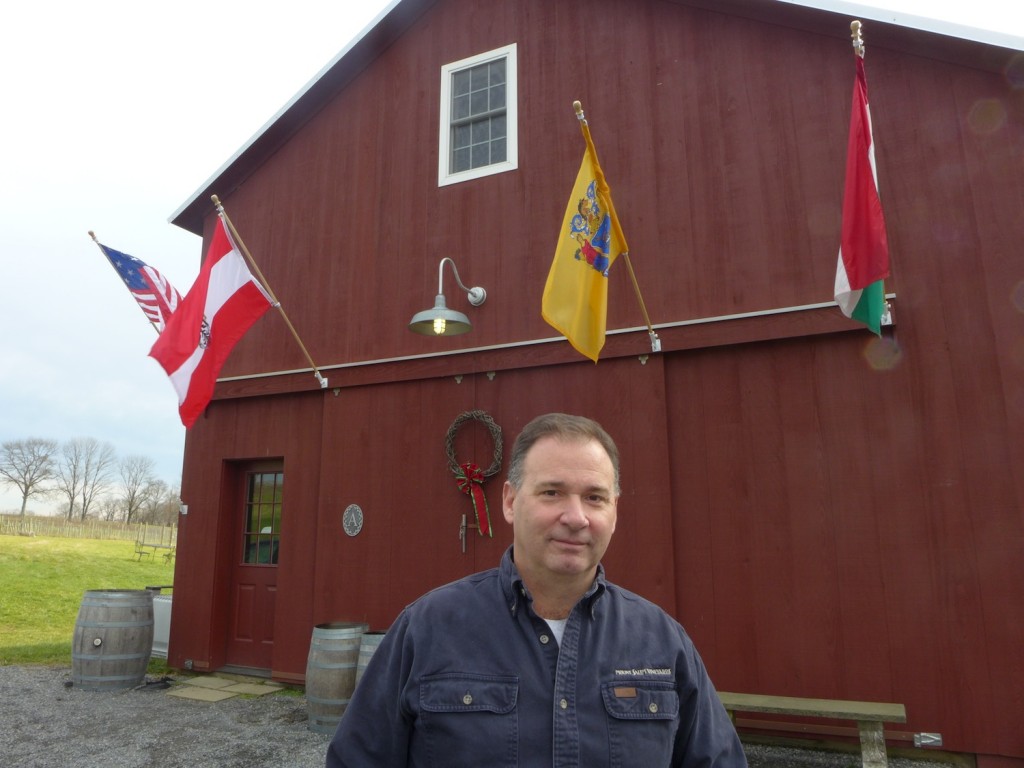 It seemed to be exactly the right moment to visit the ultimate "wrong" wine growing region: New Jersey. A couple of weeks back German-born economist Karl Storchmann of New York University and the American Association of Wine Economists persuaded me that I just had to go. A little reluctantly I agreed. However – see 'In the Feiring Line' below – by the time I climbed into his car yesterday morning at 8:30am I was convinced the wines and vineyards of any wine growing region considered this "wrong" by the New York wine scene were an essential gonzo wine destination. So yesterday it was Escape from New York and head for the nearest wine Badlands.
"Why is that people want to eat as local as possible and things like New Jersey tomatoes are so popular, but when it comes to wine they want to drink as far away as possible?" Karl demanded as his car shot out of the Manhattan sunshine and into the Holland Tunnel, "I've lived here for 15 years and even I only found out about New Jersey wines last year!" What he meant is that for the New York City sophisticates when it comes to wine New Jersey is way on the wrong side of the tracks. Maybe the stalls on the farmers markets helped New Yorkers get over the widespread anti-Jersey prejudice when it came to fruit and vegetables, but the state's wine producers haven't yet offered them that kind of touchy-feely experience within the comfort zone of their own city?
In New Jersey the traffic was light so we made it to Peter Leitner's Mount Salem Vineyards near Pittstown in the North of the state, pictured above, in barely 80 minutes. That's really not long, so why don't hoards of New Yorkers drive out on sunny weekends to visit New Jersey wineries? Well one reason is that as Karl said on the way, "it's not a wine growing region with a cluster of producers close together, it's more a region in which there's wine growing." That means there's no easily accessible valley like Napa (in California) or the Willamette (in Oregon) where tourists can hop from tasting room to the next, and no one-stop destination for the journalist wanting to quickly pick up a wine story. For that you have to drive around a lot, but hell Karl and I managed it in just 12 hours!
By the time we arrived at Mount Salem Vineyards another of my preconceptions about New Jersey had been demolished. I thought that the state was flat and full of smoke stacks, the whiff of hydrogen sulphide fumes from chemical plants heavy in the air. Instead, we'd driven through woodlands and fields steadily climbing into the hills until we were around 700 feet (over 200 meters) above sea level. It's beautiful country full of historic small towns untouched by tourists, ripe for journalistic discovery closely followed by a Madison Avenue advertising campaign. I mean, this could easily become a happening place. At present though, you need a contact like Karl who tells you what's happening, because this is not a story New York wine journalists want to write.
Sadly that's not the only obstacle New Jersey winemakers face. "Downy mildew, powdery mildew and black rot…fungus is the big enemy," Leitner explained as we entered the more than two hundred year old red barn that is his winery, "then there are grape berry moths, Japanese beetles and the stink bug." So winegrowers in the state face a tough struggle in a climate that tends in the warm and humid rot-friendly direction in summer. Then man's destructive influence enters the equation. "In 2012 we had no Grüner Veltliner crop because of herbicide drift while the vines were flowering, something ugly called 2, 4-D. It can drift one or two miles, so I don't know which farmer was responsible." The fact that it was used as a defoliant by the US military during the Vietnam War only makes it clearer that this is an Agricultural Weapon of Mass Destruction that should be banned in the US immediately along with assault rifles.
Grüner Veltliner? Yes! In 2010 Leitner made a delicious, richly textural barrel-fermented wine from Austria's number one grape. His family originates from Vienna/Austria and when he studied the climate of this part of the state he felt there was a close enough to match with his family homeland to try Austrian varieties. 2010 was his first vintage and good as the results were, it was the barrel samples of 2012 Blaufränkisch reds that convinced me he's really on to something. It was really exciting to taste how the wine from his home vineyard had red fruit aromas and a wonderful elegance (silky tannins), whereas the Blaufränkisch from Coia Vineyard in the south of the state was packed with black berry (including elderberry) aromas, and was at once powerful and crisp. That means there's terroir in New Jersey!
Just before we had to dash to the next appointment Leitner said something which hit me like an express train. It was his answer to why the state has a serious image problem. It's not the smoke stacks and it's not the flatness of much of state. "All you have to do is to turn on late night TV and you'll find somebody shitting on New Jersey. And the chances are they came from New Jersey and are now successful somewhere else." Ouch!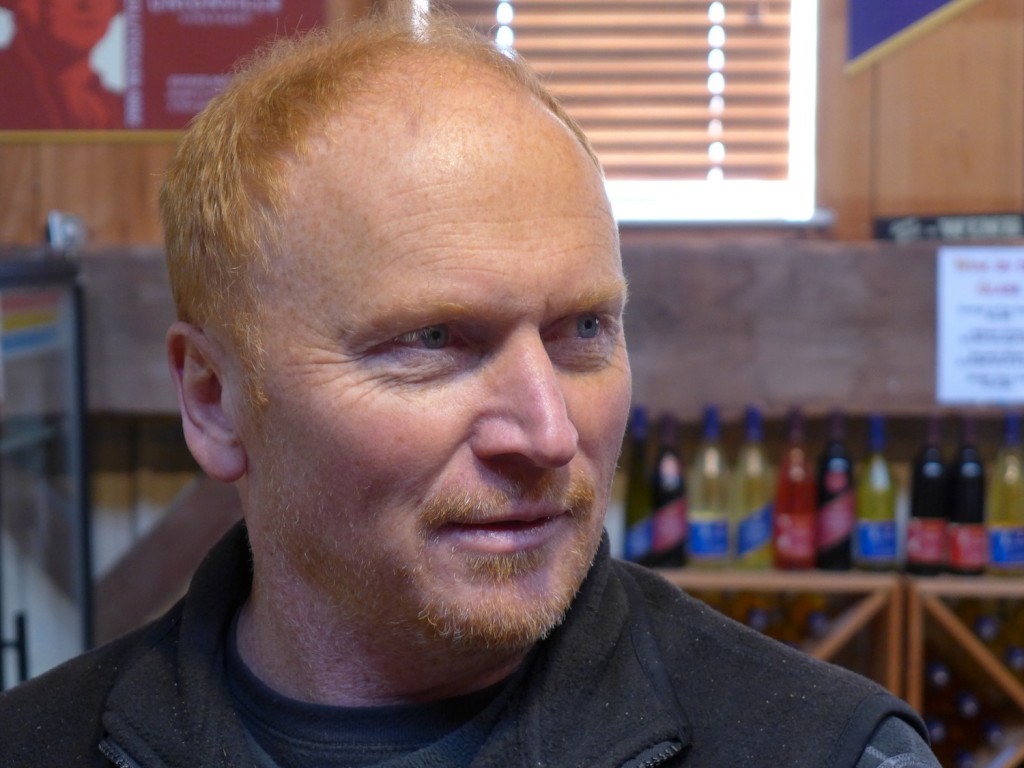 It was almost half an hour's drive to Unionville Vineyards, during which Karl told me how this operation is well-established and well-capitalized, because it belongs to two very successful people, though I didn't find out if they're natives. I liked the Calfironian winemaker Cameron Stark, pictured above, from the moment he stepped up to the bar in the cavernous, but warm tasting room (also in a barn). "We've been working on a wing and a prayer for too many years and it's coalescing into…nothing," he joked, for the 2010 Pheasant Hill Chardonnay was something else. I haven't tasted a new Chardonnay that had this concentration of fruit, this seamless elegance, subtle oak and an exciting whiff of funk in many years. And all this at 13.1% alcohol, way below the contemporary norm for Chardonnay, and $45 isn't cheap, but it's far removed from what good white Burgundy costs, Kistler or Marcassin charge for their high-end single-vineyard bottlings.
I'm not the only one to be wowed by this wine though. It already won a major wine competition against everything California could throw at it and placed second in the Judgement of Princeton tasting last June which pitted France's best against New Jersey blind. (See the Wikipedia entry for more information). Cameron has been at Unionville since 2003 and from this and other wines he clearly has a great feeling for Chardonnay. OK I thought, that's what this area does best. Then he poured me his 2010 Syrah, the first commercial vintage of this wine, and I slammed into the wall of wild black berries which poured out of the glass. For a moment I feared a monster, then was amazed by how lively and dry it tasted, and how the abundant tannins were woven into the sleek whole. Obviously many grape varieties grow well here.
It's adrenalin which powers crazy appointment packed days like this. The navigation software on Karl's ipad going on strike, having to keep an eye our for the cops while moving fast on the freeway, while simultaneously trying to think through the economics of the state's wine industry kept us buzzing during the long drive to Heritage Vineyards & Winery in Mullica Hill south of Philadelphia.
The Heritage family have been growing fruit here, mostly peaches and apples, since 1853, but it was only in 2003 that Bill and Penni Heritage plunged deep into wine. Why? "We couldn't make any money with peaches and apples," Bill declared bluntly. Their tasting room is as cleverly thought out as many Manhattan stores and obviously equally successful. Penni told me that this Saturday it would be heaving with shoppers when this year's Christmas feeding frenzy peaks.
Here just under 200ft above sea level the vineyards are almost flat, and due to the combination of relatively high rainfall and a water-retentive dirt (loamy sand) there was a lush natural cover of "weeds" between the rows. Irrigation is only necessary for the youngest vines until they get established. It took a lot longer for winemaker Sean Comninos, seen below, to open up than his employers, but the more he did speak the more interesting I found this thoughtful guy who clearly has asked a lot of probing questions about how vines function in this location. Judging from the red wines we tasted he already found a bunch of answers to those questions.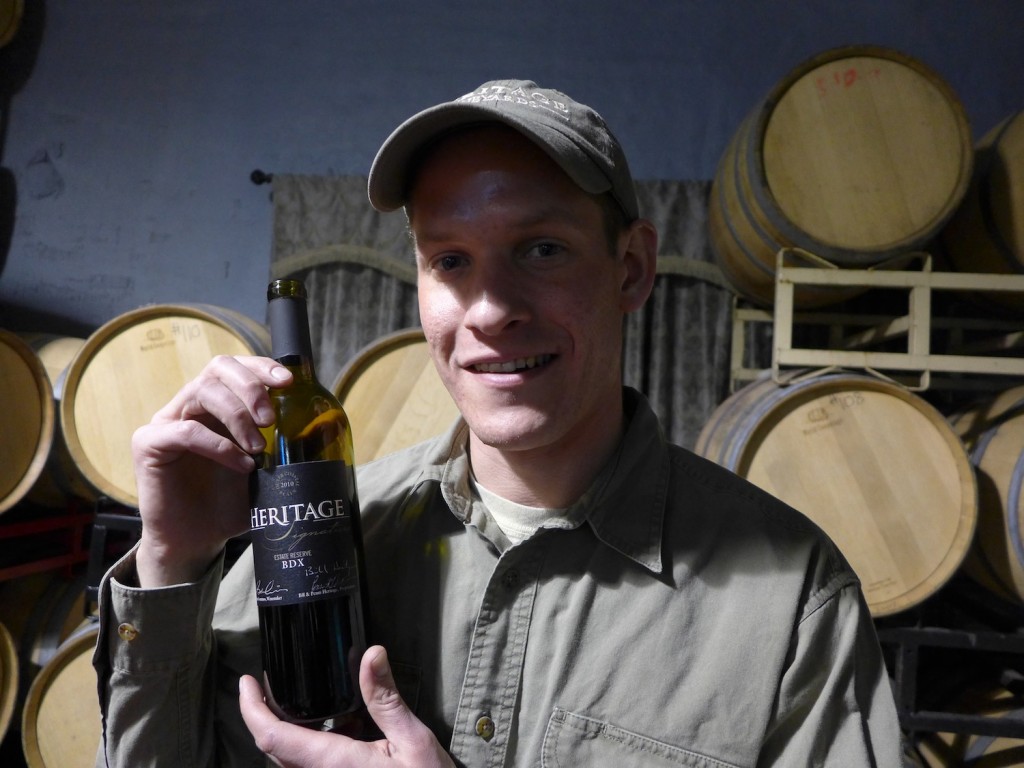 The most exciting of them was the 2010 "BDX" which is theoretically a Bordeaux blend, hence the slightly tacky name. There's absolutely nothing tacky about the taste though, which is rich, warm and spicy, but without a hint of the monolithic heaviness that weighs down so many over-ambitious reds of this ilk which try so desperately to be The Great American Red (a parallel to all those portentous books determined to be the next Great American Novel). I was enchanted by the subtle spiciness of the nose in which the vegetal side of Cabernet Sauvignon was barely hinted at in a tantalizing way. This balanced the "sweetness" from fully ripe (but not over-ripe) grapes and the tannins were discretely dry in a manner reminiscent of "classic" style red Bordeaux. Once again the alcoholic content was modest at 13.1% and I found the price of $70 for another wine that shone in the Judgment of Princeton tasting very fair.
By this time I was asking myself what the hell was going on in New York wine scene. Why had wines of this quality and a story as full of engaging and contrasting characters like these failed to happen big time. I thought back to how decades ago I had to get out of the London wine scene in order to free myself of the mutually reinforcing prejudices of the majority of its members. They met almost daily at tastings and on junkets, continuously telling each other how right they were, until, without ever consciously deciding to do so, they all treated the current collective wisdom as the absolute truth. I wanted the reality on the ground, even if it was complex, contradictory and confusing.
Winemaking in the South of New Jersey seems to have Italian roots, by which I mean that Italian immigrants came here because land was cheap and transplanted the wine traditions of their homeland to this very different country. This was long before Prohibition, which must have been a severe shock for them. It wasn't difficult to like Jim Quarella of Bellview Winery, see below, because he has a no-nonsense, practical approach combined with a great feeling for dry red wine.  I can already hear the cries of, "yes, but it won't age!" because it comes from New Jersey and because it grows on very uncool sandy soil – "where are the minerals?" – and all kinds of other Manhattan Excuses for avoiding the obvious conclusion that these are serious wines which are also full of joy. A 2006 Blaufränkisch which was still delicious proved the ageing potential.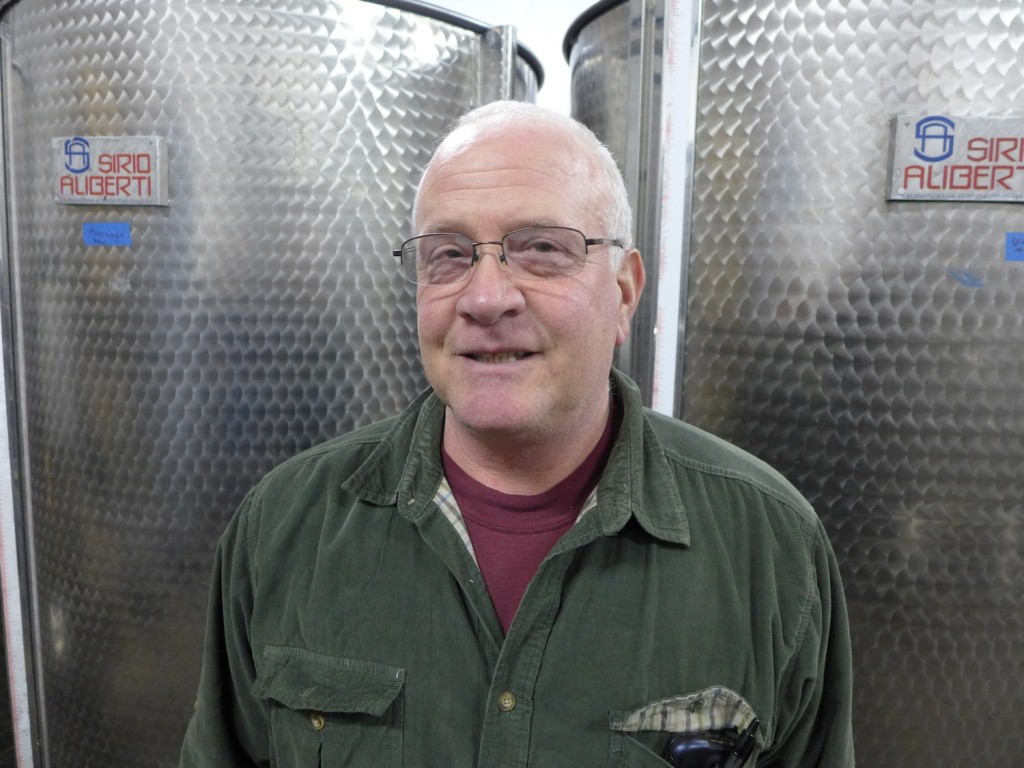 I tasted a row of five 2010 reds from single varietals ranging from an incredibly floral, effusively fruity and slightly sappy Cabernet Franc to a chunky Syrah that smelt of smoked bacon and black cherries. The 2010 "Lumiere" Bordeaux blend, the first vintage for this wine,  was super-elegant in spite of its considerable power with a long silkly aftertaste with a delicate hint of chocolate. I challenge you to find a Bordeaux red or Northern Californian Cabernet-based blend which comes close to offering this kind of experience for under $35 per bottle.
It was good that Bellview were setting up their company Christmas party right next to our tasting, because it helped us get out almost on schedule. As we drove off Karl and I were stunned…by the extravagant Christmas illuminations in front of many homes we passed. It was like being lost in Disneyland way after closing time!  Again we struggled with the failing navigation app on Karl's ipad, but he'd been to Louis Caracciolo's Amalthea Cellars before so we found it OK. Even in the pitch darkness the building had a Chateau-like feel to it.
Every great winegrowing region needs one or two larger-than-life winemakers who think light years outside the box and are willing to go the extra hundred miles to find out where the limits of the possible really lie. Caracciolo, pictured below with a photograph of his grandfather, plays that role for New Jersey. Four of the six wines he showed me were mind-blowing, with two just a head behind the leading pack, but let's forget the damned score card for a moment. What he has done is to create a series of (potentially) seven "Legends Edition" wines, each modeled on a particular Bordeaux Château. For example, the stunning 2010 "Europa VII" is inspired Château Figeac in St. Emilion, which means that it is a third each Cabernet Sauvignon, Cabernet Franc and Merlot. That would be a crazy idea in Bordeaux, never mind New Jersey, but the result is no slavish imitation, instead balancing a delicate sweetness with generous tannins that are moderately dry and just a hint of leather. In comparison, some vintages of Figeac stink like an entire gang of Hells Angels and were often a bit on the lean side, and more recently rather flabby. The price of the 2010 "Europa VII"? Just $34,99!
Karl slumped half-dazed, half-exhausted on a bench in the rear tasting room as we learnt more and more about the decades of research, experimentation, thinking and rethinking behind these masterpieces. Caracciolo, at once craftsman, scientist and artist had one eye fixed on the great Bordeaux wines of the past centuries while the other gazed far into the future of New Jersey wines. Back in Manhattan the people who should have written this story long before I did still have their Eyes Wide Shut.
The comments from Justin Christoph are always spot on. Here is the latest:
There's a passage I got memorized.
Himmelreich 49:56.
"The path of the righteous Riesling
is beset on all sides by the inequities
of unbalanced wines and the tyranny
of evil wine critics.
Blessed is he who, in the name of
terroir and good wine, ripens
the grapes through the valley of the
darkness.  For he is truly his
brother's keeper and the finder of
lost vineyards.
And I will strike down upon thee
with great hail storms and furious
phylloxera those who attempt to poison
and destroy my vineyards.  And you
will know I am Riesling when I lay
my vengeance upon you."
I been sayin' that shit for years.
And if you ever heard it, it meant your
fass.  I never really questioned
what it meant.  I thought it was
just a chilled-Riesling thing to say to
a points fucker 'fore you popped a
gold kapsule in his ass.  But I saw some
shit this mornin' made me drink
twice.  Now I'm thinkin', it could
mean you're the evil critic.  And I'm
the righteous Riesling.
And Mr. Grosses Gewachs Magnum
here, he's the winemaker protecting
my righteous Riesling in the valley of
darkness.  Or is could by you're
the righteous Riesling and I'm the
winemaker and it's the wine critics that's
evil and selfish.  I'd like that.
But that shit ain't the truth.  The
truth is you're the grapes.  And I'm
the tyranny of evil critics.  But I'm
tryin'.  I'm tryin' real hard to be
a winemaker.