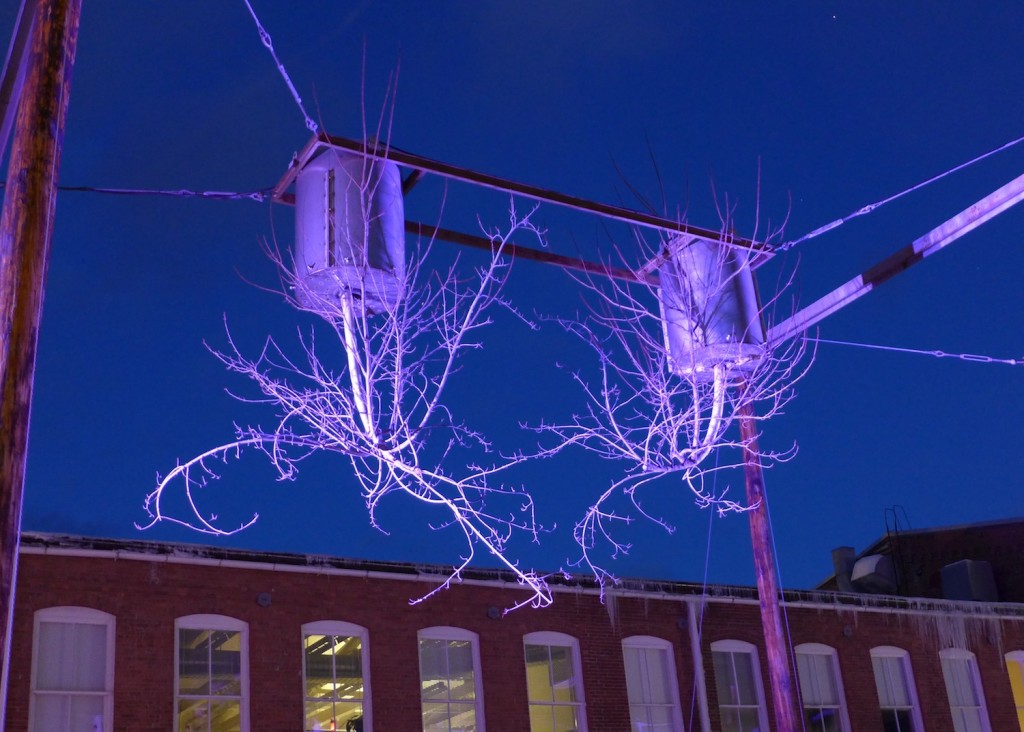 Yes, I made a New Year's resolution this year while I was out in the ice and snow of the Berkshires staying with Caitlin Harrison and her boyfriend Frank. I got the idea at MASS MoCA art museum in North Adams where I saw the extraordinary sight pictured above. When I saw the 6 maple trees which Natalie Jeremijenko had suspended upside down (the title is 'Tree Logic') I decided that in 2013 I will never hesitate to say when things are upside down however much confusion or consternation I cause. Last year I dodged this kind of situation a few times too many, it was never a smart move and I always regretted it afterwards. It's astonishing how much in our world is actually upside down and I don't mean just the obvious examples like the National Rifle Association's argument for more guns in schools, that simply repeats the Cold War argument which said that the more nukes there were the safer the world would be. I'm also thinking of the way that for some years the dominant paradigm for wine in America was the most massively extracted and massively over-priced California Cult Cabernets. Don't get me wrong, I've got nothing against Califronia Cabernet Sauvignon, only against the most extreme of these wines being held up as the ideal which every patriotic American wine should try and live up to, and every other fermented grape juice on Planet Wine should aspire to. This is turning everything upside down, because in America there are plenty of places apart from Napa Valley where exciting wines which taste very different to the Terminator Cabs grow. This diversity strikes me as equally positive as the nation's complex social and cultural make up, its landscapes and history. Of course, this argument applies equally when we turn to the whole world of wine. The old saying that, "every white wine's job is to be (like) a red wine" is complete bullshit and lead to an ocean of supersize-me, choke-on-the-oak Chardonnays. After going to MASS MoCA another friend in the Berkshires invited us to dinner and served a Californian Chardonnay from Scribe Winery in Carneros which was so fresh and elegant, so invigorating and fascinating it filled me with hope. However, if I see things which are upside-down this year, then I'm saying.
YOU HAVE BEEN WARNED !
PS My preferred wine paradigm is, of course, Riesling. It stands for clarity and transparency, intensity and elegance. However, one paradigm is definitely not enough for the whole of Planet Wine. I find it really helps to have several to choose from, like different pairs of shoes for various weather conditions and to match different clothing.