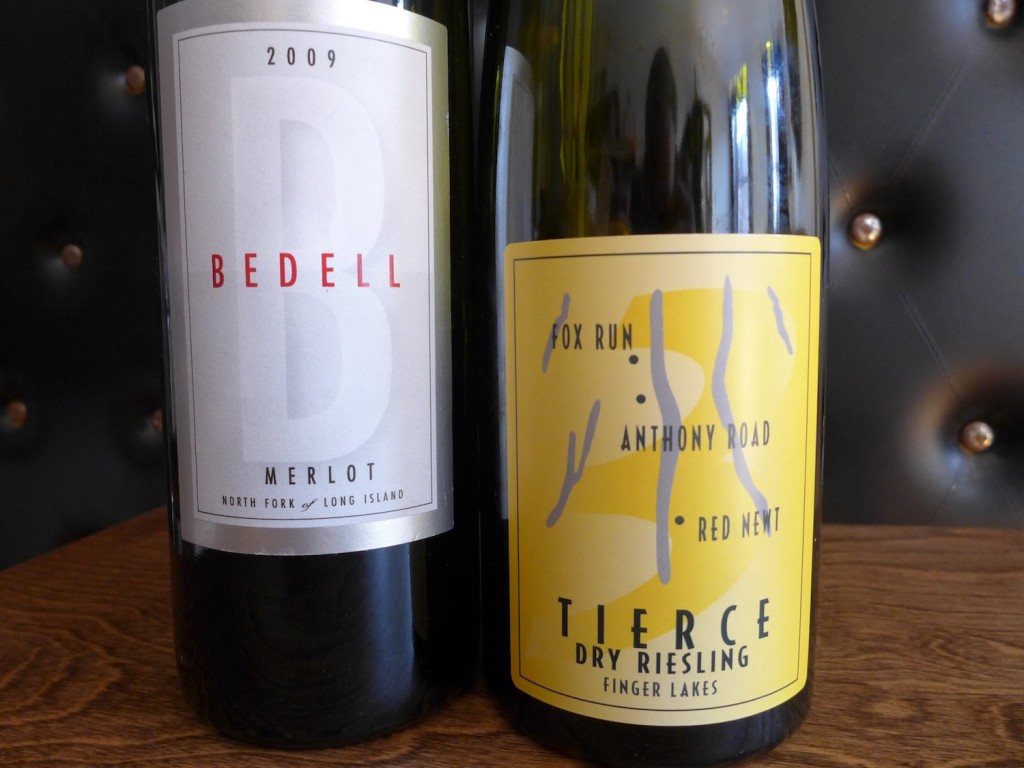 Monday, January 21st 2013 is a great day for Riesling in the United States. Why? Above are pictured the wines for the luncheon following the inauguration of President Barack Obama for his second term in the Statuary Hall of the United States Capitol/Washington DC on January 21st, 2013. News of this choice has been out since a couple of hours, but so far nobody commented seriously on the selection or assessed each of these wines. This they deserve, since the choice is strikingly different from previous years when California dominated. Both wines for the forthcoming presidential inauguration hail from New York State and one of them is a dry Riesling! On the wine front this is as significant a change as the introduction of serious gun control would be for law and order in the US.
There is no question that this selection reflects how far New York's wine industry has come during recent years. The image of the state as a producer of foxy Concord wine and "odd" wines from French-American hybrid vines has been fading fast as the premium quality wines from Vitis vinifera varieties (the European wine grape in its many forms) have steadily improved in quality, and even more rapidly gained ground in the market. The choice of varieties, a Merlot red and a Riesling white reflects (both dry wines) the twin strengths of New York State. The 2009 Merlot from Bedell comes from the most important red wine growing region in the state, the North Fork of Long Island, and the 2010 'Tierce' Dry Riesling comes from the Finger Lakes in the north of the state, where this variety just celebrated its 50th anniversary of commercial production.
Let's consider that Riesling first. The 2010 'Tierce' Dry Riesling is a joint venture between three of the Finger Lakes most talented winemakers, Peter Bell of Fox Run, German-born Johannes Reinhardt of Anthony Road and David Whiting of Red Newt. They first blended Riesling wines from their separate cellars for a joint bottling under this brand name back in 2005 and this vintage is the best so far. With its intense aromas of lemon curd and ripe apple this is a Finger Lakes Riesling with the racy, refreshing acidity typical of the region, but there's no a hint of aggressive tartness, instead it tastes ripe and elegant with a hint of salty mineral flavor in the aftertaste. Pairing it with lobster and a clam chowder sauce was an inspired decision, not only because that seafood is a tradition of the Northeast, but also because it will undoubtedly be a great combination of flavors. The retail price of this wine is about $30.
Although the 2009 Merlot from Bedell on Long Island is a little less exciting than the Finger Lakes Riesling chosen for the inauguration luncheon, there are many things about this wine I find positive. Firstly it has a forthright aroma of redcurrants without a lot of oak masking this fruit character from the grape. Then there's the fact that it's not overly heavy, in fact it has a lightness of touch which I find very appealing, particularly in a dining context. Although it's bone dry there's a discrete impression of sweetness as it rolls over your tongue, but it ends bright and clean, if slightly bitter. Here the retail price is about $20 and I should point out that it's not the top red wine from owner Michael Lynne and winemaker Richard Olsen-Habid. That is their "Musée" blend.
Taken together these are very good choices which also reflect important trends in the wine market. Red wines that are lively and charming instead of heavy or too oaky have been gaining ground, just as very clean and pure tasting dry Rieslings having been winning over more and more Americans. The inauguration luncheon will be fully in step with the rapidly evolving taste of US consumers and in tune with the new Riesling Spirit in America. That is really positive news in comparison to most recent headlines.