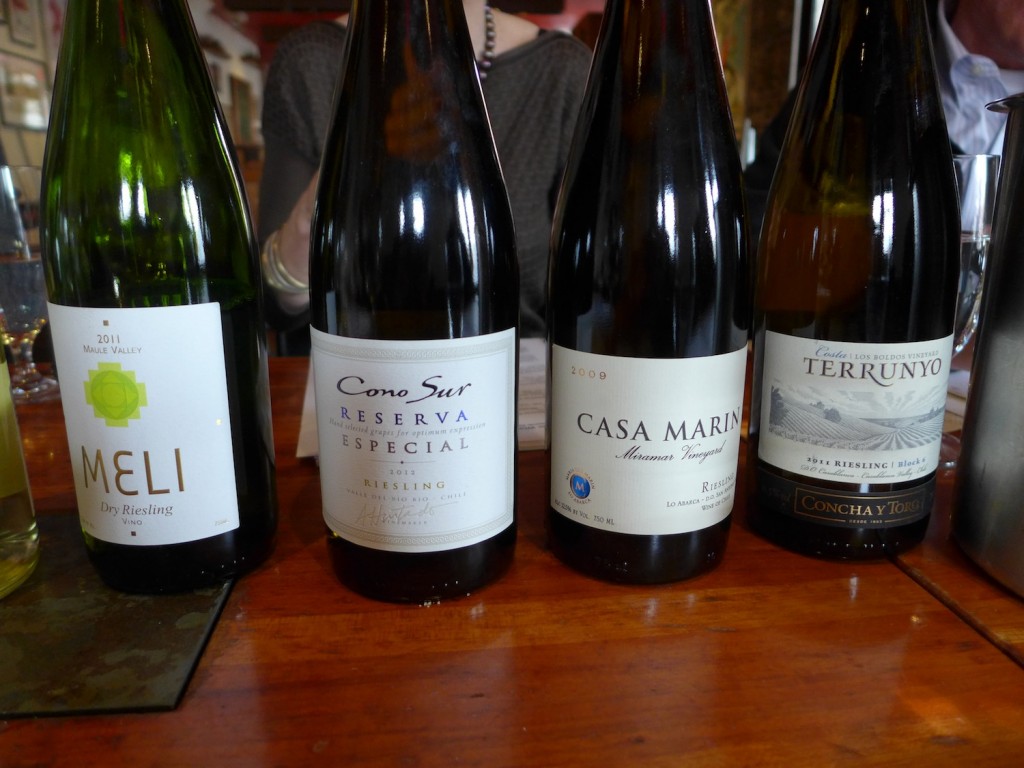 I was just at Restaurant Hearth down the road at East 12th Street and First Avenue for a tasting of Rieslings and other Chilean wines from aromatic white grape varieties. Not only do few people think of Chile for Riesling, but this type of aromatic un-oaked white wine is the least well-known and exposed side of Chilean wine altogether. In contrast, Chilean Sauvignon Blanc is huge in consumer perception, but often those wines (particularly at lower price points) are just standard Global Sauvignon. That's one of my least favorite wine styles in spite of the fact that they have pronounced acidity and bright aromas like Riesling. Both of these aspects of Global Sauvignon tend to be simplistic or banal regardless of region/country of origin. My advice: forget Global Sauvignon!
So what does Chilean Riesling taste like. Well, the wines are more or less dry and there are a slew of different styles although everyone seems to be using the same kind of cellar technology (reductive winemaking in stainless steel tanks). Clearly the winemakers are only beginning to find out what the special characteristics of the wines from each region are. The 2012 'Reserva Especial' from Cono Sur was clearly the best wine on the table with a complex bouquet of grapefruit, white peach, passion fruit and flowers. It was quite concentrated and properly dry, but was also succulent with a wonderful freshness and an almost filigree finish. It's still youthful and will undoubtedly improve with at least a year or two in the bottle. This wine replaces the 'Vision' dry Riesling from Cono Sur which was recently wine of the month on this site and is even better. It too comes from the Bio Bio Valley close to the southern limit of viticulture in Chile.
The 2011 Dry Riesling from Meli in the Maule Valley was more discrete, but also very clean and full of character. More mature, but still in good shape, the 2009 Miramar Vineyard Riesling from Casa Marin was more powerful with ripe grapefruit and petrol notes, and the balance was still good in spite of the maturity (all wines, Riesling or not, red or white, tend to become leaner and drier with aging). They proved that Chilean Riesling is far from only being Cono Sur. There are already 333 hectares / 821 acres of Riesling in Chile.
Some wines from the other varieties represented in the tasting were no less startling though, most importantly the amphora vinified 2012 'Vieja Tinajas' Muscatel from De Martino, which managed to be a white "natural wine" with an orange color from long fermentation and aging on the skins with little or no sulfur, but appealing too. Although it had an interesting grape skin tannic-textural quality it certainly didn't taste taste aggressively tannic like some wines of this type, nor did it have any ugly funky aromas (the hamster cage smell which I loathe). Hopefully it tastes just as good as this after bottling.
In the short row of Gewürztraminers it was once again Cono Sur which shone with their 2011 Gewürztraminer 'Reserva Especial', which had a great bouquet of yellow roses and rosewater, was rich and elegant just like their Riesling. Here too 13.5% alcohol was barely perceptible, which is another reason why this is a Gewürz which even this Gewürzraminer sceptic would gladly drink. Was some acidity added? If so I couldn't taste that, so it doesn't really matter to me.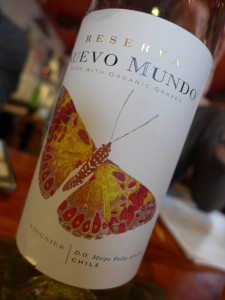 Viognier is even less my thing than Gewürztraminer and I might react to a bottle from this grape variety appearing on the dinning table by begging for Chardonnay instead! Honestly, I hate the stuff. However, the 2011 Viognier 'Reserva' from Nuevo Mundo was discrete enough in the nose (a lot of lees character moderated the apricot and floral notes) and had a rich texture without being too massive or oily. It was another piece of evidence in favor of the argument that Chile's image as a wine producing nation is too one-sidedly shaped by the (often impressive) reds and all that Sauvignon Blanc which the world is still screaming out for. Let's hope that at least some of those victims of Global Sauvignon wake up to Riesling, also to the Rieslings of Chile. Clearly they are going somewhere!
Many thanks to Wines of Chile in New York for organizing this fascinating tasting!