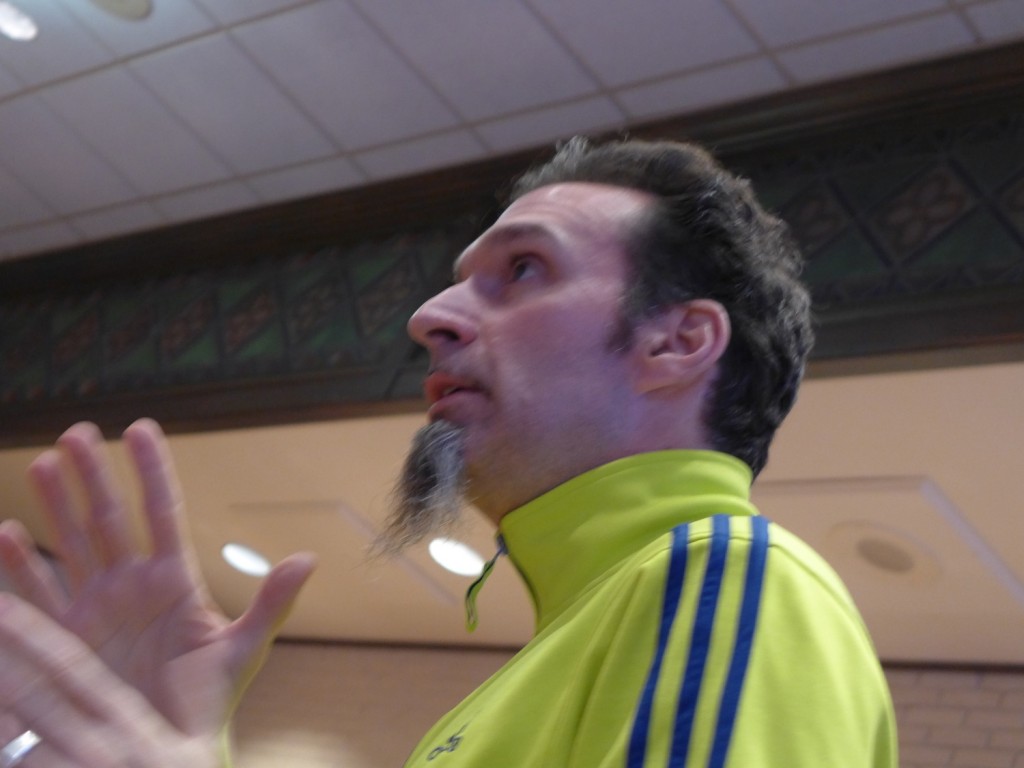 Here is Paul Grieco of restaurant Hearth and the Terroir wine bars in New York in full flight during one of two tasting-lectures on Riesling we gave yesterday at the Culinary Institute of America (the other CIA). The CIA campus is a kind of gastronomic Harvard, and therefore in certain ways a bubble disconnected from the $10 – $12 per hour reality of the cooking jobs most of the students will take when they leave. Their interest and enthusiasm was wonderful to experience though and reminded me of my two semesters as a guest student at the Geisenheim wine school in Germany 2008/9.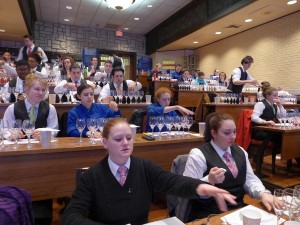 Paul was right when he said that the age group of the students, some of whom were not yet 21 and therefore only allowed to sample alcoholic beverages at the CIA because it's for educational purposes, is America's Generation Riesling. They approached the wines with almost no preconceptions and the great majority responded immediately and strongly to the Rieslings from Michigan to the Mosel via New York and Austria which Jim Trezise of the International Riesling Foundation (IRF) had organized. The older group of predominantly local people who came to the consumer tasting and dinner that followed were obviously carrying some baggage in terms of convictions about Riesling – as Nietzsche famously said, "convictions are worse enemies of truth than lies – but it was striking how they responded to the exciting new Rieslings being produced in this continent no less than "classics"like the dry "Silberlack" from Schloss Johannisberg in Germany's Rheingau.
I'd gone up from the City on Monday night and stayed in neighboring Poughkeepsie in order to meet Bob Madill of Sheldrake Point winery in the Finger Lakes. We spent several hours that night tasting through a big range of 2011 vintage Rieslings from Bob's region. This was really quite a difficult vintage for the Finger Lakes because of fall rains, but about one third of the wines were still really good and there were only a couple of slightly problematic wines (premature oxidation being the cause). That confirmed the leap forward this region has made in quality consistency. It was also great to see how the once small Ravines winery has grown and moderated its once austere, steely wine style. At 42,000 bottles its impressive 2011 Dry Riesling (smoky bouquet, bold and substantial with moderate acidity) was the largest bottling represented in the tasting.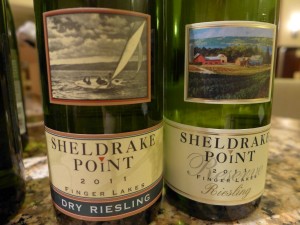 Once again the wines from Fox Run, Lamoreaux Landing, Red Newt and Sheldrake Point stood out. Still very young, the Sheldrake Point 'Reserve' Dry Riesling is surely one of the wines of the vintage with great concentration and great elegance. A few tank samples  from 2012 suggested that this is match superior vintage that we should look out for when the wines begin coming onto the market in a few months time. Then we will really see what the Finger Lakes can do with Riesling!