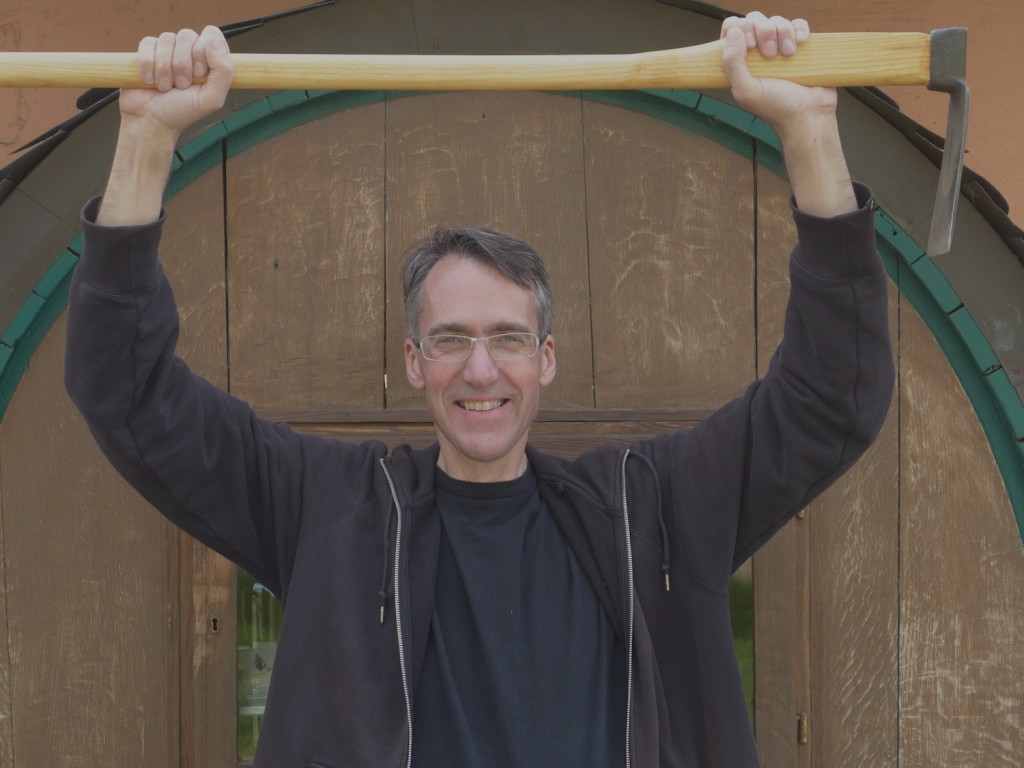 Thanks to the élan and professionalism of my team the planting of my two parcels with just short of 1,000 Pinotin vines in the historic vineyard of Töplitz/Brandenburg went like a dream. Instead of needing two days, they raced through the task in a single day. The photo above shows my hoe and I at the end of the afternoon after we all returned to the estate building after finishing work. It was only this morning when I woke up that I realized just how hard I'd thrown myself into this work. As well as wielding my hoe to the clear the ground for the planting of the vines, I also two TV teams (local station RBB and the national ZDF) to look after, plus a handful of newspaper journalists throwing a stream of questions at me. However, it was worth going through all that in order to communicate the fact that climate change really has changed the entire ball game of wine growing at latitudes like this – 52° 26′ 23″ – far north of the long supposed limit of viticulture in the Northern Hemisphere at 50° N.
This is nothing entirely new though, for during the Middle Ages when the climate was even warmer than now there already was wine growing this far North. It was Cistercian monks from the Abbey of Lehnin who first planted the vineyard of Töplitz/Brandenburg back in 1360 and it was only in the Mid-19th century that the combination of bad frosts and cheaper wines imported from further south by railway killed off winegrowing in this part of Germany. From 2007 Klaus Wolenski replanted the vineyard and since the 2012 vintage a team lead by Ludolf Artymowytsch has continued to cultivate Weingut Klosterhof Töplitz organically. Their 2012 "Cuvée Blanc" and Grauburgunder (Pinot Gris) prove what's possible here. Although 2012 wasn't a specially good growing season the Grauburgunder was picked in early October at a ripeness of 94° Oechsle, which translates into 12.5% natural alcohol. Better still it tastes at once ripe – an aroma of ripe melon – and fresh, without any hint of green or sharpness from too much acidity.
I chose the red Pinotin because it too will reach full ripeness in early October in an average year or late September in warmer than average year, is very resistant to mildew (Oidium) and noble rot (Botrytis is only negative for red wines), has good resistance to downy mildew (Peronospera) and will had less trouble with drought stress than white varieties would. To enhance this I chose the Paulsen 1103 rootstock which is very drought resistant. It was the very sandy soil – the south-facing hill is basically a huge sand dune – which made me think about the potential drought problems in years with summers like those of 2003 and 2006. They would be the only years warm enough to ripen Riesling grapes properly, but the drought stress would then almost certainly lead to wines with untypical premature aging (technical term UTA) and/or intense petrol aromas (technical name TDN). It didn't take me long to figure out that this was sadly a rather unsuitable place for my favorite grape variety.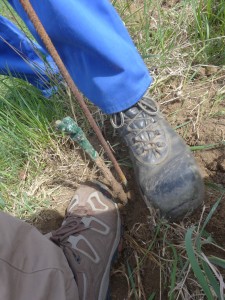 The sandy soil and the gentle 8% slope made it really rather easy for us to plant those thousand or so Pinotin vines. The picture left shows one of the young vines going into the ground. Those feet belong to Horst Hummel (left) of the Hummel estate in Villány/Hungary, who is also a lawyer in Berlin, and Helmut Reh (right) a physiotherapist from Regensburg/Bavaria, who I met when I was a guest student at the famous wine school in Geisenheim/Rheingau back in 2008/9. A sizable group of my former fellow students came to help me, notably Nico Espenschied of Weingut Espenhof in Flonheim-Uffhofen/Rheinhessen, Fabian Mengel of Weingut Zimmer Mengel in Engelstadt/Rheinhessen, Johannes Sinß of Weingut Sinß in Windesheim/Nahe, Christian & Johannes Spiess of Weingut Spiess in Bechtheim/Rheinhessen and Gerrit Walter of Weingut Walter in Briedel/Mosel. To my surprise they were joined by several somewhat older colleagues, namely Erik Riffel of Weingut Riffel in Bingen-Büdesheim/Rheinhessen and Christine Bernhard and Bernd Pfluger of Weingut Janson Bernhard in Harxheim-Zellertal/Pfalz. So, in spite of the fact that it was the first time I'd planted a vineyard there was no shortage of experience!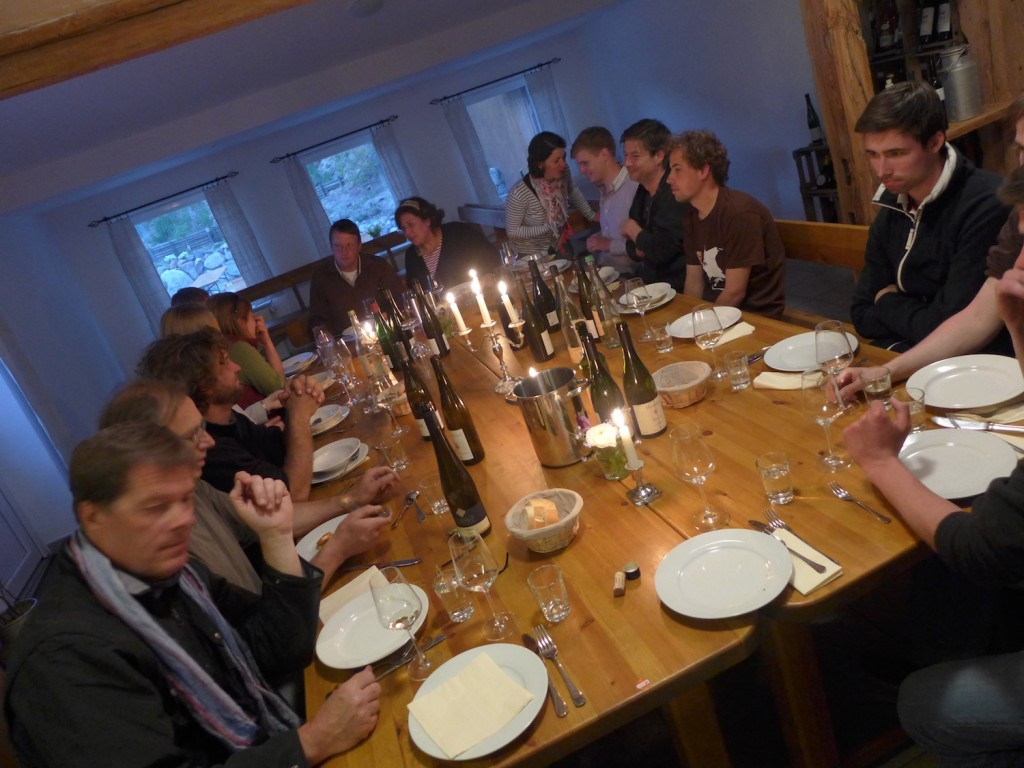 And, of course, after we were finished the wines needed to be watered both in the physical sense (essential work undertaken by Ludolf Artymowytsch), but also in the metaphysical one. A slew of good and great wines flowed before and during dinner, and I almost lost complete track of time, just catching the last connection back to Wine Metropole Berlin and a very different world to that inhabited by the cows, sheep, deer, geese, hawks and vines of Töplitz. THANK YOU EVERYONE!