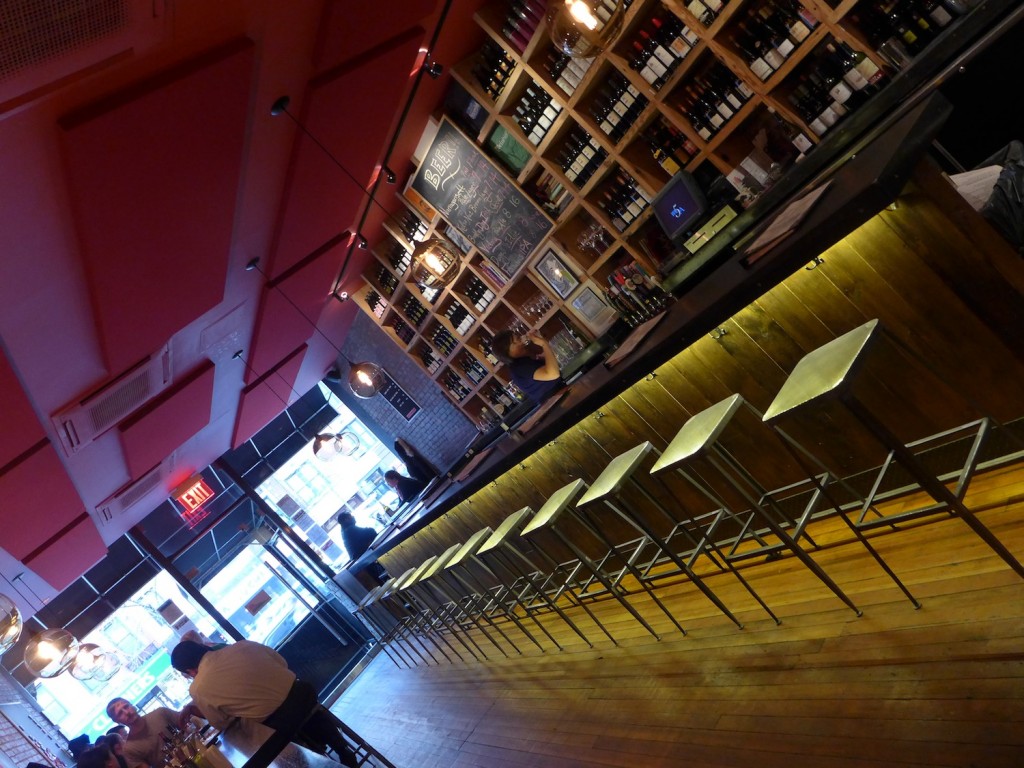 This is Terroir Murray Hill in the throbbing heart of New York Wine City (NYWC), where on Monday afternoon (sorry for the terrible delay due to urgent and well paid work!) Rienne Martinez of Terroir Murray Hill and I staged a historic blind tasting that pitted mature dry Riesling against mature white burgundy (i.e. Chardonnay) and Chenin Blanc from the Loire. The idea was to do what regular wine drinkers do when they compare a couple of very different wines that just happen to be sitting next to one another on their dining table in a more systematic and thorough manner.
For this reason we invited along about a dozen important figures in NYWC, concentrating on people younger than myself in order to try and catch the now mood of the scene on this subject. It was great to have somms like Rosemary Gray of Flatiron Wines, Pascaline Lepeltier of Restaurant Rouge Tomate, Jarred Roth of Gotham Bar & Grill, and Arnaud Tronche of the still to open Racines New York with us alongside more experienced tasters like Lisa Granik MW, Paul Grieco and David Rosengarten. And Levi Dalton is unique until cloning technology advances to the Nexus 6 generation.
The core of the tasting was 15 bottles of dry Riesling – 6 German, 5 Austrian, 2 Alsatian plus one each from the US and Australia –  ranging in age from the 2002 Gaisberg from Hirsch in Kamptal/Austria to the 1994 Schütt 'Smaragd' from Emmerich Knoll in Wachau/Austria. From this one corky wine was subtracted and 5 Chenin Blancs from the Loire (2000 – 1971 vintages), 4 white Burgundies (2002 – 1995) and one California Chardonnay (1993 from Kalin Cellars) were added. The wines were then served blind in flights of three, also blind for Rienne and I.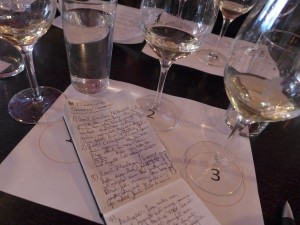 Looking back I think right from the beginning we collectively shifted into what I call Hyper-Critical Syndrome (HCS), which results from not wanting to seem to favor any wine and leads to every wine being obsessively picked apart in the search for the slightest weaknesses, just as the NSA seems to go after every crumb of information no matter how small. I actually think this hit the Chardonnays hardest, because they were clearly the weakest group of wines on the table. None of them generated any excitement although highly-reagrded producers such as Ampeau and Leroy were included. Had we drunk these wines, rather than HCS tasted them, then I think we'd have enjoyed them all (except the 1996 Meursault Perrieres from Pierre Morey, which was dead in the water) more.
That the Chenins did rather better had something to do with the fact that with one exception they were all at least demi sec (i.e. medium-dry). No wonder the 2000 Clos du Bourg Vouvray from Huet did so well against the properly dry 2001 Klaus 'Samaragd' from Prager in the Wachau/Austria and the 2001 Berg Schlossberg from Georg Breuer in the Rheingau/Germany. It had about 1% / 10 grams per liter more residual sweetness than they did! That's very significant when you're in HCS mode.
But what about the Rieslings? Well, there were a number of wines which created a buzz at the table, most notably the 2001 Kastanienbusch 'Grosses Gewächs' from Rebholz in the Pfalz/Germany. It's freshness, intense ripe fruit, great balance and very distinctive character – "melon", "peppermint" – won everyone over.  The 1999 Auslese trocken from J.B. Becker of  the Rheingau/Germany will be remembered, not only because it was it concentrated and elegant with a style entirely its own – "celery", "very lively for 14% alcohol" – but because almost nobody at the table had heard of the producer. The 1996 Dry Riesling from Smith Madrone in Napa valley/California was at once mellow and racy with a delicate toasty bouquet charmed everyone, then stunned everyone when they found out what it was.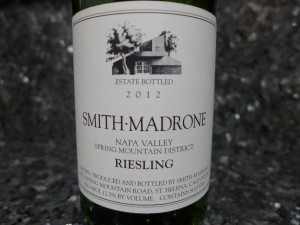 The flight of three Rieslings at the end which weren't quite legally dry (although clearly drier than the demi sec Vouvrays) all impressed to some degree, but opinions differed as to whether the lighter style of the 2001 'Felsterrasse' from Clemens Busch in the Mosel/Germany – "mango", "pretty" – the more creamy balance of the 2001 Uhlen 'Rotlay' from Heymann-Löwenstein also from the Mosel – "curry leaf", "supple" or the opulence of the 2001 Grand Cru Schlossberg 'Cuvée Set. Catherine' from Weinbach in Alsace/France – "salty", "nervous, tense" – was the more impressive of the trio.
However, in many ways it was what didn't impress that was more significant. Of the Wachau wines the 1999 Kellerberg 'Samargd' from F.X. Pichler came closest to being warmly received, but even here there was some criticism – "quite austere finish" – and the 2002 Gaisberg from Hirsch ended up with the most praise of the Austrian wines. The 2001 'Cuvée Frédéric Emile' from Trimbach in Alsace/France also got a mixed reception, the austerity here appealing to some, but others were radical in their rejection – "a joyless Australian wine".
Personally I loved the 2001 Berg Schlossberg from Georg Breuer, although other bottles of this wine have shown better. Like many Rieslings in the tasting it took some time to open up in the glass, and of course we were all running on NYWC schedules tighter than latex corsets. But that is, of course, the nature of this game, and for the wines it was also the way the cosmic cookie crumbled. No doubt this exercise will be repeated, for it was much less weird comparing these very diverse wines in mature form than we expected.